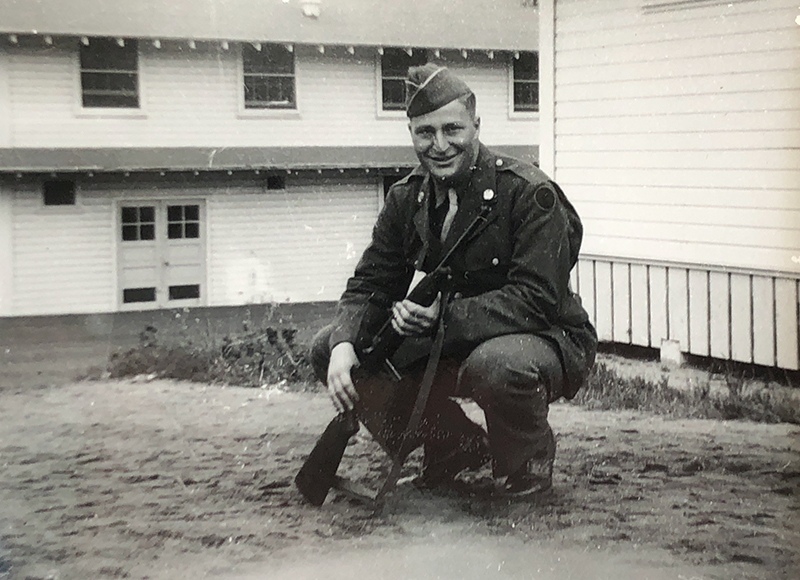 My Dad at basic training in a rare photo of him with two arms
Honoring My Dad, Private First-Class Robert Edward Morris
I've told parts of this story here before, but what the hey, it's Veteran's Day. My Dad had had both my kindergarten and first grade teachers — sisters Mrs. Wood and Miss Wilson, when he attended PS 207. He went on to letter in three sports at Madison High School in Brooklyn –baseball, football, and basketball. And I believe that he played some ice hockey too. My Mom was an orphan and they married young. My Dad was working as a delivery boy at a luggage store in Manhattan — Roebling Luggage, when he was drafted. He said, "They gave us a rifle, trained us for two weeks, and sent us off to kill Japs." He was injured early on in the Aleutians and earned his first Purple Heart. They patched him up and sent him back.
Soon after he went to war, my Mom, Hazel Morris, lost baby Carla at age ten days to infantile diarrhea. I did not get to read my Dad's love letters to my Mom (written from overseas), until after his death. All of his beautifully written love notes were signed "Your ever-loving hubby, Bob." So changed was he by the war, I felt as if they were from a man I never knew.
Late in the war he took part in the invasion of Okinawa. He was on a truck headed out to pick up US soldiers from his unit who had been killed by friendly fire the day before. Friendly fire deaths were quite common in WWII. He was in the truck with his back against the cab when a guy walked up and said to him, "Hey, Morris, do you have my canteen?" It was one of those you-get-it no-I'll get–it moments and the guy wound up in the seat my Dad had been in and my Dad wound up in the last seat on the left in the back of the truck.
An American Corsair, believed to have been captured and piloted by Japanese, swooped in and fired. My Dad was hit thirteen times with 70mm machine gun fire. Everyone but my Dad and the guy next to him was hit in the head and killed instantly. My Dad rolled out of the truck onto the ground fearing an explosion. His best friend, a medic, had been in a second truck. He approached my Dad and removed his heavy jacket. My Dad's right arm came off with the coat. His friend started crying and ran away. (Lot of folks might question that, but I can understand it completely …)
Another soldier approached my Dad said to him, "Take my f _ _ _ -ing shoelace out and make a tourniquet. The guy did.
As it turned out, my Dad had been hit in the left arm too; his elbow joint was destroyed. (Purple Heart #2.) Many of the folks in charge wanted to amputate that arm, but a young Filipino surgeon fought to save it. And he did. Three weeks later my Dad was flown to San Francisco; he met an injured comrade from his unit. The man said, "Morris, what are you doing here? You're supposed to be dead." He explained to my Dad that he was supposed to have been sent home on a hospital ship but that the doctors had all agreed, "This guy is gonna die anyway so it's dumb to waste a spot on the ship on him." It would not be the last time that my Dad was written off for dead …
Now get this: the ship my Dad would have been on was the USS Comfort (AH-6). On April 23, the ship was struck in the Coral Sea by a Japanese suicide plane that crashed through three decks and exploded in the surgery ward that was filled with medical personnel and severely wounded patients. Twenty-eight were killed (including six nurses) and 48 were wounded, with considerable damage to the ship. The story that I had heard from my Dad did not mesh exactly with the dates and numbers (89 dead) in the history books, but Bob Morris had dodged another bullet.
My Dad spent 19 months in the hospital near Washington DC in 1945 and 46. They performed surgery on his left arm without anesthesia to try to re-connected damaged nerves. BTW, you've heard of "The World According to Garp"? I was conceived in the hospital.
My Dad returned to work at Roebling Luggage despite his handicap and by the time he retired in 1969, he was the store manager. The store was located at 121 Liberty Street; they built the World Trade Center right on top of it. Just before he retired, he was honored as Man of the Year by the (now long-defunct) Greater New York Retail Luggage Dealer's Association.
In 1964 — I was eighteen and we were still living in Brooklyn at 2046 East 38th Street, my Dad almost died during gall bladder surgery. In 1969, my folks left Brooklyn for San Diego. I should have mentioned that my Dad began smoking during the war in an effort to stay warm as they were often under-dressed in the northern Pacific. He was a 4-pack a day Lucky Strike man. Sometime in the 1970s, he developed an unexplained hoarseness. A young VA doctor discovered his throat cancer. He had a new type of laryngectomy. It was a struggle for him to cover his trach tube with his left thumb, but by doing so, he was able to count to 30 in a loud but froggy voice when he woke from his surgery.
Don't quote me on the years but he had a major heart attack sometime in the 80s I believe. That was followed by a bout of lung cancer; he underwent surgery and they removed 2/3 of his left lung. He came out stronger than ever. You might say that my Dad was one of the very few to beat the Smoker's Daily Double: throat cancer and lung cancer.
In the late 1990s he came down with a horrific case of pneumonia. On that Monday evening they told my Mom, "Hazel, go in and kiss Bobby goodbye. His white blood cell count is so high that he cannot survive the night. Wrong again. That Wednesday they said to my Mom, "Hazel, please go in and kiss Bobby goodbye. As per his living will we are taking him off life support. He will not survive the night. Two weeks later he as home, busting my mother's balls (as usual). A second bout of pneumonia finally felled him in 2001.
A few years before he died, I asked my Dad, considering that all you he and Mom ever did was bicker and fight, "Why did you stay together? In his froggy voice he answered, "I want to tell you, I laid in that bed for 19 months and saw dozens of beautiful young brides come to the door of that room, take one look at their husbands with no arms and no legs, and turn around. And never come back." My Mom was there for that conversation. It was my Dad's way of saying, "Thanks, Hazel. I love you." He could never say that out loud to anyone.
My Dad sweated all the time. Many of my fondest childhood memories involves me kissing him on the face or neck to taste the salt. And I can remember him coming down early on a Sunday morning to cook me French toast, not burned please! I can see him holding the frying pan gently with his left hand over a low flame for minutes on end to get it just the way I liked it … He took the Brighton Beach (BMT) line to work for more than 20 years. He used to say that it ran on time only at room temperature. In winter, we worried that he might slip and fall on the snow and ice on the way to the bus or the train. With no left elbow to speak of — the bones were free floating — that would have been disastrous.
I gloried at the (too-little?) time we spent together. I thrilled each year in December when he would take me to work to help out in the store. I'd go for two or three weekends running, and the boss, a Ruby Keeler — I think — would give me a hundred-dollar bill for helping out. Two young Black men, Wilber and Nat, worked as stockmen and I grew to adore them; both had boxed in the Golden Gloves. On Saturday afternoons they would send out for ham and cheese on rye sandwiches from a local deli. No mayo! Along with an ice-cold Coke, those were some of the best meals I ever ate.
When my parents went to San Diego, my Dad of course visited the VA (Veteran's Administration) and the DAV (Disabled American Veterans). One of the first things that he learned was that he had, for twenty-plus years — while raising three children in Brooklyn — been entitled to commissary privileges. Wow, that would have made a difference of tens of thousands of dollars in the lives of my parents …Who knew?
I remember handing my Dad a copy of The Art of Bird Photography a few years before his death. While looking through the book, he covered his trach tube and croaked, "I guess you did OK for yourself." From Bob Morris that was a supreme compliment.
I can remember saying to him at some point, "Dad. You were blasted by machine gun fire from a plane, had throat cancer, a heart attack, lung cancer, and a vicious case of pneumonia. We always thought that you are gonna die. How come you never do? " His reply, "I'm too mean to die."
In about 1995 or so I sent him "the letter." I wrote in part, "Dad, I want to thank you for being a mean son of a bitch and never saying one nice thing about me. I've spent my life trying to be the best bowler, the best golfer, the best elementary school teacher, and the best bird photographer I could be. All in an effort to make you proud of me and get folks to say the nice things that you never said. My late baby sister Arna read him the letter. She told me that he cried tears of happiness.
I did not learn until after my Father's death that he had been awarded a Bronze Star. That medal is awarded for heroic achievement, heroic service, meritorious achievement, or meritorious service in a combat zone. I read that letter with amazement. My Dad, along with a friend from Brooklyn, climbed a hill with just their rifles and took out a Japanese machine gun nest. Bob Morris worked full time for 20 years after his injury despite being 100% disabled. He took great care of his family. He was a brave man and a good man. And a great father.
And the Rest
Thanks to my Dad and the tens and tens of thousands of young American men and women who have served their country or died serving their country. All that so that we could enjoy the freedom that we know today. God bless them all and their families as well.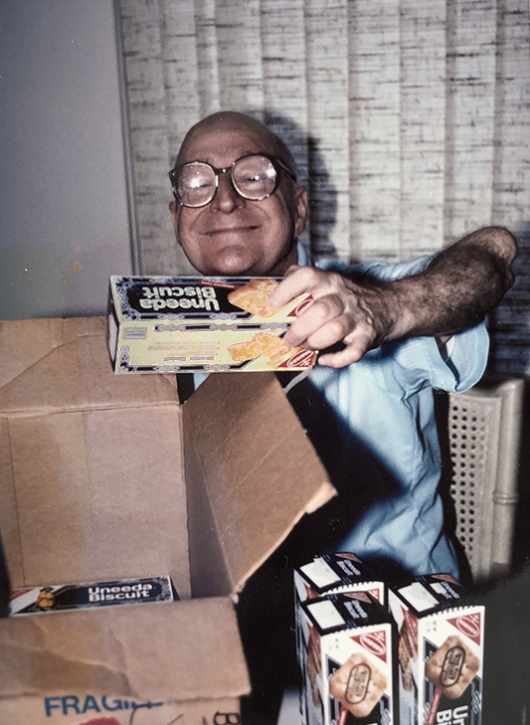 My Dad with his Christmas present
Uneeda Biscuits
My Dad loved these salty, dry crackers made by Nabisco and was dismayed when he got to San Diego and learned that they were not available. So every year that I visited at holiday time, I would bring a carton of his favortie biscuits. He was happy.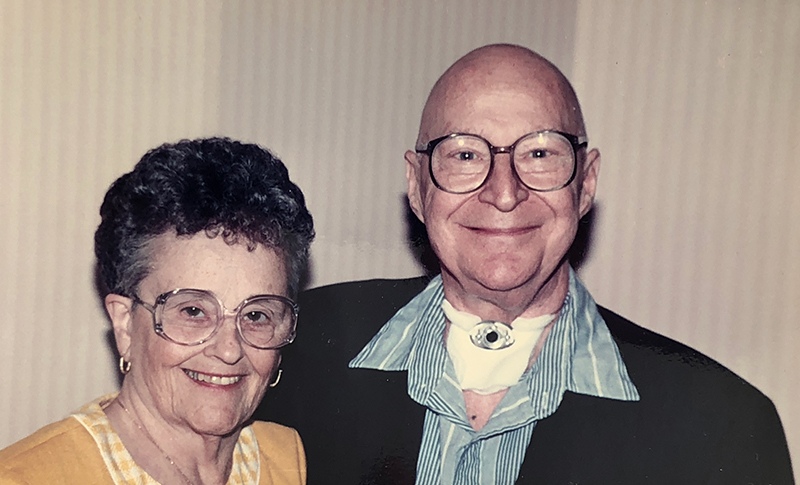 My Mom and Dad
Mom and Dad
At times I think that the only times that my parents were not bickering was when they were smiling for the camera or sleeping. My Mom died 2 1/2 years ago at age 94. She had spent most of her life taking care of others, including and especially my Dad.