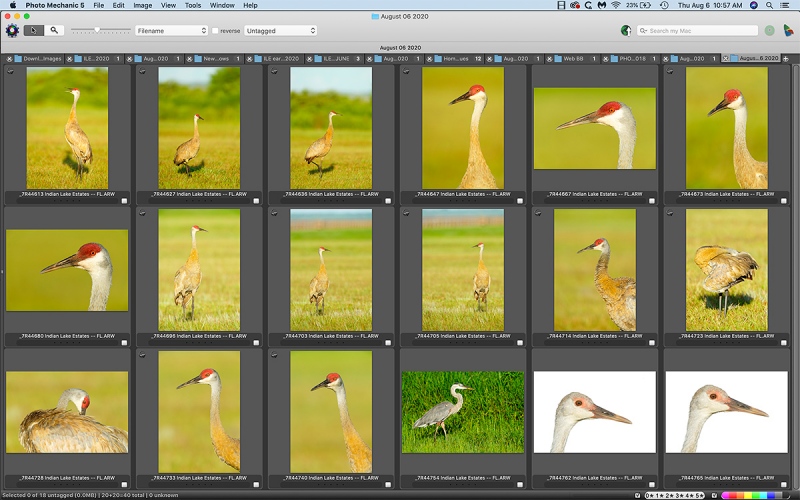 Photo Mechanic 6 AUG screen Capture
What's Up?
On the morning of Thursday 6 AUGUST 2020 I decided to go for the birds. The cranes cooperated nicely; it is great to have them to depend on most every day.
Tomorrow we will begin taking a look at the Canon mirrorless camera bodies …
Chilled!
I got back home at about 8:15am and decided to swim before breakfast. With the hot weather in June and July, the pool had been up close to 90 degrees. A few weeks ago I mentioned to the pool guy that the chiller portion of the heater/chiller was not working very well. He told me that when the heater/chiller was replaced a few years ago that it was replaced with a heater. No chiller. That was news to me. The unit was returned to the factory in Punta Gorda, FL by truck. They added the chiller and the unit was re-installed within days.
I set the chiller thermostat to 80 degrees and bingo, I now have a cool pool despite the continuing hot weather. With body temperature being about 98.6 degrees and me being in the pool for an hour each day for my slow 72 length swim, I am quite chilled when I am done.
Extension Tubes
One advantage that the Canon system has over Nikon and SONY is that it offers extension tubes. They are used primarily to allow you to focus closer than the minimum focusing distance of a given lens. I used them most often with my big Canon lenses with and without teleconverters. I missed them when I was using Nikon and miss them ever more with SONY now that I am doing lots of macro photography …
Canon EF Extension Tube Set
BAA friend, California botany expert Bob "BugBob" Allen, is offering the Extension Tube Set, the EF 12 II and EF 25 II, in excellent plus condition for $124.90. The sale includes the front and rear lens caps and insured Fed-Ex Ground shipping to lower-48 US addresses only. Your item will not ship until your check clears unless other arrangements are made.
Please contact Bob via e-mail and please include the item name or names in the subject line and be sure to include your full name.
As regular readers know, I used extension tubes often to reduce the minimum focusing distances of my two Canon macro lenses and my super-telephotos. I used them behind a TC to focus closer with AF and at times, in front of a TC to get even closer while having to use manual focus). The pair sells for $224.90 so you can save an even $100.00 by grabbing the pair. artie
SONY Extension Tube Info Corrected
Thanks to Patrick Sparkman
Thanks to Patrick Sparkman for alerting us to the (off-brand) Neewer Metal AF Auto-Focus Macro Extension Tube Set 10mm & 16mm for Sony NEX E-Mount Camera NEX 3/3N/5/5N/5R/A6000/A6300 and Full Frame A7 A7S/A7SII A7R/A7RII A7II.
https://amzn.to/2CbHUbC
2 Piece Extension Tube Set for MK-S-AF3A, made of metal.
Compatible with Sony NEX, E-mount series Micro DSLR.
Support Exact TTL Exposure and Auto-focus;Built-in Electronic Pins and internal driver.
New adapter aperture hole design, perfectly support Sony full-frame camera A7/A7R/A7S/A7 II.
Including two tubes (10mm, 16mm), 3 different combinations.
Thanks Also to Byron Prinzmetal
Thanks also to Byron Prinzmetal for letting me know about the (off brand) Kenko DG Extension Tube Set for Full-Frame Sony E-Mount.
For Sony E-Mount Cameras & Lenses
Compatible with Full-Frame & APS-C
Reduces Minimum Focus Distance of Lens
Provides Macro Capability
Retains Autofocus/Auto Exposure
10 and 16mm Tubes
Can Be Used Individually or Combined
Internal Flocking Prevents Reflections
Metal Mount
Reduce the minimum focusing distance of your full-frame or APS-C Sony E-mount optics with this DG Extension Tube Set from Kenko. Featuring both 10 and 16mm tubes, users will be able to gain macro abilities with nearly every lens in their arsenal, while maintaining full autofocus and auto exposure. These tubes can be used individually or combined and they feature internal electrostatic flocking with synthetic fibers to prevent reflections that can be detrimental to image quality.
My Thoughts …
The Neewer Metal AF Auto-Focus Macro Extension Tube Set 10mm & 16mm sells for $39.99 on Amazon. The Kenko DG Extension Tube Set (10mm & 16mm) for Full-Frame Sony E-Mount sells for $129.90 att B&H. Superficially, the two items are quite similar. Patrick thinks that it is likely that they were made in the same factory … Judging from the photos, the build quality of the Kenko set looks far superior to the build quality of the Neewer set. With off-brand extension tubes fit is sometimes a problem. In general, I will almost always opt for the more expensive version of a given item. But with the huge price discrepancy here and given Amazon'z return policy, it might be a good idea to try the Neewer set and see if they are decent.