What's Up?
Me early as usual. I am pretty sure that I will not finish this blog post before my morning photo session, swim, and brunch as I have been working on it for five hours already and still have lots to do … It is 6:30 now and Just realized that I have several hours more work to do … That said, if you opt to invest in Canon Mirrorless based on what you learn below, please, please, pretty please remember to use my B&H links or get in touch with Steve Elkins at Bedford. It will not cost you a penny more — heck, using Bedford will save you at least $50.00, and will go a long way to ensure that I do not become a greeter at Walmart … Using the BAA links will therefore be greatly appreciated.
It is just before noon here at ILE on Wednesday 19 AUGUST 2020. I photographed some tall skinny pine trees and the Mother's Day crane colt, swam my 72 lengths, and ate a healthy breakfast before finishing and publishing today's offering.
Via e-Mail from IPT veteran Layton Parham
Thank You Artie. I got my Canon R5 from Steve Elkins at Bedford Camera two weeks ago! Using the BIRDSASART coupon code at checkout save me $50.00 off on this hot item. And you gotta love overnite free shipping! You are always right: Steve is the man for the latest/greatest hard to get cameras and accessories. And he will be sending me an RF 100-500 lens soon too! I thank you so much for all that you do. And thanks again for jumpstarting my path into the amazing world of bird photography in 2006 on the St Augustine Alligator Farm IPT! Layton Parham Palm Bay, FL

Money Saving Reminder
If you need a hot photo item that is out of stock at B&H, would enjoy free overnight shipping, and would like a $50 discount on your first purchase of more than $1000.00, click here to order and enter the coupon code BIRDSASART at checkout. If you are looking to strike a deal on Canon or Nikon gear (including the big telephotos) or on a multiple item order, contact Steve Elkins via e-mail or on his cell at (479) 381-2592 (Eastern time) and be sure to mention your BIRDSASART coupon code and use it for your online order. Steve has been great at getting folks the hot items that are out of stock at B&H. Those include the SONY a7r IV, the SONY 200-600, the SONY 600mm f/4 GM, and the Nikon 500mm PF. Steve is eager to please.
Gear Questions and Advice
Too many folks attending BAA IPTs and dozens of photographers whom I see in the field and on BPN, are–out of ignorance–using the wrong gear especially when it comes to tripods and more especially, tripod heads… Please know that I am always glad to answer your gear questions via e-mail. Those questions might deal with systems, camera bodies, accessories, and/or lens choices and decisions.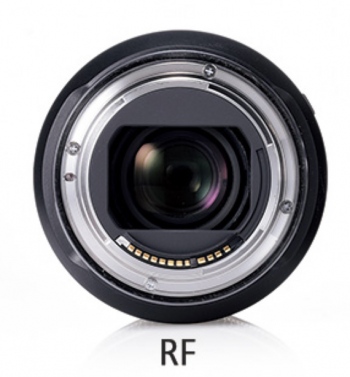 The Canon RF Lens Mount
Canon RF Lens Mount
The Canon RF lens mount is an interchangeable-lens mount developed by Canon for its full-frame mirrorless interchangeable-lens cameras, and featured first by the EOS R, and the inexpensive EOS RP. Those were followed recently by the EOS R5 and the EOS R6. The RF mount was announced in September 2018. For complete information on the RF Lens Mount see the superb article here on The-Digital-Picture.com website.
The RF mount allows for the use of Canon EF and EF-S mount lenses using one of three Canon-made lens adapters.
Canon EOS R Adapters
To use your EF (and EF-S) lenses with an R-series camera body, you will need one of the three EOS R Adapters:
Canon Mount Adapter EF-EOS R
On the surface, the Canon Mount Adapter EF-EOS R would seem to be the best and least expensive option for most folks.
Canon Control Ring Mount Adapter EF-EOS R
The more sophisticated Canon Control Ring Mount Adapter EF-EOS R incorporates a customizable Control Ring, the same as on native RF-mount lenses> this ring allows for intuitively adjusting exposure settings, such as ISO, aperture, and exposure compensation. While that seems pretty neat, it does not seem to be worth the additional $100.00 to me. If you are using this model and beg to differ, please leave a comment.
Canon Drop-In Filter Mount Adapter EF-EOS R with Variable ND Filter
The Canon Drop-In Filter Mount Adapter EF-EOS R with Variable ND Filter would seem to be ideal for folks like me who enjoy creating pleasing blurs even on sunny days. As with the two previous adapters, the Canon Drop-In Filter Mount Adapter EF-EOS R is a unique lens adapter designed for attaching any EF or EF-S-mount lens to the EOS R mirrorless digital camera. But this sophisticated adapter affords compatibility with select A-type drop-in filters. The best news here is that your purchase includes a variable neutral density filter that will most often be used to achieve the slow shutter speeds needed to create pleasing blurs.
The adapter's design retains full autofocus and image stabilization capabilities of the mounted lens and is dust- and water-resistant, making it suitable for use in harsh weather conditions.
Drop-In Variable Neutral Density Filter A
Designed for use (and included) with the Canon Drop-In Filter Mount Adapter EF-EOS R, the Drop-In Variable Neutral Density Filter A offers an intuitive and sleek way to use a variable neutral density filter in conjunction with an adapted lens (including those lacking traditional filter threads). This variable ND filter is permanently installed into a drop-in holder and has an integrated wheel for adjusting the rotation position to alter the ND effect.
The variable ND filter offers from 1.5 to 9 stops of adjustment and creates a darkening of the entire image for photographing with a wider aperture or slower shutter speed than normally required. The degree of density is easily controlled by rotating the filter, helping you to predetermine the additional exposure length required. By increasing your aperture or slowing your exposure time, you are able to control depth of field and convey movement more easily.
Kudos to Canon for coming up with this. It would seem to be a must-have accessory for Canon mirrorless folks visiting Bosque del Apache NWR!
The huge problem right now is that because of supply shortage and a delay in manufacturing it is impossible to purchase any of the Canon EOS R Adapters. Best would be to pre-order now with either B&H or Steve Elkins at Bedford.
From multiple IPT veteran Muhammad Arif via e-mail:
FYI, there is a third and yet more expensive RF to EF adapter that accepts a drop-in filter. In my opinion, this is much more useful than the one with the ring, the Canon Control Ring Mount Adapter EF-EOS R. While the 500 and 600mm f/4 (and other super-telephoto lenses) offer drop-in filters, the 100-400s and most EF lenses do not. This adapter gives folks a "one ND filter fits all" option. Another cool feature of all three of these adapters is the capability of accepting EF-S lenses (i.e. crop sensor lenses). Previously, it was impossible to use an EF-S lens on a Canon full-frame body. While this is probably not useful for bird photographers, I can see many others going Canon mirrorless who will be glad to be able to use their EF-S lenses.
Adapted from an e-mail from Canon Top Tech-Rep Rudy Winston (in response to my question):
There is no calibrated scale on the small, geared thumb wheel for the Drop-in Filter Lens Mount Adapter EF-EOS R. You can, of course, see the impact in the electronic viewfinder (or on the LCD screen), but there is no analog scale on the wheel itself or in the viewfinder that indicates the stops of darkening.
One question that comes up for the Drop-in Filter Mount Adapter is "what do you do if/when you don't want the effect of the variable ND filter?" The adapter is engineered to always have the filter in place and there is no zero setting; if a photographer simply removes the filter, it changes the actual optical path and can lead to a slight reduction in lens sharpness. Canon Drop-In Clear Filter A (purchased separately) needs to be put in-place in those situations. We don't recommend shooting without a filter as noted above. In addition, there is no way to seal the opening from dust, moisture, etc.
The Canon Mount Adapters can be used with **any** Canon EF, EF-S, TS-E, or MP-E lens on the full-frame EOS R series cameras. Remarkably, there is essentially no reduction in AF performance or speed, and all exposure modes and features continue to remain fully available when these lenses are used in conjunction with the Canon Lens Mount Adapter(s) EF-EOS R. (Bold-facing mine.)
The Bottom Line
In short, you cannot use the Canon Drop-In Filter Mount Adapter EF-EOS R with Variable ND Filter as a straight-up adapter for your EF lenses as you will always have 1 1/2 stops of darkening in place unless you remove the variable ND filter and insert the Canon Drop-In Clear Filter A (purchased separately for $129.95 and of course, currently back-ordered). Still, if I were shooting Canon Mirrorless and headed for Bosque, I would be sure to have this adapter in my kit …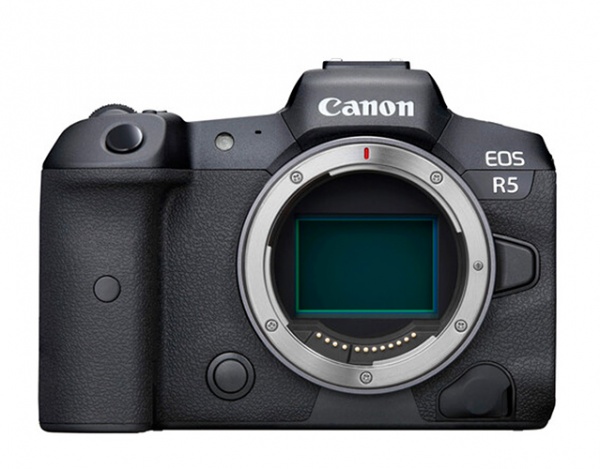 One of the Two New Canon Mirrorless Bodies
Your browser does not support iFrame.
EOS R5
It seems that the Canon EOS R5 Mirrorless Digital Camera (Body Only) has finally gotten Canon successfully into the Birds-in-Flight AF Wars. This body offers a 45MP full-frame sensor, ISOs from 100 to 51,200 (102,400 extended), RAW burst mode up to 180 frames, 8K video at 30 fps (RAW 12-bit), a 5.76 million dot viewfinder, a Secondary LCD screen, and dual card slots: one CFExpress and one SD/SDHC/SDXC.
EOS R6
The slightly heavier Canon EOS R6 Mirrorless Digital Camera (Body Only) offers a 20.1-megapixel full-frame sensor, ISOs from 100 to 102,400 (204,800 extended), RAW burst mode up to 240 frames, 4K video at 60 fps (10-bit), a 3.69 million dot viewfinder, and dual SD card slots. Both cameras offer up to 12 fps with the mechanical shutter and up to 20 fps with the electronic shutter.
Best for You?
Both cameras offer up to 12 fps with the mechanical shutter and up to 20 fps with the electronic shutter. And from what I am hearing and seeing, the AF system is superb, very close to being on par with the SONY a9 ii. Both bodies feature In-body Image Stabilization (IBIS). According to Canon, the R5's IBIS system is capable of up to 8 stops of image stabilization depending on the lens used (mostly with shorter focal length lenses ???). For bird photography, I would absolutely opt for the 45MP EOS R5. Folks on a budget might prefer the EOS R6.
Before you purchase, you might want to do a search for Canon R5 & R6 rolling shutter and overheating issues. I followed many of the links and they all pretty much seemed to lead to the typical and undocumented the-sky-is-falling nonsense in the form of comments and videos. It seems clear that both problems occur with video capture only.
For a fairly balanced comparison of the two bodies, see the article here on the DigitalTrends website. See also the R5 review on the ImagingResource site here. Check out the R6 video by Canon Explorer of Light Rick Sammon here. Also, you can see EoL George Lepp's Trumpeter Swam EOS R5 images on his FB page here.
From my extensive internet searches, one thing does seem clear: neither body was created as a professional video camera. Learn more about the video overheating problems in the DPReview article here .
Canon RF Super-Telephoto and Telephoto Zoom Lenses
Canon is offering three new big lenses to team with their mirrorless camera bodies.
Canon RF 600mm f/11 IS STM & RF 800mm f/11 IS STM Lenses
When I first heard about the Canon RF 600mm f/11 IS STM lens and the Canon RF 800mm f/11 IS STM lens, I was quick to dismiss them as too slow. But when I saw some of Lou Newman's images, I quit laughing … These inexpensive super-telephotos are relatively small light and easily hand-holdable for most folks. The RF 600mm weighs only 2.05 lbs. and the RF 800mm tips the scales at only 2.77 lbs. With the great variety of outstanding noise reduction options available today, either of these budget-priced lenses might be perfect for you, especially if you work around tame birds.
From Lou Newman via e-Mail
I am loving the RF 800mm f/11 IS/EOS/EOS R5 rig. Until I purchased the R5 and the 800mm lens I was shooting with the 1DX Mark III with the 600mm lens on a tripod if I did not have to hike too far. Otherwise I go with the 1DX Mark III and the 100-400mm II zoom lens or the 400mm f/4IS DO lens (both with and without the 1.4X III teleconverter. The R5 with the 800mm lens is lighter and easier to carry than both of those rigs. What's more the R5 is faster to acquire focus, locks on better, and results in more tack-sharp images. I once dreamed of being able to hand-hold a 600mm lens. Who would have thought I would wind up with a handhold-able 800mm? Sometimes it is too much lens. I can't wait for the RF 100-500mm IS lens.
Canon RF 100-500mm f/4.5-7.1L IS USM Lens
The Canon RF 100-500mm f/4.5-7.1L IS USM lens sounds like a mega-winner. It incorporates the incredible versatility of the 100-400II with an extra 100mm and amazingly, even closer focusing! The minimum focusing distance of the 1-5 is 2.95 feet or (90 cm)! If I were using Canon mirrorless I would have been first one on line for this lens.
If In Doubt …
If you are in doubt about using the BAA B&H affiliate link correctly, you can always start your search by clicking here. Please note that the tracking is invisible. Web orders only. Please, however, remember to shoot me your receipt via e-mail.