What's Up?
After nine great days at DeSoto, Anita North and I enjoyed a nice morning with the Mother's Day crane family on Saturday. With Anita's help, I spent the afternoon getting acquainted with Topaz Sharpen AI and with Topaz DeNoise AI. In short, I was astounded. As you read on, do understand that I am just scratching the surface with these two amazingly effective plug-ins. I need to learn about the options other than Auto.
Great Topaz News (Corrected)!
I did not realize that folks who use the BAA Topaz link to purchase Sharpen AI, DeNoise AI, or the Utility Bundle (or any other Topaz plugins) will receive a 15% discount by entering the ARTHUR15 code at checkout. To get the discount you must use my link and you must enter the discount code. Be sure to use this link.
Topaz Stuff
As I have said often, I should have listened sooner. If you, like me, are new to the Topaz party, please use this link to purchase. Right now I can wholeheartedly recommend both Topaz Sharpen AI and Topaz DeNoise AI. Though I have not yet worked with JPEGtoRAW AI or Gigapixel AI, I have installed both of these plug-ins and look forward to trying them on some I-Phone 11 images fairly soon. If you think like me, consider the Utility Bundle that includes all four plug-ins mentioned above at a money-saving price.
Those who purchase Sharpen AI or DeNoise AI using my link, can e-mail to request a short Getting Started with Topaz e-Guide. I had a bit of trouble getting the two plug-ins installed and having them appear in the Photoshop Filter Menu. In addition, I will explain how to best learn about the two plug-ins by applying them on a Layer (in Photoshop). It will take me a few days to put this short guide together. Please include a copy of your Topaz order when requesting the guide.
I learned some neat stuff about the two Topaz plug-ins in Alan Murphy's recent Image Processing Webinar. Those interested in purchasing that or his previous excellent webinars, can view the options by clicking here.
I was glad to learn that IPT veteran Mark Overgaard sold his second Canon EOS 5D Mark IV body, this one in excellent plus condition with the Really Right Stuff B5D4-L L-plate, for $1379.00 (was $1479.00) the day we dropped the price two days ago. Yesterday, I sold Patty McCulloch's Canon 100mm f/2.8L IS Macro Lens before it was even listed! That is a neat trick :). I will be posting Patty's complete listings (including a Canon 600 II) here soon.
We will have Levered-Clamp FlexShooter Pros back in stock by Wednesday of this week.
Today is Sunday, 27 September 2020. Anita and I will be heading down to the lake early. L'Shana Tova to all of BAA's Jewish friends as they bring in the new year. And L'Chaim to all.
Via e-mail From Derek Hallum
Thank you so very much Artie! You and Patrick did a spectacular job with the SONY e-Guide and Video. They helped me tremendously! Much love to you and your family. Sincerely, Derek Hallum
RawDigger e-Guide and Video Advance Copy Available
Save $10 Now
The RawDigger e-Guide and Video is almost finished. It will sell for $51.00. If you are anxious to get started with RawDigger, learn to mega-Expose to the Right, and wind up with the highest quality image files, you can save $10.00 and have a chance to review a pre-publication copy of the guide by sending a PayPal for $41.00 to birdsasart@verizon.net with the words RawDigger e-Guide and Video Pre-publication Copy cut and pasted into the Subject line.
You will of course receive a link for the completed PDF when the guide is finished.
Please Remember
If you enjoy and learn from the blog, please remember to use one of my two affiliate programs when purchasing new gear. Doing so will not cost you a single penny and if you use Bedfords and remember to enter the BIRDSASART code at checkout, you will save at least $50.00 on all orders greater than $1000.00. In these crazy times — I am out at least forty to sixty thousand dollars so far due to COVID 19 (with lots more to come) — remembering to use my B&H link or to shop at Bedfords will help me out a ton and will be greatly appreciated. Overseas folks who cannot order from the US because of import fees, duties, and taxes can always help out by clicking here if they see fit.
BIRDS AS ART is registered in the U.S. Patent and Trademark Office
The BAA Used Gear Page
Right now, the Used Gear page is red hot! It is BAA Used Gear Page is the place to sell your used photographic equipment. We will help you to get your gear sold quickly for 20 to 60% or more than what the big guys are offering … Doubt me? Check out the Recent Sales list at the bottom of the page.
New and Better Bedfords Discount Policy!
You can now save 3% on all of your Bedfords photo gear purchases by entering the BIRDSASART coupon code at checkout. Your discount will be applied to your pre-tax total. In addition, by using the code you will get 2nd day air shipping via Fed Ex.
Grab a Nikon AF-S Teleconverter TC-14E III and save $14.99. Purchase a Canon EOS R5 and your discount will be $116.97. Purchase a Sony FE 600mm f/4 GM OSS lens and save a remarkable $389.94! Your Bedford's purchase no longer needs to be greater than $1,000.00 for you to receive a discount. The more you spend, the more you save.

Money Saving Reminder
Many have learned that if you need a hot photo item that is out of stock at B&H and would enjoy free overnight shipping, your best bet is to click here, place an order with Bedfords, and enter the coupon code BIRDSASART at checkout. If an item is out of stock, contact Steve Elkins via e-mail or on his cell phone at (479) 381-2592 (Eastern time). Be sure to mention the BIRDSASART coupon code and use it for your online order. Steve has been great at getting folks the hot items that are out of stock at B&H and everywhere else. The wait lists at the big stores can be a year or longer for the hard to get items. Steve will surely get you your gear long before that. For the past year, he has been helping BAA Blog folks get their hands on items like the SONY a9 ii, the SONY 200-600 G OSS lens, the Canon EOS R5, the Canon RF 100-500mm lens, and the Nikon 500mm PF. Steve is personable, helpful, and eager to please.
SONY e-Guide Discount Program
Purchase a (new) qualifying SONY camera body (a7r iii, a7r iv, a9, a9 ii) from Bedfords or using a BIRDS AS ART B&H affiliate link, and you will receive a $40 discount on the SONY e-guide. Purchase a (new) SONY 200-600mm G lens from Bedfords or using a BIRDS AS ART B&H affiliate link, and you will receive a $25 discount on the SONY e-guide. Purchase a (new) SONY 600mm f/4 GM lens from Bedfords or using a BIRDS AS ART B&H affiliate link, and you will receive a free SONY e-guide with one or two videos.
Please send your Bedford's or B&H receipts to me via e-mail to receive your discount and your ordering instructions. Folks purchasing from Bedfords and using the BIRDSASART code will save 3% on all orders. Folks sending their B&H receipts may need to wait a few days to have their purchases confirmed. Folks using Bedfords will have their purchases confirmed immediately.
Gear Questions and Advice
Too many folks attending BAA IPTs and dozens of photographers whom I see in the field and on BPN, are–out of ignorance–using the wrong gear especially when it comes to tripods and more especially, tripod heads… Please know that I am always glad to answer your gear questions via e-mail. Those questions might deal with systems, camera bodies, accessories, and/or lens choices and decisions.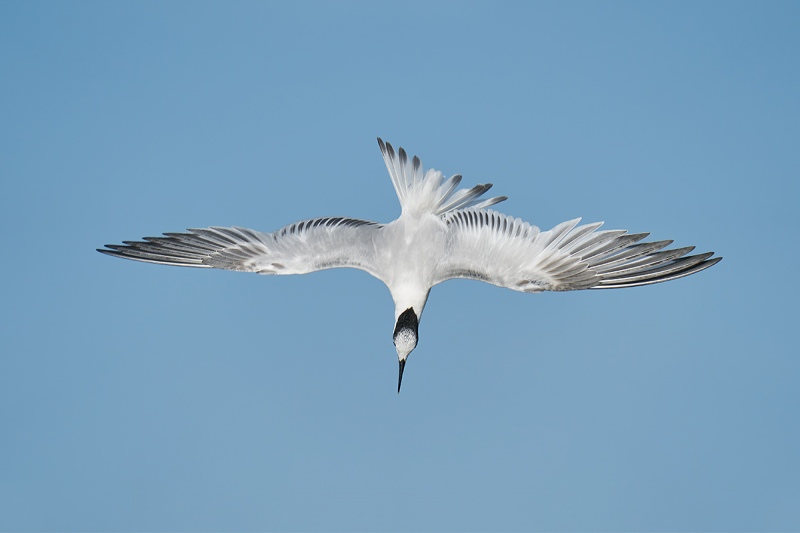 This image was created at Fort DeSoto Park in Pinellas County, FL on the morning of 21 September 2020. I used the handheld Sony FE 200-600mm f/5.6-6.3 G OSS lens (at 565mm) and the blazingly fast AF King, the Sony Alpha a9 II Mirrorless Digital camera body. ISO 640. Exposure was determined via Zebra evaluation with ISO on the rear dial as detailed in The Sony Camera User's e-Guide and One Camera Set-up Video. 1/2500sec. at f7.1. ABW at 9:12am in mostly sunny conditions. RawDigger showed that the RAW file was marginally over-exposed.
Center Zone Continuous AF was active at the moment of exposure and worked well. Click on the image to see a larger version.
Image #1: Sandwich Tern diving

Your browser does not support iFrame.
The Situation I
This image was created during the mega-feeding spree at DeSoto. The site that is often the location of such sprees is detailed in the Fort DeSoto Site Guide here. I was somewhat dismayed when I viewed the head of the tern under the Loupe in Capture One. I thought that it was soft because of motion blur. But Topaz Sharpen AI revealed that I was wrong. After first hearing about the amazing Topaz AI Plug-ins from multiple IPT veteran Larry Master and then from good friend Anita North, I finally decided that this was something I needed to get into … So I did. See Image #2 below to learn about the effectiveness of Topaz Sharpen AI.
So why was the head unsharp?
Folks might ask, "If SONY a9 ii AF is so great, why was the head of the Sandwich Tern unsharp?" Consider that the optimized image above was cropped a fair bit from above and from our left. That means that in the original (RAW) file, the bird was farther down in the frame. That indicates that I did not pan quite quickly enough. And because of that, Center Zone Continuous AF had grabbed focus on the bird's wings and back. With the bird angling slightly toward me, the bird's head was in front of the plane of focus. In short, as is often the case, operator error was the culprit. Keep reading to learn about Topaz Sharpen AI magic.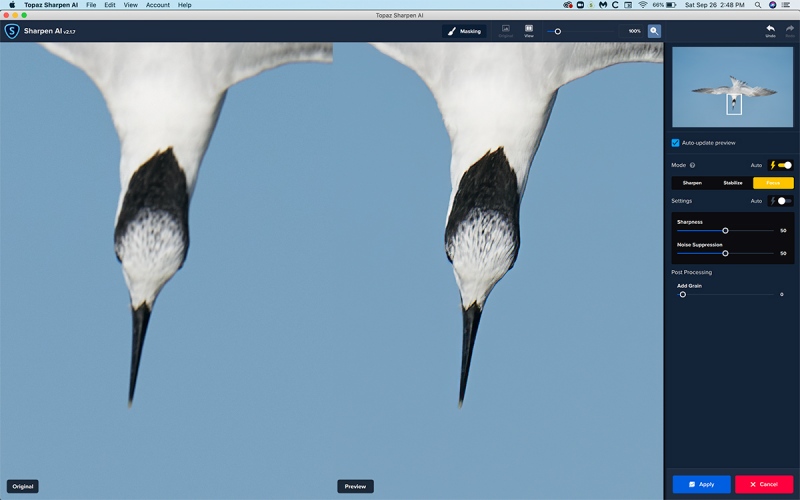 Click on the image to view to and be amazed by the larger version.
Anita North showed me that there are three sharpening options in Topaz Sharpen AI, Sharpen, Stabilize, and Focus. As I originally thought that the unsharpness of the head was due to motion blur, I first tried Stabilize but that did not do much. In his recent Image Processing Webinar, Alan Murphy stated that Auto is a great place to start with Sharpen AI, and Anita North seconded that. When I hit Auto, the system picked Focus. That was when I realized that the unsharp head was not caused by motion blur, but by the fact that focus was on the bird's back and wings.
The result, as you can see in the screen capture above, was astounding. The unsharp head was rendered sharp with a single click. No crunchiness or pixilation appeared, and there were no halos. In short, Topaz Sharpen AI is a quite miraculous plug-in.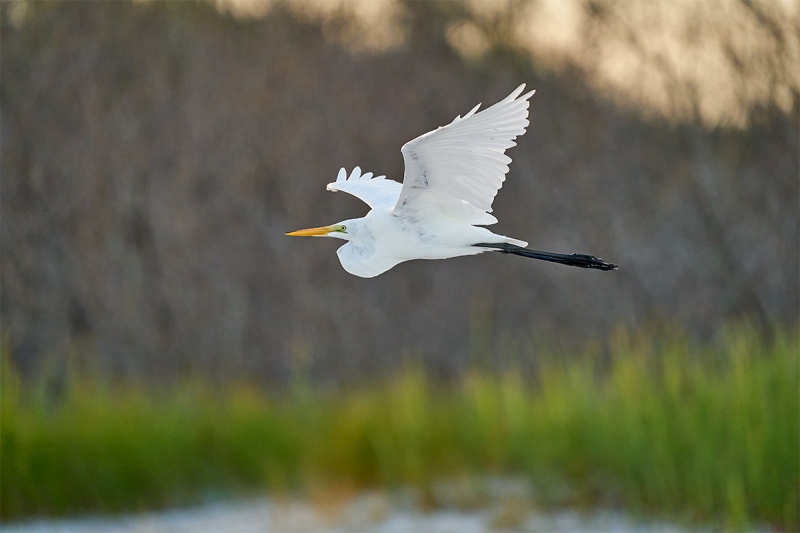 This image was created at Fort DeSoto Park in Pinellas County, FL on the morning of 24 September 2020. I used the handheld Sony FE 200-600mm f/5.6-6.3 G OSS lens (at 600mm) and the blazingly fast AF King, the Sony Alpha a9 II Mirrorless Digital camera body. ISO 10000. Exposure was determined via Zebra evaluation with ISO on the rear dial as detailed in The Sony Camera User's e-Guide and One Camera Set-up Video. 1/2000sec. at f/6.3. ABW at 7:36am on a cloudy dark morning. RawDigger showed that the RAW file was fractionally under-exposed.
Center Zone Continuous AF was active at the moment of exposure and performed beautifully. Click on the image to see a larger version.
Image #3: Great Egret grab shot in the dark

Your browser does not support iFrame.
The Situation II
As always, we were at the beach early. It was cloudy and dark. I began trying to create a pleasing blur or two, but when a Caspian Tern began fishing right in front of me, I went to sharp: 1/2000 second at f/6.3 and ISO 10000. What the hay? When the Great Egret in Image #3 flew right to left toward Hidden Lagoon, I figured that the exposure for the large tern would work pretty well for the egret, so I acquired focus and fired off three quick frames, not expecting much. I was surprisingly pleased by the one decent keeper. But even with a close-to-perfect exposure — that thanks to my continuing work with RawDigger, there was more than enough noise to go around at ISO 10000, especially on the bush-background. Enter Topaz DeNoise AI.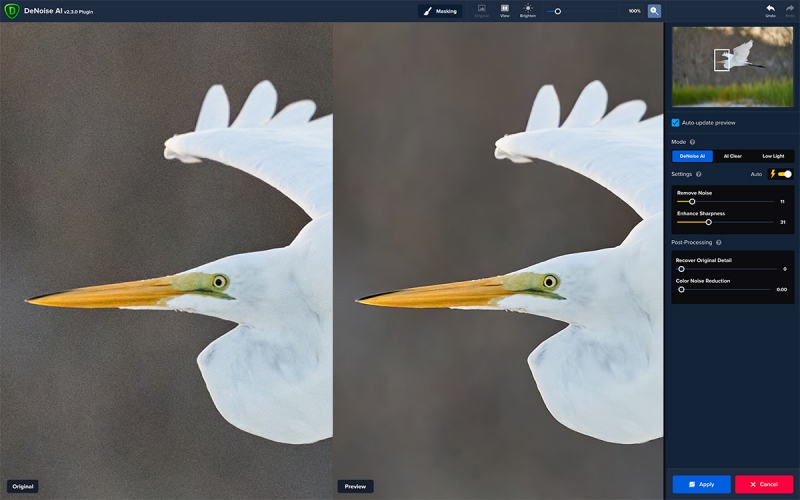 If you click on the image to view the larger version, you will be — as I was — astounded.
Here, a screen capture is worth well more than a thousand words. With a single click, again on Auto, the background was rendered smooth-as-the-proverbial-baby's-tush. And the subject was sharpened (without appearing to be overly smoothed). In short, amazing.
Those who would ask "Where is the fine-feather detail?" are missing two important points:
1- We often perceive noise as detail.
2- As I have pointed out about a zillion times in the Avian Forum at BirdPhotographer's.Net, white feathers in soft light almost never show any fine detail — it is simply the nature of the beast.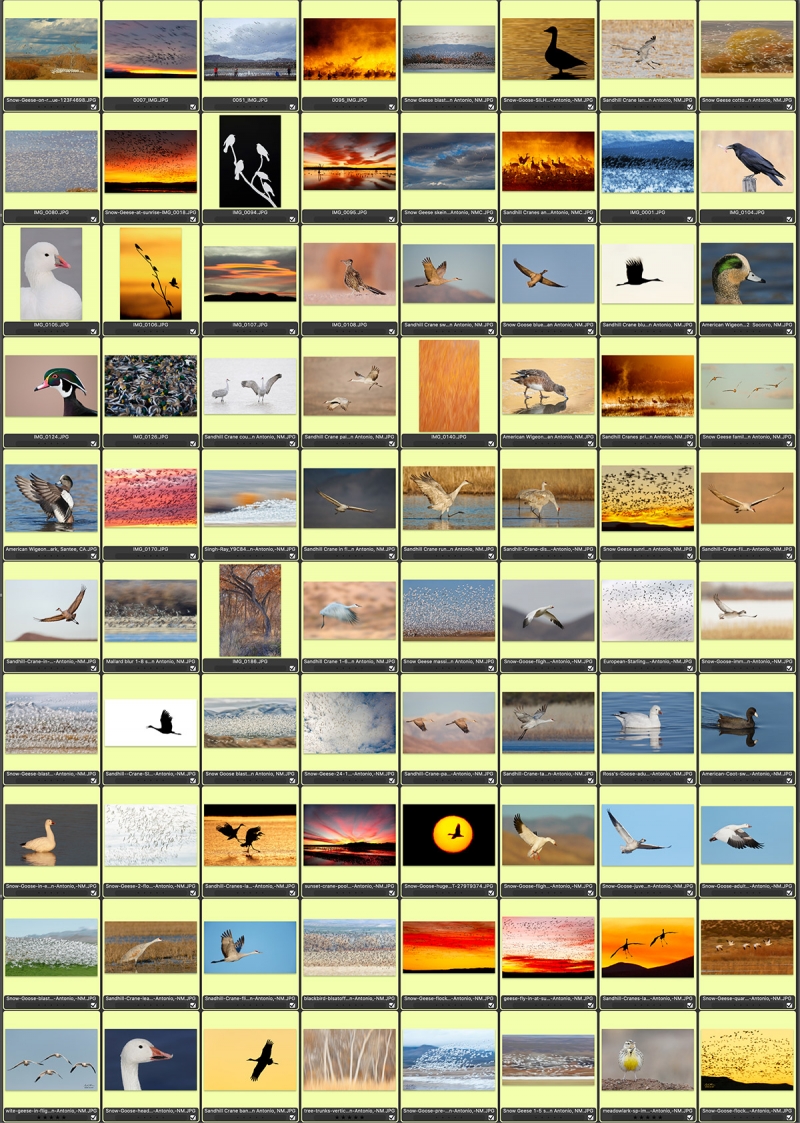 Bosque del Apache 2019 IPT
Notice the incredible variety of images that you can learn to make by developing your skills and your creative vision on a BAA IPT.
Bosque del Apache NWR 2020 IPT
NOV 18 (afternoon session) thru the morning session on November 23, 2020. 5 DAYS. Four full and two half days. $1999.00. Deposit: $500.00. Limit: 8 photographers/Openings: 6.
Extra Day Options: Please e-mail to learn about the before or after In-the-Field Day options.
The very best news is that the 2020 Festival of the Cranes has been canceled so we will be able to visit on what are usually the perfect dates!
I quit going to Bosque several years ago as conditions had worsened each year for several seasons running. In 2018, things had improved dramatically and in 2019 the photography was great. Simply put, I know Bosque better than anyone. Join me to learn how wind and sky conditions influence bird photography, how to create dramatic sunrise and sunset silhouettes, how to be in the right place at the right time, and how to create contest-winning blurs. As usual, you will learn to get the right exposure every time, to use your camera's AF system to create pleasing, balanced image designs, and to improve your flight photography skills.
We should get to photograph many thousands of Snow Geese, more than a few blastoffs, some Ross's Geese, and lots of Sandhill Cranes in the water, taking flight and flying. Depending on local conditions we may get to shoot some ducks: point-blank American Wigeon and Wood Duck. With any luck, we might enjoy sunrises and sunsets that leave you in tears. Live, eat, and breathe photography with one of (if not the) world's premier photographic educators at one of his very favorite locations on the planet. Top-notch Photoshop instruction. Join me to learn to think like a pro and to recognize situations and to anticipate them based on the weather. Every time we make a move, I will let you know why. When you get home, applying what you learned will prove to be invaluable.
Lunch is included.
To Register
To register, send your $500 deposit — check made out to BIRDS AS ART — via US Mail to PO Box 7245, Indian Lake Estates, FL 33855. Or call Jim weekdays at 863-692-0906 to put your non-refundable deposit on a credit card. Balances must be paid in full by check no later than two months before the IPT. If you cancel due to COVID 19 concerns, all of your payments will be refunded.
Travel Insurance
Travel insurance for both big international trips and US-based IPTs is highly recommended as we never know what life has in store for us. I strongly recommend that you purchase quality travel insurance. Travel Insurance Services offers a variety of plans and options. Included with the Elite Option or available as an upgrade to the Basic & Plus Options you can also purchase Cancel for Any Reason Coverage that expands the list of reasons for your canceling to include things such as sudden work or family obligation and even a simple change of mind. My family and I use and depend on the great policies offered by TIS whenever we travel. You can learn more here: Travel Insurance Services. Do note that many plans require that you purchase your travel insurance within 14 days of our cashing your deposit check or running your credit card. Whenever purchasing travel insurance, be sure to read the fine print carefully even when dealing with reputable firms like TSI.
Typos
In all blog posts and Bulletins, feel free to e-mail or to leave a comment regarding any typos or errors. Just be right :).