Whats Up?
On Monday morning, I was thrilled to find the two new crane chicks feeding alongside the parents in the exact same spot as they had been the day before. Again, they were quite accepting of my presence. Because of the dense fog, I opted to work with the 600mm f/4 GM lens and the a1. I came up with a handful of really good images once it brightened up a bit.
It is 5:43am as I type: Jim and I are headed to Stick Marsh where I will meet up with Ron Santini for an In-the-Field Instructional morning session with the spoonbills. Ron and his wife are visiting from North Carolina. Here's what Vaughn Larsen, the last I-T-F victim had to say via e-mail:
Hey Artie, I just wanted to thank you again for this morning. It was a bucket list experience. I have followed you, Frans Lanting, and Alan Murphy for quite a few years. I just downloaded 4903 images from this morning and am absolutely thrilled with the results! I think less than 10% have an exposure issue. I can tell that you are a former teacher because of the clarity of your instruction and the solid reasoning behind it. I am now loving my R5 mirrorless body. Much appreciation for your time and help this morning. Vaughn
My upcoming schedule is very tight: On April 6-7 I am doing 1 1/2 days with the M&M boys at Stick Marsh. On the night of the 7th I will be doing the webinar for the South Shore Camera Club from my motel room in Vero. I will shoot Stick Marsh on the morning of the 8th and then drive home. Many-multiple IPT veteran John Johnson is driving over on the 8th for a pool deck ribeye dinner. On the morning of the 9th we are doing Stick Marsh And then returning to ILE. We will be driving over to our AirBnB in Gulfport that afternoon for a nice dinner in St. Pete Beach. That will be followed by the DeSoto IPT #1. I drive home on the 13th.
On April 15, I fly to Bismarck, ND to meet up with BPN friend Kevin Hice for six days of photographing prairie chickens on various leks in North and South Dakota. Kevin has been after me for years to join him. I am excited. I fly home on the 22nd. The plan is to meet up with Donna Bourdon at the Orlando Airport for a day of In-the-Field crane colts (we hope), Ospreys, and Spoonbills. On the afternoon of the 25th we drive over to Gulfport for DeSoto IPT #2.
If you would like to join me at Stick Marsh on the morning of 7 April or explore the possibilities of either spoonbills at Stick Marsh or the crane chicks at ILE before then, please get in touch via e-mail. After that, I am pretty much booked solid until May.
Today is Tuesday 30 March 2021. The morning forecast for Stick Marsh is looking great: partly cloudy to mostly sunny with a light southeast breeze. That is pretty much perfect for bird photography and we are experiencing zero fog on the drive over!
This blog post took almost two hours (and two weeks!) to prepare and makes ninety-eight consecutive days with a new one. Please remember to use my B&H affiliate links or to save money at Bedfords by using the BIRDSASART discount code at checkout. Doing either often earns you free guides or discounts. And doing so often earns my great appreciation.
The Stick Marsh Site Guide Subscription Service
The Site Guide Subscription Service is a new concept. I e-mailed the first issue last week: Stick Marsh Site Guide e-Mail #1: The Basics. The Basics e-mail includes specific directions to the site, and a map of the rookery area with specific instructions and wind, weather, and where-to-be advice. I e-mailed the second installment yon Sunday. In it, I shared several new shooting locations and strategies. Each e-mail includes several images. For each image I note the lens used and the exact location (via a coded map) where each was created.
There are lots of photographers at Stick Marsh most days. Many are skilled at hand-holding 500 and 600mm f/4 telephotos lenses. But with all due respect, none of them can come anywhere near me when it comes to analyzing the photo opps at a given location. With the exception of a very nice and very helpful man I met, Fred Vaughn, every single photographer got to their favorite spot and never moved. We moved around a lot and had great and different chances all day long. After most of my visits, you will receive an e-mail noting the best current locations and anything new that I've learned.
To sign up for the Stick Marsh Site Guide Subscription Service, call Jim in the office weekday afternoons at 863-692-0906 with your credit card in hand or send a PayPal for the $100.00 to us at birdsasart@verizon.net. Please be sure to include the words Stick Marsh with your Paypal. At some point, we will get this item in the BAA Online Store.
I fully understand that you can go to Google Maps, find the Stick Marsh, visit, and likely make some good or great images. You might think, I can do fine just without artie's advice. But you will do a whole lot better with it.
New and Better Bedfords Discount Policy!
You can now save 3% on all of your Bedfords photo gear purchases by entering the BIRDSASART coupon code at checkout. Your discount will be applied to your pre-tax total. In addition, by using the code you will get 2nd day air shipping via Fed Ex.
Grab a Nikon AF-S Teleconverter TC-14E III and save $14.99. Purchase a Canon EOS R5 and your discount will be $116.97. Purchase a Sony FE 600mm f/4 GM OSS lens and save a remarkable $389.94! Your Bedford's purchase no longer needs to be greater than $1,000.00 for you to receive a discount. The more you spend, the more you save.

Money Saving Reminder
Many have learned that if you need a hot photo item that is out of stock at B&H and would enjoy free second-day air shipping, your best bet is to click here, place an order with Bedfords, and enter the coupon code BIRDSASART at checkout. If an item is out of stock, contact Steve Elkins via e-mail or on his cell phone at (479) 381-2592 (Central time). Be sure to mention the BIRDSASART coupon code and use it for your online order to save 3% and enjoy free 2nd-day air shipping. Steve has been great at getting folks the hot items that are out of stock at B&H and everywhere else. The wait lists at the big stores can be a year or longer for the hard to get items. Steve will surely get you your gear long before that. For the past year, he has been helping BAA Blog folks get their hands on items like the SONY a9 ii, the SONY 200-600 G OSS lens, the Canon EOS R5, the Canon RF 100-500mm lens, and the Nikon 500mm PF. Steve is personable, helpful, and eager to please.
Gear Questions and Advice
Too many folks attending BAA IPTs (remember those?) and dozens of photographers whom I see in the field and on BPN, are–out of ignorance–using the wrong gear especially when it comes to tripods and more especially, tripod heads… Please know that I am always glad to answer your gear questions via e-mail. Those questions might deal with systems, camera bodies, accessories, and/or lens choices and decisions.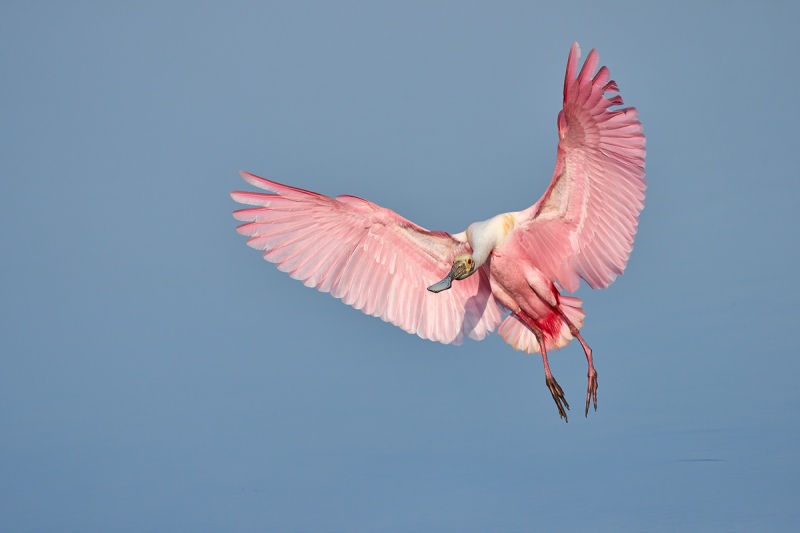 This image was created on 25 March 2021 at Stick Marsh. I used the hand held Sony FE 200-600mm f/5.6-6.3 G OSS lens (at 275mm) and The One, the Sony Alpha 1 Mirrorless digital camera. ISO 640. Exposure determined with ISO on the Thumb Wheel. 1/3200 sec. at f/6.3 in Manual mode. AWB at 9:01am on a clear morning.
Wide/AF-C was active at the moment of exposure and performed perfectly. Click on the image to enjoy a larger version.
Image #1: Roseate Spoonbill braking to land

Your browser does not support iFrame.
The Image After the Disaster
This image was made on the fateful morning after the viewfinder of the a1 finally came back to life. With hundreds if not thousands of similar sharp images to choose from, the very best images feature the undersides completely and evenly lit without a single shadow.
The Skinny on the Electronic Viewfinder (EVF) Blackout Problems with the Sony Alpha a1 …
Imagine yourself sitting on the grass on a gorgeous still morning. With just a hint of moisture in the air, the soft, richly-colored light has a magical quality about it. Roseate Spoonbills are flying in from the right one after another, flaring their wings for landing while set against still blue water backgrounds. The soft pink against blue is to die for.
In your hands is the SONY 200-600 G lens with the new Sony Alpha a1, a $6500.00+ camera that has quickly proven to offer the best autofocus system ever for photographing birds in flight. On ten of the thirteen birds that fly in early, you raise your rig to your eye only to be greeted by a black electronic viewfinder. Photography is impossible on those occasions.
I had experienced EVF blackout problems before with my SONY a7r iv, my a9, and my two a9 ii bodies. As it turned out I was ignorant of the causes and when I contacted SONY, their responses were less than helpful. In retrospect, their responses were evasive.
When I got home, I found an e-mail from Geoff Newhouse to the SONY Alpha a1 Set-up and Info Group noting that he had been having EVF blackout problems. I shared my morning's experiences with the group via e-mail and quickly learned that group member Craig Elson was having the same problems. Geoff provided a link to an online forum with a big discussion of what was obviously a very serious problem with the a1.
Many in the group (including yours truly), did lots of online research and asked lots of questions. The brilliant Arash Hazeghi provided lots of insight. From him we learned that there are three in-camera sensors that come into play when it comes to determining if the EVF should be on or off. We learned that one option, covering the IR sensor with tape, would keep the EVF on all the time, but that doing so would eat up the battery. Even worse would be the potential for long term damage to the OLED (organic Light emitting diode) EVF screen; over a year or two, the screen might become damaged, unlikely to be repaired free of charge by SONY (since you put the tape on the IR sensor).
All agreed that richly-colored, low angled full sunlight was the main culprit. Arash suggested that if you held your rig at your side with the lens pointed at the ground on a clear early morning the EVF would often black out when you raised the camera to your eye. That is exactly what had happened to me. In the meantime I had been in touch with SONY customer care; their canned response was pathetic at best.
Most folks who have experienced the problem state that is that occurrences are reduced over time. That too has been the case with me, But one of the huge problems is that it is difficult at best to cause the EVF to blackout. I have tried numerous times and failed. Right now, the problem seems to have disappeared (with my a1).But that has not been the case for everyone.
I had planned to ask others who have experienced the EVF problems with their a1 bodies to call SONY and voice their concerns. At present, however, after speaking with the right folks at SONY, I am fully confident that they are well-aware of the EVF blackout problem and are seriously at work on a solution.
If you own a SONY a1 and would like to share your thoughts and experiences with us, please leave a comment below.
Sony Alpha a1 AF Magic …
The AF system of the a1 — set up as detailed in e-mails to the Sony Alpha a1 Info & Updates group, continues to amaze me. Early on there was lots of discussion within the group with many preferring multiple back button approaches. For me a simple shutter button approach with the right AF settings that yield 99% sharp on the eye images is best. By far. Super-simple and mega-effective. Note: info on the program that I use to ascertain SONY AF point information is detailed in one of the SONY Alpha a1 Set-up and Info Group e-mails. I plan on making that information available here soon for all SONY camera users.
SONY Alpha a1 Set-up and Info Group
The SONY Alpha a1 Set-up and Info Group is going great guns as folks chime in with thoughtful questions and experience-based advice. We are now up to 19 folks. Early on (as noted above) we discussed the best AF options. More recently, we have been in contact with folks at SONY sharing our thoughts, experiences, and frustrations with the EVF blackout problem. There will be more on that topic here tomorrow.
All who purchased their Alpha a1 bodies via a BAA affiliate link will receive a free subscription to the Sony Alpha a1 Set-Up and Info Updates after shooting me their receipts via e-mail. This same service may be purchased by anyone with an a1 body via a $150.00 Paypal sent to birdsasart@verizon.net indicating payment for Alpha a1 Info Updates. Alternatively, they can call Jim weekday afternoons at 1-863-692-0906 to pay via credit card. New members will receive composite e-mails that summarize all previous discussions.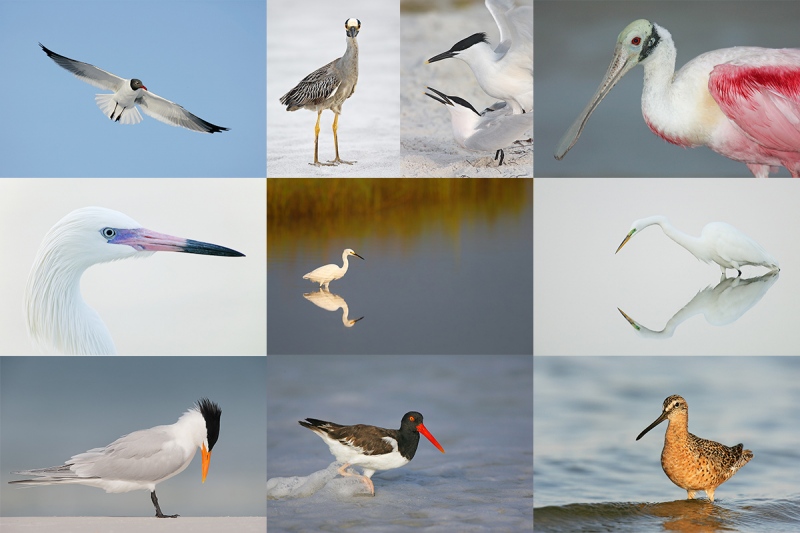 All of the images were created at Fort DeSoto in April or early May. Click on the card to enjoy a larger version.
Fort DeSotoIPT card A
Fort DeSoto Spring IPT #1
Fort DeSoto Spring IPT #1. 3 1/2 DAYS. SAT 10 APR thru the morning session on TUES 13 APR 2021. $1499 includes three lunches. Limit: 6. Openings: 5.
While DeSoto is one of the rare photo hotspots with the potential to be great any day of the year, it absolutely shines in spring. Many of the wading birds and shorebirds are in full breeding plumage. The terns and gulls are courting and copulating. We will have lots of flight photography opportunities. Did I mention that many of the birds are silly tame?
A $499 deposit is required to hold your spot for this IPT. You can send a check (made out to "BIRDS AS ART) to us here: BIRDS AS ART, PO Box 7245, Indian Lake Estates, FL, 33855, or call Jim or Jennifer at the office with a credit card at 863-692-0906. Your balance, payable only by check, is due immediately after you sign up. If you have any questions, please feel free to contact me via e-mail. If you cancel due to COVID 19 concerns, all of your payments will be refunded.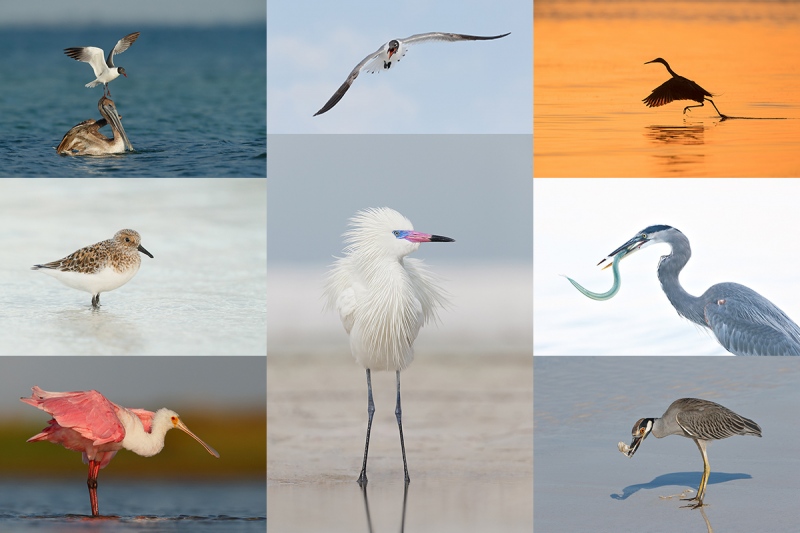 All of the images were created at Fort DeSoto in April or early May. Click on the card to enjoy a larger version.
Fort DeSoto IPT card B
Fort DeSoto Spring IPT #2
Fort DeSoto Spring IPT #2. 3 1/2 DAYS. MON 26 APR thru the morning session on THURS 29 APR 2021. $1499 includes three lunches. Limit: 6. Openings: 5.
Not only am I conversant in all three major camera systems used in the US — Nikon, Canon, and SONY (sorry Andy Rouse …), I have used all three within the past four years. Those include both SONY and Canon mirrorless. On both of these IPTs you will learn how to get the best exposure, how to get the most out of your AF system, and how to get close to free and wild birds. And tons more.
A $499 deposit is required to hold your spot for this IPT. You can send a check (made out to "BIRDS AS ART) to us here: BIRDS AS ART, PO Box 7245, Indian Lake Estates, FL, 33855, or call Jim or Jennifer at the office with a credit card at 863-692-0906. Your balance, payable only by check, is due immediately after you sign up. If you have any questions, please feel free to contact me via e-mail. If you cancel due to COVID 19 concerns, all of your payments will be refunded.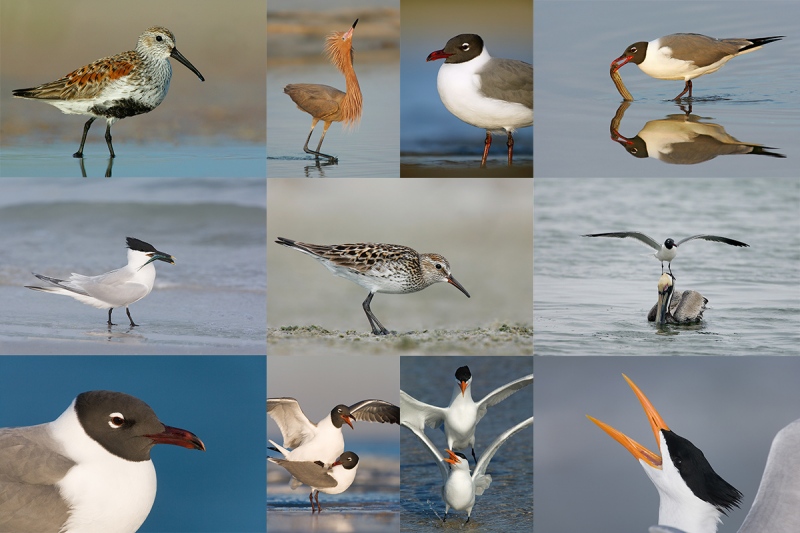 All of the images were created at Fort DeSoto in April or early May. Click on the card to enjoy a larger version.
Fort DeSoto IPT card C
Fort DeSoto Spring IPTs Expected Species
With any luck, we should get to photograph the following species: Laughing, Ring-billed, Herring, and Lesser Black-backed Gull; Royal, Sandwich, and Forster's Tern: Great, Snowy, and white and dark morph Reddish Egret and Great Blue, Little Blue, and Tricolored Heron; Yellow-crowned Night-Heron, Wood Stork, Roseate Spoonbill, and Brown Pelican. We will see and photograph lots of shorebirds including American Oystercatcher, Black-bellied, Wilson's, Semipalmated, Snowy, and Piping Plover, Marbled Godwit, Willet, Dunlin, Red Knot, Sanderling, and Western and possibly White-rumped Sandpiper.
Sign up for both IPTs and enjoy a $200 discount. Most of us will be staying in nearby Gulfport.
Typos
With all blog posts, feel free to e-mail or to leave a comment regarding any typos or errors.