What's Up?
Thanks to the very few folks who commented on their favorites in the last two blog posts. They included Michael Shaw, Elinor Osborne, James Saxon, David Policansky, and Paul Campbell. And not a single person commented on the Willet video. You gotta love it!
The forecast for Sunday morning was dire; there was a 76% chance of severe thunderstorms in St. Pete. John Johnson and I headed to Desoto under clear skies. With the wind from the southwest and the sun rising in the southeast and then moving to the south, we had the birds 90 degrees to the light. That is very good for bird photography, unlike clear skies and NW winds in the morning … We enjoyed 90 minutes of lovely light until some thin clouds moved in. The cloudy-bright conditions were fabulous. All in all we had our second straight great morning session.
Then Armageddon arrived. With a vengeance. The house shook, lightning struck, and the streets flooded. As did the campground at Fort DeSoto; good friend Monte Brown — visiting from Indiana — was unable to get his fifth-wheel trailer into his spot for several hours.
With pouring rain all afternoon and 5G internet in our AirBnB, I got a ton of work done. I sent out a link to the SONY Camera User's e-guide to all who earned or purchased it. And I sent out the final version of the BAA R5 Camera User's e-guide, again, to all who earned or purchased it. Jim will be sending out the last of the R5 guides on Monday. If you should have received a link to your updated Camera User's Guide and did not, please let me know via e-mail.
John and I stayed in and napped and worked on images.
Today is Monday 12 April 2021. I just finished sending out the eighth SONY Alpha a1 Set-up and Info Group e-mail and the fourth Stick Marsh Site Guide e-mail. The forecast for the morning is for partly-cloudy skies with drizzle early then clearing with a light wind from the northwest. It will likely be a challenging morning. But I have a plan. Monte will be joining us. Wherever you are, and whatever you are doing, I hope that you have a great day.
This blog post took more than an hour to prepare and makes 110 consecutive days with a new one. Please remember to use my B&H affiliate links or to save money at Bedfords by using the BIRDSASART discount code at checkout. Doing either often earns you free guides or discounts. And doing so always earns my great appreciation.
Please Remember
With income from IPTs now at zero, please, if you enjoy and learn from the blog, remember to use one of my two affiliate programs when purchasing new gear. Doing so just might make it possible for me to avoid having to try to get a job as a Walmart greeter and will not cost you a single penny more. And if you use Bedfords and remember to enter the BIRDSASART code at checkout, you will save 3% on every order and enjoy free second-day air shipping. In these crazy times — I am out at least forty to sixty thousand dollars so far due to COVID 19 (with lots more to come) — remembering to use my B&H link or to shop at Bedfords will help me out a ton and be greatly appreciated. Overseas folks who cannot order from the US because of import fees, duties, and taxes, are invited to help out by clicking here to leave a blog thank you gift if they see fit.
New and Better Bedfords Discount Policy!
You can now save 3% on all of your Bedfords photo gear purchases by entering the BIRDSASART coupon code at checkout. Your discount will be applied to your pre-tax total. In addition, by using the code you will get 2nd day air shipping via Fed Ex.
Grab a Nikon AF-S Teleconverter TC-14E III and save $14.99. Purchase a Canon EOS R5 and your discount will be $116.97. Purchase a Sony FE 600mm f/4 GM OSS lens and save a remarkable $389.94! Your Bedford's purchase no longer needs to be greater than $1,000.00 for you to receive a discount. The more you spend, the more you save.

Money Saving Reminder
Many have learned that if you need a hot photo item that is out of stock at B&H and would enjoy free second-day air shipping, your best bet is to click here, place an order with Bedfords, and enter the coupon code BIRDSASART at checkout. If an item is out of stock, contact Steve Elkins via e-mail or on his cell phone at (479) 381-2592 (Central time). Be sure to mention the BIRDSASART coupon code and use it for your online order to save 3% and enjoy free 2nd-day air shipping. Steve has been great at getting folks the hot items that are out of stock at B&H and everywhere else. The wait lists at the big stores can be a year or longer for the hard to get items. Steve will surely get you your gear long before that. For the past year, he has been helping BAA Blog folks get their hands on items like the SONY a9 ii, the SONY 200-600 G OSS lens, the Canon EOS R5, the Canon RF 100-500mm lens, and the Nikon 500mm PF. Steve is personable, helpful, and eager to please.
Gear Questions and Advice
Too many folks attending BAA IPTs (remember those?) and dozens of photographers whom I see in the field and on BPN, are–out of ignorance–using the wrong gear especially when it comes to tripods and more especially, tripod heads… Please know that I am always glad to answer your gear questions via e-mail. Those questions might deal with systems, camera bodies, accessories, and/or lens choices and decisions.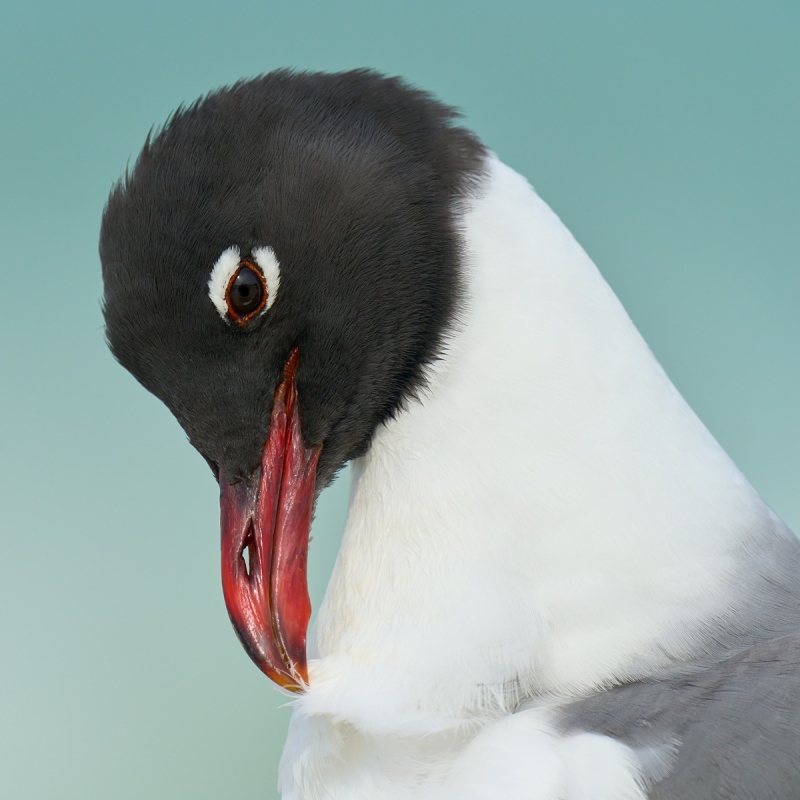 This image was created on 11 April on the Fort DeSoto #1 IPT. I used the Induro GIT 304L/Levered-clamp FlexShooter Pro-mounted Sony FE 600mm f/4 GM OSS lens, the Sony FE 2.0x Teleconverter, and The One, the Sony Alpha 1 Mirrorless digital camera. ISO 800. The exposure was determined by Zebras with ISO on the rear wheel: 1/1250 sec. at f/9 (stopped down 1/3-stop) in Manual mode. AWB at 9:54am on a cloudy-bright morning.
Wide/AF-C was active at the moment of exposure and performed pretty close to perfection (see below) by tracking the bird's eye.
Image #1: Adult Laughing Gull in breeding plumage preening a neck feather
Your browser does not support iFrame.
An Aqua Square
The background color here is an accurate representation of the color of the water in the Gulf of Mexico on a cloudy- bright day. I raised the tripod a bit while seated as the near-shore water appears more aqua than it does in the distance. This one is another example of my new-acceptance of perfect square crops as perfect for some images. Photoshop tip: select 1:1 (Square) from the dropdown Crop menu.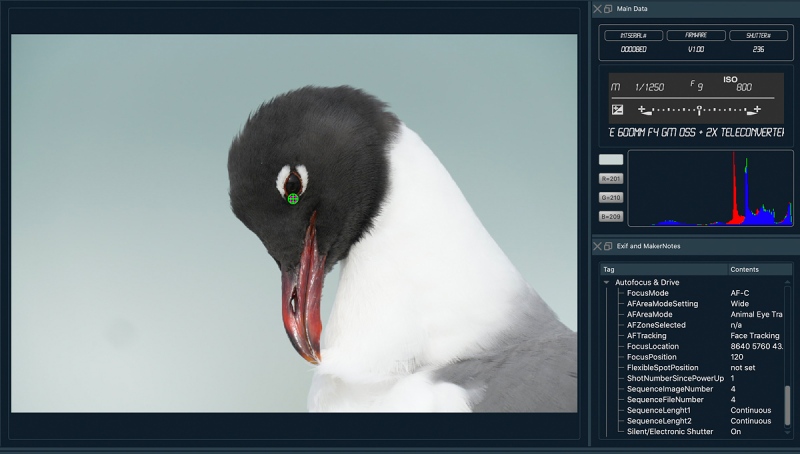 Image #1A: AF Points for the Adult Laughing Gull in breeding plumage preening a neck feather image
Close Enough to Perfect!
With your Sony Alpha a1 set up correctly, the AF system is science-fiction-like, even at 1200mm. As always, no matter how amazing the AF performance, it is up to the operator to correctly frame the image …
Sony Alpha a1 AF Magic …
The AF system of the a1 — set up as detailed in e-mails to the Sony Alpha a1 Info & Updates group, continues to amaze me. Early on, there was lots of discussion within the group with many preferring multiple back button approaches. For me a simple shutter button approach with the right AF settings that yield 99% sharp-on-the-eye images is best. By far. It is super-simple and mega-effective. Note: info on the program that I use to ascertain SONY AF point information is detailed in one of the SONY Alpha a1 Set-up and Info Group e-mails. I plan on making that information available here soon for all SONY camera users. You guessed it, I am working on a guide. 🙂
SONY Alpha a1 Set-up and Info Group
The SONY Alpha a1 Set-up and Info Group is going great guns as folks chime in with thoughtful questions and experience-based advice. We are now up to an astounding 35 folks. Early on, we discussed the myriad AF options. I gave my opinion as to the best one for flight and general bird photography. More recently, we have been in contact with folks at SONY sharing our thoughts, experiences, and frustrations with the EVF blackout problem.
All who purchased their Alpha a1 bodies via a BAA affiliate link will receive a free subscription to the Sony Alpha a1 Set-Up and Info Updates after shooting me their receipts via e-mail. (Note: it may take me several days to confirm B&H orders.) This same service may be purchased by anyone with an a1 body via a $150.00 PayPal sent to birdsasart@verizon.net indicating payment for Alpha a1 Info Updates. Alternatively, they can call Jim weekday afternoons at 1-863-692-0906 to pay via credit card. New members will receive composite e-mails that summarize all previous discussions.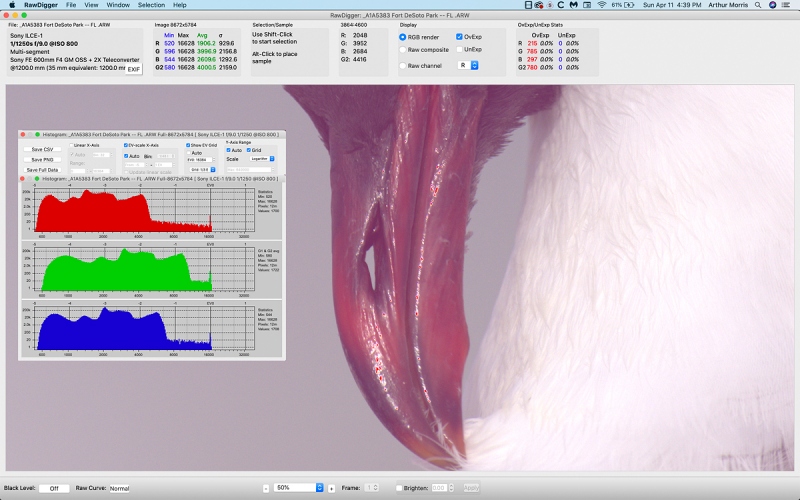 Image #1B: RawDigger screen capture for the Adult Laughing Gull in breeding plumage preening a neck feather image
RawDigger and Specular Highlights
When you see clipping in all three channels (at the 16000 line), most would assume that this image is hopelessly and irrecoverably over-exposed. Not so fast … Though there are a total of 2078 over-exposed pixels, those are out of 51,000,000 and thus account for 0% OvExp pixels. Furthermore, a look at the enlarged image of the bill we see that all of the OvExp pixels are in the specular highlights on the bird's (wet) bill. If you tried to eliminate those, the image would be mega-under-exposed. In short, the exposure for today's featured image is 100% der solid perfect. All of the above is detailed at length in the RawDigger guide and in the included Adapted Histogram video.
RawDigger — not for the faint of heart …
Nothing has ever helped me learn to create perfect exposures to the degree that RawDigger has. I think that many folks are reluctant to learn that most of their images are underexposed by one or more full stops and that highlight warnings in Photoshop, Lightroom, Capture One, and your in-camera histogram are bogus as they are based on the embedded JPEGs. Only your raw files tell the truth all the time. Heck, I resisted RawDigger for several years … Once you get over that feeling, RawDigger can become your very best exposure friend no matter what system you are using. On the recent IPTs and In-the-Field sessions, we have demonstrated that fact. Convincingly.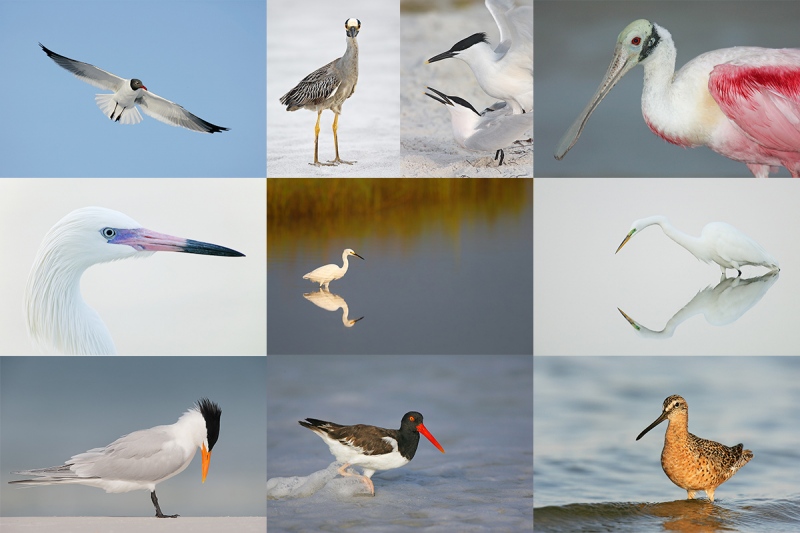 All of the images were created at Fort DeSoto in April or early May. Click on the card to enjoy a larger version.
Fort DeSoto IPT card A
Fort DeSoto Spring IPT #2
Fort DeSoto Spring IPT #2. 3 1/2 DAYS. MON 26 APR thru the morning session on THURS 29 APR 2021. $1499 includes three lunches. Limit: 6. Openings: 5.
Not only am I conversant in all three major camera systems used in the US — Nikon, Canon, and SONY (sorry Andy Rouse …), I have used all three within the past four years. Those include both SONY and Canon mirrorless. On both of these IPTs you will learn how to get the best exposure, how to get the most out of your AF system, and how to get close to free and wild birds. And tons more.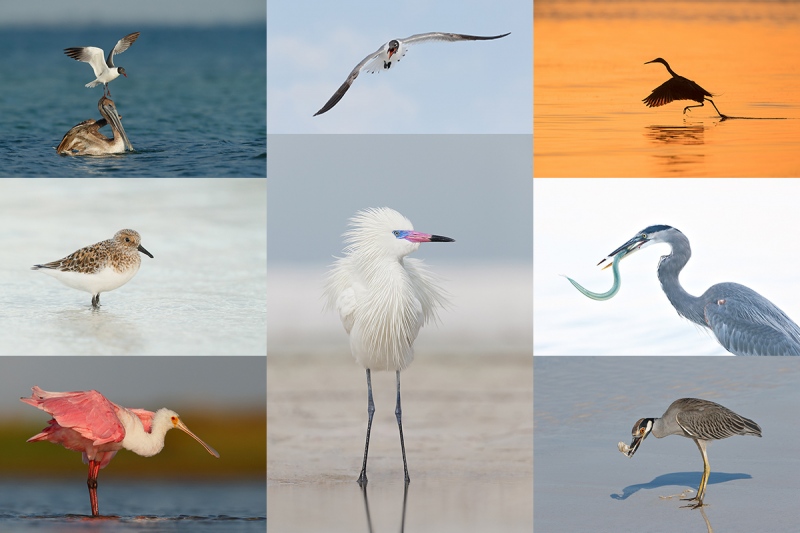 All of the images were created at Fort DeSoto in April or early May. Click on the card to enjoy a larger version.
Fort DeSoto IPT card B
A $499 deposit is required to hold your spot for this IPT. You can send a check (made out to "BIRDS AS ART) to us here: BIRDS AS ART, PO Box 7245, Indian Lake Estates, FL, 33855, or call Jim or Jennifer at the office with a credit card at 863-692-0906. Your balance, payable only by check, is due immediately after you sign up. If you have any questions, please feel free to contact me via e-mail. If you cancel due to COVID 19 concerns, all of your payments will be refunded.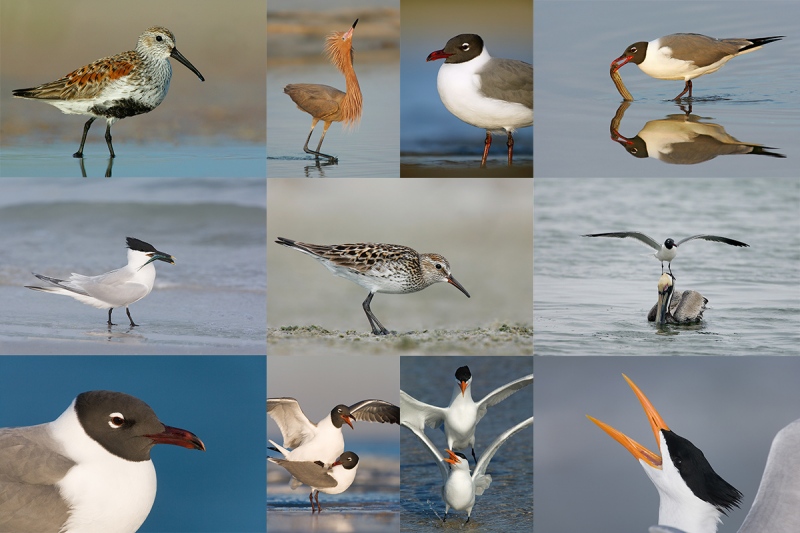 All of the images were created at Fort DeSoto in April or early May. Click on the card to enjoy a larger version.
Fort DeSoto IPT card C
Fort DeSoto Spring IPTs Expected Species
With any luck, we should get to photograph the following species: Laughing, Ring-billed, Herring, and Lesser Black-backed Gull; Royal, Sandwich, and Forster's Tern: Great, Snowy, and white and dark morph Reddish Egret and Great Blue, Little Blue, and Tricolored Heron; Yellow-crowned Night-Heron, Wood Stork, Roseate Spoonbill, and Brown Pelican. We will see and photograph lots of shorebirds including American Oystercatcher, Black-bellied, Wilson's, Semipalmated, Snowy, and Piping Plover, Marbled Godwit, Willet, Dunlin, Red Knot, Sanderling, and Western and possibly White-rumped Sandpiper.
Typos
With all blog posts, feel free to e-mail or to leave a comment regarding any typos or errors.