What's Up?
As alluded to in the This Just In item in yesterday's blog post, I had a great 90 minutes in the marsh on Saturday morning. See below for the whole story. I was back home early working on images and catching up on the NBA Playoffs and Jeopardy on Tevo. I swam early and headed down to the lake at about 4:30pm on a cloudy afternoon to check on the stilt nests. The pretty nest still had one egg, and the plain nest, built less than ten yards from where Anita first sat in the marsh, still had three. I read most of the Birds of North America species account for Black-necked Stilt and learned that the average clutch size is four, laying to hatching time is about 23 days, and that the chicks never remain at the nest for more than a day after the last egg hatches. Once they leave, they range widely.
Today is Monday 31 May 2021. The forecast for ILE for this morning is for mostly clear skies with a very gentle southeast wind. I will be headed down to the lake early for what promises to be perfect conditions. Wherever you are, and whatever you are doing, I hope that you have a great day.
This blog post took more than an hour to prepare, and makes 156 consecutive days with a new one. Please remember that if an item — a Delkin flash card, or a tripod head — for example, that is available from B&H and/or Bedfords and is also available in the BAA Online Store, it would be great if you opt to purchase from us. We will match any price. Please remember also to use my B&H affiliate links or to save 3% at Bedfords by using the BIRDSASART discount code at checkout. Doing either often earns you free guides and/or discounts. And doing so always earns my great appreciation.
ILE In-the-Field Sessions
Sandhill Crane colts and small chicks guaranteed!
Any morning from now til …
2-hour session (6:30 to 8:30am): $300.00/session
The crane colts family and the crane chicks family continue to be utterly dependable. Join me for a morning at Indian Lake Estates with a money-back guarantee: if we do not get to photograph either the colts and/or the chicks at close range, you will get every penny back. Point blank Black-necked Stilts are guaranteed as well.
Lodging and Photoshop lessons available. If you are seriously interested in joining me for one or more sessions, get in touch via e-mail or call or text me on my cell at 863-221-2372.
Huguenot Memorial Park and/or Jacksonville Nesting Beaches Info Requested
If you photograph regularly at Huguenot Memorial Park and/or any of the other of the publicly accessible beaches north of Jacksonville that have nesting Laughing Gull, Royal and Sandwich Terns, and possibly Brown Pelican, please get in touch via e-mail or call or text me at 863-221-2372.
Please Remember
With income from IPTs now close to zero, please, if you enjoy and learn from the blog, remember to use one of my two affiliate programs when purchasing new gear. Doing so just might make it possible for me to avoid having to try to get a job as a Walmart greeter and will not cost you a single penny more. And if you use Bedfords and remember to enter the BIRDSASART code at checkout, you will save 3% on every order and enjoy free second-day air shipping. In these crazy times — I am out at least forty to sixty thousand dollars so far due to COVID 19 (with lots more to come) — remembering to use my B&H link or to shop at Bedfords will help me out a ton and be greatly appreciated. Overseas folks who cannot order from the US because of import fees, duties, and taxes, are invited to help out by clicking here to leave a blog thank you gift if they see fit.
New and Better Bedfords Discount Policy!
You can now save 3% on all of your Bedfords photo gear purchases by entering the BIRDSASART coupon code at checkout. Your discount will be applied to your pre-tax total. In addition, by using the code you will get 2nd day air shipping via Fed Ex.
Grab a Nikon AF-S Teleconverter TC-14E III and save $14.99. Purchase a Canon EOS R5 and your discount will be $116.97. Purchase a Sony FE 600mm f/4 GM OSS lens and save a remarkable $389.94! Your Bedford's purchase no longer needs to be greater than $1,000.00 for you to receive a discount. The more you spend, the more you save.

Money Saving Reminder
Many have learned that if you need a hot photo item that is out of stock at B&H and would enjoy free second-day air shipping, your best bet is to click here, place an order with Bedfords, and enter the coupon code BIRDSASART at checkout. If an item is out of stock, contact Steve Elkins via e-mail or on his cell phone at (479) 381-2592 (Central time). Be sure to mention the BIRDSASART coupon code and use it for your online order to save 3% and enjoy free 2nd-day air shipping. Steve has been great at getting folks the hot items that are out of stock at B&H and everywhere else. The wait lists at the big stores can be a year or longer for the hard to get items. Steve will surely get you your gear long before that. For the past year, he has been helping BAA Blog folks get their hands on items like the SONY a9 ii, the SONY 200-600 G OSS lens, the Canon EOS R5, the Canon RF 100-500mm lens, and the Nikon 500mm PF. Steve is personable, helpful, and eager to please.
Gear Questions and Advice
Too many folks attending BAA IPTs (remember those?) and dozens of photographers whom I see in the field and on BPN, are–out of ignorance–using the wrong gear especially when it comes to tripods and more especially, tripod heads… Please know that I am always glad to answer your gear questions via e-mail.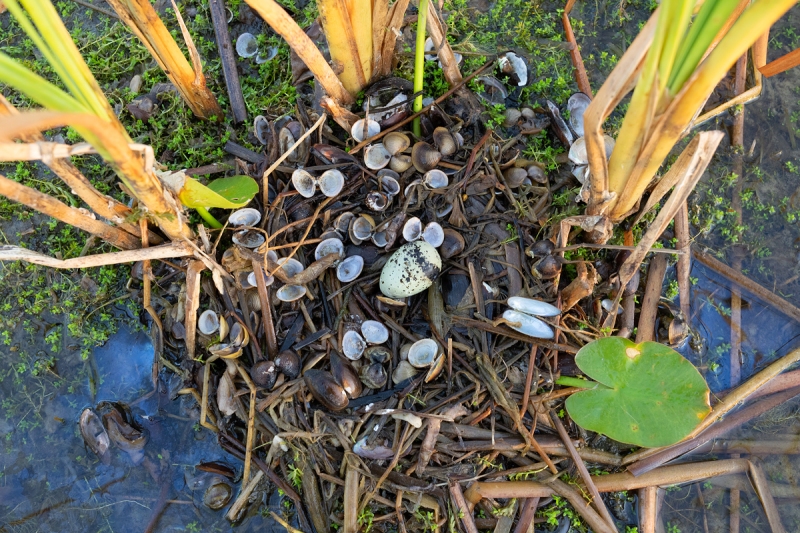 This image was created on 30 May 2021 in the marsh to the left of the pier at ILE. I used the hand held Sony FE 24-105mm f/4 lens at 41mm and The One, the Sony Alpha 1 Mirrorless Digital Camera (Body Only). AUTO ISO 1600. The exposure was determined by Zebras with ISO on the rear wheel: 1/60 sec. at f/8 (stopped down to stops) in Manual mode. AWB at 6:48am with some clouds on the eastern horizon.
Tracking: Expand Spot/AF-C was active at the moment of exposure and performed perfectly. Click on the image to enjoy a larger version
Image #1: Black-necked Stilt nest

Your browser does not support iFrame.
A Incredibly Beautiful, Intricate Creation
When I first saw this nest last Wednesday, I was amazed by the intricate construction with a bed of freshwater clam and mussel shells lining the nest that was made of decomposing reeds and other rotting vegetation. There were no eggs then. As I made my way into the marsh on Sunday morning in the soft, pre-dawn light, both of the adults from that nest were feeding nearby. I approached slowly and neither parent became agitated. I had set the aperture to f/8, preset the exposure, and set the a1 to bracket +/- 1/3 stop. As I got to the nest, I saw the single egg. I zoomed to what looked like an appropriate focal length, used Tracking: Flexible Spot on the egg, reframed, and created three auto-bracketed sequences varying my framing and perspective slightly for each series. I was done in less than thirty seconds.
The pair at the plain nest was nowhere to be seen so I got into the car and drove to the south end of the South Peninsula. There I got out of the car with the 200-600, got to their eye level down by the canal, and created a few nice images of the single large surviving colt and one of the parents in sweet light.
After that, I rolled past the stilt nests and saw the second pair feeding in still water. I had taken off my waders and booties and was wearing only warm slippers. Yes, warm slippers; don't ask. Anyhoo, when I saw the crane family of four walking right at the stilt pair, I grabbed the 200-600 and walked a ways into the marsh on pretty dry mud. The cranes kept coming and the stilts attacked. I tried, but … When the bedlam calmed down, I sat down on some not-so-dry mud and photographed the adult stills. The female approached the nest about 10 yards to my right, and settled down to incubate. When I left after a few minutes, she stayed put. I was off to check on the crane chicks.
I quickly found the two adults on the edge of the marsh near the north end of the North Field, but did not see the two chicks. As had happened on my last visit, the golden baby cranes were hiding in the grass. Again, I got out of the car with the 2-6 and made some decent images. How blessed I am.
A Situation With Immense Photographic Possibilities
Though there are great possibilities to work the two adults around the stilt nests, their nesting success is quite precarious as the nests are just a good rain or two away from flooding. Then there are sterile eggs and predators to consider. Time will tell, and I will be around to witness their success or failure.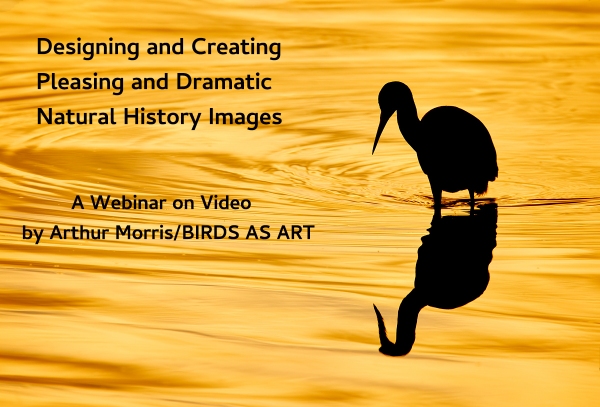 Designing and Creating Pleasing and Dramatic Natural History Images
A Video Webinar: $30 by electronic download

Order your copy by clicking here.
Designing and Creating Pleasing and Dramatic Natural History Images
A Video Webinar
In this 1 hour 28 minute plus video you will learn and be inspired. We cover everything from the very basics to the fine points. After a brief bio, the topics include Behavior, Action, Diagonal Lines, and the Cuteness Factor; Birds in Flight — The Holy Grail of Bird Photography; Mis-Framing!; Basic Image Design/HORIZONTALS: Get the subject out of the center of the frame. Basic Image Design/VERTICALS: The center of the frame is generally fine; The Importance of BACKGROUND; Isolating the Subject; Other Elements of Composition; On Getting Low; Going Wide for Bird-scapes; Super-tight!; Working in Sunny Conditions; Working in Cloudy Conditions; Working in Foggy Conditions; Working in the Shade; Working in Bad Weather; Creating Back-lit Images; Creating Silhouettes; and Creating Pleasing Blurs.
Each segment of the program consists of an average of about 15 images that will drive home the points being made, educate you, and inspire. The instructions and advice, given clearly and concisely, are based on my near-38 years of experience photographing birds with telephoto and super-telephoto lenses. And on several decades of creating educational blog posts.
This presentation is based on the webinar that I did for the South Shore Camera Club in April. You can find some of the comments below along with comments from two of the folks who viewed the webinar the night before the DeSoto IPT began.
You can order your copy of Designing and Creating Pleasing and Dramatic Natural History Images/A Video Webinar by clicking here or by calling Jim with your credit card in hand at 863-692-0906.
Typos
With all blog posts, feel free to e-mail or to leave a comment regarding any typos or errors.