What's Up?
I enjoyed one last session at the thriving Least Tern colony on Thursday morning. I was home just before 1pm with 7609 raw files to edit. I got through 4758 of those, keeping 362 after the first edit. I will be doing a Picking-Your-Keepers video on the last file of 2851 images soon. Understand that the photography was neither great nor easy; it was beyond extremely challenging as the adults with fish in their bills would land for an instant while searching for their chick. (Don't ask me how they know which one is theirs …) When they do find the right chick, the fish is passed to the young in a fraction of a second. Then that lucky chick is attacked by several others unless another adult has swooped in and stolen the fish. In the meantime you are trying to find the action at 840 or 1200mm, acquire focus, and make a series of in-focus images. So at times, I may be able to go through a long series of 50-100 images without tagging a single one.
At times, you are focused on a single chick in a nice situation hoping that it will begin to beg. That takes intense concentration. After a minute or two, you really want to take your eye from the viewfinder. And with all the white sand, you are squinting to begin with. In short order, your temples hurt, as do the eye muscles that help you focus. As I said, challenging. BTW, Clemens killed me on the classic begging chick images; I will be featuring some more of his work here soon.
As the Sony Alpha a1 is becoming more readily available, the Alpha a1 Set-up and Info Group has grown to an astounding 58 folks! Most folks have earned free entry into the group by getting their bodies from Bedfords or from B&H. Two BAA folks got their a1-s yesterday!
The Mini-JAX IPT is now a sell out. I expect to be visiting this site regularly each summer. Though this will be my first visit I am very confident that we will have an amazing trip. As long as I do not get my X5 stuck in the sand …
Today is Friday 18 June 2021. The weather is calling for a brief period of sunshine at dawn quickly turning cloudy. I will be heading down to the lake to check things out. Wherever you are, and whatever you are doing, I hope that you too have a great day.
This blog post took about an hour to prepare and makes 174 consecutive days with a new one. Please remember that if an item — a Delkin flash card, or a tripod head — for example, that is available from B&H and/or Bedfords and is also available in the BAA Online Store, it would be great if you opt to purchase from us. We will match any price. Please remember also to use my B&H affiliate links or to save 3% at Bedfords by using the BIRDSASART discount code at checkout. Doing either often earns you free guides and/or discounts. And doing so always earns my great appreciation.
Levered-Clamp FLexShooters in Stock!
We have just three Levered-clamp Flex-shooter Minis left in stock. They are available in the US only from BAA.
Folks with a big lens should, of course, be working with the Levered-clamp Flex-shooter Pro. This new head on just about any decent tripod like the Induro GIT 304L or the Induro 204L (for travel), is dead-solid-perfect for those whose intermediate telephoto or telephoto zoom lenses are their workhorse lenses for bird and nature photography, for all macro lenses with a tripod collar, and for wide angle lenses with a Wimberley P-5 Plate on the camera body. The levered-clamp is super-fast and secure. Though it weighs only 1lb., 2.4 ozs, this elegantly manufactured head is rock-solid. It takes only seconds to level all FlexShooter heads for smooth, square-to-the-world panning, and these innovative and patented spring-counterbalanced double ballheads will completely eliminate ballhead-flop.
We have lots of Levered-clamp Flex-shooter Pro heads in stock. B&H does not even carry them! I use and rely on mine most ever day that I am out there.
Please Remember
With income from IPTs now close to zero, please, if you enjoy and learn from the blog, remember to use one of my two affiliate programs when purchasing new gear. Doing so just might make it possible for me to avoid having to try to get a job as a Walmart greeter and will not cost you a single penny more. And if you use Bedfords and remember to enter the BIRDSASART code at checkout, you will save 3% on every order and enjoy free second-day air shipping. In these crazy times — I am out at least forty to sixty thousand dollars so far due to COVID 19 (with lots more to come) — remembering to use my B&H link or to shop at Bedfords will help me out a ton and be greatly appreciated. Overseas folks who cannot order from the US because of import fees, duties, and taxes, are invited to help out by clicking here to leave a blog thank you gift if they see fit.
New and Better Bedfords Discount Policy!
You can now save 3% on all of your Bedfords photo gear purchases by entering the BIRDSASART coupon code at checkout. Your discount will be applied to your pre-tax total. In addition, by using the code you will get 2nd day air shipping via Fed Ex.
Grab a Nikon AF-S Teleconverter TC-14E III and save $14.99. Purchase a Canon EOS R5 and your discount will be $116.97. Purchase a Sony FE 600mm f/4 GM OSS lens and save a remarkable $389.94! Your Bedford's purchase no longer needs to be greater than $1,000.00 for you to receive a discount. The more you spend, the more you save.

Money Saving Reminder
Many have learned that if you need a hot photo item that is out of stock at B&H and would enjoy free second-day air shipping, your best bet is to click here, place an order with Bedfords, and enter the coupon code BIRDSASART at checkout. If an item is out of stock, contact Steve Elkins via e-mail or on his cell phone at (479) 381-2592 (Central time). Be sure to mention the BIRDSASART coupon code and use it for your online order to save 3% and enjoy free 2nd-day air shipping. Steve has been great at getting folks the hot items that are out of stock at B&H and everywhere else. The wait lists at the big stores can be a year or longer for the hard to get items. Steve will surely get you your gear long before that. For the past year, he has been helping BAA Blog folks get their hands on items like the SONY a9 ii, the SONY 200-600 G OSS lens, the Canon EOS R5, the Canon RF 100-500mm lens, and the Nikon 500mm PF. Steve is personable, helpful, and eager to please.
Gear Questions and Advice
Too many folks attending BAA IPTs (remember those?) and dozens of photographers whom I see in the field and on BPN, are–out of ignorance–using the wrong gear especially when it comes to tripods and more especially, tripod heads… Please know that I am always glad to answer your gear questions via e-mail.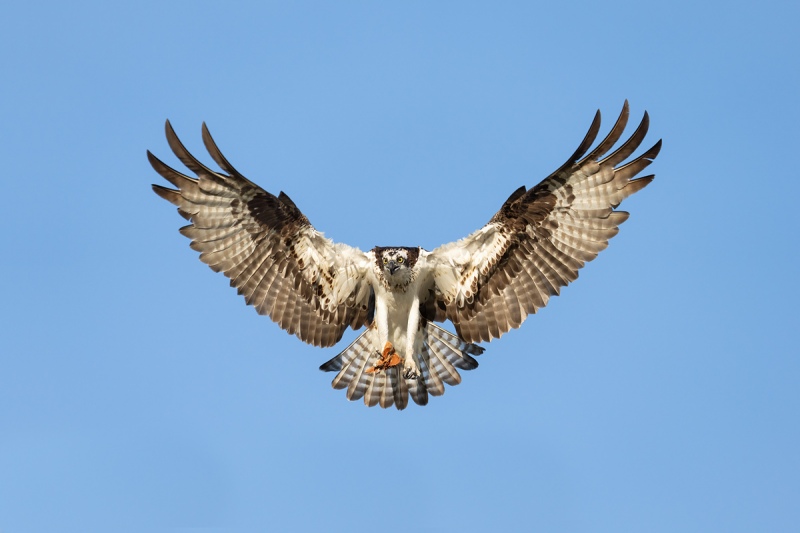 This image was created on 23 May 2021 down by the lake near my home at Indian Lake Estates. I used the hand held Sony FE 200-600mm f/5.6-6.3 G OSS lens (at 489mm) and The One, the Sony Alpha 1 Mirrorless digital camera. ISO 1250. Exposure determined via Zebras with ISO on the rear dial: 1/2500 sec. at f/6.3 (wide open) in Manual mode. AWB at 7:28am on a sunny morning.
Wide/AF-C was active at the moment of exposure and performed as expected: perfectly. Click on the image to see a larger version.
Osprey braking to land with nesting material

Your browser does not support iFrame.
Wind and Sun Together
This image was possible because I knew exactly how the bird would approach the nest with a brisk northeast wind: birds will always fly and land into the wind. I positioned myself right on sun angle to the nest. The bird had to fly past some telephone wires and past another telephone pole to get to its platform nest. There was a very small zone of success, but everything worked out as planned. Learning to read the wind and the light is a hugely important skill for bird photographers. For a landing shot at this nest only good northeast wind will work. The bird only had one way to go. And with the sun rising in the northeast in May, conditions were dead-solid perfect.
Superb When the Sun Shines: the Hand Held SONY 200-600
As noted here recently and often, when the sun is shining, the SONY 200-600 is at its best, even doing well with the 1.4X TC. In low light, I will often turn to the 600mm f/4 GM to save 1 1/3 stops of ISO. See tomorrow's blog post for a great example of that.
A 200-600 Relevant e-Mail Conversation with Multiple IPT Veteran Geri Georg
AM: gg,
Is there an "e" at the end of your last name???
gg: No!
AM: Re:
gg: I just got my order confirmation for a Sony a1 and 200-600mm lens from Bedford's. I've attached a pdf of the email receipt. Can you please give me access to the a1 information group?
AM: Huge thanks, and yes. I will send the first 16 e-mails today. I will be working on and sending #17 this weekend.
gg: Bedford didn't have the metabones lens adapter you use with your Canon 180mm macro, so I had to order that from B&H.
AM: I hope that you used the link 🙂
gg: Neither of them have the 1.4x teleconverter in stock, so I just ordered it from Bedford and hopefully it will come soon.
AM: Great and thanks and good luck.
gg: I was looking through several screens of your older blogs, and none of the images seemed to use the 2x teleconverter with the 200-600mm lens. I assume that this is because of losing 2 f-stops, but in bright sun (most of our hiking falls in this category), do you think a 2x might be useful with the 200-600mm lens?
AM: Yes, the wide open aperture at 1200mm drops to a rather penal f/13. I have, however, posted a least a few images made with that combo. One was a sunset silhouette (with lots of light as I was pointing near the setting sun), and the other — I think, was a head shot of a Red-shouldered Hawk made from Clemens' flats boat. In bright light, it is a viable combination. The optics are sharp — the problem is getting a fast-enough shutter speed and properly framing the image. Though both of the images that I mentioned were hand held, a decent Induro tripod with a Levered-clamp Flex-shooter Mini would be much better. Folks with a big lens should, of course, be working with the Levered-clamp Flex-shooter Pro.
gg: If you've covered this question in the a1 info group, I'll look for it there.
AM: I will include this conversation in the next mail.
With love, and huge thanks for using my affiliate links.
artie
Sony Alpha a1 AF
Barring operator error, the performance of the Sony Alpha a1 AF system at any focal length — including at 1200mm as seen in recent blog posts — is, when the a1 is set up properly as detailed in the in e-mails to the Sony Alpha a1 Info & Updates group, more than remarkable. Early on, there was lots of discussion within the group with many preferring multiple back button approaches. For me a simple shutter button approach with the right AF settings that yield 99% sharp-on-the-eye images is best. By far. It is super-simple and mega-effective. In recent SONY Alpha a1 Set-up and Info Group e-mails, I shared what I have learned as to when and it what situations it is best to abandon Wide. And with what. The group has already learned to limit the AF Area choices and to switch AF Areas quickly and conveniently. The default method of switching AF points with the C2 button is both slow and cumbersome. In addition, recent e-mails have detailed the best program to use to pick your a1 keepers and the big problem with the Camera Set. Memory menu item.
SONY Alpha a1 Set-up and Info Group
For me, today's featured image would not have been possible without my Sony Alpha a1. The speed of initial focusing acquisition is amazingly quick as is the tracking accuracy. And all of that will be even truer for tomorrow's featured image.
The SONY Alpha a1 Set-up and Info Group is going great guns as folks chime in with thoughtful questions and experience-based advice. We are now up to an astounding 57 blessed folks! Early on, we discussed the myriad AF options. I gave my opinion as to the best one for flight and general bird photography. More recently, we have been in contact with folks at SONY sharing our thoughts, experiences, and frustrations with the EVF blackout problem.
All who purchased their Alpha a1 bodies via a BAA affiliate link will receive a free subscription to the Sony Alpha a1 Set-Up and Info Updates after shooting me their receipts via e-mail. (Note: it may take me several days to confirm B&H orders.) This same service may be purchased by anyone with an a1 body via a $150.00 PayPal sent to birdsasart@verizon.net indicating payment for Alpha a1 Info Updates. Alternatively, folks can call Jim weekdays at 1-863-692-0906 to pay via credit card. New members will receive composite e-mails that summarize all previous discussions.
Typos
With all blog posts, feel free to e-mail or to leave a comment regarding any typos or errors.