Your Call
Which of today's two featured images is the strongest? Which is the cutest? Please let us know why you made your choices. Also, would you lose the dark smudge in the upper left corner of Image #2? Why or why not?
What's Up?
I had a great, still, soft-box of a morning at Nickerson Beach on Wednesday. Since it was cloudy, I headed out with 600 f/4 GM (to take advantage of its f/4 speed) along with both TCs. I started doing skimmers on nests and then headed down to the shore to photograph a Common Tern feeding spree and a single un-banded adult American Oystercatcher. Then I sat by the corner of the colony for about and hour and got some nice stuff on skimmer chicks and Common Terns in fresh juvenal plumage.
I was glad to learn that Greg Ferguson will be joining us again in Homer. He was on the last trip in 2020. And loved it so much that he is re-upping. Both trips are filling nicely. Today is Thursday 5 August 2021. I am not sure whether or not I will be headed back to the beach today; I will check the forecast in the morning. Wherever you are, and whatever you are doing, I hope that you too have a great day.
Remember that you can find some great photo accessories (and necessities!) on Amazon by clicking on the Stuff tab on the orange/yellow menu bar above. On a related note, it would be extremely helpful if blog-folks like me, who spend too much money on Amazon, would get in the habit of clicking on the Amazon logo link on the right side of each blog post when they shop online. As you might expect, doing so will not cost you a single penny, but would be appreciated tremendously by yours truly. And doing so works seamlessly with your Amazon Prime account.
This blog post took more than an hour to prepare, and makes 220 consecutive days with a new one. Please remember that if an item — a Delkin flash card, or a tripod head — for example, that is available from B&H and/or Bedfords, and is also available in the BAA Online Store, it would be great, and greatly appreciated if you would opt to purchase from us. We will match any price. Please remember also to use my B&H affiliate links or to save 3% at Bedfords by using the BIRDSASART discount code at checkout. Doing either often earns you free guides and/or discounts. And doing so always earns my great appreciation.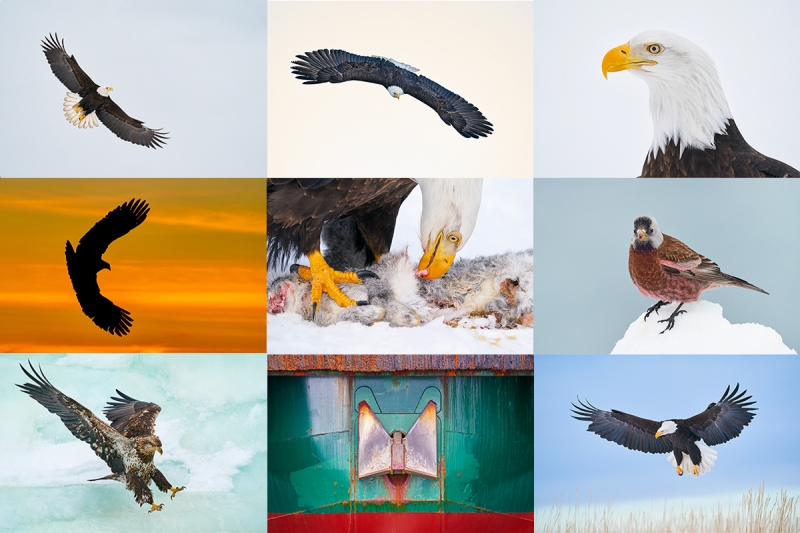 Click on the composite to view a larger version.
The Homer 2020 IPTs image
Homer Bald Eagles Winter 2022
The photography on this trip of a lifetime is beyond amazing. You can do the whole trip with either the Canon 100-500 or the SONY 200-600 along with any 70-200mm lens. Flight photography until you cannot raise your arms, creative set-ups, lots of snow we hope (earlier in the season is best for that), and lots of opportunities for point-blank head portraits and talon shots. All in a variety of spectacular settings. This is an expensive (but competitively priced) trip. If you are seriously interested in joining me for the world's best Homer/Kachemak Bay Bald Eagle trip(s) — mid-FEB thru early MARCH 2022, please contact me immediately via e-mail for dates and details. I am looking for a roommate who will be doing all eleven days.
Please Remember
With income from IPTs now close to zero, please, if you enjoy and learn from the blog, remember to use one of my two affiliate programs when purchasing new gear. Doing so just might make it possible for me to avoid having to try to get a job as a Walmart greeter and will not cost you a single penny more. And if you use Bedfords and remember to enter the BIRDSASART code at checkout, you will save 3% on every order and enjoy free second-day air shipping. In these crazy times — I am out at least forty to sixty thousand dollars so far due to COVID 19 (with lots more to come) — remembering to use my B&H link or to shop at Bedfords will help me out a ton and be greatly appreciated. Overseas folks who cannot order from the US because of import fees, duties, and taxes, are invited to help out by clicking here to leave a blog thank you gift if they see fit.
New and Better Bedfords Discount Policy!
You can now save 3% on all of your Bedfords photo gear purchases by entering the BIRDSASART coupon code at checkout. Your discount will be applied to your pre-tax total. In addition, by using the code you will get 2nd day air shipping via Fed Ex.
Grab a Nikon AF-S Teleconverter TC-14E III and save $14.99. Purchase a Canon EOS R5 and your discount will be $116.97. Purchase a Sony FE 600mm f/4 GM OSS lens and save a remarkable $389.94! Your Bedford's purchase no longer needs to be greater than $1,000.00 for you to receive a discount. The more you spend, the more you save.

Money Saving Reminder
Many have learned that if you need a hot photo item that is out of stock at B&H and would enjoy free second-day air shipping, your best bet is to click here, place an order with Bedfords, and enter the coupon code BIRDSASART at checkout. If an item is out of stock, contact Steve Elkins via e-mail or on his cell phone at (479) 381-2592 (Central time). Be sure to mention the BIRDSASART coupon code and use it for your online order to save 3% and enjoy free 2nd-day air shipping. Steve has been great at getting folks the hot items that are out of stock at B&H and everywhere else. The wait lists at the big stores can be a year or longer for the hard to get items. Steve will surely get you your gear long before that. For the past year, he has been helping BAA Blog folks get their hands on items like the SONY a9 ii, the SONY 200-600 G OSS lens, the Canon EOS R5, the Canon RF 100-500mm lens, and the Nikon 500mm PF. Steve is personable, helpful, and eager to please.
Gear Questions and Advice
Too many folks attending BAA IPTs (remember those?) and dozens of photographers whom I see in the field and on BPN, are–out of ignorance–using the wrong gear, especially when it comes to tripods and more especially, tripod heads… Please know that I am always glad to answer your gear questions via e-mail
Hungry Beach Babies!
Here I worked off the rear monitor with the legs of the tripod splayed completely flat. I would get focus on an isolated chick and wait patiently until one of the parent birds landed nearby with a fish. Getting a good image of the hand-off is a huge challenge as bedlam breaks loose when the feeding takes place. I always chuckle when the young bird that just got fed continues to beg.
Loving Cloudy Days
I chuckle also when I think of my first decade of photography; I would not head out to do photography unless it was sunny. Such were the limitations of Velvia 50 push processed one stop to ISO 100. Cloudy-bright days are ideal as there is enough light to work at reasonable ISOs with decent shutter speeds and no shadows at all. And best of all, the "wrong" wind direction is never a problem when you are photographing when the world is a soft-box.
Typos
With all blog posts, feel free to e-mail or to leave a comment regarding any typos or errors.