Whats Up?
Private client Anke Frohlich and I enjoyed another long day at Nickerson Beach on Saturday. The morning was pretty much a bust with the sky clearing much too early and a brisk wind from the west. As always, wind against sun is a very tough situation. I took a great, short, early nap on the sand. After I awoke, we got fairly close to some young terns and a pair of oystercatchers. Working from a very low perspective, I thought that we had gotten some great stuff. Anke kept telling me that her images were not sharp. As I almost never enlarge my images in the field, I did not realize until seeing the images on the laptop that she had been 100% right; we both had been victimized by heat shimmer on a seemingly clear morning …
I have never run into a person who has learned so much so quickly. Anke has been working with an a1 and the SONY 200-600 for only a few months. She was looking for a more optimal setup of her a1 so, on the first morning, I copied my settings to her a1 and taught her to use the camera for bird photography with the new settings. I showed her how to get an excellent exposure using different Zebra settings than she had been working with. She took to the instruction like the proverbial duck to water … (Note: my a1 settings are available to all those in the Sony Alpha a1 Setup and Info group.)
As it was beginning to cloud over at 3:00pm on Saturday, we headed out to the beach earlier than usual. We wound up with a strong wind from the southwest and — for the most part, cloudy-bright skies. At times the wind was so strong that any exposed skin on our arms (or faces if we glanced to the south) was being stung by tiny sand bullets.
We took a zillion Black Skimmer flight shots and even more Black Skimmer midair fight shots. My chore for today is to choose my keepers from the August 7 2021 folder. Speaking of which, Anke is one of many frustrated by having to edit so many images from high frame rate camera bodies. At my suggestion, she had called Jim on Friday to purchase a copy of Photo Mechanic Yesterday, we got her up and running. She cannot believe how fast and easy it is to pick your keepers in this amazing browsing program. From now on, she will keep her a1 set to 30 fps …
Anyhoo, it got very dark late in the afternoon so we left a bit early. Thus, I only I tied my long-stay Nickerson Beach record of 13 hours. With rain forecast for all of today, Sunday 8 August 2021, I will be doing lots of catching up. Wherever you are, and whatever you are doing, I hope that you too have a great day.
Remember that you can find some great photo accessories (and necessities!) on Amazon by clicking on the Stuff tab on the orange/yellow menu bar above. On a related note, it would be extremely helpful if blog-folks like me, who spend too much money on Amazon, would get in the habit of clicking on the Amazon logo link on the right side of each blog post when they shop online. As you might expect, doing so will not cost you a single penny, but would be appreciated tremendously by yours truly. And doing so works seamlessly with your Amazon Prime account.
This blog post took a bit less than an hour to prepare, and makes 222 consecutive days with a new one. Please remember that if an item — a Delkin flash card, or a tripod head — for example, that is available from B&H and/or Bedfords, and is also available in the BAA Online Store, it would be great, and greatly appreciated if you would opt to purchase from us. We will match any price. Please remember also to use my B&H affiliate links or to save 3% at Bedfords by using the BIRDSASART discount code at checkout. Doing either often earns you free guides and/or discounts. And doing so always earns my great appreciation.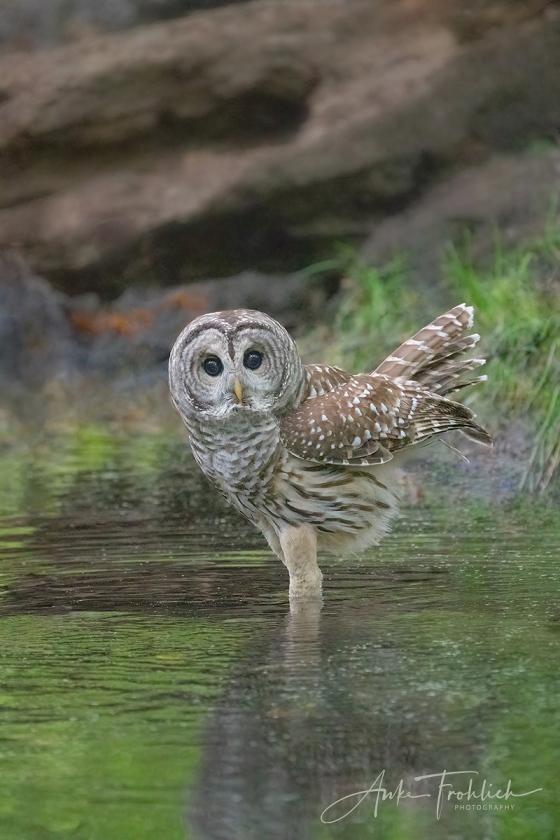 This image was created by Anke Frohlich in Central Park in NYC on October 11, 2020. While resting the lens on a railing for support, she used the hand held Sony FE 100-400mm f/4.5-5.6 GM OSS lens (at 400mm) with the super-high megapixel Sony Alpha a7R IV Mirrorless Digital camera body. Exposure data: 1/800 sec. at f/5.6 (wide open) in Manual mode. AWB at 1:27pm in the shade on a dark, cloudy afternoon.
Image courtesy of and copyright 2020: Anke Frohlich Photography/Crop, raw conversion, and cleanup by BIRDS AS ART.

You can see more of Anke's bird photography here.

Image #1: Barry, the beloved Central Park Barred Owl

Your browser does not support iFrame.
ISO Question …
Thanks to Anke Frohlich for sharing the story (along with her fine image) of Barry, the beloved Central Park Barred Owl that recently met an untimely and unfortunate end. Anke was just starting to photograph birds when she created today's featured image.
All are invited to leave a comment and take a stab at the ISO.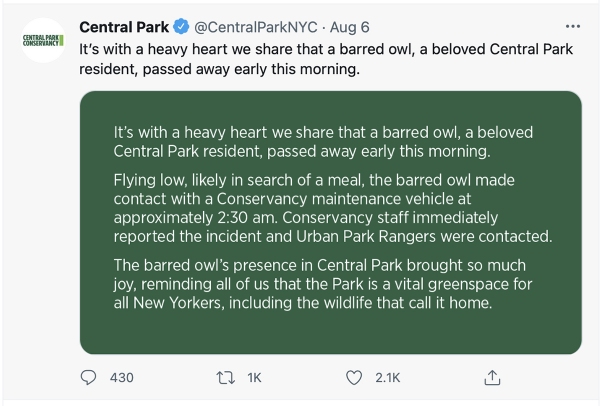 From the Central Park Conservancy Twitter account
Barred Owl Tragedy in NYC's Central Park …
Anke texted me the above on Friday afternoon. She wrote, I am heartbroken. She gave us so much joy and it was so special to have her for so long.
In a later e-mail, she wrote:
I was incredibly fortunate to be able to capture my favorite image of her on October 11, 2020, shortly after she first arrived in Manhattan in the north woods of Central Park. Quickly crowds gathered and she became a celebrity, featured in news programs and articles all over the world. She had a great personality, beautiful eyes and was very special in many ways. In the past nine months, I visited her often and watched her preen and defend her perch against head butting birds. In the evenings, her devoted followers gathered almost every night to see her fly out and to observe her hunting skills. It is a huge heartbreak to hear the news of her death. She was hit by a park's department vehicle last night while flying low to hunt. She lives on in our hearts as she brought us great joy. How fortunate to have had this wild beauty in our midst. Thank you so much, Barry, for your presence and for having chosen Central Park as your home for so long.
I had heard of this Owl, named Barry by the hordes of Central Park birders who had loved and been inspired by this young bird. It was discovered last fall at the north end of the park. The bird was thought to be a female because of her relatively large size. While this species visits the park fairly often, it was very unusual that it stayed so long. To say that the bird was very tame would be an understatement; it would often land five to ten feet from observers and would frequently swooped down to grab a mouse or a rat or some other prey item. Barred Owls are diurnal, active both during the day and night. Their diet is quite varied.
The story has been covered by dozens of newspapers and online new outlets. It even made the New York Times and the UK's Daily Mail.
I am sending love, strength, and energy along with my sincere condolences to Anke, and to all the Central Park folks who loved and adored this very special bird.
Typos
With all blog posts, feel free to e-mail or to leave a comment regarding any typos or errors.