What's Up?
Late Monday afternoon I headed over to Gulfport for the 2nd Fort DeSoto IPT. I will be meeting the group at 7am and am looking forward to a great 3 1/2 days with lots of birds and lots of learning. As many did, I felt that Marbled Godwit Image #2 was the strongest with more tension in the bird's position. I liked the two-toned background better than the blue water, and I felt that the ground pod images were a bit more intimate than the one-pod image.
Today is Monday 5 October 2021. Wherever you are, and whatever you are doing, I hope that you too have a great day. This blog post less than an hour to prepare including the time spent on the image optimization.
Remember that you can find some great photo accessories (and necessities, like surf booties!), on Amazon by clicking on the Stuff tab on the orange/yellow menu bar above. On a related note, it would be extremely helpful if blog-folks who, like me, spend too much money on Amazon, would get in the habit of clicking on the Amazon logo link on the right side of each blog post when they shop online. As you might expect, doing so will not cost you a single penny, but would be appreciated tremendously by yours truly. And doing so works seamlessly with your Amazon Prime account.
Please remember that if an item — a Delkin flash card, or a tripod head — for example, that is available from B&H and/or Bedfords, is also available in the BAA Online Store, it would be great, and greatly appreciated, if you would opt to purchase from us. We will match any price. Please remember also to use my B&H affiliate links or to save 3% at Bedfords by using the BIRDSASART discount code at checkout for your major gear purchases. Doing either often earns you free guides and/or discounts. And always earns my great appreciation.
Please Remember
With income from IPTs now close to zero, please, if you enjoy and learn from the blog, remember to use one of my two affiliate programs when purchasing new gear. Doing so just might make it possible for me to avoid having to try to get a job as a Walmart greeter and will not cost you a single penny more. And if you use Bedfords and remember to enter the BIRDSASART code at checkout, you will save 3% on every order and enjoy free second-day air shipping. In these crazy times — I am out at least forty to sixty thousand dollars so far due to COVID 19 (with lots more to come) — remembering to use my B&H link or to shop at Bedfords will help me out a ton and be greatly appreciated. Overseas folks who cannot order from the US because of import fees, duties, and taxes, are invited to help out by clicking here to leave a blog thank you gift if they see fit.
New and Better Bedfords Discount Policy!
You can now save 3% on all of your Bedfords photo gear purchases by entering the BIRDSASART coupon code at checkout. Your discount will be applied to your pre-tax total. In addition, by using the code you will get 2nd day air shipping via Fed Ex.
Grab a Nikon AF-S Teleconverter TC-14E III and save $14.99. Purchase a Canon EOS R5 and your discount will be $116.97. Purchase a Sony FE 600mm f/4 GM OSS lens and save a remarkable $389.94! Your Bedford's purchase no longer needs to be greater than $1,000.00 for you to receive a discount. The more you spend, the more you save.

Money Saving Reminder
Many have learned that if you need a hot photo item that is out of stock at B&H and would enjoy free second-day air shipping, your best bet is to click here, place an order with Bedfords, and enter the coupon code BIRDSASART at checkout. If an item is out of stock, contact Steve Elkins via e-mail or on his cell phone at (479) 381-2592 (Central time). Be sure to mention the BIRDSASART coupon code and use it for your online order to save 3% and enjoy free 2nd-day air shipping. Steve has been great at getting folks the hot items that are out of stock at B&H and everywhere else. The wait lists at the big stores can be a year or longer for the hard to get items. Steve will surely get you your gear long before that. For the past year, he has been helping BAA Blog folks get their hands on items like the SONY a9 ii, the SONY 200-600 G OSS lens, the Canon EOS R5, the Canon RF 100-500mm lens, and the Nikon 500mm PF. Steve is personable, helpful, and eager to please.
Gear Questions and Advice
Too many folks attending BAA IPTs (remember those?) and dozens of photographers whom I see in the field and on BPN, are–out of ignorance–using the wrong gear, especially when it comes to tripods and more especially, tripod heads… Please know that I am always glad to answer your gear questions via e-mail.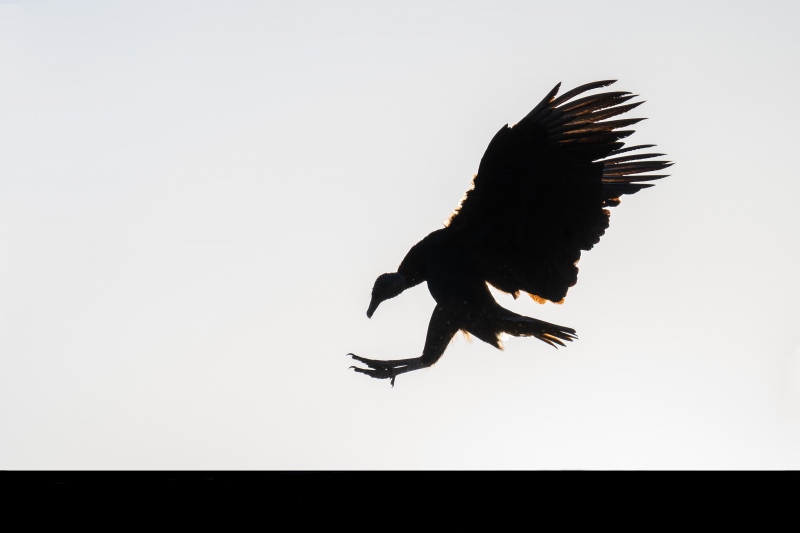 I created this image on 27 September 2021. I used the hand held Sony FE 200-600mm f/5.6-6.3 G OSS lens (at 600mm) and The One, the Sony Alpha 1 Mirrorless digital camera. ISO 1000. Exposure determined via Zebras with ISO on the rear dial: 1/4000 sec. at f/6.3 (wide open) in Manual mode. RawDigger showed that the raw file brightness was perfect. AWB at 7:51am on clear morning.
Center Zone/AF-C Bird/Eye Detection AF was active at the moment exposure and performed perfectly. Click on the image to view a hi-res version.
Image #1: Black Vulture (BV) jumping off roof
Your browser does not support iFrame.
The Situation
Both species of vultures, including and especially Back Vulture — BV, love sitting on the roof of the last house at the south end of Banyon Drive adjacent to the South Field. This house is just opposite the Vulture Tree that is detailed in the The BAA Middle of Florida Photographic Site Guide.
Early on clear mornings, you can create a nice silhouette situation by choosing your perspective carefully. For this image, I placed myself so that the sun was just below the crest of the roof and then put the bird that I wanted in front of the brightest area of sky just above the unseen sun. With the wind from the north, I had a very few good chances on squabbling birds. Today's featured image was the best of the lot.
The Lesson
Learning to recognize new and different (and often unique) photographic situations is a valuable skill that is well worth developing. Keep your eyes open, especially with regards to the quality and direction of the light. The best way to learn, is to attend an IPT and see the process in action. Your next best chance will be on the third DeSoto IPT.
The Roofline
The roofline was far from perfect. To add to the abstract feel of the image, I wanted it crisp and perfectly straight. I did that in post using the Rectangular Marquee Tool and the Pain Bucket Tool in Photoshop CC. There are tons of great Photoshop tips in Digital Basics II.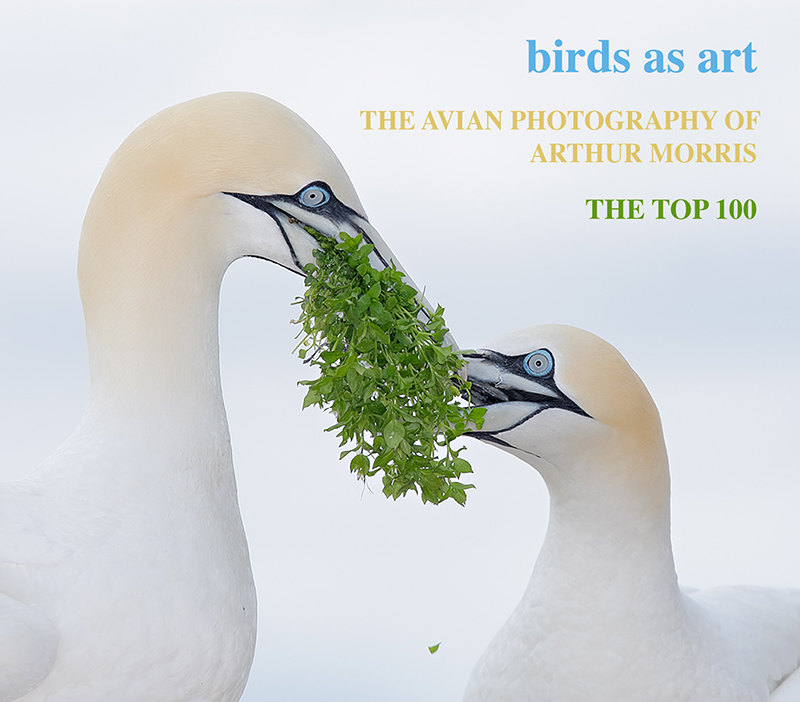 birds as art: The Avian Photography of Arthur Morris/The Top 100
The companion e-book to the solo exhibit at TheNat, San Diego, California
The new e-book on CD is available here.
birds as art: The Avian Photography of Arthur Morris/The Top 100
My latest e-book, created on a wing and a prayer in less than two weeks–see Harebrained Scheme here–includes the 67 spectacular images that hung in the Ordover Gallery at the San Diego Natural History Museum in a career-retrospective solo exhibition in 2017. In addition, there are an additional 33 images in the spectacular e-book that barely missed making the show.
This exhibition companion e-book makes it possible for everyone to "visit" TheNAT gallery retrospectively — and, in addition, to enjoy seeing my then-top one hundred bird photographs under one roof. Each image includes a title, the species name, the location, relevant EXIF data, and an anecdotal caption.
birds as art: The Avian Photography of Arthur Morris/The Top 100: $23 for the professionally produced CD (includes shipping to US addresses only)
Please click here to purchase the CD. As above, your purchase price includes shipping to all US addresses. If you would like your CD signed on the inside cover with a black Sharpie, you will need to place your order by phone and request a signed copy: 863-692-0906. For our Canadian friends we are offering the CD for $28 with shipping to Canada via phone orders only: 863-692-0906. Those who purchase the CD are advised to copy the file to their computers and then archive the CD.
To purchase via convenient download for $20, click here.
Typos
With all blog posts, feel free to e-mail or to leave a comment regarding any typos or errors.