What's Up?
I had a perfect plan in place for Sunday morning at La Jolla with perfect conditions. But the wind died and more than 200 pelicans sat on the opposite cliff until they flew off to the southwest to go fishing. You gotta love it.
The rest of the day was football. The LA Rams were killing the Tom Brady-led Tampa Bay Buccaneers for a good portion of the game. After four lost fumbles by the Rams who were trying their best to give the game away, the score was tied with less than a minute to go. With no time-outs, Rams QB Matthew Stafford moved the team right down the field by connecting on two passes with all-star receiver Cooper Kupp. Matt Gay kicked the winning field goal that sealed Brady's and Tampa Bay's fate. Three games, three game-winning field goals by the underdogs with no time on the clock! What could be more exciting?
In the nightcap, the Kansas City Chiefs, lost a shootout to the Buffalo Bills. The lead changed hands three times with three touchdowns in the last two plus minutes. Both quarterbacks, Patrick Mahomes and Josh Allen were superb, but it was Allen who had the last laugh after a Mahomes to Tyreek Hill catch and TD-run slant pass put the Chiefs ahead with just 62 seconds left in the game. You can't win em' all.
I wrote the paragraph above in good faith, firmly believing that the Chiefs had lost when the Bills scored to go ahead with just 13 seconds left in the game. The Chiefs got the ball and after two complete passes — Mahomes to Hill and Mahomes to Kelce, Harrison Butker kicked the tying field goal. The game went to overtime. The Chiefs won the coin toss and marched down the field to win the game.
As much as I love the Chiefs, the NFL overtime rule needs to be changed, at least for the playoffs. If the team that gets the ball first kicks a field goal, the other team gets a chance to tie with a field goal or win the game with a touchdown. If the team that gets the ball scores a touchdown, however, the game is over. That simply is not fair. Josh Allen at least deserved a chance.
The Bills coach, however, pretty much lost the game. He had his kicker kick the ball into the end zone after the Bills went ahead with just 13 seconds left. Had he ordered a squib kick, a sort of ground ball, the clock would have run and Mahomes almost surely would not have had time to engineer the drive for the tying field goal …. Final in overtime: KC 42, Bills 36. Did I mention that Tyreek Hill is fast?
Today is Monday 24 January 2022. The forecast again is for cool, clear, and sunny with a gentle breeze from the northeast. I will be heading back to La Jolla. Wherever you are, and whatever you are doing, I hope that you too have a great day. This blog post took about an hour to prepare and makes 73 days in a row with a new one.
Please remember that you can find some great photo accessories (and necessities, like surf booties!) on Amazon by clicking on the Stuff tab on the orange/yellow menu bar above. On a related note, it would be extremely helpful if blog-folks who, like me, spend too much money on Amazon, would get in the habit of clicking on the Amazon logo link on the right side of each blog post when they shop online. As you might expect, doing so will not cost you a single penny, but would be appreciated tremendously by yours truly. And doing so works seamlessly with your Amazon Prime account.
Please remember that if an item — a Delkin flash card, or a tripod head — for example, that is available from B&H and/or Bedfords, is also available in the BAA Online Store, it would be great, and greatly appreciated, if you would opt to purchase from us. We will match any price. Please remember also to use my B&H affiliate links or to earn 3% cash back at Bedfords by using the BIRDSASART discount code at checkout for your major gear purchases. Doing either often earns you free guides and/or discounts. And always earns my great appreciation.
Selling Your Used Photo Gear Through BIRDS AS ART
Selling your used (or like-new) photo gear through the BAA Blog is a great idea. We charge only a 5% commission on items priced at $1,000 or more. With items less than $1000, there is a $50 flat-fee. One of the more popular used gear for sale sites charged a minimum of 20%. Plus assorted fees! Yikes. They went out of business. And e-Bay fees are now up to 13%. If you are interested, please click here, read everything carefully, and do what it says. To avoid any misunderstandings, please read the whole thing very carefully. If you agree to the terms, please state so clearly via e-mail and include the template or templates, one for each item you wish to sell. Then we can work together to get your stuff priced and listed.
Stuff that is priced fairly — I offer pricing advice only to those who agree to the terms — usually sells in no time flat. Over the past years, we have sold many hundreds of items. Do know that prices for used gear only go in one direction. Down. You can always see the current listings by clicking here or on the Used Photo Gear tab on the orange-yellow menu bar near the top of each blog post page.
Sony a9 II Mirrorless Camera Body
Dennis Westover is offering a Sony a9 II mirrorless camera body in excellent condition for a BAA record-low $2349.00. The sale includes the original box and everything that came in it including the manuals, one battery, the charger, the front body cap, the strap, the USB cable and cable protector, and insured ground shipping via major courier to lower 48 US-addresses only. Your item will not ship until your check clears unless other arrangements are made.
Please contact Dennis via e-mail or by phone at 1-206-605-0404 (Pacific time zone).
As things worked out, the a9, and then the a9 ii, turned out to be life-changers for me. From the moment I tracked that first incoming Brandt's Cormorant at LaJolla, I knew that at that time, the SONY a9 series bodies featured the world's best AF. I upgraded to the a9 ii as soon as it was released for the slightly larger body size. At one point I owned two a9 ii bodies. A new a9 ii sells for $4,498.00 so you can save a very nice $2149.00 by grabbing Dennis's a9 ii ASAP. Not to mention that the new Sony A1 sells for $6498.00 … artie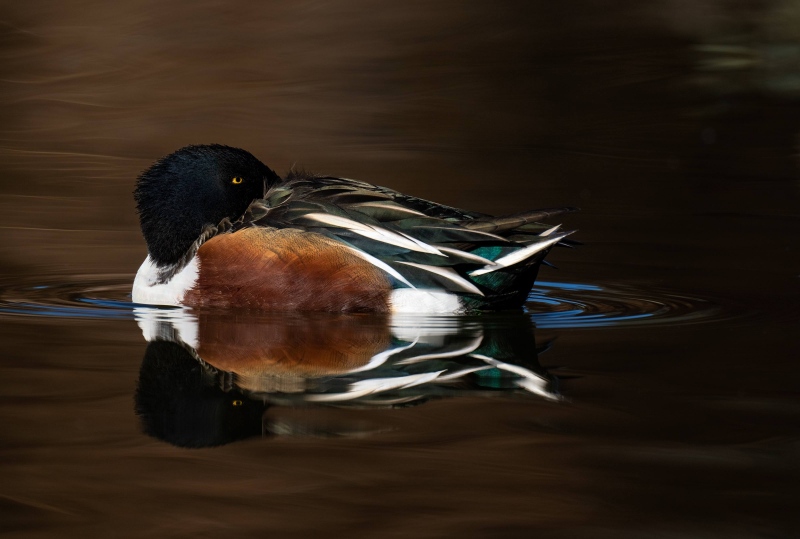 This image was created on 22 January 2022 at Santee Lakes Preserve in Santee, CA. Seated while working off the (no-longer-available) Induro GIT 304L tripod topped by a Levered-Clamp FlexShooter Pro, I used the Sony FE 600mm f/4 GM OSS lens, the Sony FE 2.0x Teleconverter, and The One, the Sony Alpha 1 Mirrorless Digital Camera.. ISO 400. The exposure was determined by Zebras with ISO on the rear wheel: 1/1000 sec. at f/8 (wide open) in Manual mode. AWB at 9:32:02am on a sunny morning.
Tracking: Spot S AF/C with Bird-Eye/Face Detection performed quite well. Click on the image to enjoy the high-res version.
Image #1: Northern Shoveler resting/Sidelit!
Your browser does not support iFrame.
A Rare Sidelit Image!
When it is sunny, I rarely photograph more than 10 degrees or so on either side of sun angle. Most of the time, I want my shadow pointed directly at the subject. Except of course, when creating silhouettes. There I generally want the sun right behind the subject to maximize the silhouette effect and the color. It is extremely rare that I even try to create side-lit images. And it is far rarer still that I like a side-let image.
I am not sure exactly why I chose to work about 80 degrees off sun angle for today's featured image, but the following surely influenced me to try:
1- I was able to be a lot closer to the bird by shooting way off sun angle.
2- If I had been right on sun angle, there would have been a stand of ugly reeds as the upper background.
3- The duck was, well, it was a sitting (actually floating) duck. It floated at rest in the same exact spot for several minutes. And it looked very peaceful.

4- By working off light angle, I was able to enjoy the dark and very dramatic background.

5- I knew that Sony's Zebra technology would make it easy to create a very good exposure in an extremely difficult situation. Heck, with Zebras, there are no extremely difficult exposure situations. They are all relatively easy.

6- As the duck spun very slowly in a circle, I was able to press the shutter button only when the eye was relatively well lit.
In any case, I love the side-lit result. What do you think? What do you like What don't you like? What is your favorite part of the image?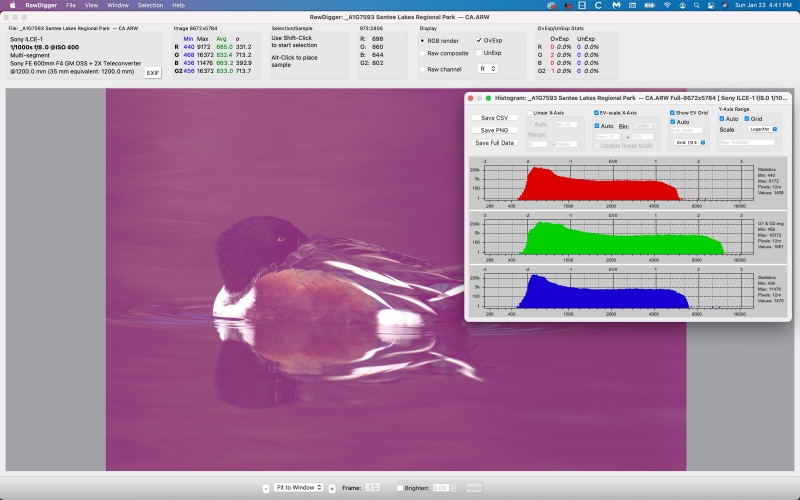 Image #1A: RawDigger screen capture for the Northern Shoveler resting/Sidelit! image.
Almost Perfect!
Images where the G channel gets 2/3rds of the way from the 8000 to the 16000 line are perfect exposures. Images where the G channel gets right up to the line are dead-solid perfect. With just 3 OvExp pixels out of 51,000,000 and the G channel just a hair short of the 8000 2/3rds line, this is a near-perfect exposure in a very difficult situation.
RawDigger — not for the faint of heart …
Nothing has ever helped me learn to create perfect exposures to the degree that RawDigger has. I think that many folks are reluctant to learn that most of their images are underexposed by one or more full stops and that highlight warnings in Photoshop, Lightroom, Capture One, and your in-camera histogram are completely bogus as they are based on the embedded JPEGs. Only your raw files tell the truth all the time. Heck, I resisted RawDigger for several years … Once you get over that feeling, RawDigger can become your very best exposure friend no matter what system you are using. On the recent IPTs and In-the-Field sessions, we have demonstrated that fact. Convincingly.
The RawDigger (pink) Adapted Histogram
In the RawDigger e-Guide, you will learn exactly how to set up the Adapted "pink" RawDigger Histogram and how to use it to quickly and easily evaluate the exposure or raw file brightness of images from all digital cameras currently in use. RawDigger was especially helpful to me when I struggled with R5 exposures and when learned my new camera body, the Sony Alpha a1.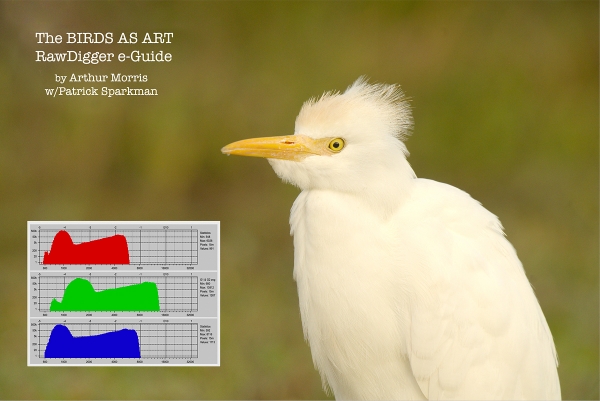 RawDigger e-Guide with Two Videos
The RawDigger e-Guide with Two Videos
by Arthur Morris with Patrick Sparkman
The RawDigger e-Guide was created only for serious photographers who wish to get the absolute most out of their raw files.
Patrick and I began work on the guide in July 2020. At first we struggled. We asked questions. We learned about Max-G values. We could not figure out why the Max G values varied by camera system. IPT veteran Bart Deamer asked lots of questions that we could not answer. We got help from RawDigger creator Iliah Borg. We learned. In December, Patrick came up with an Adapted Histogram that allows us to evaluate the exposures and raw file brightness for all images created with all digital camera bodies from the last two decades. What we learned each time prompted three complete beginning to end re-writes.
The point of the guide is to teach you to truly expose to the mega-Expose-to-the-Right so that you will minimize noise, maximize image quality, best utilize your camera's dynamic range, and attain the highest possible level of shadow detail in your RAW files in every situation. In addition, your properly exposed RAW files will contain more tonal information and feature the smoothest possible transitions between tones. And your optimized images will feature rich, accurate color.
We teach you why the GREEN channel is almost always the first to over-expose. We save you money by advising you which version of RawDigger you need. We teach you how to interpret the Max G values for your Canon, Nikon, and SONY camera bodies. It is very likely that the Shock-your-World section will shock you. And lastly — thanks to the technical and practical brilliance of Patrick Sparkman — we teach you a simple way to quickly and easily evaluate your exposures and raw file brightness using an Adapted RawDigger histogram.
The flower video takes you through a session where artie edits a folder of images in Capture One while checking the exposures and Max-G values in RawDigger. The Adapted Histogram video examines a series of recent images with the pink histograms and covers lots of fine points including and especially how to deal with specular highlights. The directions for setting up the Adapted Histogram are in the text.
If we priced this guide based on how much effort we put into it, it would sell it for $999.00. But as this guide will be purchased only by a limited number of serious photographers, we have priced it at $51.00. You can order yours here in the BAA Online Store.
Typos
With all blog posts, feel free to e-mail or to leave a comment regarding any typos or errors.