Your Favorite?
Which of today's three featured images is your favorite? Please leave a comment and let us know why you made your choice. Or not. 🙂
What's Up?
I finally found the Killdeer nest on Sunday morning. I will be going down with Jim later today to put up a string fence around it to protect it from the big mowers. I saw the two young Killdeer babies that I had photographed as chicks on 24 April near the base of the pier; both are now flying. How fast they grow. I photographed the growing baby crane in the North Field, did some adult crane sky-scapes, and a pair of Mottled Ducks. The results were iffy at best, but I had fun.
Today is Monday 16 May. The forecast for this morning is for clear with a breeze from the west. Though this is the kiss of death forecast for bird photography, I will head down to the lake early just because (I love birds and photography). You know the life is like a box of chocolates thing … Wherever you are and whatever you are doing, I hope that you too have a great day. This blog post took about 90 minutes to prepare and makes sixty-six days in a row with a new one.
Please remember to use the B&H and Amazon links that are found on most blog pages and to use the BIRDSASART discount code at checkout when purchasing your new gear from Bedfords. Please, also, consider joining a BAA IPT. You will be amazed at how much you will learn!
BIRDS AS ART Image Optimization Service (BAA IOS)
Send a PayPal for $62.00 to birdsasart@verizon.net or call Jim at 863-692-0906 and put $62.00 on your credit card. Pick one of your best images and upload the raw file using a large file sending service like Hightail or DropBox and then send me the link via e-mail. I will download and save your raw file, evaluate the exposure and sharpness, and optimize the image as if it were my own after converting the raw file in Adobe Camera Raw. Best of all, I will make a screen recording of the entire process and send you a link to the video to download, save and study.
Wanting a Nikon Z9?
The best way to get your hands on a Z9 is to join NPS (Nikon Professional Services) and then send your member number to Steve Elkins at Bedford via e-mail. Nikon insists that Z9s (and other hard to get stuff) go to NPS members. You can get one from B&H, but they have a huge wait list …
And Please Remember
You can find some great photo accessories (and necessities, like surf booties!) on Amazon by clicking on the Stuff tab on the orange/yellow menu bar above. On a related note, it would be extremely helpful if blog-folks who, like me, spend too much money on Amazon, would get in the habit of clicking on the Amazon logo link on the right side of each blog post when they shop online. As you might expect, doing so will not cost you a single penny, but would be appreciated tremendously by yours truly. And doing so works seamlessly with your Amazon Prime account.
Please remember that if an item — a Delkin flash card, or a tripod head — for example, that is available from B&H and/or Bedfords, is also available in the BAA Online Store, it would be great, and greatly appreciated, if you would opt to purchase from us. We will match any price. Please remember also to use my B&H affiliate links or to earn 3% cash back at Bedfords by using the BIRDSASART discount code at checkout for your major gear purchases. Doing either often earns you free guides and/or discounts. And always earns my great appreciation.
Brand-New and As-Good-As-Ever Bedfords BAA Discount Policy
Folks who have fallen in love with Bedfords can now use the BIRDSASART coupon code at checkout to enjoy a post-purchase, 3% off-statement credit (excluding taxes and shipping charges) on orders paid with a credit card. The 3% credit will be refunded to the card you used for your purchase. Be sure, also, to check the box for free shipping to enjoy free Second Day Air Fed-Ex. This offer does not apply to purchases of Classes, Gift Cards, or to any prior purchases.

Money Saving Reminder
Many have learned that if you need a hot photo item that is out of stock at B&H and would like to enjoy getting 3% back on your credit card along with free 2nd Day Air Fed-Ex Air shipping, your best bet is to click here, place an order with Bedfords, and enter the coupon code BIRDSASART at checkout. If an item is out of stock, contact Steve Elkins via e-mail or on his cell phone at (479) 381-2592 (Central time). Be sure to mention the BIRDSASART coupon code and check the box for Free Shipping. That will automatically upgrade to free 2nd Day Air Fed-Ex. Steve has been great at getting folks the hot items that are out of stock at B&H and everywhere else. The waitlists at the big stores can be a year or longer for the hard-to-get items. Steve will surely get you your gear long before that. For the past year, he has been helping BAA Blog folks get their hands on items like the SONY a 1, the SONY 200-600 G OSS lens, the Canon EOS R5, the Canon RF 100-500mm lens, and the Nikon 500mm PF. Steve is personable, helpful, and eager to please.
Important Note
As an Amazon Associate, I earn a small percentage when you purchase from Amazon after using any of the Amazon links on the blog (including the logo-link immediately above). My link works with Amazon Prime and using it will not cost you a single cent. Huge thanks, BTW 🙂
Please Remember Also
Please, if you enjoy and learn from the blog, remember to use one of my two affiliate programs when purchasing new gear. Doing so just might make it possible for me to avoid having to try to get a job as a Walmart greeter and will not cost you a single penny more. And if you use Bedfords and remember to enter the BIRDSASART code at checkout, you will (still!) save 3% on every order and enjoy free second-day air shipping. In these crazy times — I lost about fifty thousand dollars in income due to COVID 19 — remembering to use my B&H link or to shop at Bedfords will help me out a ton and be greatly appreciated. Overseas folks who cannot order from the US because of import fees, duties, and taxes, are invited to help out by clicking here to leave a blog thank you gift if they see fit.
Gear Questions and Advice
Too many folks attending BAA IPTs and dozens of photographers whom I see in the field and on BPN, are–out of ignorance–using the wrong gear, especially when it comes to tripods and more especially, tripod heads… Please know that I am always glad to answer your gear questions via e-mail. If you are desperate, you can try me on my cell at 863-221-2372. Please leave a message and shoot me a text if I do not pick up.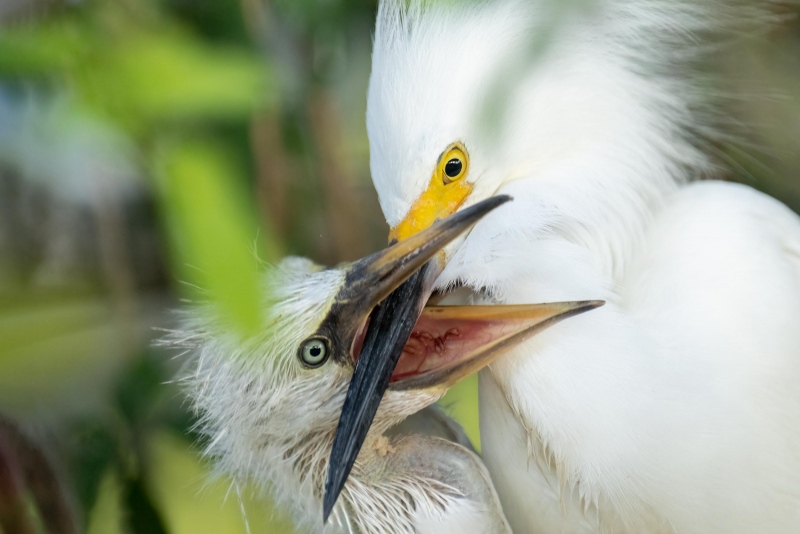 This image was created on 8 May 2022 at Gatorland in Kissimmee, FL. I used the hand held Sony FE 70-200mm f/2.8 GM OSS II lens with the Sony FE 2x Teleconverter (at 400mm) and The One, the Sony Alpha 1 Mirrorless Digital Camera.. The exposure was determined via Zebras with ISO on the thumb dial. ISO 5000: 1/1000 sec. at f/5.6 (wide open) in Manual mode. AWB at 8:22:45am in the shade on a sunny morning.
Tracking: Spot/S with Bird-Eye/Face Detection performed perfectly. Click on the image to enjoy a high-res version.
Image #1: Snowy Egret feeding chick

Your browser does not support iFrame.
Why 1/1000 Second
In the ISO 5000. Last Two Chances for Gatorland I-T-F Sessions blog post here, I asked:
Why did I choose such a high shutter speed?
No-one left a comment. I chose a high shutter speed to try and freeze the action when the chick is going crazy yanking on the adult's bill. In low light situations, this will always result in the use of high ISOs.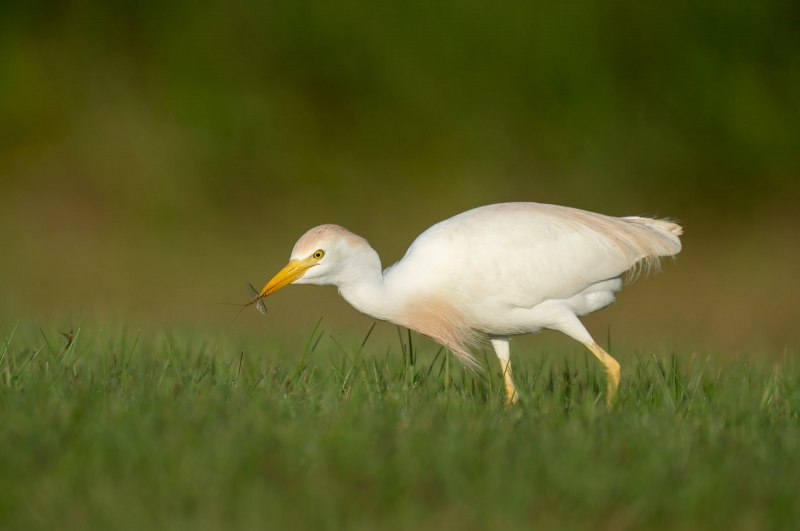 This image was created on 9 May 2022 on the South Peninsula down by the lake near my home at Indian Lake Estates. Working from the front seat of my SUV, I used the BLUBB-supported Sony FE 600mm f/4 GM OSS lens, the Sony FE 2.0x Teleconverter, and The One, the Sony Alpha 1 Mirrorless Digital Camera). The exposure was determined via Zebras technology with ISO on the Thumb Dial. ISO 800: 1/1600 sec. at f/8 (wide open) in Manual mode. The exposure was dead solid perfect when evaluated in RawDigger. AWB at 7:43:49 am on a sunny morning.
Tracking: Upper Left Zone/AF-C with Bird Face/Eye detection enabled performed to perfection. Be sure to click on the image to enjoy a high-res version.
Image #2: Cattle Egret holding mayfly in bill tip

Your browser does not support iFrame.
Joe Przybyla Nailed It
In the 1200mm Cow Egret & Mayfly Gems! blog post here, I wrote, Which of today's two very excellent images do you like best. I think that that is a tough call. If you leave a comment, please be sure to let us know why you made your choice.
BPN/Avian Forum-friend Joe Przybyla nailed it when he posted this comment (in part):
Hey Artie, I really like both, but I think the Mayfly perfectly positioned in the second take it over the top.
I agree but only 100 percent.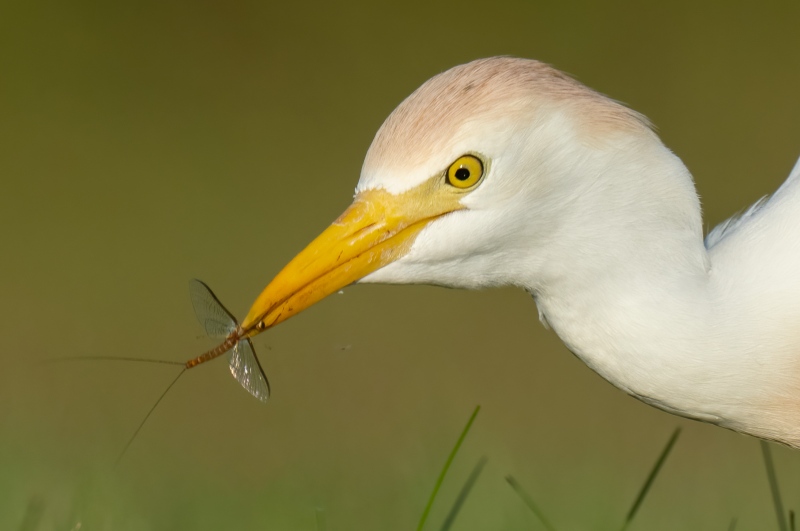 This is an unsharpened 100% crop of the Cattle Egret holding mayfly in bill tip image
Rodney Dangerfield
Sometimes I feel like Rodney Dangerfield, I don't get no respect. A here un-named reader left this comment:
Lack of sharpness in both images; their feathers have no detail, a monitor issue? Processing? File size, too big for the number of pixels. Umm ..
Lack of sharpness? No detail? Really? You can visit the original post to check out my reply.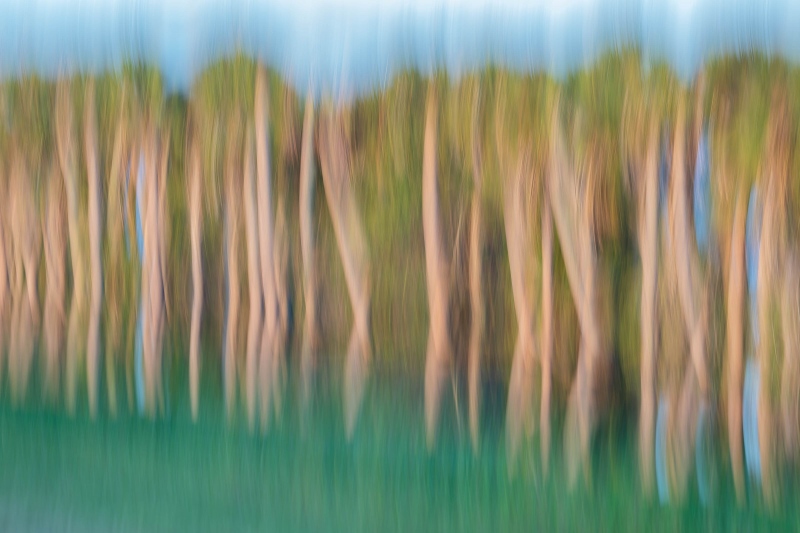 This image was created on 10 May 2022 at Stick Marsh, Fellsmere, FL. I used the hand held Sony FE 200-600mm f/5.6-6.3 G OSS lens (at 200mm) and The One, the Sony Alpha 1 Mirrorless digital camera. ) The exposure was determined using Zebra technology with ISO on the Thumb Dial. ISO 64: 1/8 second at f/8 (stopped down 2/3 stop) in Manual Mode. AWB at 6:56:26am on a clear morning. RawDigger showed the exposure to be dead-solid perfect.
Tracking: Spot S and then locked focus by pressing and holding the AF-ON button. Be sure to click on the image to enjoy a high-res version.
Image #1: Cabbage Palm stand: vertical pan blur
Your browser does not support iFrame.
Go Figure
In the Some Days are Diamonds, & Some Days Nothing is Flying blog post here, two ladies who usually do not like or who hate blurs, liked the Cabbage Palm stand: vertical pan blur image. I loved it.
Linear Perspective
One of the reasons is that I loved the image is because I had pointed my lens to the left. This resulted in the trees on the right side of the frame appearing taller than the trees on the left side of the frame. Without realizing it, I used one point linear perspective to add depth to the image. "It seems that things that are further away appear smaller than those that are closer to us."
The quote above is from Types of Perspective in Art, an excellent and informative blog post by Tom, of TomoStudio. You can read the article here. While visiting the website, I came across a neat article entitled 100 Cool, Easy, Fun & Cute Things to Draw. It might be great for you, for your kids, or for your grandkids. You can find it here.
Typos
With all blog posts, feel free to e-mail or to leave a comment regarding any typos or errors.