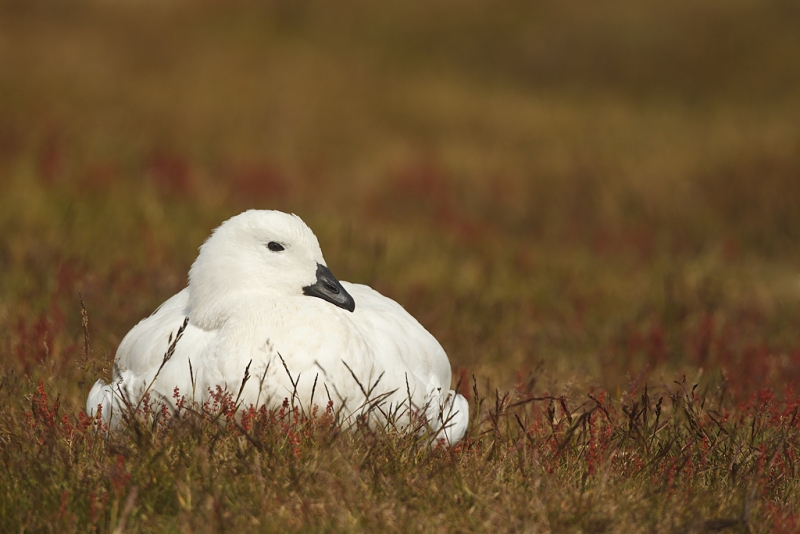 This drake Kelp Goose was photographed with the tripod-mounted Canon 300mm f/2.8 L IS II lens, the 2X III teleconverter, and the Canon EOS-1D Mark IV. ISO 200. Evaluative metering -1/3 stop: 1/2000 sec. at f/5.6 in Av mode.
Central Sensor AI Servo Rear Focus AF and recompose. Click here if you missed the Rear Focus Tutorial.
Kelp and Upland Geese are the two common goose species on the Falklands. In most locations they are a bit wary but on West Point those that hang around the dwellings are quite a bit more forgiving. See image last to learn what was inside one of the dwellings….
Basic Image Clean-up: Right or Wrong?
Take a moment to check out the animated GIF below. As I do with most images (except those to be entered in the major contests), I used the Patch Tool and a few small Quick Masks to perform the basic clean-up, eliminating some distracting white feathers and small bits of debris. A 40% hardness Clone Stamp Tool was used to get rid of several large specular highlights. Instructions for using all of the basic clean-up tools are detailed in our Digital Basics File. Digital Basics includes my complete digital workflow, dozens of other great Photoshop tips, and free annual updates for as long as I am pushing the shutter button. Advanced Quick Masking techniques are covered in Robert O'Toole's APTATS I (Advanced Photoshop Tips and Techniques Simplified.)
Right or Wrong?
In your opinion, is basic image clean-up right or wrong in nature photography? As always, be sure to let us know why you feel that way that you do.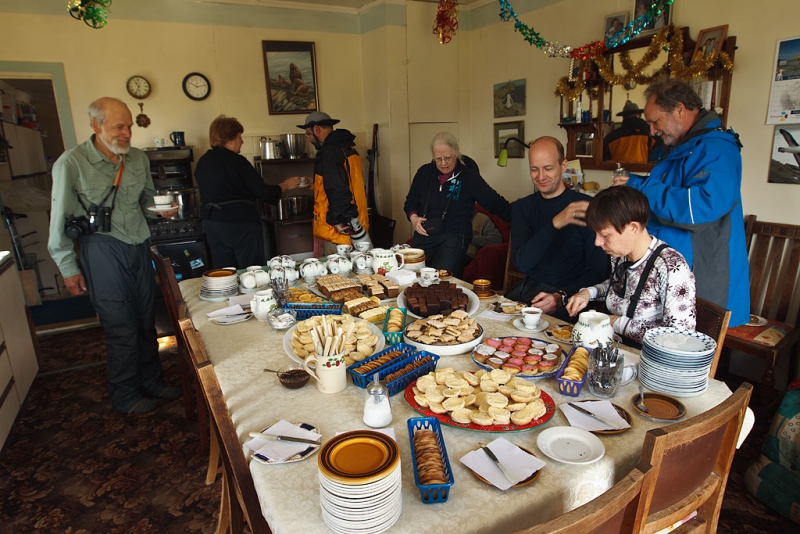 The Cheesemans' provided some very nice extras on the trip. At West Point in the Falklands those who wished a ride up the hill with their gear, about a mile in total, were provided one by the locals. That included me :). In addition, a sumptuous mid-morning snack along with coffee and tea was provided. That's my roommate Pablo in his yellow slicker. As I mentioned earlier, there were lots of tame birds around the buildings. I took a tiny bite of a brownie just before leaving….
Cheesemans' Ecology Safaris
I traveled to the Southern Ocean with Cheesemans' Ecology Safaris; find out what I thought about them here. You can learn more about CES by clicking here. If you have any questions you can shoot them an e-mail or call them at 800.527.5330.
Comments on Comments
I commented on the comments in the giant sunflower image repost of January 2, 2012 here. There is lots of interesting and educational material there especially in my response to the comment by Bob McColley who asked about depth-of-field with different lenses…. His misconception is a common one.
Support both the Bulletins and the Blog by making all your B & H purchases here.
Remember: you can earn free contest entries with your B & H purchases. Eleven great categories, 34 winning and honored images, and prize pools valued in excess of $20,000. Click here for details.
Shopper's Guide
Below is a list of the gear used to create the image in today's blog post. Thanks a stack to all who have used the Shopper's Guide links to purchase their gear as a thank you for all the free information that we bring you on the Blog and in the Bulletins. Before you purchase anything be sure to check out the advice in our Shopper's Guide.
Canon 300mm f/2.8 L IS II lens. This lens proved to be ideal on a tripod for both birds and wildlife with both the 1.4X and 2X III TCs. All images were super-sharp and the lens was light enough for hand-holding both in the zodiacs and when doing flight photograph from the ship.
2X III teleconverter. This new TC is sharper than the 2X II version.
Canon EOS-1D Mark IV professional digital camera body. My two Mark IVs are my workhorse digital camera bodies.
And from the BAA On-line Store:
LensCoats. I have a LensCoat on each of my big lenses to protect them from nicks and thus increase their resale value. All my big lens LensCoat stuff is in Hardwood Snow pattern.
LegCoat Tripod Leg Covers. I have four tripods active and each has a Hardwood Snow LegCoat on it to help prevent further damage to my tender shoulders 🙂
Gitzo GT3530LS Tripod. This one will last you a lifetime.
Mongoose M3.6 Tripod Head. Right now this is the best tripod head around for use with lenses that weigh less than 9 pounds. For heavier lenses, check out the Wimberley V2 head.
Double Bubble Level. You will find one in my camera's hot shoe whenever I am not using flash.
Be sure to check out our camera body User's Guides here.
The Lens Align Mark II. I use the Lens Align Mark II pretty much religiously to micro-adjust all of my gear an average of once a month and always before a major trip. Enjoy our free comprehensive tutorial here.
Canon EOS-1D Mark IV User's Guide. Learn to use your Mark IV the way that I use mine. Also available for the 7D and the Mark III here.
BreezeBrowser. I do not see how any digital photographer can exist without this program.