Leap Day
Well, I have been around more than 65 years now and I never knew exactly what they called February 29; a Google search turned this up: February 29 is a date that usually occurs every four years, and is called leap day. This day is added to the calendar in leap years as a corrective measure, because the earth does not orbit around the sun in precisely 365 days. When I saw the usually, I pursued the matter further.
Wikipedia revealed this nugget: February 29, also known as a leap day in the Gregorian calendar, is a date that occurs in most years that are evenly divisible by 4, such as 2004, 2008, 2012 and 2016. Years that are evenly divisible by 100, but not by 400, do not contain a leap day; thus 1900 did not contain a leap day while 2000 did. Years containing a leap day are called leap years. The final answer for Alex Trebec: we skip Leap Day once every 400 years.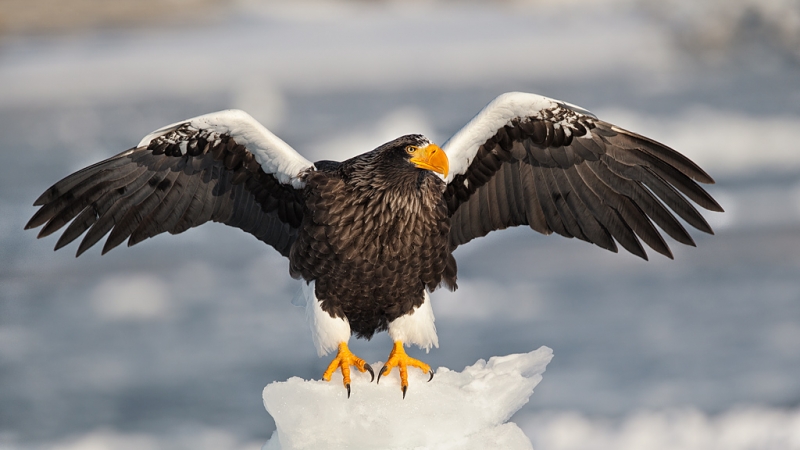 This Steller's Sea Eagle image was created at 7:20am this past Leap Day at Rausu, Hokkaido, Japan with the hand held Canon 300mm f/2.8 L IS II lens, 1.4X III TC, and the Canon EOS-1D Mark IV. ISO 400. Evaluative metering +2/3 stop: 1/3200 sec. at f/4 in Manual mode.
Central Sensor/AI Servo Rear Focus active at the moment of exposure. Click here if you missed the Rear Focus Tutorial. Click on the image to enjoy a larger, more spectacular version.
The King of Hokkaido
Though making this image did not require the huge leap of faith that I wrote about in the last blog post, A More Aggressive Approach Pays Big Dividends, there is a good chance that I might not have pulled the trigger had my old mind set still been in place. I might have mentioned that I have missed a thousand great images over the decades waiting for the perfect image to become more perfect. That was not the case here: I saw the bird raise its wings, reacted quickly, and made a single image.
See what the folks at BPN had to say about this image and how they helped me improve an already fine image by clicking here. In addition, you can learn a ton by studying the BreezeBrowser Main View screen capture (and my comments) below. Lastly note that the image presented is full frame from side to side with a small crop from the bottom to eliminate the tops of the heads of the two birds along the lower frame edge.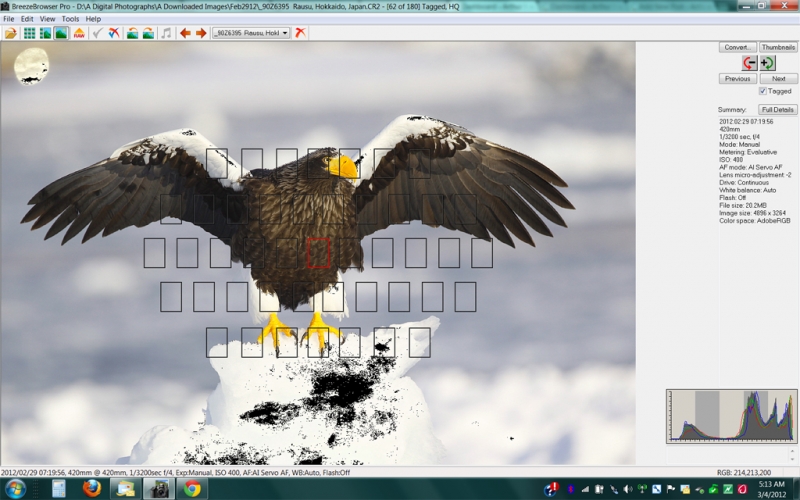 Click on the image for a larger, easier-to-read version.
BreezeBrowser Main View Screen Capture
Note that as mentioned in previous blog posts I pushed the exposure to the right far enough to leave a few blinkies (the black areas) in the snow. As blinkies are only warnings of potential loss of detail those areas were easily saved by moving the exposure slider to the right while holding down the Alt key prior to converting the image in ACR (as described in detail in Digital Basics). Note also that the central AF sensor was on the bird's breast which was approximately on the same plane as the bird's eye. And note the crop from below that improved the composition. (See Advanced Composition and Image Design in The Art of Bird Photography II (ABP II: 916 pages on CD only).
Earn Free Contest Entries and Support both the Bulletins and the Blog by making all your B & H purchases here.
More and more folks are earning multiple contest entries with their B & H purchases. See here for details on that. Eleven great categories, 34 winning and honored images, and prize pools valued in excess of $20,000. Click here to visit the competition home page.
Shopper's Guide
Below is a list of the gear used to create the image above. Thanks a stack to all who have used the Shopper's Guide links to purchase their gear as a thank you for all the free information that we bring you on the Blog and in the Bulletins. Before you purchase anything be sure to check out the advice in our Shopper's Guide.
Canon 300mm f/2.8 L IS II lens. The 300 f/2.8 L IS II with the 1.4X III TC is a killer flight combination.
1.4X III TC. The new Series III 1.4X was designed to work best with the new Series II super-telephoto lenses.
Canon EOS-1D Mark IV professional digital camera body. My two Mark IVs are my workhorse digital camera bodies.
And from the BAA On-line Store:
LensCoats. I have a LensCoat on each of my big lenses to protect them from nicks and thus increase their re-sales value. All my big lens LensCoat stuff is in Hardwood Snow pattern.
The Lens Align Mark II. I use the Lens Align Mark II pretty much religiously to micro-adjust all of my gear an average of once a month and always before a major trip. Enjoy our free comprehensive tutorial here.
Canon EOS-1D Mark IV User's Guide. Learn to use your Mark IV the way that I use mine. Also available for the 7D and the Mark III here.
BreezeBrowser. I do not see how any digital photographer can exist without this program.