Beginning Bird Photography Lessons
I created this image this morning while working with a private client. Ann is a beginning bird photographer. But very smart and a quick study. She arrived knowing when and why to use AI Servo AF and when and why to use One-Shot. She knew how add or subtract light while working in Av mode and knew how to view the histogram. She did not know how to evaluate a histogram or the importance of having at least some data in the fifth (highlight) box. And she had blinkies turned off. We educated her in short order. To start I let her work with the 300mm f/2.8 L IS II lens and the 2X III teleconverter with her Canon EOS-7D, all on a Mongoose M3.6 and a Gitxo 3530 LS tripod. (Note: the 3530 LS has been replaced by the GT3532 LS.)
Within a few minutes she had learned to produce good if not perfect histograms. Once I showed her how, she was a natural at holding the big lens to ensure sharp images and she had a good eye for composition. After an hour I set her up with a 70-200mm f.4 L IS and a 1.4X III TC. She took to hand holding it correctly immediately by bracing her elbows on the boardwalk railings.
She went off by herself making images and honing her newly learn skills. I photographed for a while on my own and then went off the see if she needed any additional help. She had found a wide open Snowy Egret nest with two medium sized chicks! I taught her how to use the pop-up flash in a rather dark situation. Then it was my turn. After hand holding my 70-200mm f/2.8L IS II for a while I went to the 300 with the 2X on a tripod so that I could create some head portraits. As there was a branch blocking the flash as it sat on the 4th Generation Design Integrated Flash Arm. Ann kindly agreed to hold the flash and point it at the bird.
Voila!
Why Stop There?
As you can see by viewing the animated GIF above, I did considerable bill clean-up but opted to leave the single sliver of feather. Why? Clean-up as usual was with the Patch Tool, the Spot Healing Brush, and a series of small Quick Masks. All are described in detail in Digital Basics.
NIK 15% Discount
As regular readers here know, NIK Color Efex Pro has drastically changed my digital workflow. Remember that you can save 15% on all NIK products by clicking here and entering BAA in the Promo Code box at check-out. Then hit Apply to see your savings. You can download a trial copy that will work for 15 days and allow you to create full sized images.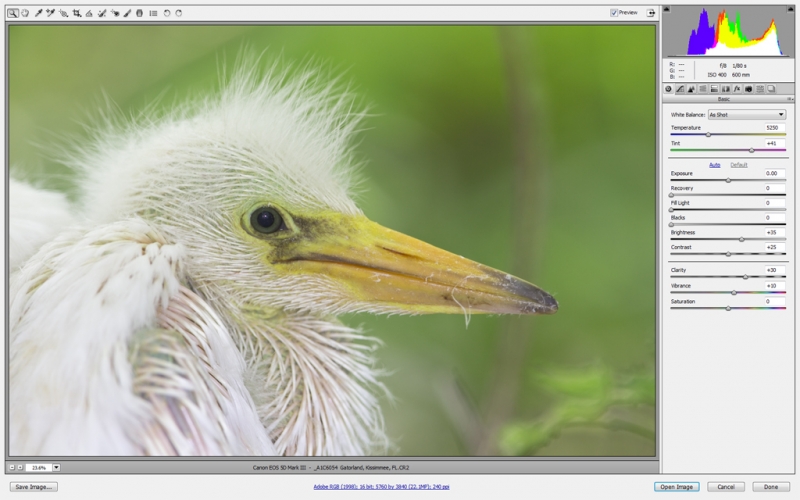 This Adobe Camera RAW screen capture shows my default values. Note the pretty darned good histogram right out of the box…. Click on the image to enlarge it–it's a lot easier to read then.
Canon Speedlite 600EX-RT
Today was the first chance that I had to use my new flash, the Speedlite 600EX-RT, Canon's most powerful-ever flash. The controls are a bit different from the last several Speedlites so I actually had to read the flash manual. But just enough to get started….
Here are the listed features:
Wireless Radio Multiple Flash SystemTTL
E-TTL II & A-TTL Compatible
GN 197′ (60 m) @ ISO100
Exceptionally Dust- and Water-Resistant
Zoom Flash Head: 20-200mm
Range Dot Matrix LCD Panel and Backlit Button
Color Filter Holder for Gelatin Filters
18 Custom Functions
Full 180-Degree Swivel in Each Direction
AF Assist Beam
I obviously have a lot more studying to do. What intrigued me the most were the comprehensive easy-to-follow instructions for Multi/Stroboscopic Flash that includes a section on calculating the shutter speed. I have a good plan for using this feature for bird photography at some point in the future. Maybe on Midway…. See pages 33-35 of the Instructional Manual.
Shopper's Guide.
Support both the Bulletins and the Blog by making all your B & H purchases here.
Below is a list of the gear talked about in this blog post. Thanks a stack to all who have used the Shopper's Guide links to purchase their gear as a thank you for all the free information that we bring you on the Blog and in the Bulletins. Before you purchase anything be sure to check out the advice in our Shopper's Guide.
Canon 300mm f/2.8 L IS II lens. Both on my Southern Oceans and Japan trip this lens proved to be ideal on a tripod for both birds and wildlife with both the 1.4X and 2X III TCs. All images were super-sharp and the lens was light enough for hand-holding from any type of watercraft.
2X III teleconverter. The new 2X TC is sharper than the older Series II 2X TC and is designed to work best with the Series II super-telephoto lenses–two out and two more coming sometime in 2012.
70-200mm f.4 L IS. Ann is planning on buying one of these lightweight, relatively inexpensive beauties as her starter lens. Teamed with a 1.4X III TC and her Canon EOS-7D she will have a decent effective reach of 448mm (or 9.96X magnification).
Canon EOS 5D Mark II Digital Camera. Canon's lightweight full frame body is perfect for serious landscape photography and worked out great for wildlife on my Southern Oceans voyage.
Speedlite 600EX-RT. Canon's latest greatest professional flash has more features than I will ever use or need.
And from the BAA On-line Store:
LensCoats. I have a LensCoat on each of my big lenses to protect them from nicks and thus increase their re-sales value. All my big lens LensCoat stuff is in Hardwood Snow pattern.
LegCoat Tripod Leg Covers. I have four tripods active and each has a Hardwood Snow LegCoat on it to help prevent further damage to my tender shoulders 🙂 And you will love them in mega-cold weather….
GT3532 LS. This one replaces the GT3530LS Tripod and will last you a lifetime.
Mongoose M3.6 Tripod Head. Right now this is the best tripod head around for use with lenses that weigh less than 9 pounds. For heavier lenses, check out the Wimberley V2 head.
Double Bubble Level. You will find one in my camera's hot shoe whenever I am not using flash.
Better Beamer. Triples flash output. Saves battery power. Increases range. Folds flat for travel. And lots more.
4th Generation Design Integrated Flash Arm. Lightweight and efficient; what more could you ask for?
The Lens Align Mark II. I use the Lens Align Mark II pretty much religiously to micro-adjust all of my gear an average of once a month and always before a major trip. Enjoy our free comprehensive tutorial here.
Canon EOS-1D Mark IV User's Guide. Learn to use your Mark IV the way that I use mine. Also available for the 7D and the Mark III here.
BreezeBrowser. I do not see how any digital photographer can exist without this program.