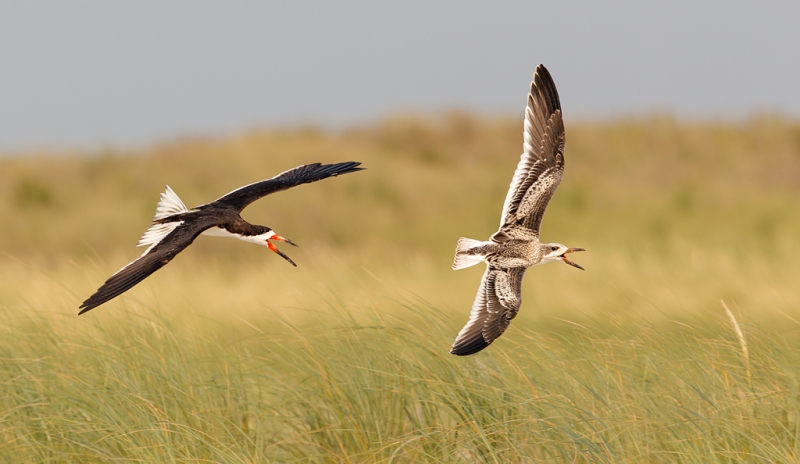 This image of an adult Black Skimmer chasing a juvenile was created on the recently concluded Nickerson Beach IPT with the hand held Canon 300mm f/2.8 L IS II lens, the Canon 1.4x EF Extender III (Teleconverter), and the unfortunately discontinued Canon EOS-1D Mark IV. ISO 400. Evaluative metering +2/3 stop off the low blue sky: 1/1600 sec. at f/8 in Manual mode.
Central Sensor/AI Servo Rear Focus active at the moment of exposure. Click here if you missed the Rear Focus Tutorial. Click on the image to enjoy a larger, more spectacular version.
The Chase
As was expected, we had lots of opportunities to photograph Black Skimmers in flight on the Nickerson Beach IPT. The group quickly learned that west, southwest, or south winds were best late on clear afternoons as the birds are then flying towards you to some degree when the sun is at your back. East and southeast winds on clear afternoons are death on flight photography.
As regular readers have seen recently, I did lots of flight photography at Nickerson with my tripod mounted 800mm lens, often with the 5D Mark III. If the birds are somewhat closer, flight photography will always be easier when you are hand holding a shorter lens. It is easier to swing the lens around, easier to pan with the bird, and easier to get and to keep the active sensor on the bird's face or neck. Here I went to the 1D Mark IV for a bit of extra reach and more pixels on the subject.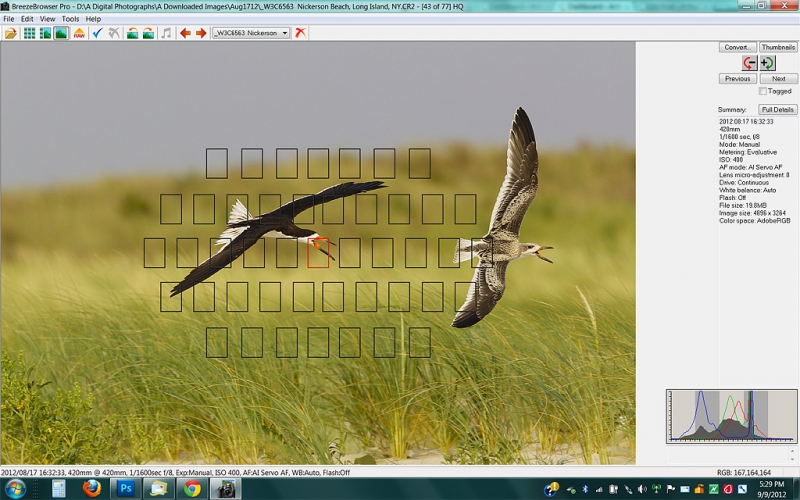 This is the BreezeBrowser Main View screen capture for the RAW image. You can see that the birds were too far forward in the frame. See the fix below. Coming soon and finally: How to Run Breezebrowser on a Mac. Note that the latest version of BreezeBrowser supports both the Canon EOS-5D Mark III and the Canon EOS-1DX.
Note as usual the perfect histogram with the whites of the skimmers well to the right in the fifth histogram box and lots of room on the left to provide maximum detail in the dark feathers. In The Art of Bird Photography II (ABP II: 916 pages on CD only), I teach you to get the right exposure using digital capture every time. Best of all, it is easy to learn.
The Fix
As you can see in the screen capture above, I kept the active focusing sensor (highlighted in red) right on the adult skimmer's face. Unfortunately, that left both birds in the front of the frame rather than in the back. Using the"Composition Correction: Increase Lead Room Without Cropping" technique from Robert O'Toole's APATATS II I easily moved both birds back in the frame. Then I added a layer mask, fine-tuned the edges, and eliminated one major repeating pattern. The whole thing took less then two minutes. You can learn advanced Layer Masking techniques in APTATS II. You can learn the basics of Layer Masking in Digital Basics which includes my complete digital workflow and dozens of great Photoshop tips.
APTATS II
Here are the tutorials that are included in APTATS II:
· Composition Correction: Increase Lead Room Without Cropping/Basic
· Composition Correction: Increase Lead Room Without Cropping/Intermediate
· Composition Correction: Increase Space Near a Frame Edge/Advanced
· Super-Fast Element Removal: Basic
· Super-Fast Element Removal Plus Composition Improvement
· Gradient Background Blur
· Mask Blending for Mega-Depth-of-Field
· Selective Highlight Detail Enhancement
· Selective Noise Reduction and Sharpening
· Selective Sharpening with Finely Detailed Edges
· Average Blur Color Balance Trick
Nickerson Baby Beach-nesting Birds IPT: July 23-25, 2013: $1099. Introductory slide program: Monday, July 22, 2013. Limit 12/Openings 9. Co-leader: Denise Ippolito.
I am proud to announce the brand new July 2013 Nickerson Baby Beach-nesting Birds IPT. Join Denise and me on Long Island, NY next summer to photograph Common Tern chicks, baby American Oystercatchers, and just-hatched Black Skimmer chicks along with the adults. The opportunities will include chances to photograph a variety of breeding behaviors including courtship feeding, display flight and combat, and copulations. Car-pooling is recommended; if we opt to return to the beach before 5pm there is a $30/vehicle parking fee that is not included so it is best to share that expense. Parking in the morning is free.
I expect that many who have photographed with us at Nickerson before at different seasons will wish to join us for this very special Nickeron IPT. Both Denise and I will be speaking at the 2013 NECCC event the weekend before this IPT.
NYC Weekend Nature Photography Seminar
Presented by Denise Ippolito/A Creative Adventure and Arthur Morris/BIRDS AS ART
Hilton Garden Inn, Staten Island, New York. December 8-9, 2012 from 9am-4:30pm.
Weekend: $169. SAT or SUN: $99. Lodging available for out of town guests.
Saturday: Image Capture Sunday: Image Evaluation and Processing
Click here for complete details including the Saturday and Sunday schedules, club and group discount info, and registration incentives and for more info on the In-the-Field Seminar Follow-up Workshop.
Artie, the grizzled veteran, is widely noted as one of the premier bird photographers, tour leaders, and educators on the planet. Denise, who specializes in flowers, is the mega-creative up-and-comer, a popular lecturer, a skilled field instructor, and an amazing Photoshop wizard who will share her tips and tricks with you. Both artie and denise are full time professional nature photographers.
What You Will Learn:
How to become a better nature photographer and to create technically perfect, artistically designed images in the field. How to get the right exposure every time in ten seconds or less.
How to make your images look better during the image optimization process: RAW conversions, image clean-up, Quick Masking, Layer Masking, saving the WHITEs, and lots more.
New ways to photograph flowers and trees, how to create the truly pleasing blurs that are so popular today in many prestigious contests, and a slew of flight photography tips.
Why the longest lens in your bag is often not the best lens for bird or wildlife photography.
How to use NIK Color Efex Pro to revamp your digital workflow and dramatically improve the look of your images.
How to evaluate your images; each registrant will be asked to submit two 1400 X 1050 jpegs via e-mail before November 25; a selection of the submitted images will be chosen for critiquing at the seminar.
Pro Gear Handling Tips including tripod, lens handling, and flight photography tips. How to clean your sensor without trepidation!
How to expand your creative vision.
And a heck of a lot more than we have room for here!
BIRDS AS ART Instructional Photo-Tours
Click here for complete IPT information including the current schedule and links to general IPT info, deposit and cancellation policies. and the required registration and release forms.
Shopper's Guide
Thanks a stack to all who have used our B&H affiliate links to purchase their gear as a thank you for all the free information that we bring you on the Blog and in the Bulletins. Before you purchase anything be sure to check out the advice in our Shopper's Guide.
Staples from the BAA On-line Store:
LensCoats. I have a LensCoat on each of my big lenses to protect them from nicks and thus increase their re-sales value. All my big lens LensCoat stuff is in Hardwood Snow pattern.
LegCoat Tripod Leg Covers. I have four tripods active and each has a Hardwood Snow LegCoat on it to help prevent further damage to my tender shoulders 🙂 And you will love them in mega-cold weather….
Gizo GT3532 LS CF Tripod. This one replaces the GT3530LS Tripod and will last you a lifetime. I'll be commenting on this new model soon. In short, I like it.
Mongoose M3.6 Tripod Head. Right now this is the best tripod head around for use with lenses that weigh less than 9 pounds. For heavier lenses, check out the Wimberley V2 head.
Double Bubble Level. You will find one in my camera's hot shoe whenever I am not using flash.
The Lens Align Mark II. I use the Lens Align Mark II pretty much religiously to micro-adjust all of my gear an average of once a month and always before a major trip. Enjoy our free comprehensive tutorial here.
BreezeBrowser. I do not see how any digital photographer can exist without this program.
Delkin 700X CompactFlash Pro UDMA Enabled Cards
All of the images above were catpured on Delkin's new 64gb 700X CompactFlash Pro UDMA Enabled Card. Learn more about these great cards by clicking here and learn why the more expensive 1000X cards are overkill for still photographers.