The Streak Continues: 262
This blog was published just after 5:00am from my home at Indian Lake Estates, FL. It took me less than 2 hours to complete; this one makes 262 consecutive days with a brand new blog post. As always, I would appreciate your using the BIRDS AS ART B&H affiliate links for all of your major gear, video, and electronic purchases, using our Amazon logo-link for all of your household purchases, and visiting the BAA Online Store for your tripod, tripod head, LensCoat, miscellaneous, accessories, and eGuide purchases as well.
The 2015 UK Puffins and Gannets IPT
There are now just 2 slots left on the 2015 UK Puffins and Gannets IPT; if you are seriously interested in joining us on this truly wonderful trip it would be best not to tarry…. Scroll down here for complete details. artie and denise
Nickerson Beach Update
From Greg Gulbransen: Lots of skimmers feeding chicks out front in the open at Nickerson. Lots of photo ops. Next week will be perfect. For info on my 2-DAY trip click here and scroll down to near the bottom. artie
2015 Palouse IPT #2
The first 2015 Palouse IPT is sold out with a long waiting list. There are now just 4 slots left on the Palouse IPT #2. Scroll down in this blog post for complete details.
Selling Your Used Photo Gear Through BIRDS AS ART
Selling your used (or like-new) photo gear through the BAA Blog or via a BAA Online Bulletin is a great idea. We charge only a 5% commission. One of the more popular used gear for sale sites charges a minimum of 20% plus assorted fees! Yikes. The minimum item price here is $500 (or less for a $25 fee). If you are interested please e-mail with the words Items for Sale Info Request cut and pasted into the Subject line :). Stuff that is priced fairly–I offer free pricing advice, usually sells in no time flat. In the past few months, we have sold just about everything in sight. You can see the additional listings here. Immediately below is today's featured item, a new listing.
Used Canon EOS-1D Mark IV
Walt Anderson is offering a used Canon EOS-1D Mark IV professional digital camera body in near-mint condition for $2899.00. The sale includes an extra battery the original box, and all cables and manuals. The seller will pay insured shipping via UPS Ground to US addresses only. Your new gear will be shipped after your check clears. Payment may also be made via credit card plus a 2% fee.
Please contact Walt via e-mail or by phone at 847-438-3587 (office) or 847-721-8319 (cell) (Central Daylight Time). Walt, a long time friend, is the inventor of the Better Beamer Flash Extender, the very first BAA mail order item. When it comes to taking care of his gear, Walt is fastidious.
The 1D IV is a 1.3 crop factor camera body that was my workhorse camera body for about 4 years not so long ago. I owned four of them in total. It is Denise Ippolito's camera body of choice for birds and wildlife. They were selling used just a few months ago for more than $4,000 so Walt's 1D IV is priced to sell quickly.
Your Help Is Needed
Sales for the first half of August, 2014 via our BIRDS AS ART B&H affiliate links have been microscopically abysmal at best. If you need to purchase some new camera gear, please remember to use either our B&H logo link below or one of the product-specific links in the blog or the Bulletins. All should feel free to write me via e-mailMore Learning On a Variety Of Subjects…
Lots of Thinking Went Into the Creation of this Image…
In the "Lots of Thinking Went Into the Creation of this Image…" blog post here, I asked, with regards to the image above:
1-Why is the landing murre sharp at a shutter speed of "only" 1/400 sec.? Most folks recommend a shutter speed of at least 1/400 sec. for birds in flight….
2-Why was I not worried at all about depth-of-field?
Here is how I think my way through situations similar to #1: the farther a flapping subject is from you, the slower the shutter speed you can get away with. At about 200 feet, 1/400 sec. was plenty enough shutter speed to render the murre relatively sharp. I routinely work with shutter speeds as slow at 1/500 sec. for flight photography of single birds at relatively close range.
Interestingly enough, the converse of this principle is useful when creating pleasing blurs: the closer the subject the greater the degree of blurring. With large birds flying by at relatively close distances intermediate shutter speeds like 1/125 and even 1/20 sec. can produce some surreal results. Learn more in A Guide to Pleasing Blurs, a popular eBook by Denise Ippolito and yours truly.
Distance to subject is also the answer to #2. At 200 feet with a focal length of 280mm with a full frame camera and an aperture of f/5.6 the total depth-of-field is 53.5 ft, 23.2 feet in front of the subject, 30.2 feet behind the subject. Compare that with the same specs at the minimum focusing distance of the lens: 7 feet. Now the total depth-of-field is 0.06 ft divided 50/50 in front of and behind the subject. .06 feet is 0.72 inches, less than 3/4 of a single inch…. If you would like to learn more about depth-of-field bookmark this link: DOF Master.
Wrong For So Long… And Confused
In the Wrong For So Long… And Confused blog post here, not to worry; I have not forsaken you. I am still confused and have been in touch with some very smart folks but I am still unsure as to what the facts are. When I find out and am no longer confused y'all will be the first to know. Thanks to the many who left thoughtful and intelligent comments.
Before and After Blonde
In Before and After Blonde I asked about the only negative in the image of the tiny blonde Least Tern chick. Both Rose and Naveena hit the nail on the head by noting that the tiny baby bird's head was turned slightly away from me. I could have saved myself by moving a yard to my left….
Learning to Think and See Like a Pro/The Fourth of a Series Revelations/More Questions Than Answers…
In the Learning to Think and See Like a Pro/The Fourth of a Series Revelations/More Questions Than Answers… blog post here, I asked lots of questions. Here I will address each of them.
1-Why did I move so far to the left?
I moved well to the left to line up the right-hand point of the roof with the distant hill.
2-Why did I raise my tripod as high as possible?
I adjusted the tripod to be as tall as possible and worked from the crest of the two lane highway (that fortunately was not very busy) so that the point of the roof would not intersect with the hill.
3-What is the greatest strength of this composition?
The greatest strength of this image design is the placement of the right hand point of the roof so that it was framed by the green grass or crop on the distant hill.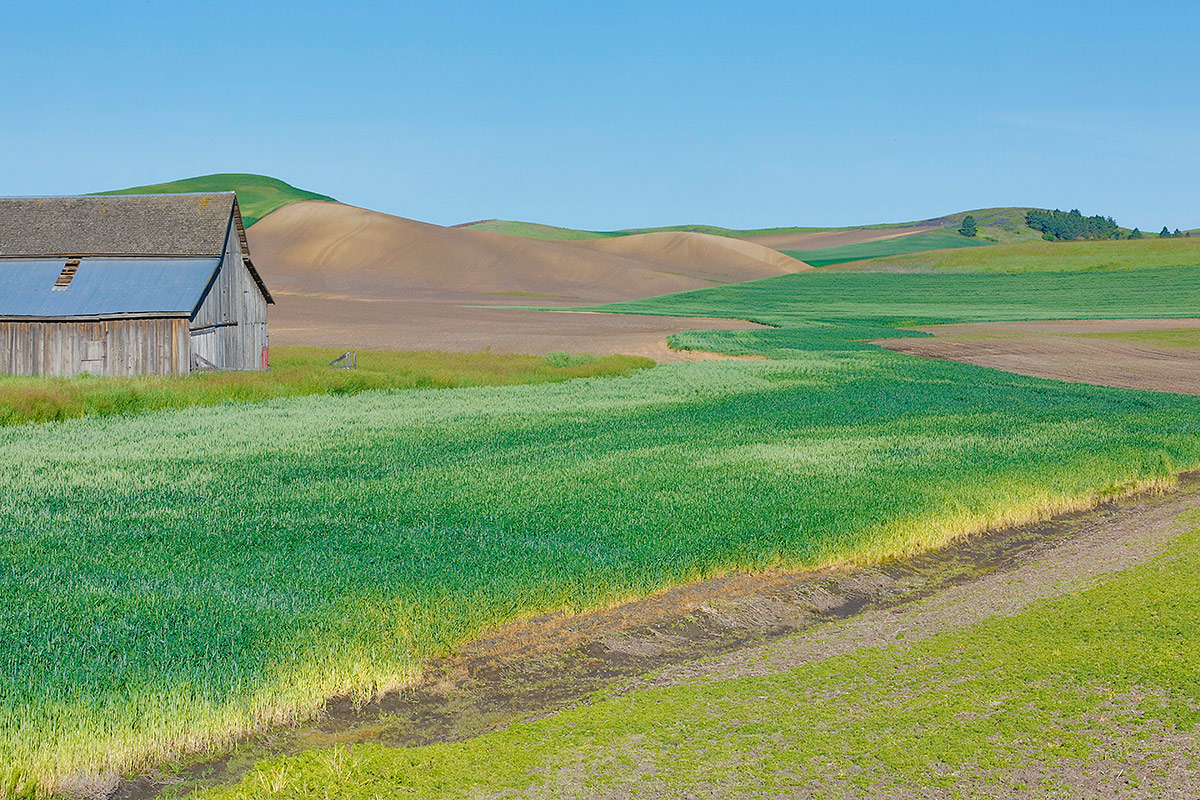 This three-frame Art Vivid HDR image was created on last June's Palouse scouting trip with the Gitzo 3532 LS carbon fiber tripod, the Mongoose M3.6 head, the Canon EF 70-200mm f/2.8L IS II USM lens (at 95mm) and the Canon EOS 5D Mark III . ISO 400. Evaluative metering +1 stop +/- two stops around the base exposure of 1/40 sec. at f/32 in Av mode. Color temperature 4500K. Live View and 2-second timer.
Central Sensor/Surround/AI Servo-Rear Focus AF on the nearest corner of the blue roof and re-compose. Click here to see the latest version of the Rear Focus Tutorial. Click on the image to see a larger version.
Image #2
Image #2 Questions
1-Why is Image #1 much stronger than Image #2?
By far the stronger of the first two images is #2 because I did a much better job of filling the frame with what interested me, the barn and the distant hill. In image #2 the uninteresting even boring foreground dominates the frame.
2-Did I move my tripod at all after I created Image #1?
No.
3-How do you know?
Because the juxtaposition of the point of the rood and the distant hill is identical.
Image #4
Image #3 (not seen here) was the really tight view. Image #4 above is a somewhat wider view. Image #3 offers the greatest detail in both the green vegetation and the plowed dirt field while Image #4 features much of the same plus a thin green strip in the lower right.
While I like both I prefer Image #4 (above) because it includes that thin sliver of green in the lower right corner.
HDR Art Vivid Question
Why were all of the HDR Art Vivid images in this series created at Color Temperature 4500K?
I worked at K4500 to take the sting out of the yellows and greens. With AWB in nice light those colors would be both over-saturated and garish.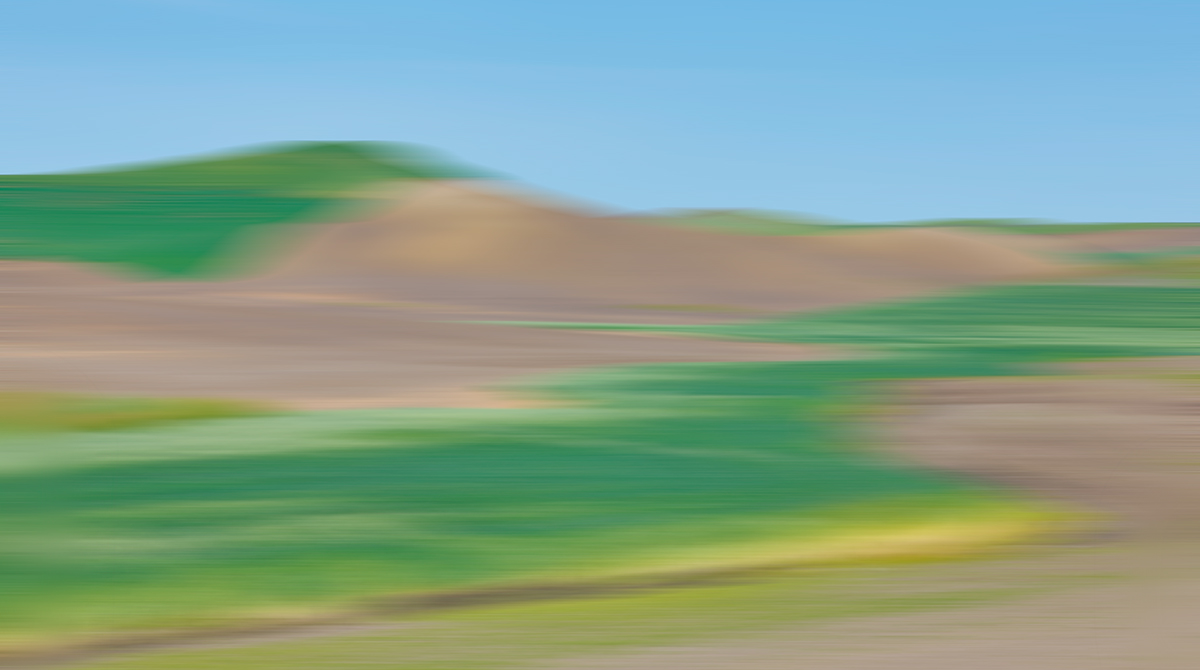 Image #6 was created from Image #5 (immediately above) in Photoshop CS-6. Keep reading to learn how.
Image #6
Image #6 was Created in Photoshop from Image #5 using Filter/Blur/Motion Blur and then adjusting the Distance slider to about 75. Though I created more than a dozen pleasing blurs of the area in Image 5, the Photoshop-created version was my favorite by far.
Favorites?
Between images #5 and #6 I preferred #6 but only by 500 light years as it much better reflects the soft feel of the fields and the dirt and the soft light.
Of the six images my faves were #1, #4, and #6.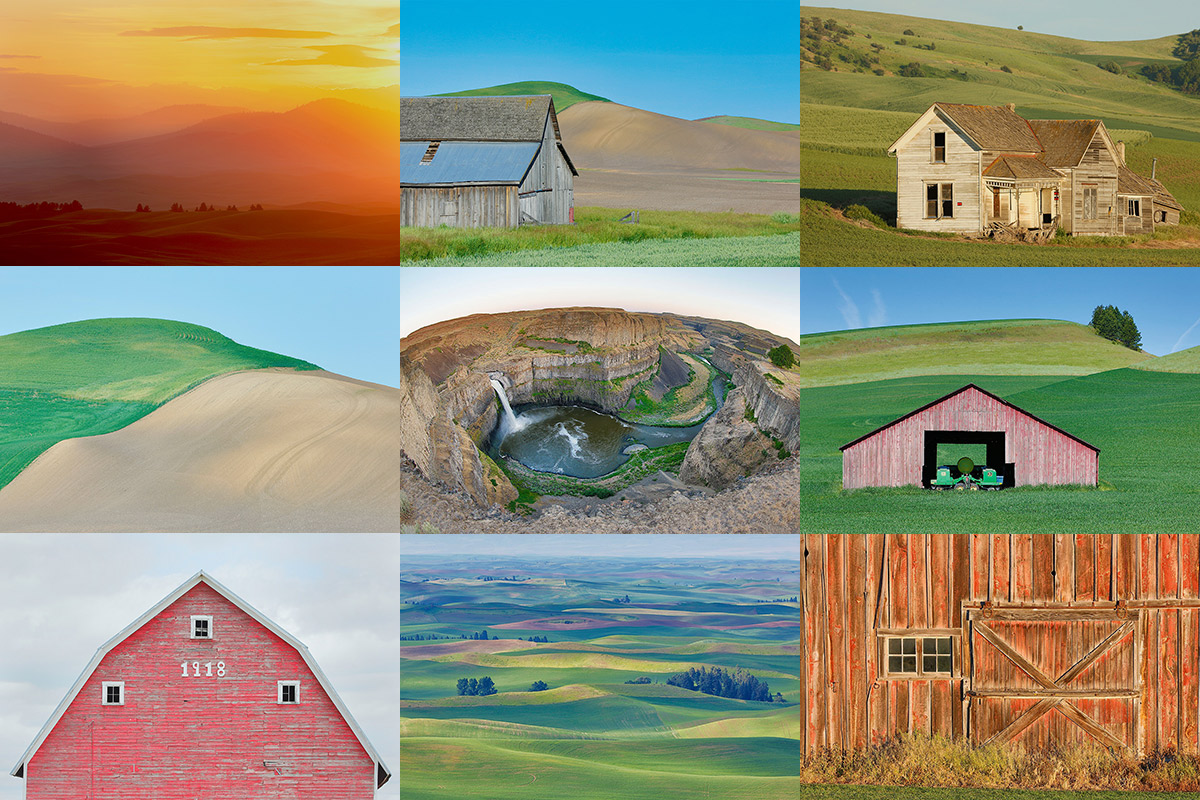 Please note that there are two Palouse IPTs scheduled; the first one is sold out. We hope that you can join us on the 2nd one. Images and Card design by Arthur Morris/BIRDS AS ART.
The Palouse A Creative Adventure/BIRDS AS ART Instructional Photo-Tour (IPT)/Eastern Washington State. June 5-9, 2015/5 Full Days: $1699/Limit 12 photographers/Openings 3; this trip is a go.
Rolling farmlands provide a magical patchwork of textures and colors, especially when viewed from the top of Steptoe Butte where we will likely enjoy spectacular sunrises and possibly a nice sunset or two. We will photograph grand landscapes and mini-scenics of the rolling hills and farm fields. We will take you to some really neat old abandoned barns and farmhouses in idyllic settings. There is no better way to improve your compositional and image design skills and to develop your creativity than to join us for this trip. Two great leaders: Denise Ippolito and Arthur Morris. Photoshop and image sharing sessions when we have the time and energy…. We get up early and stay out late and the days are long.
After 6 days of back-breaking scouting work in early June 2014 we found all of the iconic locations and, in addition, lots of spectacular new old barns and breath-taking landforms and views. We will teach you what makes one situation prime and another seemingly similar one a waste of your time.
What's included: In-the-field instruction, guidance, lessons, and inspiration, our newfound but very extensive knowledge of the area, all lunches, motel lobby breakfasts, and Photoshop and image sharing sessions when possible.
You will learn and hone both basic and advanced compositional and image design skills. You will learn to get the right exposure every time. You will learn to develop your creative eye. You will learn the basics of HDR (high dynamic range) photography. You will learn a variety of in-camera creative techniques; Canon 5D Mark III bodies are a plus. And most importantly you will learn to see the situation and to create a variety of top-notch images. Do see both of our blogs for lots more on that in the coming weeks. You will learn how the quality and direction of light combine to determine the success of your images. And–please don't gasp–we will be working quite a bit with sidelight when creating landscapes. Lastly, we will be touching on infrared photography.
A non-refundable $699 deposit is due now. The balance will be due on January 29, 2015. With the unpredictable nature of the photography business, I have not said this often lately, but it seems quite likely that this one will fill up very quickly. Please let me know via e-mail that you will be joining us. Then you can either call Jim or Jennifer at 863-692-0906 during business hours or send us a check; the latter is preferred.
Please send your deposit check made out to "Arthur Morris" to us at Arthur Morris/BIRDS AS ART, PO Box 7245, Indian Lake Estates, FL, 33855. If you have any questions, please feel free to contact me via e-mail. You can also contact denise via e-mail here
Facebook
Be sure to like and follow BAA on Facebook by clicking on the logo link upper right. Tanks a stack!
Support the BAA Blog. Support the BAA Bulletins: Shop B&H here!
We want and need to keep providing you with the latest free information, photography and Photoshop lessons, and all manner of related information. Show your appreciation by making your purchases immediately after clicking on any of our B&H or Amazon Affiliate links in this blog post. Remember, B&H ain't just photography!
…..
Amazon.com
Those who prefer to shop with Amazon may use this link:
Amazon Canada
Many kind folks from north of the border, ay, have e-mailed stating that they would love to help us out by using one of our affiliate links but that living in Canada and doing so presents numerous problems. Now, they can help us out by using our Amazon Canada affiliate link by starting their searches by clicking here. Many thanks to those who have written.
Typos
In all blog posts and Bulletins, feel free to e-mail or to leave a comment regarding any typos, wrong words, misspellings, omissions, or grammatical errors. Just be right. 🙂