What's Up?
Other than a few minutes of bumps due to some rough air going in and out of Denver last week, my flights to ABQ on the 20th were long, exhausting, and thankfully un-eventful. I began working on this blog post during my layover in Denver and finished it in Socorro a week later, on the afternoon of the day after Thanksgiving.
Please Remember to shop the BAA Online Store, and to use our Affiliate Links 🙂
To show your appreciation for my continuing efforts here, we ask, as always, that you use our the B&H and Amazon affiliate links on the right side of the blog for all of your purchases. B&H is recommended for you major photography gear purchases, Amazon for your household, entertainment, and general purpose stuff. Please check the availability of all photographic accessories in the BIRDS AS ART Online Store, especially the Mongoose M3.6 tripod heads, Gitzo tripods, Wimberley heads and plates, LensCoats and accessories, and the like. We sell only what I have used, have tested, and can depend on. We will not sell you junk. We know what you need to make creating great images easy and fun. And we are always glad to answer your gear questions via e-mail. I just learned that my account was suspended during my absence; it should be up and running by Monday at the latest.
I would of course appreciate your using our B&H affiliate links for all of your major gear, video, and electronic purchases. For the photographic stuff mentioned in the paragraph above we, meaning BAA, would of course greatly appreciate your business. Here is a huge thank you to the many who have been using our links on a regular basis and visiting the BAA Online store as well.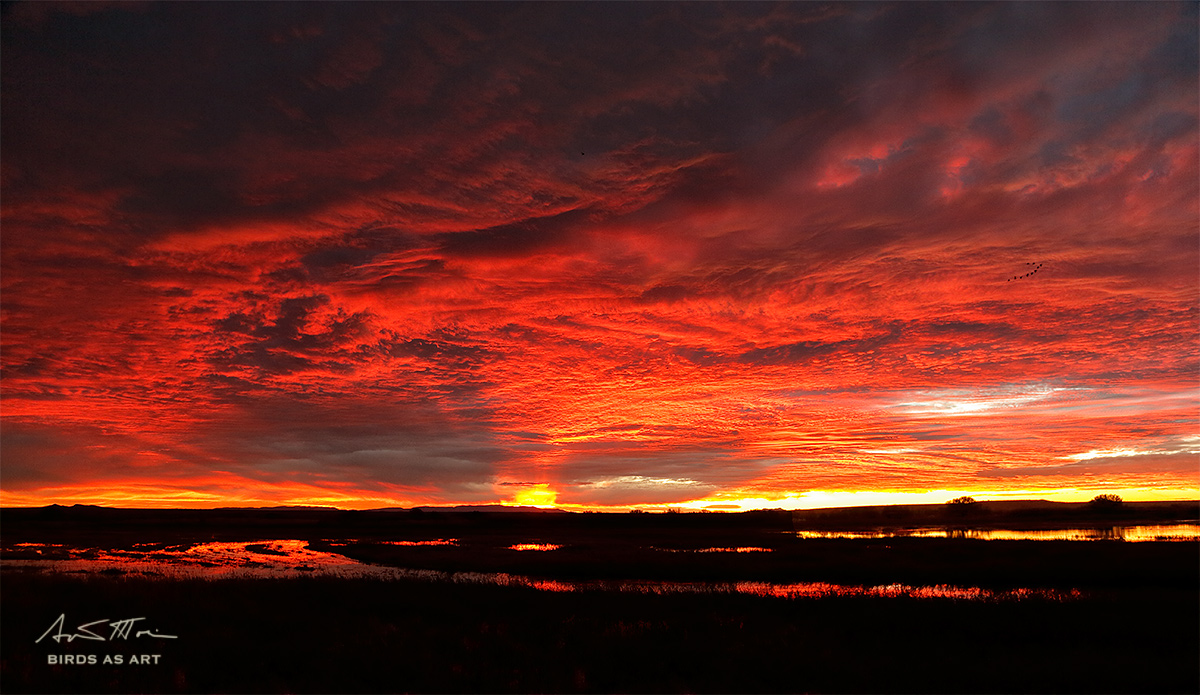 This image was created at Bosque del Apache NWR with the hand held Canon EF 24-105mm f/4L IS USM lens (at 24mm) and the rugged Canon EOS-1D X. ISO 800. Evaluative metering -1/3 stop: 1/60 sec. at f/4 in Tv Mode. Color temperature: 8100K.
Center AF point (Manual selection)AI Servo/Rear Focus AF on the distant horizon and re-compose. My left elbow was resting on the deck railing for support. Click here to see the latest version of the Rear Focus Tutorial. Click on the image to see a larger version.
Image #1: Spectacular sunrise without geese…
Your browser does not support iFrame.
More than anyplace on the planet…
Bosque is like a good golf course. To do your best, you have to use all the clubs in your bag. I always bring a ton of gear to the refuge and I surely broke all records this year. More than anyplace on the planet you can make great images with lenses of any focal length. Today's opening image is the wide version of yesterday's "Mega-nuclear Sunrise." If you missed that one, click here.
Exposure Question
Why did the image above need -1/3 stop EC while yesterday's tighter shot was perfect at +1/3 stop?
Bosque Gear Bag
Once I decided to ship the 600 II and the 200-400 w/Internal 1.4X Extender to the IPT hotel via UPS Ground, the only choice I had to make was whether to bring the 100-400 II or the 70-200 f/2.8 L IS II that had served me well here for so many years…. Read on. I'd be glad to answer an Bosque gear questions that you have.
Canon EF 600mm f/4L IS II USM Lens The 600mm focal length lenses are perfect for photographing single cranes in flight in many situations and, with the addition of a 1.4X tele-converter, often perfect for photographing single geese in flight. I can increase versatility and focal length coverage by choosing either the 1D X or the 7D II according to the situation.
I learned recently that the latest version of the Nikon 600, the Nikon AF-S NIKKOR 600mm f/4E FL ED VR lens, (8.4 pounds) is actually (and finally) a bit lighter than the Canon 600 II (8.65 pounds). The last two versions of the Nikon 600s were absurdly heavy; in this age of "lighter and smaller" serious Nikon bird photographers should be thrilled.
Canon EF 200-400mm f/4L IS USM Lens with Internal 1.4x Extender. I have brought this great lens with me to Bosque ever since I got my hands on one several years ago. With its focal length range of from 200-560 (the latter available in an instant by engaging the internal TC), it is my absolute favorite for the pre-dawn geese fly-ins and fly outs.
Canon EF 100-400mm f/4.5-5.6L IS II USM lens. This versatile lens will be on my shoulder every time I get out of the car with either a full frame body or the 1.6 crop factor 7D II via a Black Rapid RS-7 strap. I finally remembered to bring a second RS-7 strap to Bosque so that I will have one less rig lying in the dirt at the farm fields and elsewhere. The 100-400 focal length fits nicely with the 600II and will be a perfect blast off lens.
Gear Question #1
What is the single huge advantage that the 200-400 f/4L IS lens w/internal extender (7.98 lbs) has over the 100-400II (3.5 lbs) for the pre-dawn fly-ins and blast offs?
Gear Question #2
For those who will be using the 100-400II as their daytime blast-off blur lens why is the smaller aperture (f/5.6 at 400mm) a non-factor as compared to the larger f/4 aperture of the the 200-400 f/4L IS lens w/internal extender?
Canon EF 70-200mm f/2.8L IS II USM lens I am sure that I might miss this intermediate telephoto zoom lens on occasion, especially when creating bird-scapes in low light on a tripod….But heck, there is just so much room in the trunk of our rental car.
Canon EF 24-105mm f/4L IS USM Lens. This all-purpose B-roll lens will be at hand for two weeks. It will spend a lot of time in my Vested Interest Xtrahand vest where it can be grabbed when needed.
I am bringing the Canon EF 16-35mm f/4L IS USM lens for south wind blast-offs and big sky images.
I am also bringing the old 15mm fish eye lens, now replaced by the "circle" lens, the Canon EF 8-15mm f/4L Fisheye.
Gear Question #3
Why would it be great to have either the 16-35 f/4 or the old 15mm fisheye lens on a 5D III for farmfield blastoffs at the cornfields on south winds?
Camera Bodies
EOS-1D X. I will use my rugged pro body both with the 600 II and with the 100-400 II, the latter in low light situations. The more powerful 1D X battery makes it better choice when I am working at 1200mm w/the 600II and the 2X III TC (with either a full frame body or the 7D II (rarely for the latter). As I needed to have the sensor professionally cleaned I have only a single 1DX on this trip.
5D Mark III. I will use the 5D III on the 100-400 II in low light blur and bird-scape situations to enjoy the larger file size.
EOS-7D Mark II. After the great success I enjoyed with the 7D II on the Falklands/South Georgia trips I am brought both of mine to Bosque this year.
The 5D II that was converted to IR by Kolari Vision was sent in advance by UPS Ground along with the two big lenses. Learn more about Kolari Vision and IR here or here.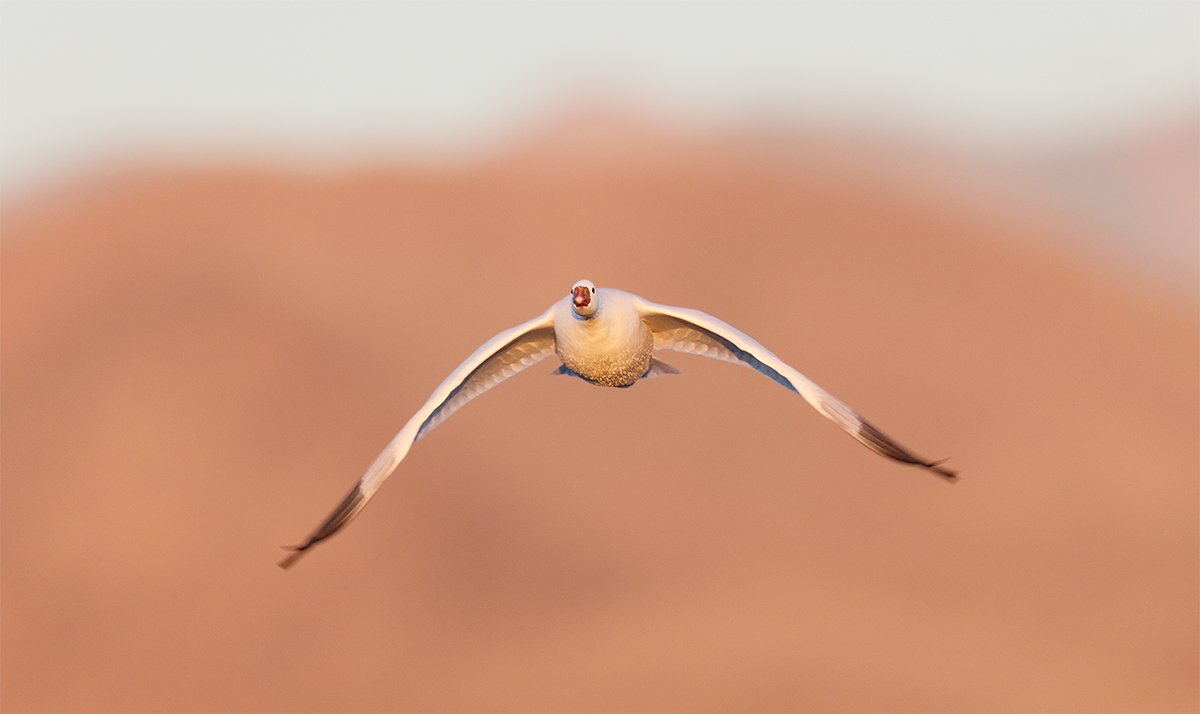 This image was created on the morning of Day 3 of the first 2015 Bosque IPT with the Induro tripod/Mongoose M3.6-mounted Canon EF 600mm f/4L IS II USM lens, the Canon Extender EF 1.4X III, and the Canon EOS 5DS R. ISO 800. Evaluative metering +2 1/3 stops off the light blue sky just above the mountains: 1/640 sec. at f/5.6 in Manual mode. Color temperature: AWB.
Center AF point (Manual selection)/AI Servo/Shutter Button AF was active at the moment of exposure. The selected AF point was on the left side of the bird's breast just below the bird's left eye (as originally framed). This image is a bit more than a 50% crop of the original image: 71.7mbs out of the original 144mb size of the TIFF file. Click on the image to see a larger version.
Image #2: Ross's Goose in flight in early morning light
Your browser does not support iFrame.
Yikes!
Talk about last but not least, I borrowed a Canon EOS 5DS R from B&H and after not trying it for a few days, have totally fallen in love with it. I am buying at least one as soon as I get home…. See here for my first impressions.
TCs
I will be making this trip with two Canon 1.4X III TCs and one 2X III TC. I lost one of my two 2X III TCs on Bleaker Island in the Falklands…. I need to replace it. Why so many TCs? With my style of bird photography–tight, clean, and graphic–I cannot afford to be without both TCs in the event of an accident or malfunction–or loss. 🙂 Most common in the malfunction category would be that the locking pin sticks occasionally. When that happens, there is a risk of having your camera body hit the ground….
Questions Welcome
If you have a question about any of my gear choices, or yours, please feel free to leave a comment. Do you disagree with any of my choices? What would you be brining to Bosque. And why?
Think Tank Rolling Bags
I will be using the larger of my two Think Tank rolling bags, the Airport Security™ V 2.0 Rolling Camera Bag. Except for the Singh-Ray polarizer and the two super-telephoto lenses that were shipped, everything above fits easily into my Airport Security™ V 2.0 Rolling Camera Bag. It tipped the scales at only 39 pounds; the legal limit for US flights is 40 pounds. Nearly all countries in the world give you slack as far as the 40 pounds goes on the way back to the US.
Think Tank Urban Disguise Laptop Shoulder Bag
Both denise and I use and love this amazing bag as it has tons of room and enables us to bring tons of extra stuff. It is like one of those circus Volkswagons….
Please click on my Think Tank affiliate link here to earn a free gift when you purchase a Think Tank Rolling Bag.
Delkin Flash Cards
As always, I will have a 64gb Delkin e-Film Pro Flash Card in each camera body so that I never have to change cards in the field thus reducing the risk of losing a card…. Please note the new lower prices here. I do have a few extra 32 and 64gb cards in a Delkin CF Memory Card Tote, mostly to protect against operator errors….
Facebook
Be sure to like and follow BAA on Facebook by clicking on the logo link upper right. Tanks a stack!
Support the BAA Blog. Support the BAA Bulletins: Shop B&H here!
We want and need to keep providing you with the latest free information, photography and Photoshop lessons, and all manner of related information. Show your appreciation by making your purchases immediately after clicking on any of our B&H or Amazon Affiliate links in this blog post. Remember, B&H ain't just photography!
…..
Amazon.com
Those who prefer to support BAA by shopping with Amazon may use this link:
Amazon Canada
Many kind folks from north of the border, eh, have e-mailed stating that they would love to help us out by using one of our affiliate links but that living in Canada and doing so presents numerous problems. Now, they can help us out by using our Amazon Canada affiliate link by starting their searches by clicking here. Many thanks to those who have written.
Typos
In all blog posts and Bulletins, feel free to e-mail or to leave a comment regarding any typos or errors. Just be right :).