What's Up?
Older daughter Jennifer and I flew back to Orlando on the 12:15pm non-stop from Islip. The flight was a breeze. I got home in plenty of time to enjoy a late afternoon swim.
Scroll down a bit for info on next weekend's Gatorland offerings and scroll down further for DeSoto IPT late registration discount info.
Heartfelt Thanks
Thanks to the many who shared their thoughts on the memorial blog post that I wrote about my Mom (and my Dad as well) both by leaving a comment and via e-mail. To receive so many kind, thoughtful messages, each one containing and outpouring of love, was both wonderful and appreciated. Many of the comments were quite insightful. I think that I wrote this recently somewhere but cannot recall the details, but at worst, it is worth repeating. Someone wrote that in addition to my Dad being part of the "Greatest Generation," that my Mom and the tens of thousands of other wives and mothers were part of the "Greatest Generation" as well. Though it is obviously true for sure I had never realized it before. These unsung women heroes held the families together during and after the war and nurtured and loved and cared for their (often wounded) husbands after the war. And those wounds often included mental wounds as well as physical ones. And let's not forget about the Rosie the Riveters as well, the women who worked in factories producing a great variety of the stuff that was needed for our war effort.
Additions
Both in the memorial blog post and in the (shared) eulogy that I presented at my Mom's memorial service on Sunday, I omitted a few things, several with regards to the fact that Hazel Morris spent most of her life taking care of others. First, she volunteered as a fund raiser for years for Great Oaks Village, a group home for developmentally challenged young adults in San Diego. Her talents as a baker and a seamstress helped raise a whole lot of money for that group. She was a member of the San Diego Woman's Club for several decades. When she moved back to New York in 2006 or 2007, they honored her service there with an honorary lifetime membership. She held a variety of offices (most notably Treasurer) for that group for years and on the certificate, they noted that Hazel often held this or that position for more years than their constitution allowed because nobody else would take the position. That's my Mom.
I did note during the eulogy that my Mom took on quite a chore while raising us three kids. Heck, when I was two, I pushed my infant sister Ilene off the kitchen table. When I was about seven I hit her in the head with a hammer, and she stabbed me in the head with a pair of scissors. (None of the wounds were serious). After that, things got worse and we stopped getting along so well. But that only lasted another seven decades. I happily reconciled with Ilene last week in the presence of my Mom. (Credit The School for the Work for that …)
But when it came to taking care of my sister Arna, my Mom (and until his death, my Dad) deserved Nobel Prizes for parenting. When the family left Brooklyn for San Diego in 1969 Arna was not a happy camper. She rebelled in a fashion typical of the time, sex, drugs, rock and roll, and wine (without much emphasis on the rock and roll). She married three guys in a row named Richard. Each turned out to be a disaster. Many times she came back to my folks with piles of auto repair and hospital bills and each time they welcomed her back with open arms. After Richard the Third they added a room to the house for Arna and she straightened her life out a bit. At most, Arna worked a few days a week. When my Dad died in 2001 Arna stayed with Mom and took care of her a bit while Mom cared for and supported Arna.
When my Mom returned to New York to be near my older sister Ilene, Arna came with her. For the last ten years of her life, Arna took care of Mom while Mom took care of and supported Arna. Please do not think that I am judging Arna here. I know that she has always done her best. She is a sweet soul. She flew to Florida in November 1994 to "help Elaine die." It was as if an angel had come to me to help me though the most difficult days of my life.
Make no mistake about it, I love Arna Lee and I love my Mom and I love my Dad. And my sister Ilene too.
I almost forgot to mention this: my Mom battled anxiety pretty much for the whole or her adult life, right up to the very end. For me, that makes her accomplishments that much the greater …
After this is published, I will add the text above to the original blog post for the record.
Gear Questions and Advice
Too many folks attending BAA IPTs and dozens of folks whom I see in the field, and on BPN, are–out of ignorance–using the wrong gear, especially when it comes to tripods and more especially, tripod heads… Please know that I am always glad to answer your gear questions via e-mail.
The Streak: 25!
Today's blog post marks a totally insane, irrational, illogical, preposterous, absurd, completely ridiculous, unfathomable, silly, incomprehensible, what's wrong with this guy?, makes-no-sense, 25 days in a row with a new educational blog post. As always–and folks have been doing a really great for a long time now–please remember to use our B&H links for your major gear purchases. For best results use one of our many product-specific links; after clicking on one of those you can continue shopping with all subsequent purchases invisibly tracked to BAA. Your doing so is always greatly appreciated. Please remember: web orders only. And please remember also that if you are shopping for items that we carry in the BAA Online Store (as noted in red at the close of this post below) we would of course appreciate your business.
Gatorland In-the Field Instructional Meet-Up Sessions
Join me in Kissimmee, FL next weekend to photograph Great (with chicks in the nest) and Snowy Egrets in breeding plumage, Cattle Egret and Tricolored Heron in breeding plumage, Wood Stork, American Alligator (captive), and more. We should get to make lots of head portraits of all the bird species and to photograph them building nests, displaying, copulating, and flying. Learn to see, find, and make the shot in cluttered settings. Learn exposure and how to handle WHITEs. Learn fill flash and flash as main light techniques. All of the birds are free and wild.
Next Weekend's Gatorland Schedule
Saturday April 15, morning (early entry): 7:30 till 10:30am: $100. Lunch and Image Review: $75. Saturday afternoon till closing (late stay): $100.
Sunday morning, April 16, (early entry): 7:30 till 10am: $75.
Cheap Canon lens rentals available: 600 II, 500 II, 400 DO II, or 200-400.
To pay for one or more sessions in full via credit card, call Jim or Jen in the office weekdays at 863-692-0906. You will be responsible for the cost of your Gatorland Photographer's pass or passes. Please shoot me an e-mail if you have any questions.
Selling Your Used Gear Through BIRDS AS ART
Selling your used (or like-new) photo gear through the BAA Blog or via a BAA Online Bulletin is a great idea. We charge only a 5% commission. One of the more popular used gear for sale sites charges a minimum of 20%. Plus assorted fees! Yikes. The minimum item price here is $500 (or less for a $25 fee). If you are interested please e-mail with the words Items for Sale Info Request cut and pasted into the Subject line :). Stuff that is priced fairly–I offer free pricing advice, usually sells in no time flat. In the past few months, we have sold just about everything in sight. Do know that prices on some items like the EOS-1D Mark IV, the old Canon 500mm, the EOS-7D, and the original 400mm IS DO lens have been dropping steadily. Even the prices on the new 600 II and the 200-400 with Internal Extender have been plummeting. You can see all current listings by clicking here or by clicking on the Used Photo Gear tab on the right side of the yellow-orange menu bar above.
Unsolicited, via e-mail, from Gerry Keshka
Hi Artie, I wanted to share how much I appreciate your Used Gear "service." You have posted how you help sellers, but the other side of the equations is how much this service helps buyers. I have purchased three lenses (Canon 200-400, 500 f4 II, and 70-200 F2.8) all lovely experiences and I saved almost $5K over retail. Each of the sellers was delightful, willing to help me assess if the purchase was right for me by sharing their experience with the lens. Each lens was in the condition advertised (or better), and typically included several "add-ons" that would have cost several hundred dollars.
Unsolicited, via e-mail, from Sandra Calderbank
Hi Artie, I wanted to take a few minutes to thank you. I have sold two camera bodies on your BAA used gear site. Your friendly expertise and knowledgeable, trustworthy buyers have made this an extremely satisfying experience. Selling on BAA Used Gear page is the best transaction experience I have ever encountered. Thank you for all you do for our photography community. Sincerely, Sandra
Recent Successful Used Gear Sales
March was an amazing month on the Used Gear Page!
David R. Gibson sold a Canon 300mm f/4 L IS USM lens in excellent plus condition for $749 in March, 2017.
Good friend and multiple IPT veteran Indranil Sircar sold his Canon EOS 5D Mark III in near-mint condition along with the the Canon BG-11 battery grip for the great low price of $1,579 soon after it was listed in early April.
Colin Haase sold his Canon EF 600mm f/4 L IS II USM lens in like-new condition for a the BAA record-low price of $9,497 just minutes after I featured it in the blog under the heading "I Cannot Believe that this one has not sold yet …"
Steve Traudt helped a friend sell her Canon 500mm f4L IS USM lens in near-mint condition for $3899 in late March, a week after it was listed.
Mike Pace sold his Canon EF 70-200mm f/2.8 L IS II in excellent plus condition locally and is sending me a check for 2 1/2% of the original price.
BAA friend John Armitage sold his Canon EOS 1D-X in excellent plus condition for $2348 the day it was listed.
In early March long-time-ago IPT veteran Myer Bornstein decided not to sell his Nikon 500mm f/4G ED VR lens and kindly sent me a check for 2 1/2% of the original asking price, $4,999.00.
Mike Kaplan sold a Canon EOS 7D Mark II in near-mint condition for $925 to a buyer who contacted him on day one when the body was listed in early March.
Sue Sanborn sold her Canon 300mm f/2.8L IS II USM lens in near-mint condition for $4100 in early March. The value of this great lens has plummeted after the introduction of the 400mm f/4 IS DO II.
Sandra Calderbank sold her used Canon EOS 7D Mark II in excellent plus condition with less than 20,000 shutter actuations for $948 in early March.
Mike Pace sold his Canon EF 500mm f/4 L IS lens in very good condition for $4699 CAD to a Canadian only days after it was listed in early March.
Kenton Gomez sold his Canon EF 500mm f4L IS II lens in excellent plus condition for the BAA record-low price of $7349 in early March, 2017.
Multiple IPT veteran Jake Levin sold his Canon 300mm f/2.8 IS lens in very good-plus condition for the very sporting price of $2199 USD to a Canadian buyer less than a week after it was listed.
Owen Peller sold his Canon EF 400m f/4 IS DO telephoto lens — the "old 400 DO,– in like-new condition for $2,299 in early MAR, 2017.
New Listings
Canon 400mm f/4 IS DO II USM Lens (with extras!)
A Record Low BAA Price!
Paul Abravaya is offering a Canon 400mm f/4 IS DO II lens in excellent condition for $5,799. The sale includes everything that comes with a new lens from Canon USA: the rear lens cap, the lens trunk, the original tough front lens cover, the lens strap, the original product box, the hard case and case strap and insured ground shipping via major courier to US addresses only. Additionally the lens comes with a with a Don Zeck lens cover, a Realtree Max4 HD Camo LensCoat, and a Really Right Stuff replacement foot (LCF-52). It was purchased new by Paul on April 16, 2015.
Your item will not ship until your check clears unless other arrangements are made.
Contact Paul via e-mail or by phone at 1-805-427-5856 (please do not call before 7am or after 8pm Pacific time).
I own the 400 DO II and find a way to take it on most trips. I took to Scotland and Nickerson Beach. It has served well as my big gun in the Galapagos and on various Southern Ocean (the Falklands and South Georgia) trips. It is a killer for flight with or without the 1.4X III TC. And really skilled folks have had amazing success hand holding it with the 2X III TC for flight and for action. With this lens in high demand and new ones selling for $6899, Paul's lens is a great buy that will save you 1100 bucks!. Do know that this lens is so good that it is responsible for the huge price drops of used 300mm f/2.L IS lenses … artie
Canon EF 500 mm f/4L IS USM Super Telephoto Lens
Stan Hoyt is offering a Canon 500mm f4L IS USM Super Telephoto lens in like-new condition for the great low price of $3899. The sale includes all the original components: the lens strap, the rear lens cap, the lens trunk (with keys), and the front lens cover. Also included are the following accessories: a 4th Generation Design CP-51b replacement foot (along with the original lens foot), a Wimberley P-40 lens plate, and a forest green LensCoat. The sale also includes insured ground shipping via major courier to US addresses only. Your item will not ship until your check clears unless other arrangements are made.
Please contact Stan via e-mail.
The old five is a fairly lightweight super-telephoto lens that work well with both TCs. It is fast and sharp. I used mine as my workhorse lens (along with the old 600mm f/4) for almost ten years to photograph birds and wildlife all over the world. Both have been replaced for me by their far more costly version II counterparts. The 500 f/4s have long been the world's most popular super-telephoto lenses for wildlife and sports. With the extras, Stan's like-new lens should sell quickly. artie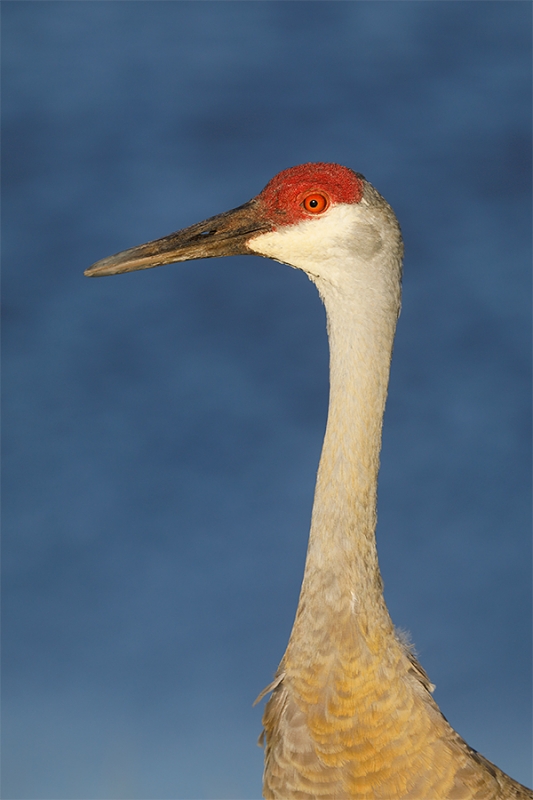 This image was created on the afternoon of April 6 at Indian Lake Estates, FL. I used the the hand held Canon EF 100-400mm f/4.5-5.6L IS II USM lens, the Canon Extender EF 1.4X III (at 560mm) and my favorite bird photography camera body, the Canon EOS 5D Mark IV. ISO 400. Evaluative metering -1/3 stop as framed: 1/800 sec. at f/8 in Manual mode. AWB.
LensAlign/FocusTune micro-adjustment: 1.
Upper Large Zone/AI Servo/Shutter button AF was active at the moment of exposure and worked to perfection. The system activated four AF points that nailed the area around the bird's eye.
Image #1: Sandhill Crane, vertical head and neck portrait
Your browser does not support iFrame.
As I Wrote in the Original The Art of Bird Photography …
As I wrote on the top of page 108 in the original The Art of Bird Photography (now only in soft cover), "If the subject is positioned against an uncluttered background or if there is a cluttered background well behind the subject, telephoto lenses — with their narrow angles of view — and the shallow depth of field that comes with the use of wide apertures, will produce lovely, soft, out-of focus backgrounds. I'll take still blue water or well-lit green foliage every time."
The Art of Bird Photography
The original The Art of Bird Photography was published in 1998 and thus, there is no digital content. None-the-less ABP is still a most valuable resource for all nature photographers because the basic principles expounded upon are still relevant today for all types of photography including and especially bird, wildlife, and nature photography. The said, we do recommend the purchase of The Art of Bird Photography II (ABP II: 916 pages, 900+ images on CD only) in addition to the purchase of ABP. ABP II is the digital continuation of ABP. Beginning photographers are advised to purchase the two-book bundle here to dramatically flatten their learning curves. I often think "Where would I be now if the info in ABP and ABP II had been available when back then …
Image #1 …
Blue water is still one of my all-time favorite backgrounds. The farther away the better and the sweeter the light the better still. Note, the background in this image was about 60 feet beyond the subject.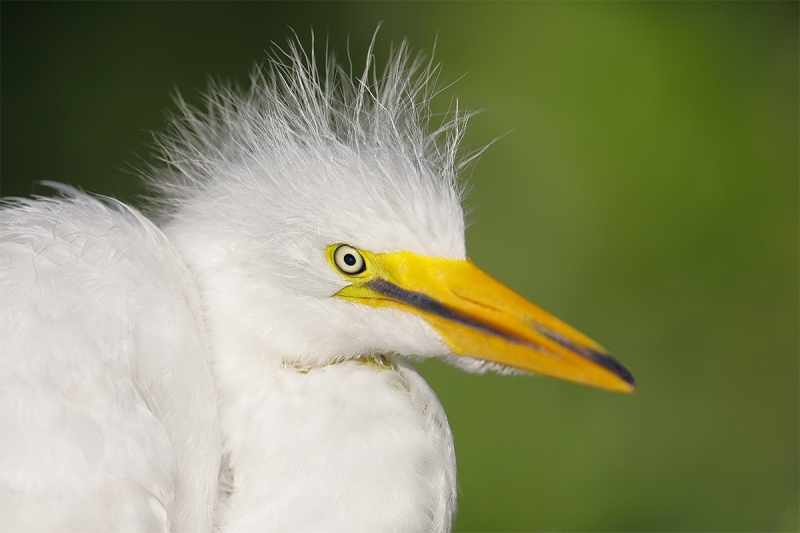 This image was created at Gatorland at 8:05am on the morning of April 8, 2017 with the Induro GIT 304L/Mongoose M3.6-mounted Canon EF 600mm f/4L IS II USM lens, the Canon Extender EF 1.4X III, and my very favorite bird photography camera body, the Canon EOS 5D Mark IV. ISO 400. Evaluative metering +1/3 stop: 1/3200 sec. at f/6.3 in Manual mode. AWB.
LensAlign/FocusTune micro-adjustment: +5.
Left Large Zone/AI Servo/Shutter button AF was active at the moment of exposure. The system activated two AF points that fell slightly behind and below the bird's eye, not quite ideal. There is a good chance that Center Large Zone might have nailed AF right on the eye. In retrospect, however, it might have been best to have chosen AF Expand and placed the selected sensor right on the bird's eye …
Image #2: Great Egret, head portrait of large chick in nest
Your browser does not support iFrame.
Image #2 …
While I love the bird in Image #2, love the fact that the background is very sweet indeed, love that the bill was quite clean, love that I was able to get right on sun angle, and really loved that I was able to isolate this chick with another in the nest, there is one thing that I view as less than ideal. What is it? I was able to isolate the chick in this image only because it was standing up and its nest-mate was lying down. Note: the background here was about ten feet beyond the subject.
Image #2 Depth-of-Field Questions
a-With plenty of shutter speed (1/3200 second) how might stopping down one stop to f/9 have helped this image?
b-With plenty of shutter speed (1/3200 second) how might stopping down two stops to f/13 have hurt this image?
Your Favorite?
Which of today's two featured images do you like best? Be sure to let us know why? Ties are fine 🙂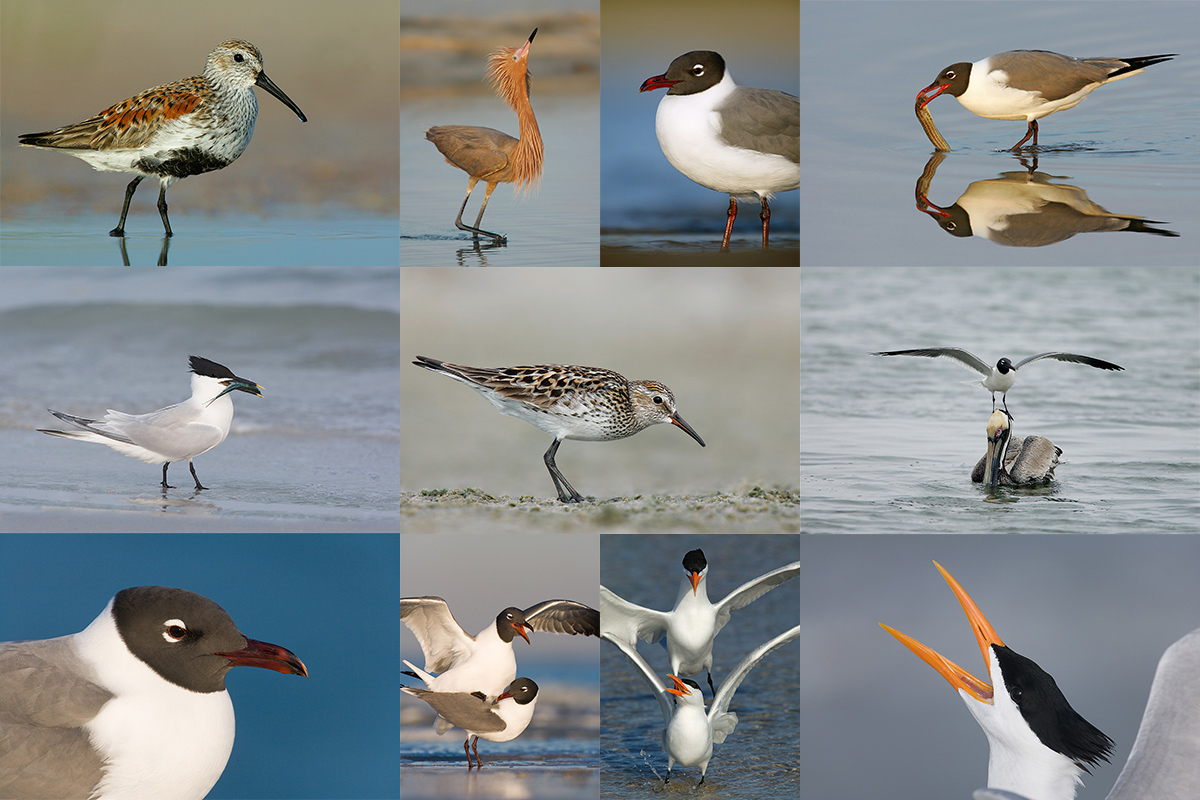 DeSoto in spring is rife with tame and attractive birds. From upper left clockwise to center: breeding plumage Dunlin, dark morph breeding plumage Reddish Egret displaying, breeding plumage Laughing Gull/front end vertical portrait, breeding plumage Laughing Gull with prey item, Laughing Gull on head of Brown Pelican, screaming Royal Tern in breeding plumage, Royal Terns/pre-copulatory stand, Laughing Gulls copulating, breeding plumage Laughing Gull/tight horizontal portrait, Sandwich Tern with fish, and a really rare one, White-rumped Sandpiper in breeding plumage, photographed at DeSoto in early May.
Fort DeSoto Spring IPT/April 19-22, 2017. (Meet & greet at 2pm on Wednesday April 19 followed by an afternoon session) through the full day on Saturday April 22. 3 1/2 DAYs: $1599. Limit 10/Openings 2. To save your spot, please call and put down a non-refundable deposit of $499.00.
Call 863-692-0906 or e-mail for late registration discount e-mail.
Fort DeSoto is one of the rare locations that might offer great bird photography 365 days a year. It shines in spring. There will Lots of tame birds including breeding plumage Laughing Gull and Royal and Sandwich Terns. With luck, we will get to photograph all of these species courting and copulating. There will be American Oystercatcher and Marbled Godwit plus sandpipers and plovers, some in full breeding plumage. Black-bellied Plover and Red Knot in stunning breeding plumage are possible. There will be lots of wading birds including Great and Snowy Egrets, both color morphs of Reddish Egret, Great Blue, Tricolored and Little Blue Heron, Yellow-crowned Night-Heron, and killer breeding plumage White Ibis. Roseate Spoonbill and Wood Stork are possible and likely. We should have lots of good flight photography with the gulls and terns and with Brown Pelican. Nesting Least Tern and nesting Wilson's Plover are possible.
We will, weather permitting, enjoy 7 shooting sessions. As above, our first afternoon session will follow the meet and greet at 2pm on Wednesday April 19. For the next three days we will have two daily photo sessions. We will be on the beach early and usually be at lunch (included) by 11am. We will have three indoor sessions. At one we will review my images–folks learn a ton watching me choose my keepers and deletes–why keep this one and delete that one? The second will be a review of your images so that I can quickly learn where you need help. For those who bring their laptops to lunch I'd be glad to take a peek at an image or three. Day three will be a Photoshop session during which we will review my complete workflow and process an image or two in Photoshop after converting them in DPP. Afternoon sessions will generally run from 4:30pm till sunset. We photograph until sunset on the last day, Saturday, April 22. Please note that this is a get-your-feet and get-your-butt wet and sandy IPT. And that you can actually do the whole IPT with a 300 f/2.8L IS, a 400 f/4 ID DO lens with both TCs, or the equivalent Nikon gear. I will surely be using my 500 II as my big glass and have my 100-400 II on my shoulder.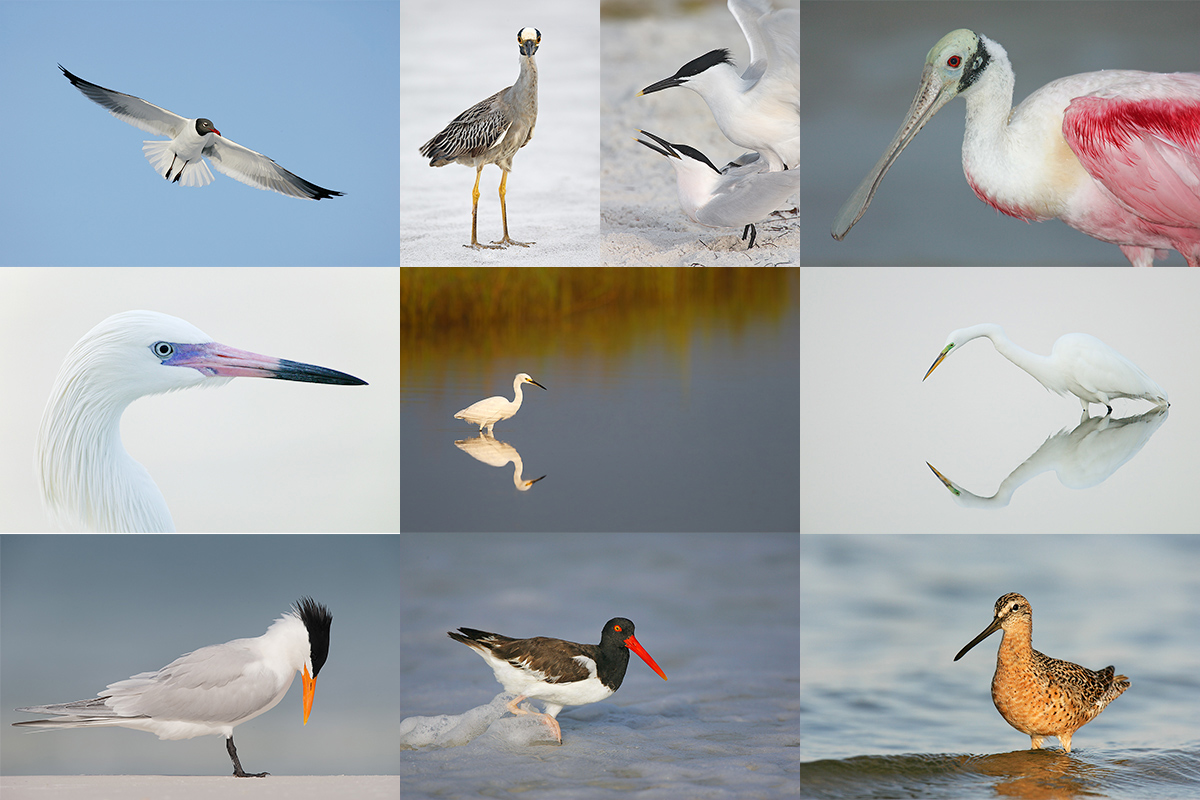 DeSoto in spring is rife with tame and attractive birds. From upper left clockwise to center: Laughing Gull in flight, adult Yellow-crowned Night-Heron, copulating Sandwich Terns, Roseate Spoonbill, Great Egret with reflection, Short-billed Dowitcher in breeding plumage, American Oystercatcher, breeding plumage Royal Tern, white morph Reddish Egret, and Snowy Egret marsh habitat shot.
What You Will Learn
You will learn to approach free and wild birds without disturbing them, to understand and predict bird behavior, to identify many species of shorebirds, to spot the good situations, to understand the effects of sky and wind conditions on bird photography, to choose the best perspective, to see and understand the light, to get the right exposure every time after making a single test exposure, and to design pleasing images by mastering your camera's AF system. And you will learn how and why to work in Manual mode (even if you are scared of it).
The group will be staying at the Holiday Inn Express in St. Petersburg. (Write for a less expensive option). Please call Jim or Jennifer at 863-692-0906 to register. All will need to purchase an Annual Pass early on Tuesday afternoon so that we can enter the park at 6am and be in position for sunrise opportunities. The cost is $75, Seniors $55. Tight carpools will be needed and will reduce the per person Annual Pass costs. The cost of three lunches is included. Breakfasts are grab what you can on the go, and dinners are also on your own due to the fact that we will usually be getting back to the hotel at about 9pm. Non-photographer spouses, friends, or companions are welcome for $100/day, $350 for the whole IPT.
BIRDS AS ART Fort DeSoto In-the-Field Meet-up Workshop (ITFW): $99
Fort DeSoto Spring In-the-Field Cheap Meet-up Workshop (ITFW) on the morning of Sunday, April 23, 2017: $99
Join me on the morning of Sunday April 23, 2017 for 3-hours of photographic instruction at Fort DeSoto Park. Beginners are welcome. Lenses of 300mm or longer are recommended but even those with 70-200s should get to make some nice images. Teleconverters are always a plus.
You will learn the basics of digital exposure and image design, autofocus basics, and how to get close to free and wild birds. We should get to photograph a variety of wading birds, shorebirds, terns, and gulls. This inexpensive morning workshop is designed to give folks a taste of the level and the quality of instruction that is provided on BIRDS AS ART Instructional Photo-tours. I hope to meet you there.
To register please call Jim or Jennifer during weekday business hours with a credit card in hand to pay the nominal registration fee. Your registration fee is non-refundable. You will receive a short e-mail with instructions, gear advice, and meeting place one week before the event.
Please Remember to use my Affiliate Links and to Visit the New BAA Online Store 🙂
To show your appreciation for my continuing efforts here, we ask, as always, that you get in the habit of using my B&H affiliate links on the right side of the blog for all of your photo and electronics purchases. Please check the availability of all photographic accessories in the New BIRDS AS ART Online Store, especially the Mongoose M3.6 tripod head, Wimberley lens plates, Delkin flash cards and accessories, and LensCoat stuff.
As always, we sell only what I have used, have tested, and can depend on. We will not sell you junk. We know what you need to make creating great images easy and fun. And please remember that I am always glad to answer your gear questions via e-mail.
I would of course appreciate your using our B&H affiliate links for all of your major gear, video, and electronic purchases. For the photographic stuff mentioned in the paragraph above, and for everything else in the new store, we, meaning BAA, would of course greatly appreciate your business. Here is a huge thank you to the many who have been using our links on a regular basis and those who will be visiting the New BIRDS AS ART Online Store as well.
Facebook
Be sure to like and follow BAA on Facebook by clicking on the logo link upper right. Tanks a stack.
Typos
In all blog posts and Bulletins, feel free to e-mail or to leave a comment regarding any typos or errors. Just be right :).