What's Up?
I put the finishing touches on this in MIA. So far so good; one more flight to go. I was thrilled to learn that my flight to GYE was in the same terminal 🙂 At times you might have a two mile walk to your next gate. In any case, it looks as if they finally have a working Sky Train …
I will be without internet access from 8 AUG through late in the day on 22 AUG. I just may, however, try to keep the streak going in my absence.
Please call the office at 863-692-0906 on weekdays and speak to Jim and Jennifer about all things BAA Online Store- and IPT-related. And anything else that you might need help with or would like to chat about.
Please continue to patronize the BAA Online Store and to use my B&H affiliate links. Both are hugely appreciated.
with much love, artie
The Streak
Today marks sixteen days in a row with a new educational blog post. This blog post took about two hours to create.
Booking.Com
I could not secure the lodging that I needed for the UK Puffins and Gannets IPT in Dunbar, Scotland, so I went from Hotels.Com to Booking.Com and was pleasantly surprised. I found the rooms that I needed with ease at a hotel that was not even on Hotels.Com, and it was a nice hotel that I had seen in person. And the rates were great. If you'd like to give Booking.Com a shot, click here and you will earn a $25 reward.
Thanks to the many who have already tried and used this great service.
Revamped
I finally updated the IPT page to properly reflect the recently completed trips. If you doubt that I am really slowing down do click here to see the meager IPT schedule. Right now there are only two US-based IPTs on the schedule. Best news is that I turned up the missing registrant for the Fort DeSoto IPT so that will run. Do consider joining us if you would like to learn from the best.
Photographers Wanted
If you would like to learn to be a better bird photographer, consider joining me on either the Fort DeSoto IPT in late September or the San Diego IPT in January, 2018. With just one person signed up, DeSoto will offer practically private instruction. And you can tack on the In-the-Field/Meet-up Workshop Session on the morning of Tuesday September 26, 2017 for free. Click here for IPT info and the current but abbreviated schedule.
Gear Questions and Advice
Too many folks attending BAA IPTs and dozens of folks whom I see in the field, and on BPN, are–out of ignorance–using the wrong gear especially when it comes to tripods and more especially, tripod heads… Please know that I am always glad to answer your gear questions via e-mail.
Please Don't Forget …
As always–and folks have been doing a really great job for a long time now–please remember to use the BAA B&H links for your major and minor gear purchases. For best results, use one of our many product-specific links; after clicking on one of those you can continue shopping with all subsequent purchases invisibly tracked to BAA. Your doing so is always greatly appreciated. Please remember: web orders only. And please remember also that if you are shopping for items that we carry in the BAA Online Store (as noted in red at the close of this post below) we would of course appreciate your business.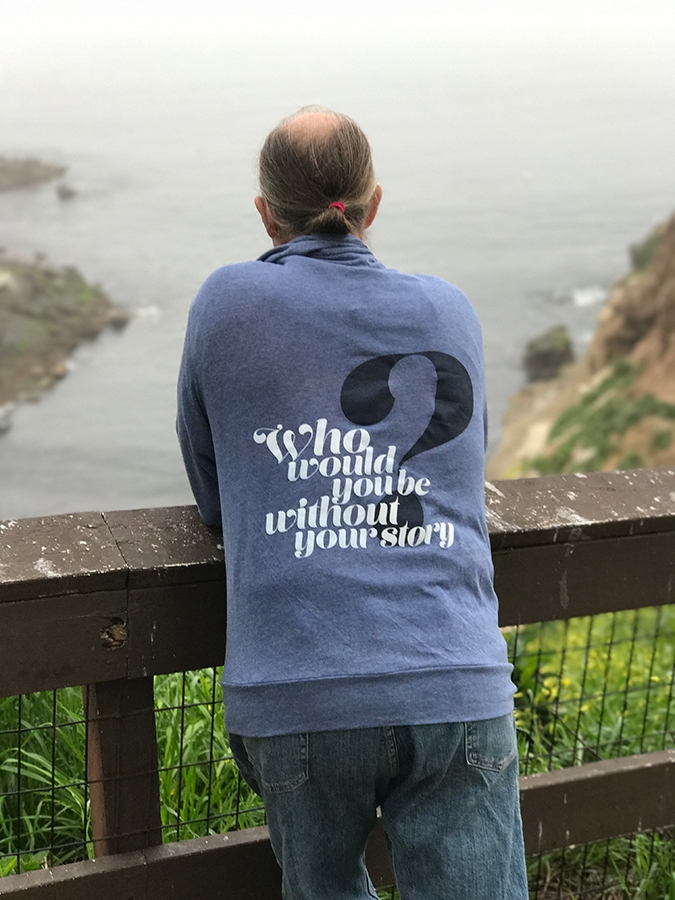 Good friend Patrick Sparkman created this image of me looking out over the Pacific with his Apple iPhone 7a. The pelican cliffs are just to my right.
Yours truly contemplating life …
Image courtesy of any copyright 2016: Patrick Sparkman.
More at Peace
Since attending the March 2017 School for the Work (The Work of Byron Katie: www.theWork.com) I can honestly say that I am much more at peace. I am getting along just fine with my two sisters. I am getting better at responding to criticism (or to not responding to criticism). I have learned to see folks that used to piss me off as my teachers; I still have lots of Work to do there. I am doing better with regards to constantly seeking love, approval, appreciation and attention (even though that is good for business). But I still have lots of Work to do there. I am more aware that my being brusque or too honest can upset some folks, and often manage to think before speaking. I practice doing nice and generous things for others without saying a work about it to anyone.
I have come to see that it is never the other guy. Never, ever. One of the foundational principles of The Work is that all stressful thoughts, all anger, all depression, is never caused by what the other guy says or does. All stressful thoughts, all anger, all depression are about what you think about what the other guy says or does. The Work teaches you to hold your upsetting thoughts up to inquiry, to examine whether they are true or not. Hint: they never are 🙂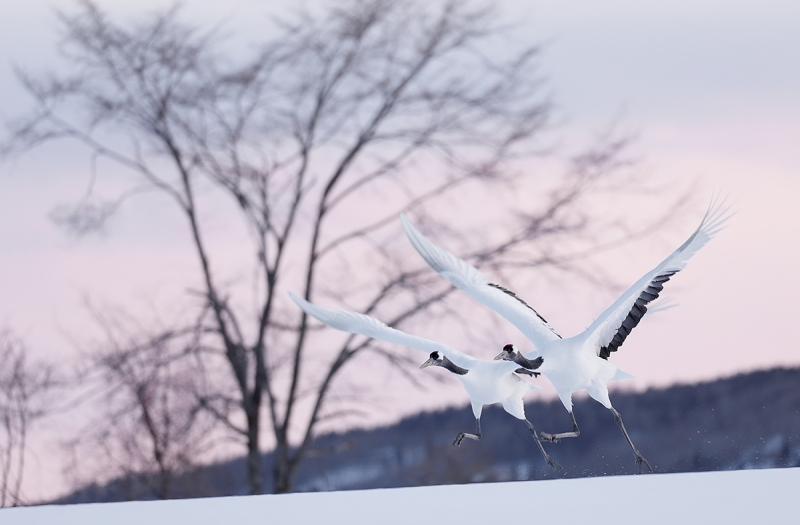 This image was created on the 2017 Japan IPT with the hand held Canon EF 100-400mm f/4.5-5.6L IS II USM lens (at 312m) and my favorite bird photography camera body, the Canon EOS 5D Mark IV. ISO 800. Evaluative metering +2 stops off the grey clouds: 1/500 sec. at f/5.6 in Manual mode. AWB.
LensAlign/FocusTune micro-adjustment: +1.
Two rows down and one AF point to the right of the center AF Point/AI Servo/Expand/Shutter button AF as framed was active at the moment of exposure. The selected AF point fell on the tip of the bill of the bird on our right. The assist points surely helped in this low light/low contrast situation.
Click on the image to enjoy a larger, more dramatic version.
Red-crowned Cranes taking flight late in the day
Your browser does not support iFrame.
Tongue-in-cheek Responses to Recent Blog Comments, Intended to Be a Funny Rant
I posted the image above in the "When Everything Goes According to Plan" blog post here. I was a bit surprised by the comments as I really liked the image. For the most part I read the comments carefully, considered whether all or parts of them were true, and then decided not to reply defensively (as I always used to).
Then I came up with the idea for today's blog post. I would respond to each comment as I might have ten years ago. Please understand that my responses below are intended to be tongue-in-cheek, to be a funny rant. That said, there is always some truth in jest.
In Reverse Order
Jake–August 4, 2017 at 6:57am
I really like the colours and gradient of the sky and the silhouette of the trees against the pink sky. I would try isolating and enhancing the pink of the sky slightly. I don't like the small intruding into the frame on the left (I don't think that would be difficult to do with the clone stamp tool). It also bugs me that the top of the big tree is clipped at the top, I would try shortening the branches with the clone stamp tool. On to the poses… I don't like that the right hand bird's right foot overlaps with the left hand bird's left foot, but that is a very minor thing. Another minor thing is that the wing of the left crane protrudes out from behind the right crane. Great image. The niggles are all minor and I do not think that there is anything you could have done about the poses.
Hi Jake, I already brought up the pink in the sky a ton. What do you want, a lollipop? Small intruding what? The least you could do is proofread your comment and check your grammar. I average one typo per blog post and you cannot even craft a single, friggin' intelligble paragraph. What gives? Assuming that you mean the two small trees on the left frame-edge, I am fine with them. They add an element to the atmospheric perspective. As for the big tree, it is cut not clipped; you need to go back and study old blog posts to learn the difference between cutting and clipping. And if I had zoomed out wider, the birds would have been smaller in the frame. As for your two "minor things," they are worse than minor, they are about the lowest form of nit-picking I have ever seen. Seriously, get a life. And as you might understand some day, the poses are the poses. I actually love the juxtaposition. with love, artie
Maggi Fuller–August 4, 2017 at 7:07am
No doubt a brilliantly executed image as usual, but for me, the background is far too distracting. I had to look hard and then again, to make out what the birds were & how they were positioned/flying. Not for me Artie, sorry…. with a plain black background, it would be amazing!
Hi Maggi, How can an image be brilliantly executed but have a distracting background? I have dozens of Red-crowned Crane flight images with pure snow white backgrounds; this one is special to me because of the trees. I'll bet that you are one of those who criticizes my clean, tight, and graphic images with pure backgrounds as being too sterile, as lacking an environmental aspect. with love, artie
Scott Borowy–August 4, 2017 at 11:33am
I agree with Maggi; a brilliantly executed image. Technical success not withstanding, not letting the hills interfere with the shape of the cranes took great awareness of situation and was the make-or-break composition factor for me. The cranes almost "pop" visually off the foreground.
My preference is to try and stop motion, but at 1/500, it really lends itself to the overall story of the image. You understand that the cranes are about to go flying towards the left side of the captured image. I feel if this was taken with a high enough shutter speed, and motion frozen, the impact of the photo would have been lost.
Hi Scott, Thanks for your comments. I am glad that someone likes this image besides me 🙂 I am, however, confused by your comments about the shutter speed as both birds are sharp and the eyes are sharp. Even the wingtips and the feet are sharp. Did you click on the image to enlarge it?
John Mack–August 4, 2017 at 11:58am
Hey Arthur, Really like the snow under the cranes feet it gives a nice separation from the background. The only thing i can think would be to have the cranes slightly higher in the frame.
I understand what you are suggesting but if I waited till they got higher I would have lost the composition that I was looking for with the trees balancing the image design so nicely. with love, artie
Jack D Waller–August 4, 2017 at 1:21pm
Guess I'm a Maggi Fuller-type of person. Somehow the birds just don't stand out with all the distractions such as the perspective of the snow and background almost appearing to be a tilted camera. I presume this is not a case of being able to track the subject and just the luck of the draw being able to capture the birds at the moment of entry into the frame. Was there any tracking? Was the distance pre-focused? Would shutter lag of around 2/10 of a sec. come into play? Is this cropped at all? Just beginner curiosity.
Jack, As far as the birds not standing out I think that you are nuts, or at least that you failed to view the larger image. The birds were on a hill and I was at an angle to that hill ds the image does look skewed. Autofocus was active at the moment of exposure and the system was tracking perfectly. That's why the birds are both sharp. Shutter lag has nothing to do with it; modern AF systems not only track the subject accurately (when used properly) but they actually predict where the bird will be when the shutter opens. At times, such as when working at feeders, folks might pre-focus and hope to get very lucky with an incoming or outgoing bird in flight. I have never tried that. with love, artie
Frank Sheets–August 4, 2017 at 5:37pm
There are things I don't like about the image, but considering all that had go come together to get what you got, its pretty amazing, I think the thing that bothers me the most is the birds bifurcated by the horizon. If you had gotten on your on your knees you may have gotten a separation between the birds and the horizon and that my have been a better image. But your prediction of exposure, af point selection and where to be are all signs of a pro at work. Something many (most) of us would not have thought of. Otherwise, all else considered, pretty great shot!
Frank Sheets–August 4, 2017 at 7:49pm
Thanks Frank! I pretty much like everything about the image. If I had gotten on my knees I could have gotten behind the fence! See you Sunday evening in Guayaquil! Finally. Or Monday morning at breakfast at the latest. And yes, I am proud of this image. with love to you both, artie
ps: thanks for teaching me a new word 🙂 I will try not to bifurcate you and Laurie with my machete 🙂
Elinor Osborn–August 5, 2017 at 7:28am
Perfect composition to my eye. If the birds were dark and blended into the dark, OOF background forest I wouldn't like it. But they are white and sharp against the OOF forest so they stand out.
Thanks Elinor, I agree. But only 100%. I should add that for me, the image has a very Japanese feel, look, mood to it.
with love, artie
Again …
The rant above was intended to be humurous. If you want to take it personally, be my guest. Hey, you too can become my teacher.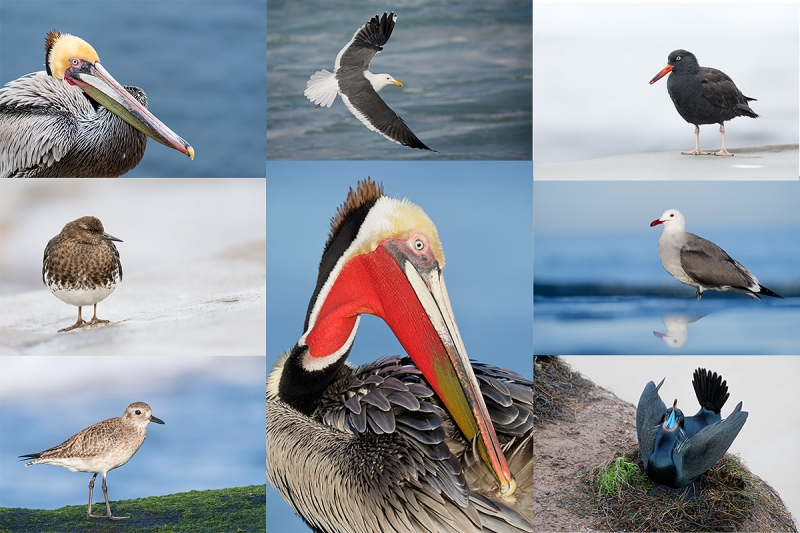 2017 in San Diego was a very good year ….
2018 San Diego 4 1/2-DAY BIRDS AS ART IPT: Monday, JAN 15 thru and including the morning session on Friday, JAN 19, 2018: 4 1/2 days: $2099.
Limit: 10: Openings: 4
Meet and Greet at 6:30pm on the evening before the IPT begins; Sunday, Jan 14, 2018.
Join me in San Diego to photograph the spectacular breeding plumage Brown Pelicans with their fire-engine red and olive green bill pouches; Brandt's (usually nesting and displaying) and Double-crested Cormorants; breeding plumage Ring-necked Duck; other duck species possible including Lesser Scaup, Redhead, Wood Duck and Surf Scoter; a variety of gulls including Western, California, and the gorgeous Heerman's, all in full breeding plumage; shorebirds including Marbled Godwit, Whimbrel, Willet, Sanderling and Black-bellied Plover; many others possible including Least, Western, and Spotted Sandpiper, Black and Ruddy Turnstone, Semipalmated Plover, and Surfbird; Harbor Seal (depending on the current regulations) and California Sea Lion; and Bird of Paradise flowers. And as you can see by studying the two IPT cards there are some nice bird-scape and landscape opportunities as well. Please note: formerly dependable, both Wood Duck and Marbled Godwit have been declining at their usual locations for the past two years …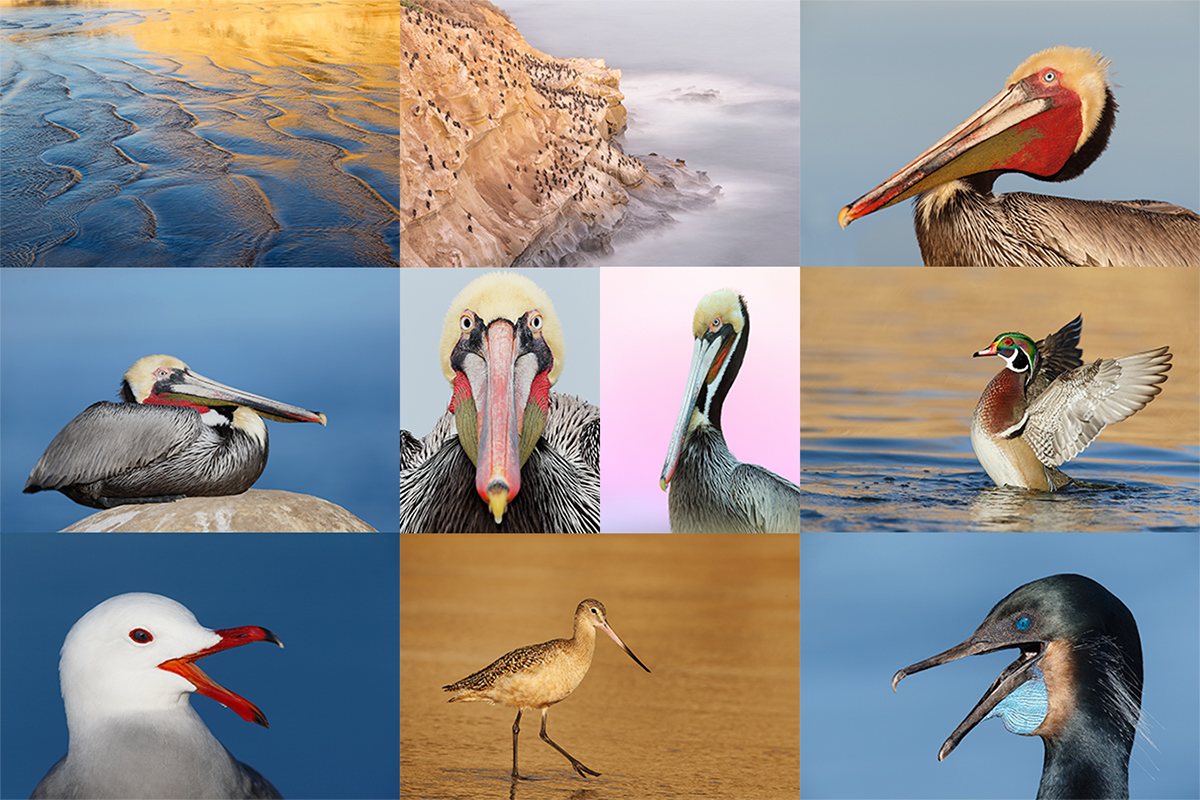 San Diego offers a wealth of very attractive natural history subjects. With annual visits spanning more than three decades I have lot of experience there….
With gorgeous subjects just sitting there waiting to have their pictures taken, photographing the pelicans on the cliffs is about as easy as nature photography gets. With the winds from the east almost every morning there is usually some excellent flight photography. And the pelicans are almost always doing something interesting: preening, scratching, bill pouch cleaning, or squabbling. And then there are those crazy head throws that are thought to be a form of intra-flock communication. You can do most of your photography with an 80- or 100-400 lens …
Did I mention that there are wealth of great birds and natural history subjects in San Diego in winter?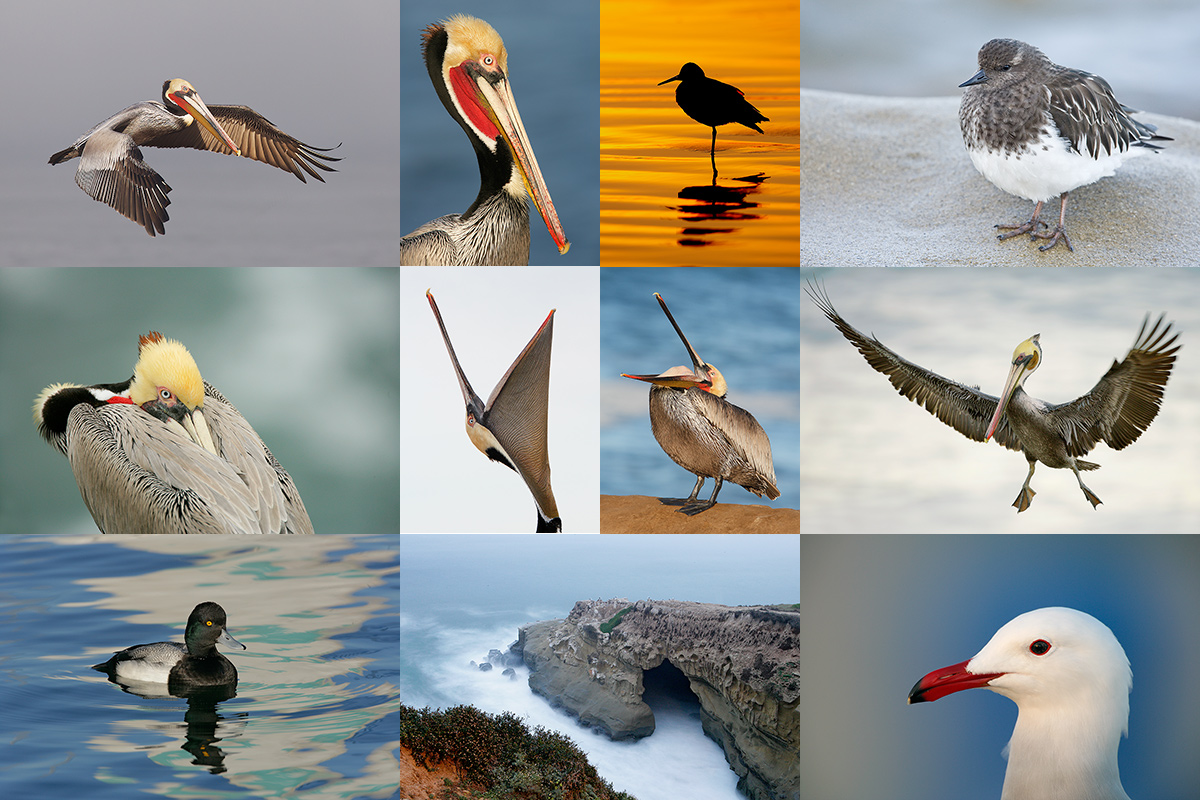 Though the pelicans will be the stars of the show on this IPT there will be many other handsome and captivating subjects in wonderful settings.
The San Diego Details
This IPT will include five 3 1/2 hour morning photo sessions, four 2 1/2 hour afternoon photo sessions, four lunches, and after-lunch image review and Photoshop sessions. To ensure early starts, breakfasts will be your responsibility. Dinners are on your own so that we can get some sleep.
A $599 non-refundable deposit is required to hold your slot for this IPT. You can send a check (made out to "Arthur Morris) to us at BIRDS AS ART, PO Box 7245, Indian Lake Estates, FL, 33855. Or call Jim or Jennifer at the office with a credit card at 863-692-0906. Your balance, payable only by check, will be due on 9/11//2016. If we do not receive your check for the balance on or before the due date we will try to fill your spot from the waiting list. Please print, complete, and sign the form that is linked to here and shoot it to us along with your deposit check. If you register by phone, please print, complete and sign the form as noted above and either mail it to us or e-mail the scan. If you have any questions, please feel free to contact me via e-mail.
The San Diego Site Guide
If you cannot make or afford the IPT the San Diego Site Guide truly is the next best thing to being there with me. It is all very simple, you will learn where to be when depending on the wind and sky conditions.
Please Remember to use my Affiliate Links and to Visit the New BAA Online Store 🙂
To show your appreciation for my continuing efforts here, we ask, as always, that you get in the habit of using my B&H affiliate links on the right side of the blog for all of your photo and electronics purchases. Please check the availability of all photographic accessories in the New BIRDS AS ART Online Store, especially the Mongoose M3.6 tripod head, Wimberley lens plates, Delkin flash cards and accessories, and LensCoat stuff.
As always, we sell only what I have used, have tested, and can depend on. We will not sell you junk. We know what you need to make creating great images easy and fun. And please remember that I am always glad to answer your gear questions via e-mail.
I would of course appreciate your using our B&H affiliate links for all of your major gear, video, and electronic purchases. For the photographic stuff mentioned in the paragraph above, and for everything else in the new store, we, meaning BAA, would of course greatly appreciate your business. Here is a huge thank you to the many who have been using our links on a regular basis and those who will be visiting the New BIRDS AS ART Online Store as well.
Amazon.com
Those who prefer to support BAA by shopping with Amazon may use the logo link above.
Amazon Canada
Many kind folks from north of the border, eh, have e-mailed stating that they would love to help us out by using one of our affiliate links but that living in Canada and doing so presents numerous problems. Now, they can help us out by using our Amazon Canada affiliate link by starting their searches by clicking here.
Facebook
Be sure to like and follow BAA on Facebook by clicking on the logo link upper right. Tanks a stack.
Typos
In all blog posts and Bulletins, feel free to e-mail or to leave a comment regarding any typos or errors. Just be right :).