What's Up?
I am 100% convinced that NPS repaired my 600 VR (to some degree) but that the TC-E14 that they repaired was the problem all along. When I tried creating sharp images with the 600 VR and the repaired TC, the sharpness issues remained. So I tried my back-up TC-E14 instead. I focus Fine-tuned that new combo with my main D-850 and was pleased to see razor sharp results … I did use the new fast and easy method of using LensAlign and FocusTune that I will be sharing with everyone here soon. What a pleasure. Fast, accurate results with 90% less of the hassles …
Last Chance to Visit ILE in April
Super-Cheap Indian Lake Estates Sandhill Crane Chicks and Colts Sessions
Great Weather Forecast for SAT 6 APR.
Join me at ILE tomorrow follows to photograph silly tame Sandhill Cranes with chicks and colts: SAT 6 APR.
Morning Session — 7:30-9:30am: $150.00
Add an hour of image review and Photoshop and brunch: $100.00
Lodging in my home is available on Friday night. If you are interested, please get in touch via e-mail or call my cell at 863-221-2372. Limit three, likely: 1 or zero. 🙂
IPT Updates
There is still one slot open on the Fort DeSoto IPT. I now have three folks for the UK Puffins and Gannets trip; that leaves two (or 7) openings on what will be an amazing experience and will possibly be my last trip and almost surely the last of the amazing Dunbar gannet boats trips — Gordon is getting old. 🙂
Despite lots of recent interest I still need three folks for the Galapagos trip. Please shoot me an e-mail to learn about the huge late registration discount on the Galapagos trip.
The 2019 Fort DeSoto Spring IPT/THURS 18 APRIL through the morning session on SUNDAY APRIL 21, 2019: 3 1/2 DAYS: $1549. Limit 8/Openings: 1. Meet and greet at 7PM on the evening of WED 17 APRIL. Free morning session on WED 17 APRIL.
The New, Expanded 2019 UK Puffins, Gannets, & Red Kites IPT. Thursday June 27 (from EDI) through Tuesday, July 9, 2019 (on the ground; fly home on Wednesday July 10.): $9,999. Limit 5 10) or photographers/Openings: 2 (or 7). This trip is a definite go.
The GALAPAGOS Photo Cruise of a Lifetime IPT/The Complete Galapagos Photographic Experience. July 23 to August 6, 2019 on the boat. 13 FULL and two half-days of photography: $14,499. Limit: 13 photographers/Openings: 3. Please e-mail to learn about the huge late registration discount for this trip.
The 2020 San Diego 4 1/2-DAY BIRDS AS ART Instructional Photo-Tour (IPT) WED JAN 8, 2020 thru and including the morning session on SUN JAN 12: 4 1/2 days: $2099.(Limit: 8/Openings: 7)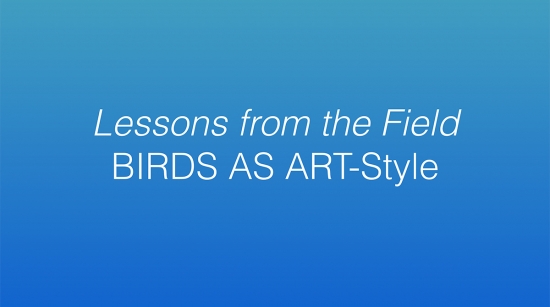 Lessons From the Field/BIRDS AS ART Style is a 1 hour, 15 minute, 314 image,
click and play MP4 video
Lessons From the Field/BIRDS AS ART Style: $10.00
Click here to order or see the Save $10 Bundle offer below.
Lessons From the Field/BIRDS AS ART Style is a 1 hour, 15 minute click and play MP4 video. It is available here in the BAA Online Store, by phone order, or by sending a Paypal for $10.00 to birdsasart@verizon.net. As the file is a large one, be sure to upload it when you have a good internet connection.
The video features 314 of artie's best images, educational and otherwise. Based on his 35 years of in-the-field experience, it covers all the basics along with many fine points. Are you making mistakes that give you no chance to create a great image? Learning to avoid those and learning to think like a pro will make you a better photographer. If you purchase and study the video, it will surely prove to be the best ten dollars you've ever spent on photography.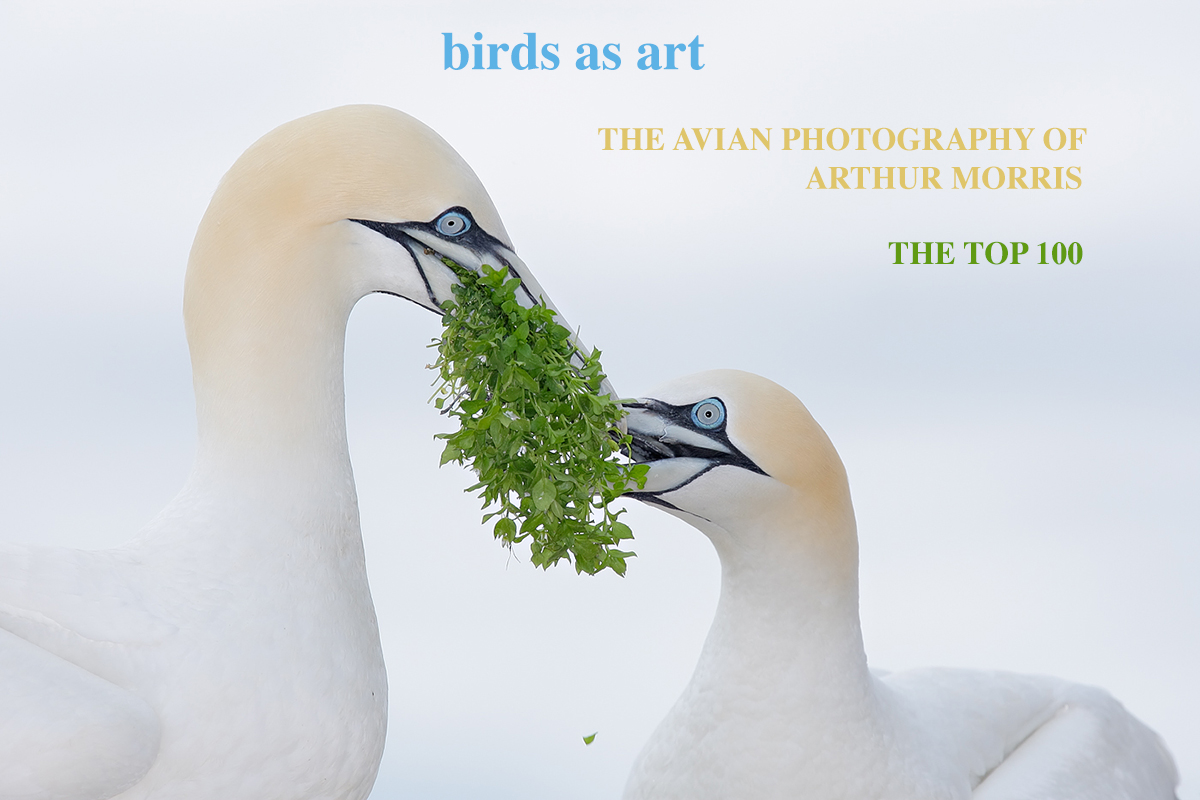 birds as art: The Avian Photography of Arthur Morris/The Top 100:
Save Ten Bucks!
Order the Lessons From the Field MP4 video and add a copy of the birds as art: The Avian Photography of Arthur Morris/The Top 100 (via convenient download — normally sells for $20.00) for an additional 10.00.
Order the bundle for $20.00 by clicking here.
BIRDS AS ART
BIRDS AS ART is registered in the U.S. Patent and Trademark Office.

Money Saving Reminder
If you need a hot photo item that is out of stock at B&H, would enjoy free overnight shipping, and would like a $50 discount on your first purchase, click here to order and enter the coupon code BIRDSASART at checkout. If you are looking to strike a deal on Canon or Nikon gear (including the big telephotos) or on a multiple item order, contact Steve Elkins via e-mail or on his cell at (479) 381-2592 (Eastern time) and be sure to mention your BIRDSASART coupon code and use it for your online order. Steve currently has several D850s in stock along with a Nikon 600mm f/4 VR. He is taking pre-orders for the new Nikon 500 P and the Nikon Z6 mirrorless camera body.
Booking.Com
Many IPT folks have been using the Booking.Com link below to get great rates and save a handsome $25.00 in the process. If you too would like to give Booking.Com a shot, click here and to earn a $25 reward on your first booking. Thanks to the many who have already tried and used this great service.
Airbnb
I have been using AirBNB for all of my travel lodging needs. Everyone on the Fort DeSoto IPT is staying at an AirBNB property in Gulfport. Airbnb lists more than 4.5 million homes across 200 countries; you'll find spacious, affordable options for every occasion. With Airbnb you will travel with confidence as reviews from past guests help you find the right fit. Once you do, their secure messaging makes it easy to coordinate with your host. And Airbnb support teams are available 24/7. And this morning, I made a 17-day reservation for an Airbnb condo for San Diego, 2020. I am staying with Rick again: his place has lots of room, a full kitchen, two bedrooms, and great WiFi. All for a lot less than the price of a chain hotel.
Yikes. I almost forgot the best part: Airbnb rates average less than half of even the least expensive chain hotels and motels. If you would like to save $40 on your first booking sign up by using this link: Airbnb. Airbnb does charge clean-up and service fees that make short stays less attractive bargains than long stays.
Those who prefer to stay in a motel or hotel are invited to use the Booking.com link above to save $25.00.
Gear Questions and Advice
Too many folks attending BAA IPTs and dozens of photographers whom I see in the field and on BPN, are–out of ignorance–using the wrong gear especially when it comes to tripods and more especially, tripod heads… Please know that I am always glad to answer your gear questions via e-mail. Those questions might deal with systems, camera bodies, accessories, and/or lens choices and decisions.
Flight Photography With the SONY 100-400 OSS/2X teleconverter/a9 Combo
Do-able, But Not Advisable …
In theory, it sounds great: a lightweight, easily hand holdable 800mm lens along with fast, accurate autofocus across 93% of the frame. And amazingly — as you can see by the decent image above — it is do-able. But before you plan on doing lots of flight photography with this combination consider the negatives.
1-In order to achieve the high shutter speeds needed to create sharp flight images, 1/1600 second minimum, you will need to go to higher ISOs even on bright sunny days. I needed ISO 1600 for today's featured image.
2-While this combo is relatively light, framing at effective 800mm while hand holding is much more difficult than you think.
3-Whenever a teleconverter is added to a rig, sharpness will suffer to some degree, especially with moving subjects. The loss of sharpness with a 2X TC is always greater than it is with a 1.4X TC. All of this is true with Canon and Nikon and SONY as well. To some degree.
4-Whenever a teleconverter is added to a rig image quality will deteriorate at least to some degree. This is also true with Canon and Nikon and SONY as well. To some degree.
All that said, do understand that the SONY 100-400 OSS/2X teleconverter/a9 combo is absolutely deadly when working with tame birds at point blank range, especially tame birds that stand still for a second so that you do not need really high shutter speeds. By dropping from 1/2000 sec. down to 1/500 sec. you save two full stops of shutter speed so that you can take advantage of the amazing .98 meter close focus of the SONY 100-400.
The Lesson
The farther away the subject and the faster it is moving the more difficult it is to create excellent images with the SONY 100-400 OSS/2X teleconverter/a9 combo. Flight photography with that combo is therefore, do-able but possibly not advisable. It can, however, be fun trying and at times the results are at least acceptable.
Sun Angle
Photographing black and white birds on sunny days is always a challenge. To make your life easier, strive to work pretty much right on sun angle with your shadow pointed right at the subject, just as I did with today's image. Do understand that that is not always easy to do when photographing birds in flight.
Help Support the Blog
Please help support my efforts here on the blog by remembering to click on the logo link above each time that you shop Amazon. That would be greatly appreciated. There is no problem using your Prime account; just click on the link and log into your Prime account. With love, artie
If In Doubt …
If in doubt about using the BAA B&H affiliate link correctly, you can always start your search by clicking here. Please note that the tracking is invisible. Web orders only. Please, however, remember to shoot me your receipt via e-mail.
Please Remember to use my Affiliate Links and to Visit the New BAA Online Store 🙂
To show your appreciation for my continuing efforts here, we ask, as always, that you get in the habit of using my B&H affiliate links on the right side of the blog for all of your photo and electronics purchases. Please check the availability of all photographic accessories in the New BIRDS AS ART Online Store, especially the Mongoose M3.6 tripod head, Wimberley lens plates, Delkin flash cards and accessories, and LensCoat stuff.
As always, we sell only what I have used, have tested, and can depend on. We will not sell you junk. We know what you need to make creating great images easy and fun. And please remember that I am always glad to answer your gear questions via e-mail.
I would of course appreciate your using our B&H affiliate links for all of your major gear, video, and electronic purchases. For the photographic stuff mentioned in the paragraph above, and for everything else in the new store, we, meaning BAA, would of course greatly appreciate your business. Here is a huge thank you to the many who have been using our links on a regular basis and those who will be visiting the New BIRDS AS ART Online Store as well.
Facebook
Be sure to like and follow BAA on Facebook by clicking on the logo link upper right.
Typos
In all blog posts and Bulletins, feel free to e-mail or to leave a comment regarding any typos or errors. Just be right :).