What's Up?
The weather here at ILE had continued clousy until it cleared late on Thursday afternoon. With the thrunder and lightning, I've been lucky in to get in my afternoon swims: a mile on Wednesday and 3/4 mile yesterday. It is early morning on Friday May 17, 2019 as I type. As the weather looks great I will be heading down to the lake at about 7am.
As I got my main D850 back from Nikon I will be doing several rounds of Focus Fine-tuning this morning using the new faster, easier method detailed here.
Huge Late-registration Discounts Made Public
I an effort to fill a very few remaining slots, I am offering a $3,000 late registration discount on the UK Puffins, Gannets, and Red Kite IPT (one slot) and a $4,000 late registration discount on the Galapagos Photo Cruise of a lifetime (one or two slots) — the world's very best Galapagos photo trip. We do the three world-class landings twice each: North Seymour, Hood, and Tower … Join us. Click here and scroll down for the trip details. Please e-mail with questions.
FlexShooter Pro Updates
We've now sold five of the 20 FlexShooter Pro heads that we will be receiving next Monday or Tuesday. Folks are encouraged to place their orders now by phone: 863-692-0906. Your card will not be charged until your head ships. Once folks have a chance to play with a friend's FlexShooter Pro, or run across me in the field with my 600 VR, I expect sales to boom. Think that I am full of it? Do you remember when everyone used Gitzo tripods? Today, all that you see in the world of nature photography are Induro tripods. Folks always gravitate to gear that is better, well made, more efficient, and less expensive …
I do have one barely used FlexShooter Pro head, the one with the very slightly smaller knob (11/16″ vs 7/8″) for sale. If I had not mentioned the difference in the size of the knobs, nobody would have noticed. In any case, if you would like to save $50, I'd be glad to sell it for $549.00. Phone orders only: 1-863-692-0906 Saturday or Sunday afternoon or any weekday. I will be sharing the info on the BigFoot lens feet here soon. Basically, we have BigFeet for most Canon big glass; the BigFeet for Nikon big glass are being re-designed and manufactured as we speak.
Important Note
By picking your favorite image and explaining why you made your choice you are improving your own editing and image evaluation skills and making yourself a better photographer. As the blog is designed to be interactive, try it. You just might like it and you just might learn something. 🙂
(Possibly) the Last Gatorland In-the-Field Session of the Season: Saturday, May 18, 2019.
I Don't Go With None 🙂
The photo opps at Gatorland last Saturday were better than I expected and the Cattle Egrets finally showed up so I have decided to run this at least once more.
Join me at Gatorland this coming weekend — I could do Sunday if that works for you — and learn a ton. As you saw in the blog post here, the Cattle Egrets in breeding plumage are specatular, and we might even have a shot at some nesting Little Blue Herons. There will still be lots of white chicks of all sizes. There were still one Snowy Egret nest with eggs on my last visit. Learn to shoot in the shade on sunny days! Most folks who visit Gatorland simply have no clue. Join me to learn how to photograph at easily accessible rookeries. An intermediate telephoto lens is all that you will need. I will have two of those and my 600 VR. Learn to think and see like a pro. A loaner FlexShooter Pro will likely be available.
Morning Session — 7-10am: $200.00
Morning Session with a 90-minute working lunch including image review and Photoshop: $300.00.
Call 863-692-0906 to register. I go with one!
BIRDS AS ART
BIRDS AS ART is registered in the U.S. Patent and Trademark Office.

Money Saving Reminder
If you need a hot photo item that is out of stock at B&H, would enjoy free overnight shipping, and would like a $50 discount on your first purchase, click here to order and enter the coupon code BIRDSASART at checkout. If you are looking to strike a deal on Canon or Nikon gear (including the big telephotos) or on a multiple item order, contact Steve Elkins via e-mail or on his cell at (479) 381-2592 (Eastern time) and be sure to mention your BIRDSASART coupon code and use it for your online order. Steve currently has several D850s in stock along with a Nikon 600mm f/4 VR. He is taking pre-orders for the new Nikon 500 P and the Nikon Z6 mirrorless camera body.
Booking.Com
Many IPT folks have been using the Booking.Com link below to get great rates and save a handsome $25.00 in the process. If you too would like to give Booking.Com a shot, click here and to earn a $25 reward on your first booking. Thanks to the many who have already tried and used this great service.
Airbnb
I enjoyed another great inexpensive AirBNB on the recently concluded 2019 Fort DeSoto Sandbar Secrets IPT. For the past year, I have been using AirBNB for all of my travel lodging needs. Everyone on the Fort DeSoto Spring IPT stayed at AirBNB properties in Gulfport. Airbnb lists more than 4.5 million homes across 200 countries; you'll find spacious, affordable options for every occasion. With Airbnb you will travel with confidence as reviews from past guests help you find the right fit. Once you do, their secure messaging makes it easy to coordinate with your host. And Airbnb support teams are available 24/7. And this morning, I made a 17-day reservation for an Airbnb condo for San Diego, 2020. I am staying with Rick again: his place has lots of room, a full kitchen, two bedrooms, and great WiFi. All for a lot less than the price of a chain hotel.
Yikes. I almost forgot the best part: Airbnb rates average less than half of even the least expensive chain hotels and motels. If you would like to save $40 on your first booking sign up by using this link: Airbnb. Airbnb does charge clean-up and service fees that make short stays less attractive bargains than long stays.
Those who prefer to stay in a motel or hotel are invited to use the Booking.com link above to save $25.00.
Gear Questions and Advice
Too many folks attending BAA IPTs and dozens of photographers whom I see in the field and on BPN, are–out of ignorance–using the wrong gear especially when it comes to tripods and more especially, tripod heads… Please know that I am always glad to answer your gear questions via e-mail. Those questions might deal with systems, camera bodies, accessories, and/or lens choices and decisions.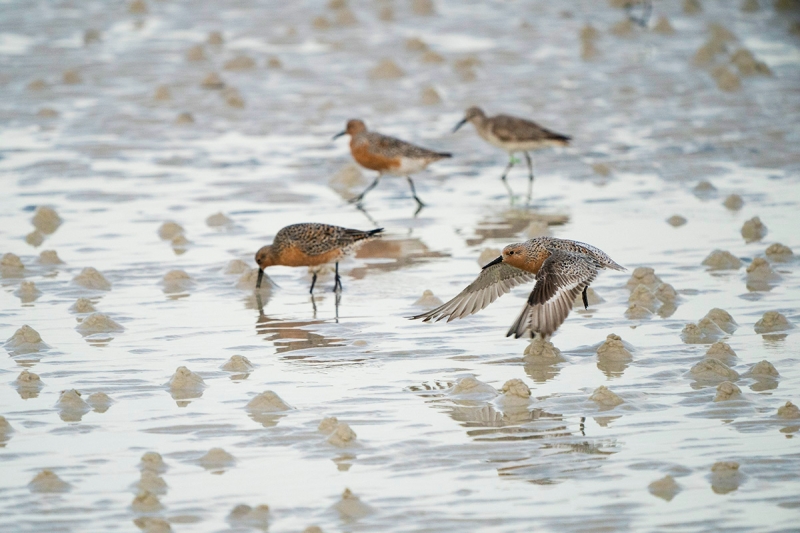 This image was created on the DeSoto Sandbar Secrets IPT by participant Jim Miller. He used the hand held Sony FE 100-400mm f/4.5-5.6 GM OSS lens with the Sony FE 1.4x teleconverter (at 560mm) and the remarkable Sony Alpha a9 Mirrorless Digital Camera. ISO 3200. Exposure determined using Zebras with ISO on the rear thumb wheel: 1/1600 sec. at f/8. AWB on a hazy afternoon.
Center Zone AF-C.
Image #1: Red Knots on sandbar with sandworm burrows
Image courtesy of and copyright 2019: Jim Miller
Click on the image to enjoy a larger version

Your browser does not support iFrame.
Archeologist Unearths Hidden Photographic Talent with SONY on the DeSoto Sandbar Secrets IPT
Jim Miller had been on a previous DeSoto IPT several years ago with a dSLR, Canon I believe. He had trouble with exposure. He had trouble making outstanding images. He switched to SONY a while back. He still had trouble with exposure. And he still had trouble making outstanding images. During our first photo session I shared a few SONY basics with Jim: I taught him Patrick Sparkman's easy as pie exposure technique; Showed him how to choose and use Zone and Expand Flexible Spot; And made a few Menu changes. He quickly became confident of setting the right expsoure every time and as you can see in today's blog post, began making some outstanding images.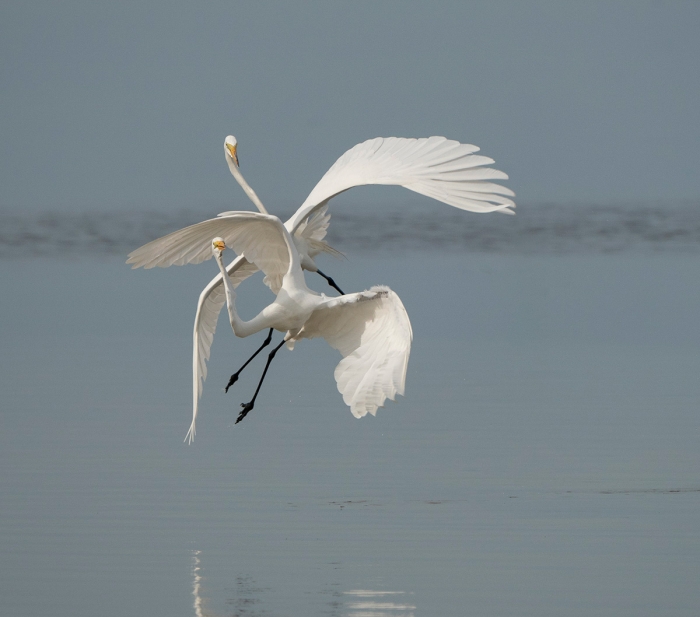 This image was created on the DeSoto Sandbar Secrets IPT by participant Jim Miller. He used the hand held Sony FE 100-400mm f/4.5-5.6 GM OSS lens (at 400mm) and the remarkable Sony Alpha a9 Mirrorless Digital Camera. ISO 1000. Exposure determined using Zebras with ISO on the rear thumb wheel: 1/2500 sec. at f/10. AWB on a barely sunny afternoon.
Center Zone AF-C.
Image #2:Great Egrets squabbling
Image courtesy of and copyright 2019: Jim Miller
Click on the image to enjoy a larger version

Your browser does not support iFrame.
What He Said (via e-mail)
Dear Artie, What a blast! The DeSoto Sand Bar Secrets IPT this past weekend was the best photo trip I have had. The conditions were perfect with soft light most of the time. The shorebirds and waders were in fine plumage and on their "best" behavior. I learned to recognize several new terns and was especially captivated by the Black Terns.
Most of all, your guidance in setting up zebra exposure warnings coupled with ISO on the back selector wheel improved my rate of keepers by at least 2x. You had us on good bird situations everywhere we went: at North Beach, at East Beach, and at the pier. And you frequently explained the combinations of sun angle and wind direction that enabled us to wind ujp in the best possible shooting situations.
I really enjoyed spending several days with you and Anita. I have been through all photos. — first cut — and am very pleased with the results. Thank you for letting me be part of this trip; everything about it was excellent!
Thanks, as always. Jim
Your Favorite?
Which of Jim's wo outstanding images do you like best? Be sure to let us know why.
This image was created by me on the DeSoto Sandbar Secrets IPT. I used the hand held Nikon AF-S NIKKOR 500mm f/5.6E PF ED VR lens and my souped up Nikon D850. ISO 2000. Matrix metering plus about 1 2/3 stops: 1/500 sec. at f/6.3 NATURAL AUTO WB at 7:49pm.
Nikon Focus Peaking fine-tune value: +4. See the Nikon AF Fine-tune e-Guide here.
One up from center Group (grp)/Continuous (C in Nikon/AI Servo with Canon) AF was active at the moment of exposure. The array was centered right on Jim's head.
Image #3: Jim Miller walking off the beach late on a hazy afternoon
Your browser does not support iFrame.
Your browser does not support iFrame.
My General SONY Conclusions …
Though there are lots of things about SONY that drive me up the wall — heck, almost all of them could be fixed with a Firmware Update, but I love my SONY 100-400 OSS, the a9, the a7R iii, and the FE 1.4X teleconverter especially for close work and for flight. Right now I am using the SONY gear as an adjunct to my Nikon gear and that works well for me.
It is important to note however that there is a huge pool of nature and bird photographers who, as Jim Miller has discovered, for whom the SONY stuff above might be their very best option. By miles. Why? It is lightweight — what a pleasure it is to head into the field with just a single, hand holdable rig — and with a bit of instruction, it is easy to learn to use. And 560mm of reach is not chicken liver. Right now it is my firm belief that SONY gear is well up to the task of delivering sharp quality images, all while you are having more fun than ever before. And are creating outstanding images.
SONY A9 Getting Started Guide with Video
If you are just getting started with your SONY a9 (or a7R iii) body and would like to know how to set the menu items that are relevant to bird photography, you can puchase it in the BAA Online Store by clicking here or by sending a Paypal for $22.00 to e-mail with SONY Quick Start Guide in the Subject line or at least somewhere in the e-mail. The guide also includes the best Focus Areas to use for photographing birds both in flight and action and at rest. Along with my comments.
Get a Free Copy!
If you have used my B&H or Bedford affiliate link to purchase a SONY a9 or the Sony FE 100-400mm f/4.5-5.6 GM OSS Lens please shoot me your receipt via e-mail along with a request for your free copy of the SONY Quick Start Guide. Once I confirm that you have used the link correctly you will receive your guide with a link to the video via e-mail.
If In Doubt …
If in doubt about using the BAA B&H affiliate link correctly, you can always start your search by clicking here. Please note that the tracking is invisible. Web orders only. Please, however, remember to shoot me your receipt via e-mail.
Please Remember to use my Affiliate Links and to Visit the New BAA Online Store 🙂
To show your appreciation for my continuing efforts here, we ask, as always, that you get in the habit of using my B&H affiliate links on the right side of the blog for all of your photo and electronics purchases. Please check the availability of all photographic accessories in the New BIRDS AS ART Online Store, especially the Mongoose M3.6 tripod head, Wimberley lens plates, Delkin flash cards and accessories, and LensCoat stuff.
As always, we sell only what I have used, have tested, and can depend on. We will not sell you junk. We know what you need to make creating great images easy and fun. And please remember that I am always glad to answer your gear questions via e-mail.
I would of course appreciate your using our B&H affiliate links for all of your major gear, video, and electronic purchases. For the photographic stuff mentioned in the paragraph above, and for everything else in the new store, we, meaning BAA, would of course greatly appreciate your business. Here is a huge thank you to the many who have been using our links on a regular basis and those who will be visiting the New BIRDS AS ART Online Store as well.
Facebook
Be sure to like and follow BAA on Facebook by clicking on the logo link upper right.
Typos
In all blog posts and Bulletins, feel free to e-mail or to leave a comment regarding any typos or errors. Just be right :).