Have a Great 2020!
Right-hand man Jim Litzenberg, daughter/BAA accountant Jennifer Morris, and I wish you and yours a happy, healthy and satisfying 2020 filled with lots of great opportunities and images.
Forewarned is Forearmed …
I will have a comprehensive SONY Camera Body User's Guide ready by the end of January. It will priced oppressively. That means that it will be outrageously expensive. Folks who purchased their gear using my B&H affiliate links or through Steve Elkins at Bedford Camera will receive a very generous discount. The size of the discount will be dependent on what you bought. As regular readers know, I put a tremendous amount of work into the blog and using the BAA Online Store and/or my affiliate links is the very best way to thank me and is greatly appreciated. In addition, using the links often earns you free guides and videos or substantial discounts.
San Diego IPT Late Registration Discount
I am offering a $400 late registration discount on the San. Diego IPT. Please e-mail if you would like to join us.
IPT Updates
Do check out the San Diego Gallery here and the Galapgos Gallery here.
The 2020 San Diego 4 1/2-DAY BIRDS AS ART Instructional Photo-Tour (IPT) WED JAN 8, 2020 thru and including the morning session on SUN JAN 12: 4 1/2 days: $2099.(Limit: 8/Openings: 5)
The GALAPAGOS Photo Cruise of a Lifetime IPT/The Complete Galapagos Archipelago Photographic Experience. August 17-31, 2021 on the boat. 13 FULL and two half-days of photography: $14,999.00.

You can see complete IPT details here.
BIRDS AS ART
BIRDS AS ART is registered in the U.S. Patent and Trademark Office.

Money Saving Reminder
If you need a hot photo item that is out of stock at B&H, would enjoy free overnight shipping, and would like a $50 discount on your first purchase over $1000.00, click here to order and enter the coupon code BIRDSASART at checkout. If you are looking to strike a deal on Canon or Nikon gear (including the big telephotos) or on a multiple item order, contact Steve Elkins via e-mail or on his cell at (479) 381-2592 (Eastern time) and be sure to mention your BIRDSASART coupon code and use it for your online order. Steve has been great at getting folks the hot items that are out of stock at B&H. Those include the SONY a7r IV, the SONY 200-600, the SONY 600mm f/4 GM, and the Nikon 500mm PF. Steve is eager to please.
Gear Questions and Advice
Too many folks attending BAA IPTs and dozens of photographers whom I see in the field and on BPN, are–out of ignorance–using the wrong gear especially when it comes to tripods and more especially, tripod heads… Please know that I am always glad to answer your gear questions via e-mail. Those questions might deal with systems, camera bodies, accessories, and/or lens choices and decisions.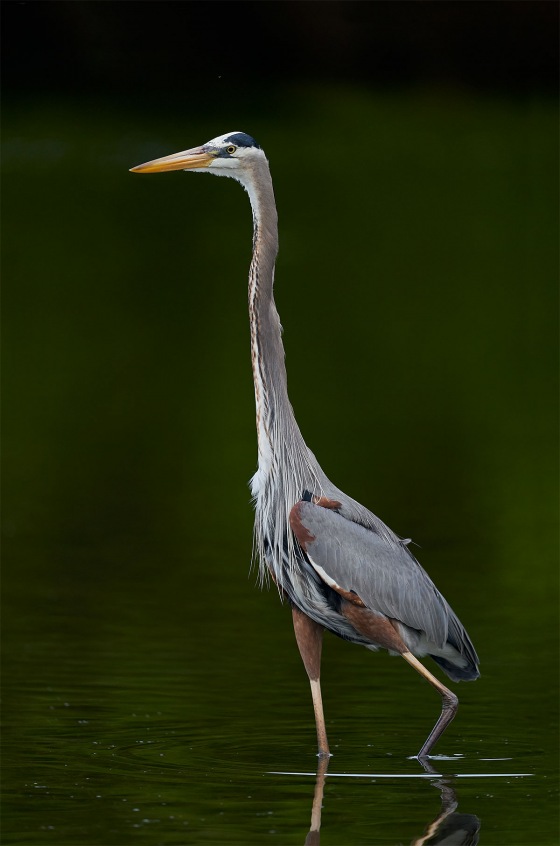 This image was also created on December 28, 2019 at Fort DeSoto Park, Tierra Verde, FL. For this one I used the Induro GIT 304/FlexShooter Pro-mounted Sony FE 600mm f/4 GM OSS lens and the blazingly fast AF King, the Sony Alpha a9 II Mirrorless Digital camera body. ISO 800. Exposure determined by Zebras with ISO on the rear dial: 1/640 sec. at f/4 in Manual mode was about -2/3 stops on the analog scale. AWB at 8:03am on a cloudy morning.
Upper Center Zone Continuous/tracking AF was active at the moment of exposure. I selected an AF point placed precisely on the bird's eye. With large in the frame subjects like this, Animal Eye Tracking works very well even though it is not supposed to work on birds. But heck, an eye is an eye.
Great Blue Heron in dark mangrove reflections

Your browser does not support iFrame.
Dark, Still, and Green
As mentioned here previously, on my second morning with private client Harry Lerner, we enjoyed some great photography. We had one each of the following wading bird species feeding on shrimp and small baitfish: Great Blue Heron, Great Egret, Snowy Egret, Tricolored Heron, Little Blue, Heron, and Yellow-crowned Night-Heron. Not having a huge feeding spree going on made it easy to isolate single birds. The wind, about 10mph from the northeast, was strong enough to ruffle the water's surface, but for the fact that we were in the lee of the mangroves. Thus, we were able to utilize the beautiful dark, still, green reflections as nearly perfect backgrounds. All in all, it was pretty close to being a perfect situation.
An In-the-Field Image Design Question …
I had already lengthened the GIT 304L legs to the max to allow for them sinking into the soft mud. Why did I pull the tripod legs in significantly and then re-plant the tripod right when planning the execution of this image?
Riding SONY Zebras to Exposure Success …
There are several steps to setting up your high-end SONY mirrorless camera body so that you can come up with a very-close-to-perfect exposure quickly and easily (with just a little practice). Patrick Sparkman developed this technique and kindly taught it to me. As far as we know, nobody except the few folks I have taught in the field, are using this technique. Among those are multiple IPT veteran Jim Miller and more recently, Harry Lerner.
First, you need to set ISO to the Control Wheel, next change an important setting for the Control Wheel/Right Button, and set turn Zebra Display to On. Last and most importantly you need to set the Zebra level correctly so that once you detect faint Zebras you will be confident that you have set the perfect exposure manually. All of the above assuming Multi metering.
After setting up Harry's camera on Thursday evening past, here is what I told him in at DeSoto on Friday morning:
1-Choose and set your shutter speed and aperture. When hand holding the 200-600, Harry went with 1/500 second to ensure getting sharp images and with either f/6.7 or f/7.1. With the 600 f/4 on the tripod, Harry opted to stay with 1/500 second and go with an aperture of f/4 or f/4.5. As it got brighter he raised his shutter speed to 1/1000 second. In each case, I went with about half of those shutter speeds. At times, I was too slow to freeze the action when the birds struck …
2-Once you have chosen your shutter speed and aperture you simply raise the ISO by turning the Control Wheel clockwise until you see the Zebras (gently flashing black and white stripes) in the viewfinder. Then dial back the ISO until you see only faint Zebras on the brightest highlights. At times, faint Zebras will create RAW files with some blinkies that are almost always easily recovered during the RAW conversion. If you raise your lens, see Zebras everywhere, and cannot even see the subject simply lower the ISO until the Zebras disappear. At times, you may wish to raise the shutter speed instead.
As you learn and practice this system, you can decide if you want to go with faint Zebras or reduce the ISO one additional click (1/3 stop) and go with no Zebras. You may opt to treat sunny situations a bit differently than low light situations … With today's GBH image, I raised the ISO until I saw faint Zebras on the white on the top of the bird's head and went with that exposure. And we actually did the exact same thing with the Great Egrets as the top of their heads always has the brightest WHITEs. Note: there will be situations when you are photographing birds with dark tones against very light backgrounds (like the sky or water) on cloudy days where you will want significant Zebras (and thus blinkies) on the. background (but not on the subject).
The SONY Zebras Exposure Guide Short Video
This morning, I will create a short video showing exactly how to make the needed Menu changes as detailed in #1 and #2 above. The price of this short video will be $30 except as noted below. To order your copy, please send a Paypal to us at birdsasart@verizon.net for $30. Please state that the payment is for the SONY Zebras Exposure Guide Short Video.
Alternatively, you can place a phone order for the SONY Zebras Exposure Guide by calling Jim at 863-692-0906 MON to THURS and most FRI mornings.
Folks who have purchased a SONY lens and/or a SONY body using either my B&H affiliate links or from Steve Elkins at Bedfords will enjoy a $20 discount. If you qualify, please shoot me an e-mail so that I can confirm your discount.
Folks who have purchased the SONY 600mm f/4 GM lens using my links will receive the file for free. If you qualify. for a free copy, please shoot me an e-mail so that I can confirm your discount.
After I confirm your discount, you can either call Jim or send us a Paypal (as above).
If In Doubt …
If you are in doubt about using the BAA B&H affiliate link correctly, you can always start your search by clicking here. Please note that the tracking is invisible. Web orders only. Please, however, remember to shoot me your receipt via e-mail.
Please Remember to use my Affiliate Links and to Visit the BAA Online Store 🙂
To show your appreciation for my continuing efforts here, we ask, as always, that you get in the habit of using my B&H affiliate links on the right side of the blog or Bedfords, for all of your photo and electronics purchases. Please check the availability of all photographic accessories in the New BIRDS AS ART Online Store, especially the Mongoose M3.6 tripod head, Wimberley lens plates, Delkin flash cards and accessories, and LensCoat stuff.
As always, we sell only what I have used, have tested, and can depend on. We will not sell you junk. We know what you need to make creating great images easy and fun. And please remember that I am always glad to answer your gear questions via e-mail.
I would, of course, appreciate your using our B&H affiliate links or Bedfords for all of your major gear, video, and electronic purchases. For the photographic stuff mentioned in the paragraph above, and for everything else in the new store, we, meaning BAA, would of course greatly appreciate your business. Here is a huge thank you to the many who have been using our links on a regular basis and those who will be visiting the New BIRDS AS ART Online Store as well.
Facebook
Be sure to like and follow BAA on Facebook by clicking on the logo link upper right.
Typos
In all blog posts and Bulletins, feel free to e-mail or to leave a comment regarding any typos or errors. Just be right :).