What's Up?
I had a nice 1/2 mile swim on Sunday afternoon and will be headed down to the lake this morning. I was successfully able to order some hard-to-get stuff on Amazon Business, stuff that had been showing as "currently unavailable." Those included toilet paper, Clorox bleach spray, and elderberry syrup. — another immune system booster.
The Gift: The Journey of Johnny Cash
Johnny Cash fans looking to kill 90 minutes of free time will enjoy the moving and revelatory YouTube offering here. Those like me who had hard-to-please Dads — most of WW II vintage — should hear what Cash had to say about his Dad beginning at the 8:36 mark. Check out the smile on Johnny's face and the energy when he became drug-free in 1968 and got together with June Carter (at the 52:58 mark). He relapsed into drug addiction in the early-1980s. I watched this from start to finish on Monday evening. I cried a lot.
What's your favorite Jonny Cash song? Mine — Guess Things Happen That Way — was not a big hit.
An E-mail from Craig Elson
Hey artie, I finally shot for first time this morning with my new SONY a9 ii and the 600mm f/4 GM. I just went through all the images and all that I can say is "Wow!" Your quote about the AF being "science-fiction-like" is exactly right. Every … single … frame … drop-dead sharp! Tracking Zone slayed it for flight and Tracking Flex Medium was also amazing with flying birds. I can see how the latter, as you spend more time with the system, will become the go-to AF Area in many situations.
And the best part of all? I brought my tripod and didn't use it. Not for one minute. I handheld the rig the whole time. A 600! So, so light. And everything sharp. I've been smiling all day since!
I just wish I could go back and take every trip over past five years again with the Sony gear. Hmmm … maybe I will. But not quite yet 🙁
Hope you are staying safe. The last version of e-guide looked good. I found a couple of typos and well let you know on those. The content was great, especially many of the new additions.
Craig A. Elson
Instagram: @craigelsonphotography
From Fred Innamorato via e-mail
Hi Artie,
I want to thank you for making the Sony e-Guide and videos available and for the work you put into the blog as well as for your books that teach us how to photograph birds and also for your camera User's Guides. There is just no possible way I would have been able to get my Sony a9 ii camera settings so technically correct for doing birds in flight on my own without this guide. in my opinion, Sony should pay you for taking on the task of educating their customers. Sony has created an amazing camera but they fail to explain to their customers how to take full advantage of it. I appreciate that you know and have access to some very competent people with the technical backgrounds to assist you in your field experimentation to come up with the best and most practical and useful Menu Settings for bird photography. We all will benefit from your unique ability to pull this together. I am especially happy with your instructions on how to use the Zebra Settings for getting proper exposures. I really can't thank you enough Artie for making my bird photography hobby so much more enjoyable than it would have been otherwise. My photography brings me great satisfaction. Sharing quality photographs with my family and friends has generated lots of interest in my hobby and why I do it. Life is good!
I highly recommend the purchase of your Sony e-Guide and Video(s). This information is just not available anywhere else. Even from Sony …
Fred Innamorato
The Sony Camera Videos and Pre-publication e-Guide Costs and Discount Info
I recently sent aa link to the March 19 Version of the SONY e-Guide to the 31 folks who have purchased it. It will siureely be the next-to-last pre-publication version.
The cost of the SONY e-Guide is $100.00 US and will include one of the camera set-up videos — we offer one video each for the a7r iii, the a7r iv, the a9, and the a9 ii — and the written guide with the galleries. The guide is now 98% done and you will — of course, receive the final version when it is completed. I sent out the third draft today to those who have purchased the Guide with or without the discount.
Folks who have used my B&H links or purchased their SONY gear from Bedfords will receive said discount based exactly on how much they spent. If you spent more than $10,000 you will receive one free video and the e-Guide. Additional camera videos are $25.00 each. If you spent $2400, you will receive a 24% discount, and so on and so forth. And again, additional camera videos will be $25.00 each.
I will need time to verify your B&H purchases so folks will need to send their receipts and then be a bit patient. It is much easier to verify Bedfords' purchases but I need those receipts as well.
If you have not used BAA links, please do so in the future. If that is the case and you would like the e-Guide now, please send a Paypal for $100 US to birdsasart@verizon.net and be sure to include the words "SONY Pre-publication Guide" in the Paypal e-mail along with the name of your camera or cameras so that you can receive the correct video or videos. Please add $25 for each additional camera video. Be sure to send a copy of the Paypal transaction to me via e-mail.
Folks who have used BAA links to purchase their SONY gear should send their receipts to me via e-mail asap and let me know which camera videos they need. I will verify their purchases as quickly as possible and send a quote to be paid via Paypal as above.
Thanks to all who have properly used my B&H links or gone through the fabulous Steve Elkins at Bedfords, and thanks to everyone for having faith in the information that I provide, knowing that it will be the best available anywhere.
BIRDS AS ART
BIRDS AS ART is registered in the U.S. Patent and Trademark Office.
Canon EF 600mm f/4L IS III USM Lens
BIRDS AS ART record low price!
Price reduced $800.00 on 23 MAR 2020!
Rob Heifner is offering a Canon EF 600mm f/4L IS III USM lens in mint condition for the BAA record-low price of $9,999.00 (was $10,799.00). The sale includes the original product box, the lens trunk, the rear lens cap, the lens strap, the tough front lens cover, an Aquatech soft rubber front lens cap, a Realtree Max-5 LensCoat, a Really Right Stuff dedicated lens plate (LCF-53B), and insured ground shipping via major courier to lower-48 US addresses only. Your item will not ship until your check clears unless other arrangements are made.
Please contact Rob via via e-mail or by phone at 1-281-967-9178 (Central time zone).
The 600 III is the latest Canon version of my favorite weapon of mass destruction for bird photography. With its super balance, light weight, incredible sharpness, and a five-stop Image Stabilization system, the 600 III is a technological marvel. The lens tips the scales at a relatively svelte 6.71 lb — about one ounce heavier than the SONY 600mm f/4GM OSS lens. It is a fraction under two pounds lighter than the 600 II. Thus, it is eminently hand-holdable for many folks. As this lens sells new for $12,999.00, you can save a neat $3,000.00 by being the one to grab Rob's pretty much new lens (plus extras!) right now. This lens is super-sharp with either TC, one of the great advantages of Canon over Nikon. artie
Canon EF400mm f/4 IS DO II USM Lens
BIRDS AS ART record low price!
Price reduced $500.00 on 23 MAR 2020!
Rob Heifner is offering a Canon EF 400mm DO f/4 IS II USM lens in mint condition for a BAA record-low $3499.00 (was $3999.00). The sale includes the original product box, the lens trunk, the tough front lens cover, the rear lens cap, the lens strap, an Aquatech soft rubber front lens cap, Realtree Max-5 LensCoat, a RRS lens plate (LCF-52B), and insured ground shipping via major courier to lower-48 US addresses only. Your item will not ship until your check clears unless other arrangements are made.
Please contact Rob via via e-mail or by phone at 1-281-967-9178 (Central time zone).
I owned and used and loved the 400 DO II when I shot with Canon and found a way to take it on most trips. I took it to Scotland and Nickerson Beach and San Diego. It served me well as my (lighter!) big gun several Galapagos and Southern Ocean (the Falklands and South Georgia) trips. It is a killer for flight photography with or without the 1.4X III TC. It is razor-sharp with the 2X on static subjects and skilled folks have had amazing success hand holding it with the 2X III TC for flight and for action. artie
Canon Macro EF 180mm f/3.5L Macro Lens
BAA Record-low Price!
Price reduced $50.00 on 23 MAR 2020!
IPT veteran Dane Johnson is offering a Canon EF 180mm f/3.5 L Macro Lens in near-mint condition for the crazy low price of only $599.00. There are no scratches, scuffs, or marks of any kind on the glass, lens or hood. The only sign of age is a slight graying of the rubber on the focusing ring. The sale includes the lens, front and rear lens caps, tripod collar, Lens Hood ET-78II, Canon's fabric Lens Case, lens case shoulder strap, original user documents, the original product box, and insured ground shipping via major courier to US lower 48 addresses only. Photos are available upon request. Your lens will not ship until your check clears unless other arrangements are made.
Please contact Dane via e-mail or by phone at 1-559-593-0989.
The Canon 180 Macro was my mainstay macro lens for more than a decade. I loved the extra reach that it provides over the various 100mm macro lenses. And, assuming that you will be working on a tripod, the Canon EF Extender 1.4X is perfectly compatible. The lens is great for flowers, bugs, butterflies, frogs, toads, and snakes among lots more. This lens — still in production — sells new for $1,399.00. You can save a smooth $800.00 on Dane's practically new lens. artie
Support Bedfords
Many here on the blog have purchased their camera gear from Bedfords Camera. All have received stellar service. Many in the south-central states visit one of the seven Bedford stores regularly. Many Bedfords associates know their customers on a first-name basis. Your passion has been their passion since 1974. Each shirt ordered through the link below helps an employee at a local Bedford Camera & Video store. Pre-order your shirt now. We don't have an ETA on delivery, but our goal is to have these available in mid- to late April. Every shirt purchased will go to help one of Bedford's 80+ employees. Please don't hesitate to reach out to your local store if there's anything you need! Orders can be placed online and be shipped directly to you. All of thee stores are working with customers for drive-thru or curbside delivery. Thank you for your support, we hope to see you in our store once things return to normal.
Sean and Steve
Sean Kaiser/Director of Business Development
Steve Elkins/Executive Vice President
You can order your shirt here.

Money Saving Reminder
If you need a hot photo item that is out of stock at B&H, would enjoy free overnight shipping, and would like a $50 discount on your first purchase over $1000.00, click here to order and enter the coupon code BIRDSASART at checkout. If you are looking to strike a deal on Canon or Nikon gear (including the big telephotos) or on a multiple item order, contact Steve Elkins via e-mail or on his cell at (479) 381-2592 (Eastern time) and be sure to mention your BIRDSASART coupon code and use it for your online order. Steve has been great at getting folks the hot items that are out of stock at B&H. Those include the SONY a7r IV, the SONY 200-600, the SONY 600mm f/4 GM, and the Nikon 500mm PF. Steve is eager to please.
Gear Questions and Advice
Too many folks attending BAA IPTs and dozens of photographers whom I see in the field and on BPN, are–out of ignorance–using the wrong gear especially when it comes to tripods and more especially, tripod heads… Please know that I am always glad to answer your gear questions via e-mail. Those questions might deal with systems, camera bodies, accessories, and/or lens choices and decisions.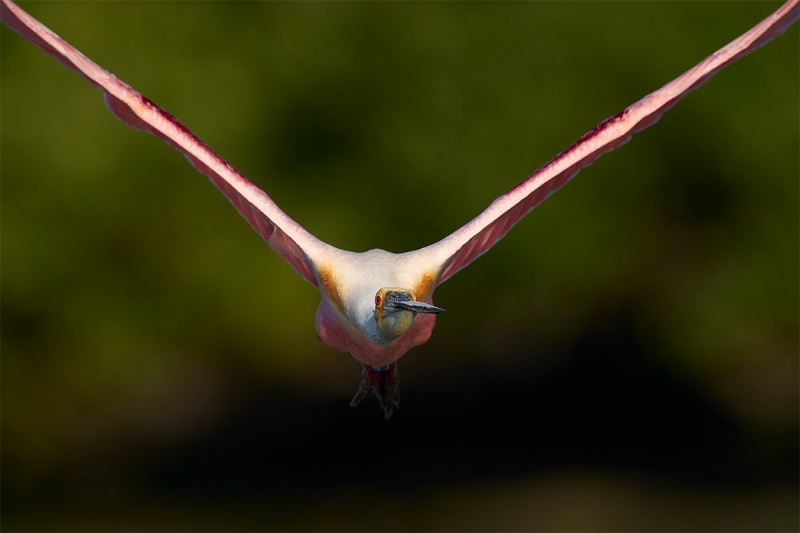 This image was created on 20 MAR 2020 at Alafia Banks, Tampa Bay, FL I used the Induro GIT 404/FlexShooter Pro-mounted Sony FE 600mm f/4 GM OSS lens, the Sony FE 2.0x Teleconverter, and the blazingly fast Sony Alpha a9 II Mirrorless Digital camera body) that features incredibly accurate AF. AUTO ISO: 400. Exposure determined by Zebras with exposure compensation on the rear wheel: 1/1250 sec. at f/8 in Manual mode. AWB at 8:52am on a clear sunny morning.
Center Zone AF-C. The area of sharpest focus was on the bird's cheek barely in front of the spooonbill's right eye.
SONY 1200mm down-the-lens-barrel Roseate Spoonbill Flight Insanity

Click on the image to see a larger, sharper version.

Your browser does not support iFrame.
1200mm down-the-lens-barrel Roseate Spoonbill Flight Insanity
I was photographing this and another spoonbill preening and flapping after bathing. I got into position and made a few images at 840mm with the 1.4x TC in place. Wanting to get closer optically, I removed the 1.4X, added the 2X, and created a few nice images of the closer bird flapping. I had dropped down from 1//3200 second to 1/1250 second to do the flapping bird when suddenly they both took flight right at me. I framed and acquired focus on one of the birds — I do not recall which one, and fired off about a dozen frames. Probably seven of the images were framed decently with the bird's head in the center of the frame. Once I got the images into Capture One, I was astonished to see that most were sharp on the eye; one or two were slightly front-focused. This was not a surprise considering that long bill pointed right at the lens.
Getting 99% sharp flight shops with the 600 GM with our without the 1.4X TC and with the handheld 200-600 is one thing, getting sharp on the eye images on birds flying right at you at close range with a 1200mm focal length is another. Simply put, it is indeed hard to believe for those who have been getting sharp-on-the-feet images in this situation for years … If the shoe fits, wear it.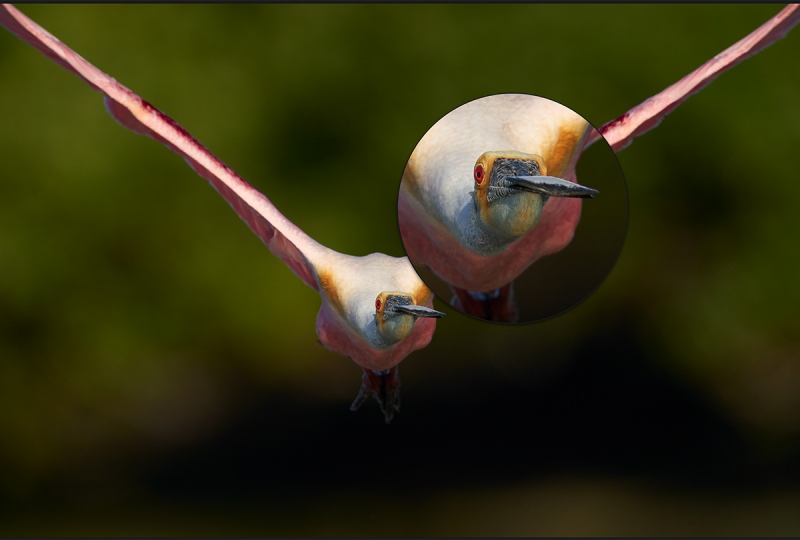 Capture One-12 screen capture from the unsharpened master file

Click on the image to see a larger version.
Picking Your SONY Keepers
Picking your SONY keepers in Photo Mechanic is not possible because the small embedded JPEGs cannot be enlarged enough to critically judge image sharpness. Bridge in Photoshop takes several seconds to render each RAW file for viewing — much too long for me especially considering the 20-fps frame rate of the a9 ii. Capture One, on the other hand, is fast and has the fabulous Loupe that allows users to check sharpness easily. And don't forget that the Capture One raw conversions produce the most detailed low noise files in town. For me as a SONY user, Capture One is the only game in town.
If In Doubt …
If you are in doubt about using the BAA B&H affiliate link correctly, you can always start your search by clicking here. Please note that the tracking is invisible. Web orders only. Please, however, remember to shoot me your receipt via e-mail.
Please Remember to use my Affiliate Links and to Visit the BAA Online Store 🙂
To show your appreciation for my continuing efforts here, we ask, as always, that you get in the habit of using my B&H affiliate links on the right side of the blog or Bedfords, for all of your photo and electronics purchases. Please check the availability of all photographic accessories in the New BIRDS AS ART Online Store, especially the Mongoose M3.6 tripod head, Wimberley lens plates, Delkin flash cards and accessories, and LensCoat stuff.
As always, we sell only what I have used, have tested, and can depend on. We will not sell you junk. We know what you need to make creating great images easy and fun. And please remember that I am always glad to answer your gear questions via e-mail.
I would, of course, appreciate your using our B&H affiliate links or Bedfords for all of your major gear, video, and electronic purchases. For the photographic stuff mentioned in the paragraph above, and for everything else in the new store, we, meaning BAA, would of course greatly appreciate your business. Here is a huge thank you to the many who have been using our links on a regular basis and those who regularly visit the New BIRDS AS ART Online Store as well.
Facebook
Be sure to like and follow BAA on Facebook by clicking on the logo link upper right.
Typos
In all blog posts and Bulletins, feel free to e-mail or to leave a comment regarding any typos or errors. Just be right :).