What's Up?
On Thursday afternoon past, I saw a large butterfly flitting around the Firebush and Coral Honeysuckle when I got out of the pool. I approached and saw that it was a male Tiger Swallowtail, a favorite during my youth as a butterfly collector. I dried off a bit, put my robe and something on my feet, grabbed the 100-400 with an a9 ii, and tried for about 45 minutes to create a nice photo. Though the butterfly was not quite in pristine condition, I made a decent image or two. On Friday morning there was another mayfly hatch and the photography was all Cattle Egrets in sweet, early morning light. The afternoon was more of the same and I even tried for some backlit shots of the egrets grabbing the mayflies.
On Saturday morning I put out some snapper carcasses courtesy of Mike at Junior's Fish Market in Lake Wales. Conditions were good but not perfect. With only a gentle breeze from the north by slightly east, the Black Vultures swarmed in but most were too low as they landed. No Turkey Vultures flew in so I left after about 20 minutes to do some more Cattle Egrets feeding on the mayflies. As I got to the North Field I noted that about 20 Great Egrets along with 40 or so White Ibises had joined in on the feast. It turned out to be a good session.
I have had the sneezy/sniffles for two days and am not sure if it is allergies or a summer cold (it was 89 degrees yesterday afternoon). I feel great and have no fever.
The forecast for today — Sunday, 3 MAY 2020 — is perfect for vulture flight with east/southeast winds so I will be head down to the lake at 7am.
A Must Read
I have prepared the final PDF for the new SONY e-Guide. It should be available in the store no later than next Tuesday.
Here is a comment from yesterday's blog post left by IPT veteran Barry Barfield:
I have been actively using the set up from artie's Sony e-Guide now for about four weeks. With my a9 ii and the 200-600 rig is easy to get the right exposure 99% of the time. I could never have figured out the settings suggested on my own, so thank you artie and Patrick. If you have Sony A9, A9ii, or one of the A7r bodies covered – get this guide today. Barry, Australia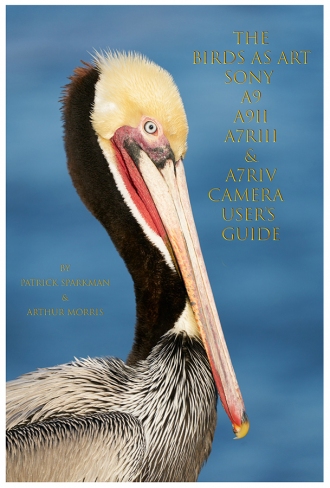 Click on the image to enjoy a larger version.
The SONY e-Guide by Patrick Sparkman and Arthur Morris
The Sony Camera e-Guide (PDF) and videos Info
Yesterday I prepared the final PDF for the Sony Camera e-Guide. It will not be available in the store until early next week but you can order yours right now. The cost of the SONY e-Guide is $100.00 US and will include one of the four (4) camera set-up videos — we offer one video each for the a7r iii, the a7r iv, the a9, and the a9 ii — and the written guide with the galleries. Additional camera videos are $25.00 each The guide is now done.
If you would like to order the e-Guide now, please send a Paypal for $100 US to birdsasart@verizon.net and be sure to include the words "SONY e-Guide" in the Paypal e-mail along with the name of your camera or cameras so that you can receive the correct video or videos. Note: please add $25 for each camera video after the first. And please be sure to type your e-mail address into your Paypal order. Then be sure to send a copy of the Paypal transaction to me via e-mail.
BIRDS AS ART
BIRDS AS ART is registered in the U.S. Patent and Trademark Office.

This Just In!
Steve Elkins asked me to let y'all know that he has six SONY 200-600s in stock and that one of them has your name on it. Contact Steve as below and save $50.00.
Money Saving Reminder
If you need a hot photo item that is out of stock at B&H, would enjoy free overnight shipping, and would like a $50 discount on your first purchase over $1000.00, click here to order and enter the coupon code BIRDSASART at checkout. If you are looking to strike a deal on Canon or Nikon gear (including the big telephotos) or on a multiple item order, contact Steve Elkins via e-mail or on his cell at (479) 381-2592 (Eastern time) and be sure to mention your BIRDSASART coupon code and use it for your online order. Steve has been great at getting folks the hot items that are out of stock at B&H. Those include the SONY a7r IV, the SONY 200-600, the SONY 600mm f/4 GM, and the Nikon 500mm PF. Steve is eager to please.
Gear Questions and Advice
Too many folks attending BAA IPTs and dozens of photographers whom I see in the field and on BPN, are–out of ignorance–using the wrong gear especially when it comes to tripods and more especially, tripod heads… Please know that I am always glad to answer your gear questions via e-mail. Those questions might deal with systems, camera bodies, accessories, and/or lens choices and decisions.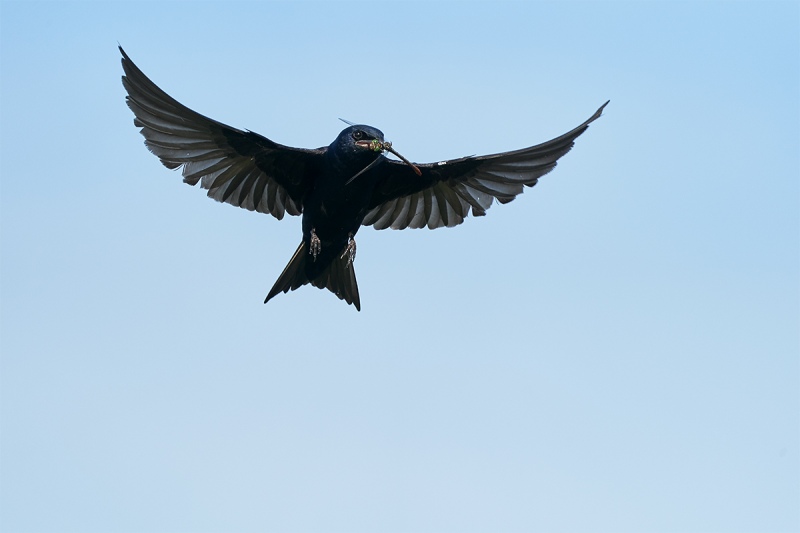 This is the TIFF file after the RAW conversion in Capture One.
Purple Martin, male bringing Green Darner (dragonfly) to nest-box

Your browser does not support iFrame.
The TIFF File
Compare this with the optimized version immediately below. Note especially the difference in underwing brightness. Note also that I repositioned the bird in the frame, added and filled in some canvas above, and did some feather clean-up.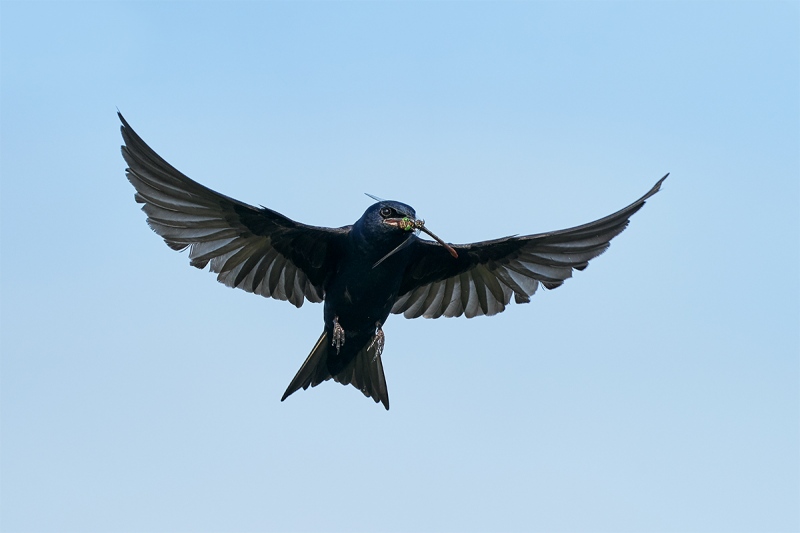 This image was created on 29 APR 2020 at Indian Lake Estates, FL. I used the handheld Sony FE 200-600mm f/5.6-6.3 G OSS lens (at 463mm) and the blazingly fast AF King, the Sony Alpha a9 II Mirrorless Digital camera body. ISO 1250. Exposure determined by Zebras with ISO on the rear wheel: 1/2500 sec. at f/6.3 in Manual mode. AWB at 9:15am on a clear morning with just a hint of haze.
Center Zone AF-C was active at the moment of exposure and performed superbly. Click on the image to enjoy a larger version.
Purple Martin, male bringing Green Darner (dragonfly) to nest-box

Your browser does not support iFrame.
The Image-Optimization
Many feel that photographing small, black, birds with shiny feathers that dart about rapidly in flight is impossible, especially when the sun is out. I disagree. In part, SONY a9 series bodies make such images possible. Do understand that the manual exposure that I set — as explained in yesterday's Wind and Sun Together Purple Martin Flight Primer V-log Video here, was somewhat of a compromise. Learn more about that below.
In any case, today's featured image was a slight under-exposure. Even with a bit of the edge taken off the sun by a light haze, I knew that I would have to open up the dark, blue/black underwings. I did that a bit during the RAW conversion in Capture One using the Shadow Slider. The trick is to use that slider judiciously; in this case, I moved the Shadow Slider only to +9 (out of 100). Many folks do not like close-to-black shadows, so they overdo the use of the Shadow Slider by forgetting that it is OK for BLACKs to be black and that is is not at all necessary to see detail in dark shaded areas especially when parts of the subject are lit by direct sun. In addition, by being heavy-handed when opening up the very dark tones in an image you are creating noise.
Once I had the TIFF file in Photoshop, the first thing that I did was to select the bird using the Quick Selection Tool. Then I fine-tuned the edges of the selection as needed using the plus and minus Lasso Tool. Next, I feathered the selection one pixel and hit Command J to place the selection on its own layer. Finally, I ran my Nik Coler EFEX Pro 30/30 recipe (30% Detail Extractor and 30% Tonal Contrast) on the bird only. I rarely use Nik since I switched to SONY but in this case, it was just what the doctor ordered; it lightened the whole the bird — and revealed some detail without creating excessive noise and without making the bird look crunchy.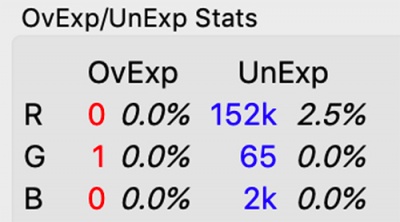 RAW Digger Over/Under EXP data for Purple Martin, male bringing Green Darner (dragonfly) to nest-box
The Slight Under-exposure
Though you might call this a 97.5% correct exposure, there are still 152,000 under-exposed RED pixels (albeit out of 24 million). In a perfect world, I coulda/shoulda increased the ISO from 1250 to 1600 for the dark blue/black male martins. But I did not, on purpose. Keep reading to learn why.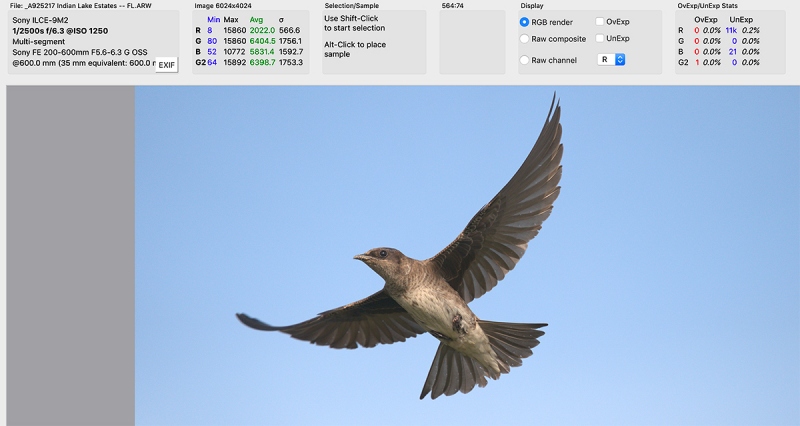 RAW Digger Over/Under EXP data for Purple Martin female in flight
The Exposure Compromise
First, click on the image above to enlarge it. Note that the female Purple Martins are a lot lighter overall than the males. And note in the upper right corner of the RAWDigger screen capture that this is a much better exposure (than in the image of the male). Ideally, you would want this exposure (1/2500 sec. at f/6.3 at ISO 1250) for the female martins and the next brighter exposure (1/2500 sec. at f/6.3 at ISO 1600 or 1/2000 sec. at f/6.3 at ISO 1250) for the darker males because dark tones need more light than middle tones.
I knew and understood all of this in advance but I also knew that with both males and females flying quickly at the nest box that I would not have time to adjust either the ISO (easier to do) or the shutter speed (a bit more difficult). So I decided to go with an exposure compromise getting the females perfect and the males slightly under.
At places like Bosque, where you may be doing flight photography of adult and young Snow Geese, Sandhill Cranes, and even Common Ravens during the same session, it is much easier to adjust your exposures to perfection because the larger birds fly much slower than the martins …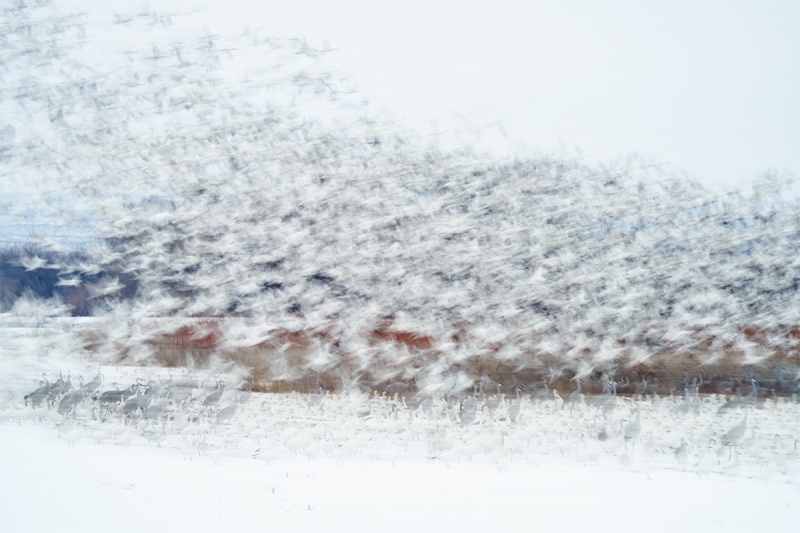 This image was created on 28 NOV on the 2019 Bosque IPT. I used the Induro GIT 304/FlexShooter Pro-mounted Sony FE 200-600mm f/5.6-6.3 G OSS lens (at 236mm) and the 61-MP monster, the Sony Alpha a7R IV Mirrorless digital camera body.. ISO 125. Exposure determined by Zebras with ISO on the rear wheel: 1/4 sec. at f/8 in Manual mode. AWB at 10:31am on a cloudy-dark morning.
Center Flexible Spot AF-C was active at the moment of exposure. RAW Digger showed 0% Over-exposed and 0% Underexposed pixels.
Click the image to enjoy a larger version.
Snow Geese blastoff

Your browser does not support iFrame.
Bosque del Apache NWR 2020 IPT
NOV 18 (afternoon session) thru the morning session on November 23, 2020. 5 DAYS. Four full and two half days. $1999.00. Deposit: $500.00. Limit: 8 photographers/Openings: 5.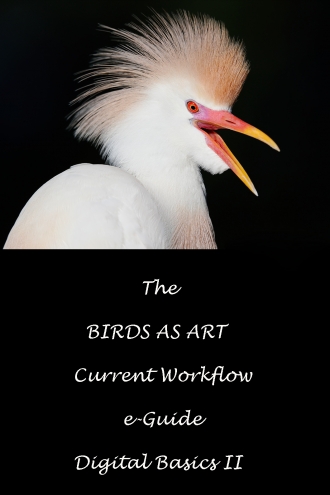 The BIRDS AS ART Current Workflow e-Guide (Digital Basics II).
You can order your copy from the BAA Online Store here, by sending a Paypal for $40 here, or by calling Jim or Jennifer weekdays at 863-692-0906 with your credit card in hand.
The BIRDS AS ART Current Workflow e-Guide (Digital Basics II)
All the techniques mentioned above and tons more (with the exception of Capture One RAW Conversions) — along with all of my personalized Keyboard Shortcuts — are covered in detail in the BIRDS AS ART Current Workflow e-Guide (Digital Basics II), an instructional PDF that is sent via e-mail. Learn more and check out the free excerpt in the blog post here. While the new e-Guide reflects my Macbook Pro/Photo Mechanic/DPP 4/Photoshop workflow, folks using a PC and/or BreezeBrowser will also benefit greatly by studying the material on DB II. Note: folks working on a PC and/or those who do not want to miss anything Photoshop may wish to purchase the original Digital Basics along with DB II while saving $15 by clicking here to buy the DB Bundle.
Folks who learn well by following along rather than by reading can check out the complete collection of MP 4 Photoshop Tutorial Videos by clicking here. Note: all of the videos are now priced at an amazingly low $5.00 each.
You can learn how and why I converted all of my Canon digital RAW files in DPP 4 in the DPP 4 RAW Conversion Guide here. More recently, I became proficient at converting my Nikon RAW (NEF) files in Adobe Camera Raw. About two years ago I began converting my Nikon and Sony RAW files in Capture One Pro 12 and continue to do so today.
To purchase Capture One, please use this link. Then you can learn more about Capture One in the Capture One Pro 12 Simplified MP4 Video here. The next step would be to get a copy of Arash Hazeghi's "The Nikon Photographers' Guide to Phase One Capture One Pro e-Guide" in the blog post here.
You can learn advanced Quick Masking and advanced Layer Masking techniques in APTATS I & II. You can save $15 by purchasing the pair. Folks can learn sophisticated sharpening and (NeatImage) Noise Reduction techniques in The Professional Post Processing Guide by Arash Hazeghi and edited by yours truly. Please use this link to purchase NeatImage.
To introduce folks to our MP.4 videos and the basics involved in applying more NeatImage noise reduction to the background and less on the subject, I'd be glad to send you a free copy of the Free Noise Reduction Basics MP.4 Video. Simply click to shoot me an e-mail to get your free copy.
If In Doubt …
If you are in doubt about using the BAA B&H affiliate link correctly, you can always start your search by clicking here. Please note that the tracking is invisible. Web orders only. Please, however, remember to shoot me your receipt via e-mail.
Please Remember to use my Affiliate Links and to Visit the BAA Online Store 🙂
To show your appreciation for my continuing efforts here, we ask, as always, that you get in the habit of using my B&H affiliate links on the right side of the blog or Bedfords, for all of your photo and electronics purchases. Please check the availability of all photographic accessories in the New BIRDS AS ART Online Store, especially the Mongoose M3.6 tripod head, Wimberley lens plates, Delkin flash cards and accessories, and LensCoat stuff.
As always, we sell only what I have used, have tested, and can depend on. We will not sell you junk. We know what you need to make creating great images easy and fun. And please remember that I am always glad to answer your gear questions via e-mail.
I would, of course, appreciate your using our B&H affiliate links or Bedfords for all of your major gear, video, and electronic purchases. For the photographic stuff mentioned in the paragraph above, and for everything else in the new store, we, meaning BAA, would of course greatly appreciate your business. Here is a huge thank you to the many who have been using our links on a regular basis and those who regularly visit the New BIRDS AS ART Online Store as well.
Facebook
Be sure to like and follow BAA on Facebook by clicking on the logo link upper right.
Typos
In all blog posts and Bulletins, feel free to e-mail or to leave a comment regarding any typos or errors. Just be right :).