What's Up?
On Friday morning I followed the new crane family around for a bit. The birds quickly made their way to the top of the small rise to the right of the parking circle by the pier. Ideal! I worked a bit with the tripod-mounted 600 f/4 and the a9 ii. And when the sun broke through, I added the 1.4X TC. Then I grabbed the 100-400 with the a7r IV from my SUV and went to work. I stayed in on Friday afternoon as it clouded over.
On Saturday morning it was raining at 7:00am. It stopped and I headed down to the lake at 8am. I found the family on the same hill. It started drizzling pretty hard but I kept working with the 600 f/4 and the a7r iv. When the sun came out I decided to give the handheld 200-600 with an a9 ii a chance and was glad that I did. When the chicks began to rest I grabbed the 600 f/4 a7r IV and added the 2X. What fun. It clouded over and the whole family walked out into the marsh, under the pier, and headed back to the nest for a serious rest.
I pulled my car out of the garage at 7:30pm to head down to what looked like a promising sunset only to ear a thump-thump-thump. The AAA was here by 9:30 and he fixed the flat in short order. I was in bed by ten, late for me but very happy. I'd hate to miss a morning session with the crane babies.
Be sure to let us know which of today's two featured images you like best. And why.
BIRDS AS ART
BIRDS AS ART is registered in the U.S. Patent and Trademark Office.
Paul McCartney Carpool Karaoke from The Late Late Show with James Corden
I had not known much at all about James Corden until I saw him as a guest on Sports Center with Scott Van Pelt ("It's midnight eastern and I am not tired yet.") SVP asked him about his carpool karaoke skits and mentioned several including the one with Paul McCartney. I always liked the Beatles but I loved the Four Tops and the Four Seasons. And I was never a huge Paul McCartney. But curious, I did an online search and found the YouTube video above. The video is amazingly done. It is clever and sincere. The music, of course, is plentiful, wonderful, and iconic. And James Corden's enthusiasm adds a ton. Driving around Liverpool, the duo visited Penny Lane, the house that McCartney grew up in and wrote and played music with John Lennon, and did a sort of flash mob bit in a pub where the Beatles had performed as then-unknown teens. The best part might be where McCartney. — in the sixties — tells of a dream he had of his late-Mom. Reassuring him she said, "It's gonna be OK. Let it be."
Paul McCartney might bee the nicest person on the planet — hugs and handshakes for strangers, connecting with folks instantly like Arnold Palmer did — and I am now a huge fan. Diehard McCartney fans will enjoy the David Frost interview ("Still Prancing") here. I learrned also that James Corden is a pretty cool guy as well.
If you can watch the video without smiling so much that you begin to cry, let me know.
George Carlin Fear of Germs (X-Rated!)
If you do not know George Carlin and are offended by foul language, be advised not to click play on this one. If you want a bunch of good laughs go for it. If you see any connection with what George says and what is going on today, don't blame me.
Healthy, Low-Carb, Delicious Salmon Croquette Recipe
This recipe is fast and simple. It serves one. Sautee 1/4 diced onion and two diced Brussells sprouts in extra virgin olive oil in a frying pan. Do not blacken the edges. Shred 3-4 ounces of canned, cooked, or smoked salmon in a mixing bowl, crack in one cage-free range-fed egg, add one ounce of nutritional yeast, and season with ground black pepper and sea salt. Mix in the sauteed veggies. Form into a single patty with a spatula and cook it in the frying pan until golden-brown on each side. Serve with mayo or tartar sauce. Enjoy.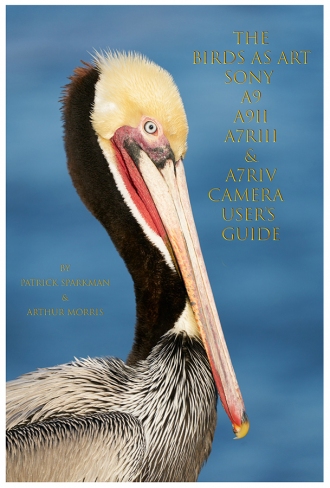 Click on the image to enjoy a larger version.
The SONY e-Guide by Patrick Sparkman and Arthur Morris
The Sony Camera e-Guide (PDF) and Videos Info
Yesterday I prepared the final PDF for the Sony Camera e-Guide. It will not be available in the store until early next week but you can order yours right now. The cost of the SONY e-Guide is $100.00 US and will include one of the four (4) camera set-up videos — we offer one video each for the a7r iii, the a7r iv, the a9, and the a9 ii — and the written guide with the galleries. Additional camera videos are $25.00 each The guide is now done.
If you would like to order the e-Guide now, please send a Paypal for $100 US to birdsasart@verizon.net and be sure to include the words "SONY e-Guide" in the Paypal e-mail along with the name of your camera or cameras so that you can receive the correct video or videos. Note: please add $25 for each camera video after the first. And please be sure to type your e-mail address into your Paypal order. Then be sure to send a copy of the Paypal transaction to me via e-mail.
SONY 200-600 Update
Steve Elkins now has four SONY 200-600s in stock; one of them surely has your name on it. Contact Steve as below to save $50.00.
Money Saving Reminder
If you need a hot photo item that is out of stock at B&H, would enjoy free overnight shipping, and would like a $50 discount on your first purchase over $1000.00, click here to order and enter the coupon code BIRDSASART at checkout. If you are looking to strike a deal on Canon or Nikon gear (including the big telephotos) or on a multiple item order, contact Steve Elkins via e-mail or on his cell at (479) 381-2592 (Eastern time) and be sure to mention your BIRDSASART coupon code and use it for your online order. Steve has been great at getting folks the hot items that are out of stock at B&H. Those include the SONY a7r IV, the SONY 200-600, the SONY 600mm f/4 GM, and the Nikon 500mm PF. Steve is eager to please.
Gear Questions and Advice
Too many folks attending BAA IPTs and dozens of photographers whom I see in the field and on BPN, are–out of ignorance–using the wrong gear especially when it comes to tripods and more especially, tripod heads… Please know that I am always glad to answer your gear questions via e-mail. Those questions might deal with systems, camera bodies, accessories, and/or lens choices and decisions.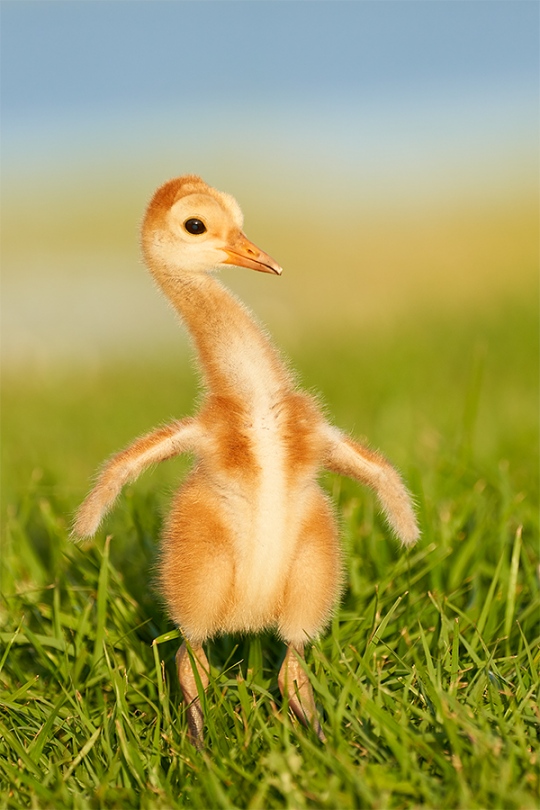 This image was also created on 15 MAY 2020 at Indian Lake Estates. Again, I used the handheld Sony FE 100-400mm f/4.5-5.6 GM OSS lens (at at 361mm) and the 61-mega-pixel monster, the Sony Alpha a7R IV Mirrorless Digital camera body. Exposure determined by Zebras with ISO on the rear dial. ISO 500: 1/640 sec. at f/6.3 in Manual mode. AWB at 7:20am on a clear morning.
Tracking Flexible Spot (M) AF-C was active at the moment of exposure and again performed perfectly.
Image #1: Sandhill Crane chick looking surprised

Your browser does not support iFrame.
Two Too Good
While I was in the field, I knew that both of today's featured images were really, really good. Any time that you can combine a cute subject in sweet light with an interesting behavior you are gonna be pleased with the results as long as they are sharp. At first, I liked one a lot better than the other. Then I switched teams. I will be interested to see which of the two folks here prefer.
Tracking Flexible Spot (M)
Free-to-all SONY e-Guide Update
One of the reasons that it took so long to finish the SONY e-Guide is that we have continued to learn more about SONY every day. We talk extensively about the various SONY AF Area modes and stress that when working with the amazing Tracking Flexible Spot (M), you need lots of practice to develop the confidence to use it to its fullest potential. Over the past few days, I found myself making failing to check the bottom of the frame to make sure that I was leaving enough room below the chick's feet. In some cases, I lost great images because of this error. Now that I have been able to verbalize the problem, I find myself checking the bottom of the frame every single time without having to think about it as I design the images in the field. It is becoming second nature.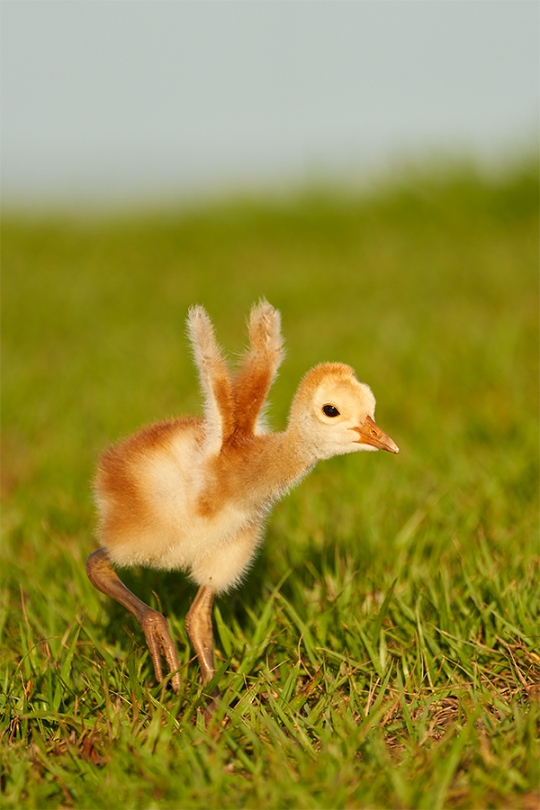 This image was created on 15 MAY 2020 at Indian Lake Estates. I used the handheld Sony FE 100-400mm f/4.5-5.6 GM OSS lens (at at 400mm) and the 61-mega-pixel monster, the Sony Alpha a7R IV Mirrorless Digital camera body. Exposure determined by Zebras with ISO on the rear dial. ISO 500: 1/800 sec. at f/6.3 in Manual mode. AWB at 7:24am on a clear morning.
Tracking Flexible Spot (M) AF-C was active at the moment of exposure and performed perfectly.
Image #2: Sandhill Crane chick stretching wing stubs

Your browser does not support iFrame.
a7r iv Crop-ability
With sharp, 61-million pixel image files you can execute fairly large crops and still wind up with exquisitely detailed master files. Each of today's images was cropped substantially. With Image #2, 37% of the original pixels were cropped away. The flattened, optimized TIF file is 103.7 MB. And with Image #1, only 44% of the original pixels remain. The flattened, optimized TIF file for this one weighs in at 73.6 MB. That said, I am 100% positive that either would print beautifully well beyond 20 x 30 inches.
If In Doubt …
If you are in doubt about using the BAA B&H affiliate link correctly, you can always start your search by clicking here. Please note that the tracking is invisible. Web orders only. Please, however, remember to shoot me your receipt via e-mail.
Please Remember to use my Affiliate Links and to Visit the BAA Online Store 🙂
To show your appreciation for my continuing efforts here, we ask, as always, that you get in the habit of using my B&H affiliate links on the right side of the blog or Bedfords, for all of your photo and electronics purchases. Please check the availability of all photographic accessories in the New BIRDS AS ART Online Store, especially the Mongoose M3.6 tripod head, Wimberley lens plates, Delkin flash cards and accessories, and LensCoat stuff.
As always, we sell only what I have used, have tested, and can depend on. We will not sell you junk. We know what you need to make creating great images easy and fun. And please remember that I am always glad to answer your gear questions via e-mail.
I would, of course, appreciate your using our B&H affiliate links or Bedfords for all of your major gear, video, and electronic purchases. For the photographic stuff mentioned in the paragraph above, and for everything else in the new store, we, meaning BAA, would of course greatly appreciate your business. Here is a huge thank you to the many who have been using our links on a regular basis and those who regularly visit the New BIRDS AS ART Online Store as well.
Facebook
Be sure to like and follow BAA on Facebook by clicking on the logo link upper right.
Typos
In all blog posts and Bulletins, feel free to e-mail or to leave a comment regarding any typos or errors. Just be right :).