What's Up?
On Saturday morning I photographed the two-week-old crane chicks for a bit in the early morning light. I had a few good chances on a pair of caracaras, but struck out. Then I did some Black Vulture heads against green (grass) and gray (mud) backgrounds. It clouded over and the wind dropped to nothing so I went looking for wildflowers. I found one nice Florida Sensitive Brier blossom. I worked hard but wound up making one simple mistake that ruined all of the images. The funny thing is that there is a parallel when photographing groups of birds. In any case, I simply blew my chance.
Sunday morning dawned still and cloudy-dark. I visited the crane family but never even got my gear together. Instead, I went looking for wildflowers on Lakeview, a side street two blocks from my home. Most easy breezes are blocked on the sidestreets as they are wooded on each side. I found seven nice wildflower species to photograph. I find that finding new and different flowers is tremendously exciting A photographing them well is tremendously challenging. Again, I found some very nice Florida Sensitive Brier blossoms. This time I was able to correct the previous errors I had made when photographing these beautiful, pink, ball-shaped flowers. Image and mistake revelation here soon.
I spent an hour on the phone with Patrick Sparkman on Saturday discussing the fine points of checking your exposures with RawDigger. Man oh man, my eyes were opened and I learned a ton … Can you say RawDigger e-Guide?
It is raining here at ILE early this morning — Monday 25 MAY 2020. And the forecast is for rain all day followed by thunderstorms this afternoon … Nonetheless, I will likely get out to do some photography at some point. I've recently upped my swim to 60 lengths (88 to the mile) and will try to get in the pool earlier than usual to avoid getting fried. I've missed only two swims during the last two months.
DeSoto
I am heading over to Fort DeSoto on Tuesday afternoon and will be returning home after a morning session on Saturday 30 MAY. I am hoping to find some Red Knots in full breeding plumage, and some nice Royal and Sandwich Terns doing the nasty. And I am excited about finding some nice beach wildflowers that I have never noticed before … If you are interested in some inexpensive In-the-Field Instruction (with social distancing), please get in touch with me ASAP via e-mail.
Free Sandhill Crane Chick Grass Blade Removal Video Offer
Those who purchase the BIRDS AS ART Current Workflow e-Guide (Digital Basics II) this holiday weekend will automatically receive a free copy of the Sandhill Crane Chick Grass Blade Removal Video. Learn more about that here.
BIRDS AS ART
BIRDS AS ART is registered in the U.S. Patent and Trademark Office.

SONY 200-600 Update
Steve Elkins now has four SONY 200-600s in stock; one of them surely has your name on it. Contact Steve as below to save $50.00.
Money Saving Reminder
If you need a hot photo item that is out of stock at B&H, would enjoy free overnight shipping, and would like a $50 discount on your first purchase over $1000.00, click here to order and enter the coupon code BIRDSASART at checkout. If you are looking to strike a deal on Canon or Nikon gear (including the big telephotos) or on a multiple item order, contact Steve Elkins via e-mail or on his cell at (479) 381-2592 (Eastern time) and be sure to mention your BIRDSASART coupon code and use it for your online order. Steve has been great at getting folks the hot items that are out of stock at B&H. Those include the SONY a7r IV, the SONY 200-600, the SONY 600mm f/4 GM, and the Nikon 500mm PF. Steve is eager to please.
Gear Questions and Advice
Too many folks attending BAA IPTs and dozens of photographers whom I see in the field and on BPN, are–out of ignorance–using the wrong gear especially when it comes to tripods and more especially, tripod heads… Please know that I am always glad to answer your gear questions via e-mail. Those questions might deal with systems, camera bodies, accessories, and/or lens choices and decisions.
Beach False Foxglove Set-up
I surely drove right past these beautiful flowers many dozens of times over the past 18 years without noticing them. I finally noticed them a few days ago right on the edge of the marsh in Old Gnarly's neck of the woods. As it was a fairly still morning, I picked a single blossom and used a Plamp attached to a spare tripod to secure it and positioned it so that I could enjoy a distant green background. In this exact situation, I had no qualms about picking one blossom as with the lake level so low, I knew that the guys who cut the fields would be mowing the edge of the wetlands as always.
I was quite lucky to create one sharp image of this flower at 1/13 sec. as there was a breeze. And as I have worked with my new macro set-up, I have come to realize that I will need to keep the flowers completely still. I will be sharing many more Plamp Tips with you here in future blog posts.
My Macro Plan …
A month ago, I knew that I was getting interested in photographing wildflowers. The SONY 100-400 with or without the 1.4X TC is fine for larger flowers and I still use it often for the bigger blossoms. But I needed a lens for small flowers. The longest SONY macro lens is 100mm (at 1:1). Laowa makes a 100mm macro for SONY that gets down to 2:1. But I like the longer focal lengths — 180 and 200mm — with macro as they provide narrow angles a view. At some point, I mentioned to Mr.Sparkman that I still had the Sigma APO Macro 150mm f/2.8 EX DG OS HSM lens for Nikon F. He suggested that I get the Vello Select Nikon F Lens to Sony E-Mount Camera Auto Lens Adapter (Firmware Ver. 6) and see if that would work.
So I started trying to create some images with that set-up. As the adapter acts in part as an extension tube, the effective aperture varies with the focusing distance and that is noted by the camera. With distant subjects, the wide-open aperture is f/3.5. As you focus on closer subjects, that changes to f/4, f/4.5, f/5.0, and f/5.6 (at or close to 1:1). When you are working wide open the electronics are fine and Zebras are accurate. After that, things start to get very strange. Let's say for example that you are wide open at 1/200 sec. at f/5.0 and you stop down three clicks to f/7.1. You would expect that slowing the shutter speed three clicks to 1/100 sec. would yield a perfect exposure. Not. The image will be two stops too dark … Then you need to raise the ISO
At first, I was pretty much ready to quit. But with practice and experimentation, I am beginning to learn to make some decent images as long as there is little or no wind or I can somehow keep the flower completely still. I have been in touch with the folks at GradusGroup and they are getting in touch with the developers. In all fairness, the Sigma 150 for Nikon is not on the compatible list. In general I do not recommend using adapters with Nikon or Canon lenses as AF suffers badly. But I've made an exception for macro as everything is manual focus.
Free-to-all SONY e-Guide Update: Focus Magnification. Time
Here is a free update for those using Manual Focus Toggle and Focus Magnifier (as detailed in the SONY Camera User's e-Guide). I had been confused when the Focus Magnifier turned off while I was focusing. I thought that it might be happening because I touched the focusing ring. Then I had a thought: could there be a timer when using Focus Magnifier? Bingo. On the 7r iv, on Focus Assist Menu (14/15), the second item is Focus Magnif. Time. After I set that to No Limit, Focus Magnifier stays on until you re-press the center button, With everything now down pat, I am able to focus with extreme accuracy. Every time. Now I am a macro machine!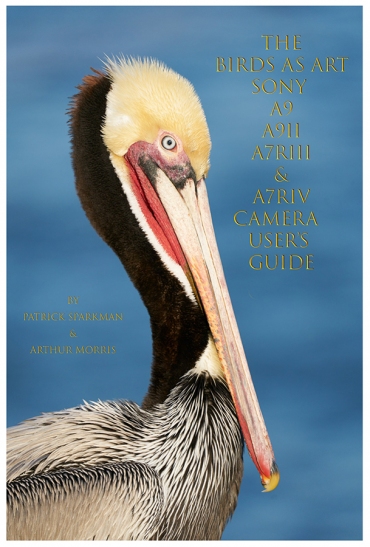 70 sold with rave reviews.
The SONY e-Guide by Patrick Sparkman and Arthur Morris
The Sony Camera User's e-Guide (and Videos)
Click here to learn more about the SONY e-Guide.
Click here to purchase the guide with one Camera Set-up Video. Be sure to e-mail us by clicking here to specify your camera body so that we can send you a link for the correct video.
Click here to purchase the guide with two Camera Set-up Videos. Be sure to e-mail us by clicking here to specify your two camera bodies so that we can send you links for the correct videos.
The Art of Flower Photography by Denise Ippolito and Arthur Morris
You can learn everything e about this e-book here, or order your copy here.
Video: The Art of Flower Photography
In this B&H Event Space video, two of the world's premier photographers of flora and fauna — Arthur Morris and Denise Ippolito — share the techniques they use to create dramatic, sharp, well-composed, properly exposed images of flowers and flower fields. Denise does great things with the Canon 100mm f/2.8 L IS lens, while artie often goes to longer focal lengths—he has been seen photographing tulips at Keukenhoff Gardens, Holland, with a 600mm lens and a teleconverter. In addition to standard techniques, the video ends with Ippolito and Morris showing a wide range of abstract floral images and describing a variety of creative artistic effects such as multiple exposures, sharp/soft blending, texture overlays, warping a flower, creating zoom/twirls, in-camera blurs, and many others.
Click here to see the video.
If In Doubt …
If you are in doubt about using the BAA B&H affiliate link correctly, you can always start your search by clicking here. Please note that the tracking is invisible. Web orders only. Please, however, remember to shoot me your receipt via e-mail.
Please Remember to use my Affiliate Links and to Visit the BAA Online Store 🙂
To show your appreciation for my continuing efforts here, we ask, as always, that you get in the habit of using my B&H affiliate links on the right side of the blog or Bedfords, for all of your photo and electronics purchases. Please check the availability of all photographic accessories in the New BIRDS AS ART Online Store, especially the Mongoose M3.6 tripod head, Wimberley lens plates, Delkin flash cards and accessories, and LensCoat stuff.
As always, we sell only what I have used, have tested, and can depend on. We will not sell you junk. We know what you need to make creating great images easy and fun. And please remember that I am always glad to answer your gear questions via e-mail.
I would, of course, appreciate your using our B&H affiliate links or Bedfords for all of your major gear, video, and electronic purchases. For the photographic stuff mentioned in the paragraph above, and for everything else in the new store, we, meaning BAA, would of course greatly appreciate your business. Here is a huge thank you to the many who have been using our links on a regular basis and those who regularly visit the New BIRDS AS ART Online Store as well.
Facebook
Be sure to like and follow BAA on Facebook by clicking on the logo link upper right.
Typos
In all blog posts and Bulletins, feel free to e-mail or to leave a comment regarding any typos or errors. Just be right :).