What's Up?
At ILE on Tuesday morning, I did some nice stuff on adult cranes on the South Peninsula while the sun was out early (and briefly). I got back home very early, did my cardio-bursts, swam my 60 lengths, packed the Sequoia, and drove the two hours fifteen minutes to my Gulfport AirBNB. It was a bit strange being on the road again. I left my place a bit after 5pm. Despite having left the windows open a good six inches, the temperature in the car read 110 degrees F. Yikes. It was cool at the beach with a south wind.
The forecast for the morning of Wednesday, 27 MAY 2020, was not good for flight photography: sun turning to partly cloudy with gentle southwest winds. NG! The birds will be flying, landing, taking off, and facing directly away from the sun … Nonetheless, I headed to the park at 6:20am.
DeSoto
If you would like a guided tour of the Least Tern colony and are interested in some inexpensive In-the-Field Instruction (with social distancing), please get in touch with me ASAP via e-mail. The weather forecast for Thursday morning is perfect …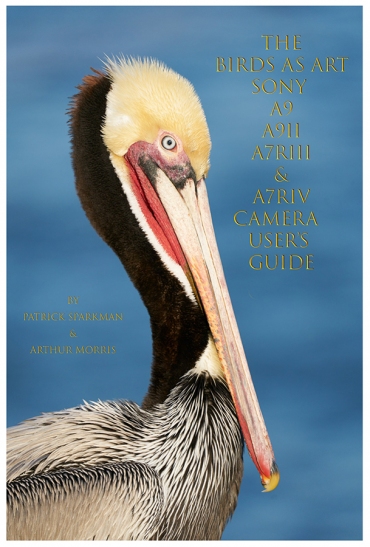 76 sold to rave reviews.
The SONY e-Guide by Patrick Sparkman and Arthur Morris
The Sony Camera User's e-Guide (and Videos)
Click here to learn more about the SONY e-Guide.
Click here to purchase the guide with one Camera Set-up Video. Be sure to e-mail us by clicking here to specify your camera body so that we can send you a link for the correct video.
Click here to purchase the guide with two Camera Set-up Videos. Be sure to e-mail us by clicking here to specify your two camera bodies so that we can send you links for the correct videos.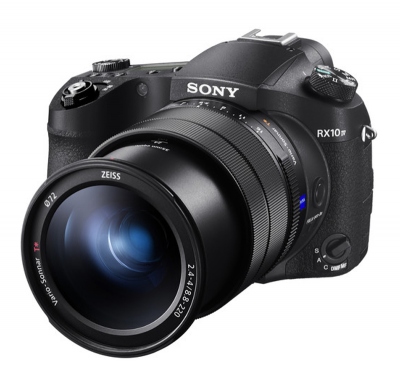 Sony Cyber-shot DSC-RX10 IV Digital Camera
Sony Cyber-shot DSC-RX10 IV Digital Camera
BAA Record-low price
Patrick Hogue is offering a Sony Cyber-shot DSC-RX10 IV Digital Camera in near-mint condition for a BAA record-low $998.00. The sale includes the original box and everything that came in it, the dual battery charger upgrade, a UV filter, the front lens cap, and insured ground shipping via major courier to lower-48 US addresses only. Your item will not ship until your check clears unless other arrangements are made.
Please contact Patrick via e-mail or by phone at 1-760-898-6770 (Pacific time zone).
This is a versatile, do-everything, travel, sports, and wildlife camera with a built-in 24-600mm lens. The AF system, borrowed from a9 series bodies, is a huge improvement from the AF system in the previous version, the Cyber-shot DSC-RX10 III Digital Camera. AF with the IV tracks perfectly at 24 frames per second (silent shooting!) The 4.5 stop stabilization is amazingly effective at the long end of the focal length range. The video capabilities of this camera are equally amazing. It sells new for $1,598 so you can save $600.00 by grabbing Patrick's camera. Click here to learn more about this amazing camera and be sure to scroll down and watch the video. artie
A good friend started posting incredible photos of beautiful scenes and awesome closeups, and we had to inquire about what camera he was using. And it was the RX10 IV! From the moment we opened the box we knew that we made a great purchase! It is easy to use and not to have to change lenses to get the shot that we want. We look forward to continuing to learning how to use more of its amazing features! Online Review by Paul
BIRDS AS ART
BIRDS AS ART is registered in the U.S. Patent and Trademark Office.

SONY 200-600 Update
Steve Elkins now has four SONY 200-600s in stock; one of them surely has your name on it. Contact Steve as immediately below to save $50.00.
Money Saving Reminder
If you need a hot photo item that is out of stock at B&H, would enjoy free overnight shipping, and would like a $50 discount on your first purchase over $1000.00, click here to order and enter the coupon code BIRDSASART at checkout. If you are looking to strike a deal on Canon or Nikon gear (including the big telephotos) or on a multiple item order, contact Steve Elkins via e-mail or on his cell at (479) 381-2592 (Eastern time) and be sure to mention your BIRDSASART coupon code and use it for your online order. Steve has been great at getting folks the hot items that are out of stock at B&H. Those include the SONY a7r IV, the SONY 200-600, the SONY 600mm f/4 GM, and the Nikon 500mm PF. Steve is eager to please.
Gear Questions and Advice
Too many folks attending BAA IPTs and dozens of photographers whom I see in the field and on BPN, are–out of ignorance–using the wrong gear especially when it comes to tripods and more especially, tripod heads… Please know that I am always glad to answer your gear questions via e-mail. Those questions might deal with systems, camera bodies, accessories, and/or lens choices and decisions.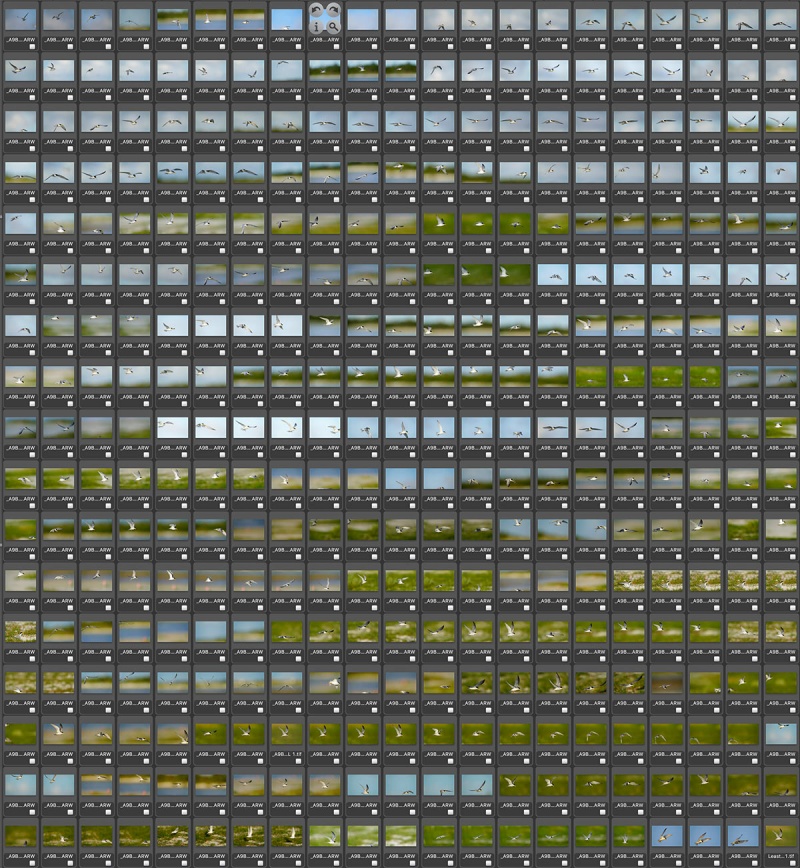 357 RAW files plus one optmized image
357 RAW files + plus one optimized image …
There were few birds at DeSoto. And lots of people on the sandbar. I did not find any Red Knot — I had figured that most would be gone by very late May. I did find some Royal Terns doing the nasty but was too lazy to sit in the muck. Then I came upon a treasure: a large, roped-off Least Tern colony. With the wind from the south and the sun going down in the west conditions were good but not perfect. I was having trouble acquiring and holding focus on the small, erratically-flying speedsters. Out of desperation, I tried something new; it worked like a charm. But Least Terns in flight are such challenging subjects that I managed only 35 keepers out of 357 tries. But those included eight green-tagged family jewels.
Even though the thumbnails are tiny, you can see how many wings I clipped. Not to mention images with no bird at all in the frame. It was a tough situation, but my new technique helped me create a few very good ones. Do understand that all of the clipped wings and total whiffs a result of operator error …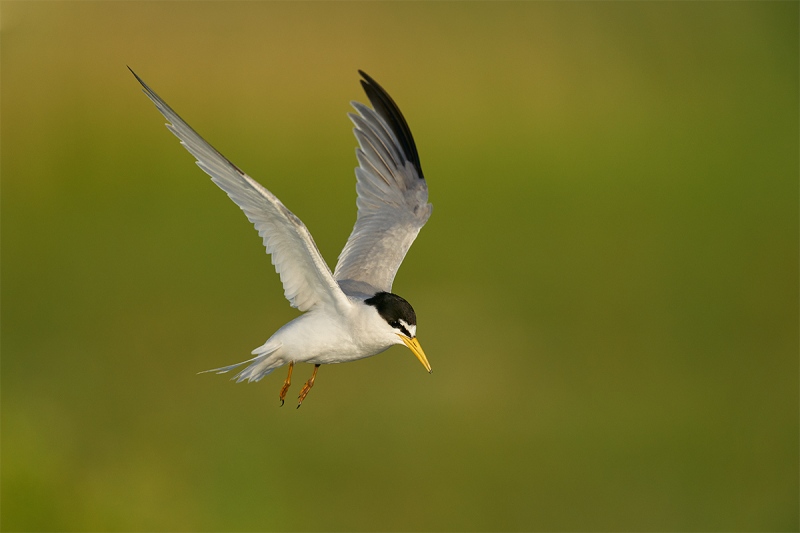 This image was created on 26 MAY 2020 at Fort DeSoto. I used the Induro GIT 304L/FlexShooter Pro-mounted Sony FE 600mm f/4 GM OSS lens, Sony FE 1.4x teleconverter, and the blazingly fast AF King, the Sony Alpha a9 II Mirrorless Digital Camera Body. ISO 640. Exposure determined by Zebras with ISO on the rear dial: 1/2500 sec. at f/5.6 in Manual mode. AWB at 7:26pm with the sun going in and out.
Center Zone AF-C was active at the moment of exposure and performed beyond perfection (even as seen here with backgrounds other than sky).
Click on the image to enjoy a larger version.
Image Least Tern returning to nest

Your browser does not support iFrame.
My Favorite?
Above is one of the eight green-tagged family jewels images. I had a hard time picking the best one … I added just a bit of canvas above.
My New Least Tern AF-Trick!
My new trick will likely work well only in very limited situations: when photographing small, fast-flying birds in flight at close range. It will likely work well only with the 600mm f/4 lenses. It killed with the SONY 600 GM at 840mm and at 600mm. I am not sure how much it would improve things with either the Canon or the Nikon 600s, but it will likely work …
If you already own the SONY e-Guide that I did with Patrick Sparkman, click here and I will send the tip along via e-mail.
If you own a 600 f/4 — SONY or otherwise — and would like to learn what I did, please send a Paypal for $10.00 to e-mail and then send a copy of the transaction to me here. Please include the words Least Tern AF Trick in your Paypal.
If you would like to learn the exact location of the DeSoto Least Tern colony, please send a Paypal for $8.00 to e-mail and then send a copy of the transaction to me here. Please include the words Least Tern Colony Info in your Paypal. Note: At times, Least Tern colonies suffer catastrophic failure.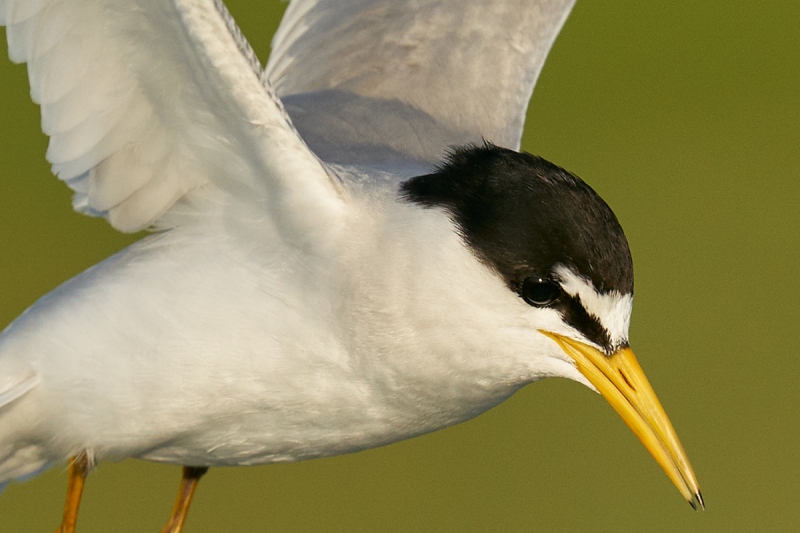 An unsharpened 100% crop of today's featured image
a9 ii AF at 840mm
What can I say about SONY AF? The keepers (and nearly all of those that I deleted), were razor-sharp on the eye. I would call this frame astoundingly sharp.
If In Doubt …
If you are in doubt about using the BAA B&H affiliate link correctly, you can always start your search by clicking here. Please note that the tracking is invisible. Web orders only. Please, however, remember to shoot me your receipt via e-mail.
Please Remember to use my Affiliate Links and to Visit the BAA Online Store 🙂
To show your appreciation for my continuing efforts here, we ask, as always, that you get in the habit of using my B&H affiliate links on the right side of the blog or Bedfords, for all of your photo and electronics purchases. Please check the availability of all photographic accessories in the New BIRDS AS ART Online Store, especially the Mongoose M3.6 tripod head, Wimberley lens plates, Delkin flash cards and accessories, and LensCoat stuff.
As always, we sell only what I have used, have tested, and can depend on. We will not sell you junk. We know what you need to make creating great images easy and fun. And please remember that I am always glad to answer your gear questions via e-mail.
I would, of course, appreciate your using our B&H affiliate links or Bedfords for all of your major gear, video, and electronic purchases. For the photographic stuff mentioned in the paragraph above, and for everything else in the new store, we, meaning BAA, would of course greatly appreciate your business. Here is a huge thank you to the many who have been using our links on a regular basis and those who regularly visit the New BIRDS AS ART Online Store as well.
Facebook
Be sure to like and follow BAA on Facebook by clicking on the logo link upper right.
Typos
In all blog posts and Bulletins, feel free to e-mail or to leave a comment regarding any typos or errors. Just be right :).