What's Up?
I spent some time down by the lake on the morning of Sunday, 31 MAY 2020 but photographed only a single dragonfly. Then I found what was for me a new species of wildflower in a drainage ditch on Toronja, as sidestreet not far from my home. The drainage ditch system here at ILE is extensive and many of the ditches are treasure troves of wildflowers. I was able to photograph the single yellow blossom on a tall stalk with both white-sand and green-vegetation backgrounds simply by raising and then lowering my tripod.
My Saturday swim was cut short by a big thunderstorm so I plan on swimming earlier today.
BIRDS AS ART
BIRDS AS ART is registered in the U.S. Patent and Trademark Office.

SONY 200-600 Update
Steve Elkins now has four SONY 200-600s in stock; one of them surely has your name on it. Contact Steve as immediately below to save $50.00.
Money Saving Reminder
If you need a hot photo item that is out of stock at B&H, would enjoy free overnight shipping, and would like a $50 discount on your first purchase over $1000.00, click here to order and enter the coupon code BIRDSASART at checkout. If you are looking to strike a deal on Canon or Nikon gear (including the big telephotos) or on a multiple item order, contact Steve Elkins via e-mail or on his cell at (479) 381-2592 (Eastern time) and be sure to mention your BIRDSASART coupon code and use it for your online order. Steve has been great at getting folks the hot items that are out of stock at B&H. Those include the SONY a7r IV, the SONY 200-600, the SONY 600mm f/4 GM, and the Nikon 500mm PF. Steve is eager to please.
Gear Questions and Advice
Too many folks attending BAA IPTs and dozens of photographers whom I see in the field and on BPN, are–out of ignorance–using the wrong gear especially when it comes to tripods and more especially, tripod heads… Please know that I am always glad to answer your gear questions via e-mail. Those questions might deal with systems, camera bodies, accessories, and/or lens choices and decisions.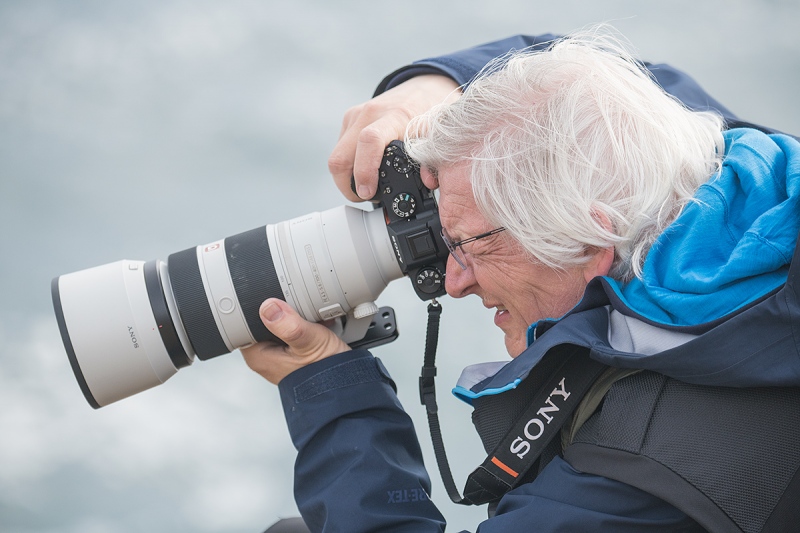 Eugen Dolan with his SONY gear at The Rookery, Saunders Island, The Falklands
Eugen Dolan
Eugen Dolan and his wife Marietta attended the 2018 UK Puffins and Gannets IPT, and Eugen joined me on the 2018-19 Land-based Falklands IPT. On the latter trip, he used SONY gear and I did my best to help him. But I was still using Nikon gear exclusively. As I was baffled by the menu system, I am pretty sure that I was not able to help him much with his a9.
When I met the UK group at the Edinburgh Airport in late June 2018, Anita North just about fainted when she saw Eugen — she had no idea that he was on the trip and had not seen him for 28 years! Eugen had been a Staff Neurosurgeon ar Toronto General, and when Anita was in training as a Resident, she rotated through the hospital.
Via e-Mail from Eugen
Artie, I got your SONY Camera User's Guide & Video last week. Thank You, Thank You, Thank You.
I got as much Sony A9 information as I could prior to the Falklands trip, but it ( was NOWHERE near as helpful as your new e-Guide. I struggled mightily on the that trying to master the Sony a9. I did get the Exposure settings checking the nearly correct by checking the Histogram and juggling the Monitor/Finder Brightness levels. (I did NOT then know about Zebras.)
Once I learned about Zebras, I did work out settings that worked for me. Coincidentally or not, they matched Patrick's suggested value and settings. The advice to put ISO on the Control wheel, however, was absolutely game-changing. The section on "Initial Focus Acquisition Problems with Telephoto Lenses" (pp22-23) would have saved me some heartwrenching moments in the Falklands when the AF system would suddenly not work.
And the section on the "Mysterious Viewfinder Blackout Problem" (pp32-330) alone should be worth the cost of the Guide to ANY Sony user. This problem drove me NUTS in the Falklands. And I had NEVER heard of the issue with the monitor being slightly ajar but I am SURE that some of my problems were due to this – as it would sometimes get got fixed when I played with the Monitor (while wasting time instead of shooting) …
Your e-Guide would have saved me hours of set-up time and saved many hours of frustration during my early days of using Sony – especially with the Monitor Blackout issue.
Thanks again to you and to Patrick Sparkman for your detailed guide.
Eugen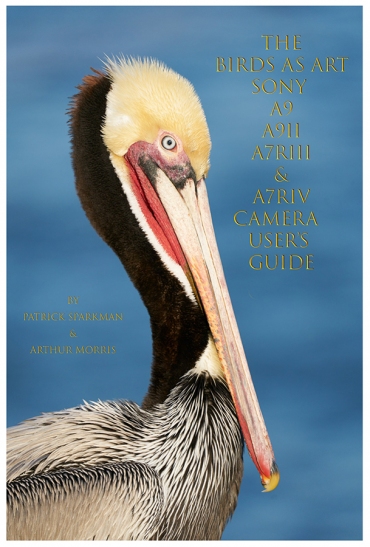 78 sold to rave reviews.
The SONY e-Guide by Patrick Sparkman and Arthur Morris
The Sony Camera User's e-Guide (and Videos)
Click here to learn more about the SONY e-Guide.
Click here to purchase the guide with one Camera Set-up Video. Be sure to e-mail us by clicking here to specify your camera body so that we can send you a link for the correct video.
Click here to purchase the guide with two Camera Set-up Videos. Be sure to e-mail us by clicking here to specify your two camera bodies so that we can send you links for the correct videos.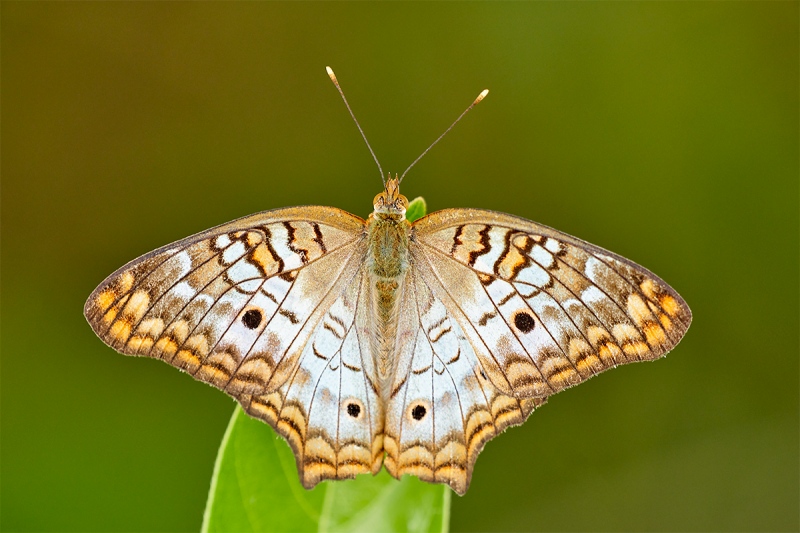 This image was created on the edge of the marsh at Indian Lake Estates, FL. I used the handheld Sony FE 100-400mm f/4.5-5.6 GM OSS lens with the Sony FE 1.4x teleconverter (at at 560mm) and the 61-mega-pixel monster, the Sony Alpha a7R IV Mirrorless digital camera body. ISO 1250. Exposure determined by Zebras with ISO on the rear dial: 1/400 sec. at f/8 in Manual mode. AWB at 8:40am on sunny morning (intentionally in my shadow …).
Flexible Spot (S) AF-C was active at the moment of exposure and did a fine job. Click on the image to enjoy a larger version.
White Peacock

Your browser does not support iFrame.
Subject Blindness
On Saturday morning I was glad to find the crane-baby family well and healthy but as they were in a less than ideal setting, I passed on them and went in search of some wildflowers. It was still early when I spotted a White Peacock butterfly perched perfectly along the edge of the marsh. I go back to the car quickly, grabbed my SONY butterfly rig, the 100-400 lens with the 1.4X TC and the a7r iv, and went to work stalking the small butterfly as it flitted from spot to spot, posing with its wings spread each time it landed. Best of all, it let me get close. And it looked like a perfect specimen. But as it turned out, I had been subject to what I call subject-blindness. You see a seemingly gorgeous subject in a good situation and you fail to note a serious defect. After creating more than two dozen images, I was surprised when checking the photos to note that the bottom of each hindwing was torn.
After scouting around a bit more, I got back in my SUV and was about to pull away when I noted another White Peacock posing in the same general area. I assumed that it was the same butterfly but figured that it would be best to check. It was not — it was very close to a perfect specimen. I created a few frames with the subject lit by the sun but did not like the glare on the leaf. So I moved very slowly to my left, shaded the subject with my own shadow, lowered the shutter speed, and increased the ISO until I noted significant Zebras on the silver portions of the wings. I moved the Flexible Spot (S) AF point up from the center so that by placing the AF point on the spot where the butterfly's head and thorax met, I could create the composition that I wanted. But when I attempted to frame the shot the butterfly was moving erratically in the frame (even though it was just sitting there). That is when I realized that I had been bitten by a gremlin switch …
Overlooking an Important Basic …
We are all familiar with gremlin switches, switches that change position without our ever having touched them … When I was having problems framing the subject, it dawned on me that the optical stabilization switch had been set by a gremlin to off. I moved the switch to the On position; that calmed the image down completely in the frame and allowed me to create a fine image.
If In Doubt …
If you are in doubt about using the BAA B&H affiliate link correctly, you can always start your search by clicking here. Please note that the tracking is invisible. Web orders only. Please, however, remember to shoot me your receipt via e-mail.
Please Remember to use my Affiliate Links and to Visit the BAA Online Store 🙂
To show your appreciation for my continuing efforts here, we ask, as always, that you get in the habit of using my B&H affiliate links on the right side of the blog or Bedfords, for all of your photo and electronics purchases. Please check the availability of all photographic accessories in the New BIRDS AS ART Online Store, especially the Mongoose M3.6 tripod head, Wimberley lens plates, Delkin flash cards and accessories, and LensCoat stuff.
As always, we sell only what I have used, have tested, and can depend on. We will not sell you junk. We know what you need to make creating great images easy and fun. And please remember that I am always glad to answer your gear questions via e-mail.
I would, of course, appreciate your using our B&H affiliate links or Bedfords for all of your major gear, video, and electronic purchases. For the photographic stuff mentioned in the paragraph above, and for everything else in the new store, we, meaning BAA, would of course greatly appreciate your business. Here is a huge thank you to the many who have been using our links on a regular basis and those who regularly visit the New BIRDS AS ART Online Store as well.
Facebook
Be sure to like and follow BAA on Facebook by clicking on the logo link upper right.
Typos
In all blog posts and Bulletins, feel free to e-mail or to leave a comment regarding any typos or errors. Just be right :).