What's Up?
I did not see the crane babies on Sunday morning. On Monday morning, I could not find the family at first … When I saw the adults well out in the lake in shallow water, I was confused. The two little baby cranes were not there. They had been replaced by two small crane colts. It is amazing how much they have grown in just three weeks. Later that morning I photographed the whole family at eye level on the South Peninsula with the 200-600/a9 ii combo. I was standing along the edge of the canal very close to the spot that I worked from when creating today's Black vulture images. The two colts are young, strong, and healthy.
I got back early to do some butterfly gardening. I planted two well-rooted Salt and Pepper cuttings; this time, protected by rabbit guards … Please do not ask me about my first efforts at propagating Salt and Pepper. I will say that the Gulf Frittilaries absolutely love nectaring on the blossoms.
I was pleased to learn that Charlie Curry's a9 sold for the full asking price and that the sale of Sandra Calderbank's Canon 400mm f/2.8L IS II lens became final.
It is 6:40am eastern time on Tuesday, 2 JUNE 2020. This blog post took more than four hours to prepare. It is looking like another hazy, hot, and humid day here in central Florida and I am headed down to the lake in search of birds and wildflowers.
The State of the Country
I need to state clearly here that I am hoping for justice for George Floyd. I fail to understand how the police officers that stood by and watched George Floyd be murdered by a police officer have not been charged with a crime. And I am equally baffled as to how the looters and arsonists in many of our major cities are being permitted to operate with impunity. Black lives surely do matter to me.
SONY e-Guide Discount Program
Purchase a (new) qualifying SONY camera body (a7r iii, a7r iv, a9, a9 ii) from Bedfords or using a BIRDS AS ART B&H affiliate link, and you will receive a $40 discount on the SONY e-guide. Purchase a (new) SONY 200-600mm G lens from Bedfords or using a BIRDS AS ART B&H affiliate link, and you will receive a $25 discount on the SONY e-guide. Purchase a (new) SONY 600mm f/4 GM lens from Bedfords or using a BIRDS AS ART B&H affiliate link, and you will receive a free SONY e-guide with one or two videos.
Please send your Bedford's or B&H receipts to me via e-mail to receive your discount and your ordering instructions. Folks purchasing from Bedfords and using the BIRDSASART code will save $50. Folks sending their B&H receipts may need to wait a few days to have their purchases confirmed. Folks using Bedfords will have their purchases confirmed immediately.
BIRDS AS ART
BIRDS AS ART is registered in the U.S. Patent and Trademark Office.
Via e-Mail from Charlie Curry
Artie, I would like to add my thanks for the incredible SONY e-Guide and the videos for the a9 ii and the a7r iv. Now I can focus accurately and get my exposure correct in many different lighting situations on almost every shot. My efficiency improved tremendously thanks to you and Patrick. Best regards. Charlie Curry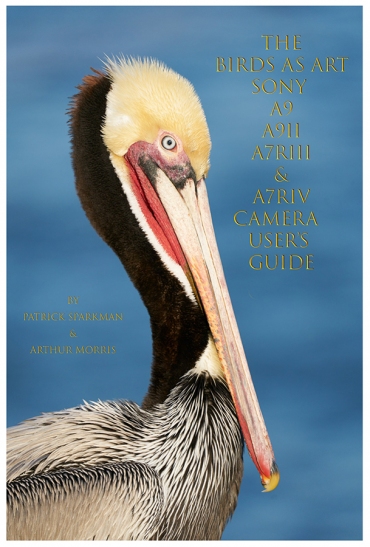 79 sold to rave reviews.
The SONY e-Guide by Patrick Sparkman and Arthur Morris
The Sony Camera User's e-Guide (and Videos)
Click here to purchase the guide with one Camera Set-up Video. Be sure to e-mail us by clicking here to specify your camera body so that we can send you a link for the correct video.
Click here to purchase the guide with two Camera Set-up Videos. Be sure to e-mail us by clicking here to specify your two camera bodies so that we can send you links for the correct videos.
Click here to learn more about the SONY e-Guide
Nikon D500 DSLR
BAA Record-low Price!
Anita North is offering a Nikon D500 DSLR in excellent plus to near-mint condition for a BAA record-low price of $895.95. The sale includes the original box, the front body, cap, the battery charger, the strap, both caps for the lens, and insured ground shipping via major courier to lower-48 US addresses only. Your item will not ship until your check clears unless other arrangements are made.
Please contact artie via e-mail or on his cell at 863-221-2372 before 4pm Eastern time. Please leave a message or text if no answer.
The D500 is Nikon's top-of-the-line crop factor body. It multiplies your focal length by 1.5X. Joe Przybyla and Dan Kearl, both excellent photographers on Bird Photographer's.Net, use the D500 as their workhorse camera bodies. Joe, the co-author of The BAA Middle of Florida Photographic Site Guide, was after this old dog for a long time to try a D500. The D500 sells new right now for $1,496.95; save a cool $601 by grabbing Anita's lens. artie

SONY 200-600 Update
Steve Elkins now has four SONY 200-600s in stock; one of them surely has your name on it. Contact Steve as immediately below to save $50.00.
Money Saving Reminder
If you need a hot photo item that is out of stock at B&H, would enjoy free overnight shipping, and would like a $50 discount on your first purchase over $1000.00, click here to order and enter the coupon code BIRDSASART at checkout. If you are looking to strike a deal on Canon or Nikon gear (including the big telephotos) or on a multiple item order, contact Steve Elkins via e-mail or on his cell at (479) 381-2592 (Eastern time) and be sure to mention your BIRDSASART coupon code and use it for your online order. Steve has been great at getting folks the hot items that are out of stock at B&H. Those include the SONY a7r IV, the SONY 200-600, the SONY 600mm f/4 GM, and the Nikon 500mm PF. Steve is eager to please.
Gear Questions and Advice
Too many folks attending BAA IPTs and dozens of photographers whom I see in the field and on BPN, are–out of ignorance–using the wrong gear especially when it comes to tripods and more especially, tripod heads… Please know that I am always glad to answer your gear questions via e-mail. Those questions might deal with systems, camera bodies, accessories, and/or lens choices and decisions.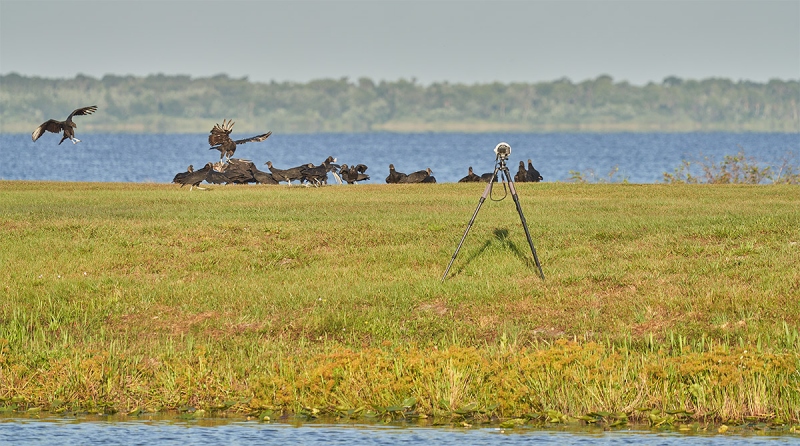 This image was created on 13 MAY 2020 at Indian Lake Estates. Working from my SUV, I used the handheld Sony FE 200-600mm f/5.6-6.3 G OSS lens (at 441mm) and the 61MP monster, the Sony Alpha a7R IV Mirrorless Digital Camera (Body Only) ISO 500. Exposure determined by Zebras with ISO on the rear wheel: 1/1000 sec. at f/6.3 in Manual mode. AWB at 7:44am on a mostly sunny morning.
Tracking Flexible Spot (M) AF-C was active at the moment of exposure and performed superbly.
Image #1: Black Vultures at roadkill/fish head feeding station

Your browser does not support iFrame.
The Down-by-the-Canal Set-up
It did not take me long to figure out that if I photographed from the slope leading down to the canal between the South Peninsula and the South Field that I could be at eye-level with my subjects and be able to control the backgrounds by moving slightly up or slightly down the slope. With my sometimes gimpy left knee, I do that carefully as the terrain is both angled and uneven. But the rewards are great.
To create Image #1, I had to drive around the canal. If you note where my rig is set up, you can see that the tripod is precisely positioned on the slope so that I could come up with the lovely bands of blue in the backgrounds, those thanks to Lake Walk-in-Water. The vultures in the image above were attracted to a road-killed opossum and some thawed-out fish heads courtesy of Mike at Junior's Fish Market on State Road 60 in Lake Wales.
Note also that I put out the bait in a spot where — when I am working on sun angle — there are no buildings on the opposite shore of the lake.
Photographing Vultures (and Sandhill Cranes and more …) at Eye-Level While Standing at Full Height
I just love working on the slope that leads to the canal between the South Peninsula and the South Field as being at just the right height can offer superb backgrounds. The vultures will usually respond to my road-kill/fish head cafe and the cranes spend lots of time foraging on the South Peninsula. And this year two Sandhill Crane families spent a good deal of time foraging on the South Field …
Photoshop Hanky-Panky Quiz
Win a copy of The BIRDS AS ART Current Workflow e-Guide (Digital Basics II) — a $40.00 value. Here's how: consider which of today's three featured images (#2, #3, or #4) underwent extensive changes in Photoshop. Two of the three images are basically as they came out of the camera. In order to win, you need to be the first to state which image was totally re-crafted in Photoshop and in addition, you must state your case: what evidence do you see that conclusively shows the repairs.
I have long believed that when folks know what repairs have been done, it is easy to spot the telltale signs — smudging and clone-stamp marks or repeats. When you do not know in advance, not so much. All are welcome to prove me wrong.
Landing Vultures
With a bit of patience, it is possible to get lots of chances on the landing vultures. In the spring, winds from the north, the northeast, or the east are best in early morning as the sun rises in the northeast. My big problem is my lack of patience. Many times I have put out the bait, set up my tripod, and hung out for fifteen minutes before getting bored and driving off to look for action. When I return in five or ten minutes there are often 20-30 vultures on the pile. Needless to say, the best flight chances are when the first few birds land. Once there are lots of birds, it is very difficult to isolate birds on the ground or incoming birds.
Squabbling Vultures
The vultures squabble often especially at the beginning of the feasts. They often leap into the air and chase each other around in flight. Birds that land away from the others are often eager to get back into the fray as seen in Images #2 and #4.
If In Doubt …
If you are in doubt about using the BAA B&H affiliate link correctly, you can always start your search by clicking here. Please note that the tracking is invisible. Web orders only. Please, however, remember to shoot me your receipt via e-mail.
Please Remember to use my Affiliate Links and to Visit the BAA Online Store 🙂
To show your appreciation for my continuing efforts here, we ask, as always, that you get in the habit of using my B&H affiliate links on the right side of the blog or Bedfords, for all of your photo and electronics purchases. Please check the availability of all photographic accessories in the New BIRDS AS ART Online Store, especially the Mongoose M3.6 tripod head, Wimberley lens plates, Delkin flash cards and accessories, and LensCoat stuff.
As always, we sell only what I have used, have tested, and can depend on. We will not sell you junk. We know what you need to make creating great images easy and fun. And please remember that I am always glad to answer your gear questions via e-mail.
I would, of course, appreciate your using our B&H affiliate links or Bedfords for all of your major gear, video, and electronic purchases. For the photographic stuff mentioned in the paragraph above, and for everything else in the new store, we, meaning BAA, would of course greatly appreciate your business. Here is a huge thank you to the many who have been using our links on a regular basis and those who regularly visit the New BIRDS AS ART Online Store as well.
Facebook
Be sure to like and follow BAA on Facebook by clicking on the logo link upper right.
Typos
In all blog posts and Bulletins, feel free to e-mail or to leave a comment regarding any typos or errors. Just be right :).