What's Up?
I did more birds on Monday morning: a perched Turkey Vulture and more of my favorite-ever crane family; the colts are almost six weeks old now. To raise my personal RawDigger learning curve, I used Auto Bracketing for the first time ever with digital with an avian subject. The RawDigger Flower (and static subject) e-Guide and Video is almost ready to be published. Both guides will be only for serious photographers who wish to learn to reduce noise to the max by exposing to the right to the nth degree …
It is 8:15pm on Monday evening and another huge thunderstorm continues as I type. We had a few days with just some rains but tonight's storm is a big one; it has already been pouring for more than an hour. It knocked out Direct TV. During the days it has been in the 90s. More amazingly, there has been a massive heat-wave in Ontario, Canada with temps in the mid-30s C! In other words, hotter than Florida.
Mixed clouds and sun are forecast for this morning, Tuesday 22 JUNE 2020 so I will be heading out for about the hundredth straight morning; life is tough … With all of this rain, flowers will be the likely targets as the fields down by the lake will be too flooded to drive on.
I was glad to learn on Monday of the sale of my Nikon 70-200mm f/4 VR lens.
Arash Hazeghi SONY/Nikon News and Opinions
My friend, skilled avian flight photographer and top-notch BPN Avian Forum moderator, Arash Hazeghi, sold his two Nikon 600 VR lenses recently. And he sold his previously vaunted Nikon D5. He is now handholding the SONY 600mm f/4 GM and an a9 ii (with both TCs even for flight photography!). You can see his 1200mm skimmer flight shot here on BPN. In that thread I wrote, Most gear in Arash's hands is great for flight photography because of his superior skills and his superior strength, hand-eye coordination, stamina, and determination.
Arash continues to own and use the Nikon 500 PF. See more on that below.
I find it funny that last January — in an e-mail to me — Arash said, (and I quote): Ha Ha! Sony is garbage.. More recently, in various BPN threads, he has acknowledged the total supremacy of SONY a9 ii autofocus.
This from his skimmer post, again from the man who clearly stated that SONY is garbage:
And I do believe the Sony 200-600 is pretty much a pile of junk next to the Nikon 500 PF… heavy, pretty bad bokeh, mediocre sharpness, significant focus breathing, slow to focus, etc., etc.
Elsewhere he continues to proclaim that the Nikon 500 PF is clearly better than the SONY 200-600. The issue there is better for whom? And better in what situations? I will be addressing those issues in detail soon both here on the blog and on BPN.
Lastly, on the subject of 200-600 sharpness, he started the thread here just for me. Be sure to read my response to his comparative sharpness testing.
BIRDS AS ART
BIRDS AS ART is registered in the U.S. Patent and Trademark Office.
SONY e-Guide Discount Program
Purchase a (new) qualifying SONY camera body (a7r iii, a7r iv, a9, a9 ii) from Bedfords or using a BIRDS AS ART B&H affiliate link, and you will receive a $40 discount on the SONY e-guide. Purchase a (new) SONY 200-600mm G lens from Bedfords or using a BIRDS AS ART B&H affiliate link, and you will receive a $25 discount on the SONY e-guide. Purchase a (new) SONY 600mm f/4 GM lens from Bedfords or using a BIRDS AS ART B&H affiliate link, and you will receive a free SONY e-guide with one or two videos.
Please send your Bedford's or B&H receipts to me via e-mail to receive your discount and your ordering instructions. Folks purchasing from Bedfords and using the BIRDSASART code will save $50. Folks sending their B&H receipts may need to wait a few days to have their purchases confirmed. Folks using Bedfords will have their purchases confirmed immediately.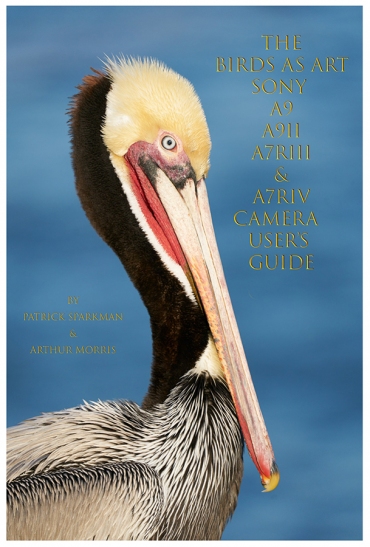 94 sold to rave reviews.
The SONY e-Guide by Patrick Sparkman and Arthur Morris
The Sony Camera User's e-Guide (and Videos)
Click here to purchase the guide with one Camera Set-up Video. Be sure to e-mail us by clicking here to specify your camera body so that we can send you a link for the correct video.
Click here to purchase the guide with two Camera Set-up Videos. Be sure to e-mail us by clicking here to specify your two camera bodies so that we can send you links for the correct videos.
Click here to learn more about the SONY e-Guide.

Money Saving Reminder
If you need a hot photo item that is out of stock at B&H, would enjoy free overnight shipping, and would like a $50 discount on your first purchase over $1000.00, click here to order and enter the coupon code BIRDSASART at checkout. If you are looking to strike a deal on Canon or Nikon gear (including the big telephotos) or on a multiple item order, contact Steve Elkins via e-mail or on his cell at (479) 381-2592 (Eastern time) and be sure to mention your BIRDSASART coupon code and use it for your online order. Steve has been great at getting folks the hot items that are out of stock at B&H. Those include the SONY a7r IV, the SONY 200-600, the SONY 600mm f/4 GM, and the Nikon 500mm PF. Steve is eager to please.
Gear Questions and Advice
Too many folks attending BAA IPTs and dozens of photographers whom I see in the field and on BPN, are–out of ignorance–using the wrong gear especially when it comes to tripods and more especially, tripod heads… Please know that I am always glad to answer your gear questions via e-mail. Those questions might deal with systems, camera bodies, accessories, and/or lens choices and decisions.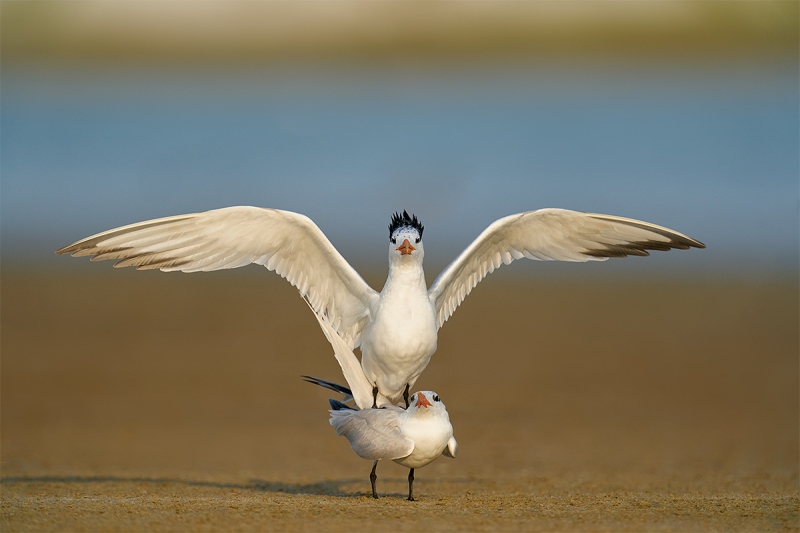 This image was created on 27 MAY 2020 at Fort DeSoto Park, FL I used the Induro GIT 304L/FlexShooter Pro-mounted Sony FE 600mm f/4 GM OSS lens, the Sony FE 2.0x Teleconverter, and the blazingly fast Sony Alpha a9 II Mirrorless Digital camera body) that features incredibly accurate AF. ISO 640. Exposure determined by Zebras with exposure compensation on the rear wheel: 1/1000 sec. at f/8 in Manual mode. AWB at 7:22pm on a clear afterrnoon.
Tracking Flexible Spot (S) AF-C was active at the moment of exposure and held focus perfectly on the male's head.
Click on the image to see a larger, sharper version.
Contentment?: Royal Terns right after copulating

Your browser does not support iFrame.
Contentment?
In the Rapture Optimized blog post here, I posted another frame from earlier in a long sequence. Today's featured image also put a big smile on my face. The male looks so at peace.
SONY at 1200mm
One thing that I can agree with Arash on is that the Nikon TC-E20 III is garbage when paired with the 600mm f/4VR lens. I use the SONY 600 GM with impunity with both the a9 ii and the a7r iv with static subjects, and have no problem at all creating razor-sharp images. The Canon 2X III TC does fine with most camera bodies on static subjects with the 600 II or the 600 III; birds in flight? Not so much. It is quite clear that shooting flight at 1200mm is solely SONY.
Via e-mail from Muhammad Arif
I had a great time at Fort De Soto. Thank you for all the instruction, for your help and pointers; my photography has already improved tremendously and I've never made such good bird photos before. I wish I could've joined you on Monday and Tuesday morning as well but work got in the way. It was also nice to meet everyone on the IPT; sorry that I missed you, Ray. Thanks again for everything and I hope to join you at a future IPT sometime again.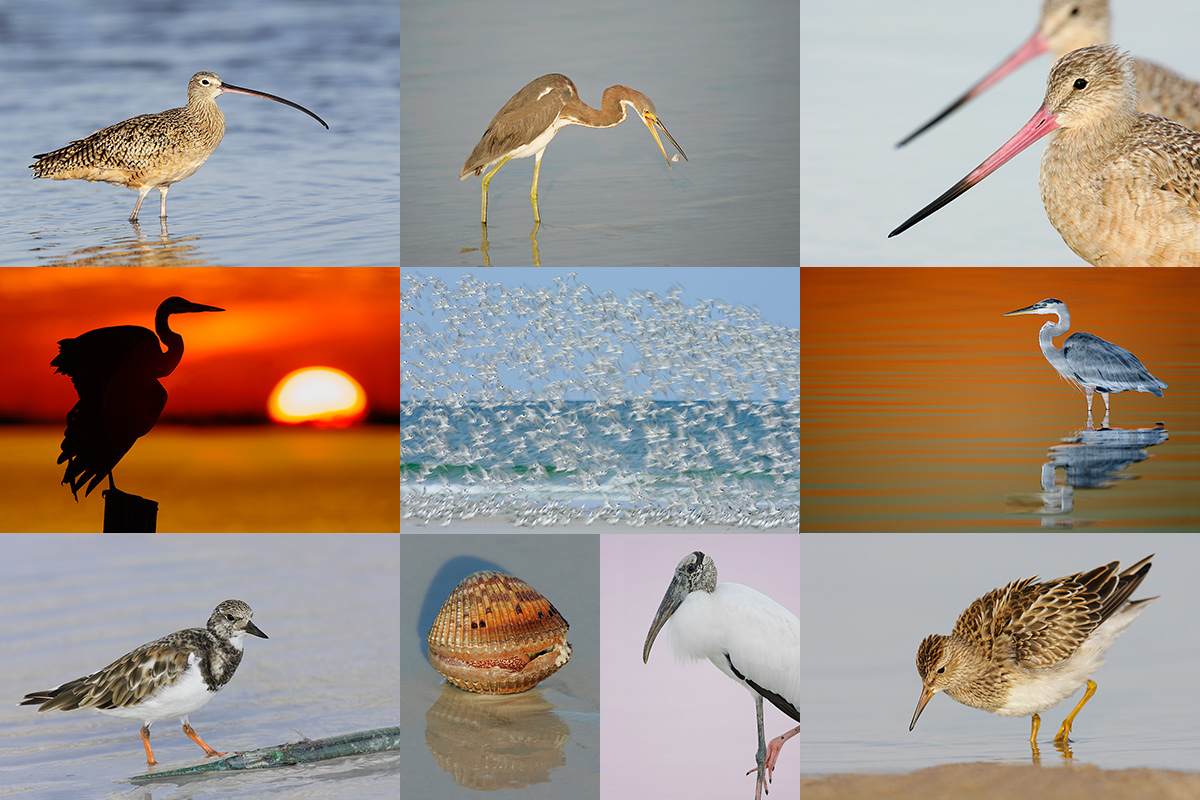 Folks attending the IPT will be in the field early and stay out late to take advantage of the best light. The good news is that the days are relatively short in early fall. Click on the composite to enjoy a larger version.
Fort DeSoto Fall 2020 IPT
OCT 2 thru the morning session October 5, 2020 (3 1/2 DAYS). Three full and one-half day: $1399.00. Deposit: $500.00. Limit: 8 photographers/ Openings: 7.
Fort DeSoto, located just south of St. Petersburg, FL, is a mecca for migrant shorebirds in fall. There they join dozens of egrets, herons, night-herons, gulls, and terns who winter on the T-shaped peninsula that serves as their wintering grounds. With any luck, we should get to photograph one of Florida's most desirable shorebird species: Marbled Godwit. Black-bellied Plover and Willet are easy, American Oystercatcher likely. Great Egret, Snowy Egret, Great Blue Heron, and Tricolored Heron are easy as well and we will almost surely come up with a tame Yellow-crowned Night-Heron or two. We should get to do some Brown Pelican flight photography. And Royal, Sandwich, Forster's, and Caspian Terns will likely provide us with some good flight opportunities as well. Though not guaranteed, Roseate Spoonbill and Wood Stork would not be unexpected.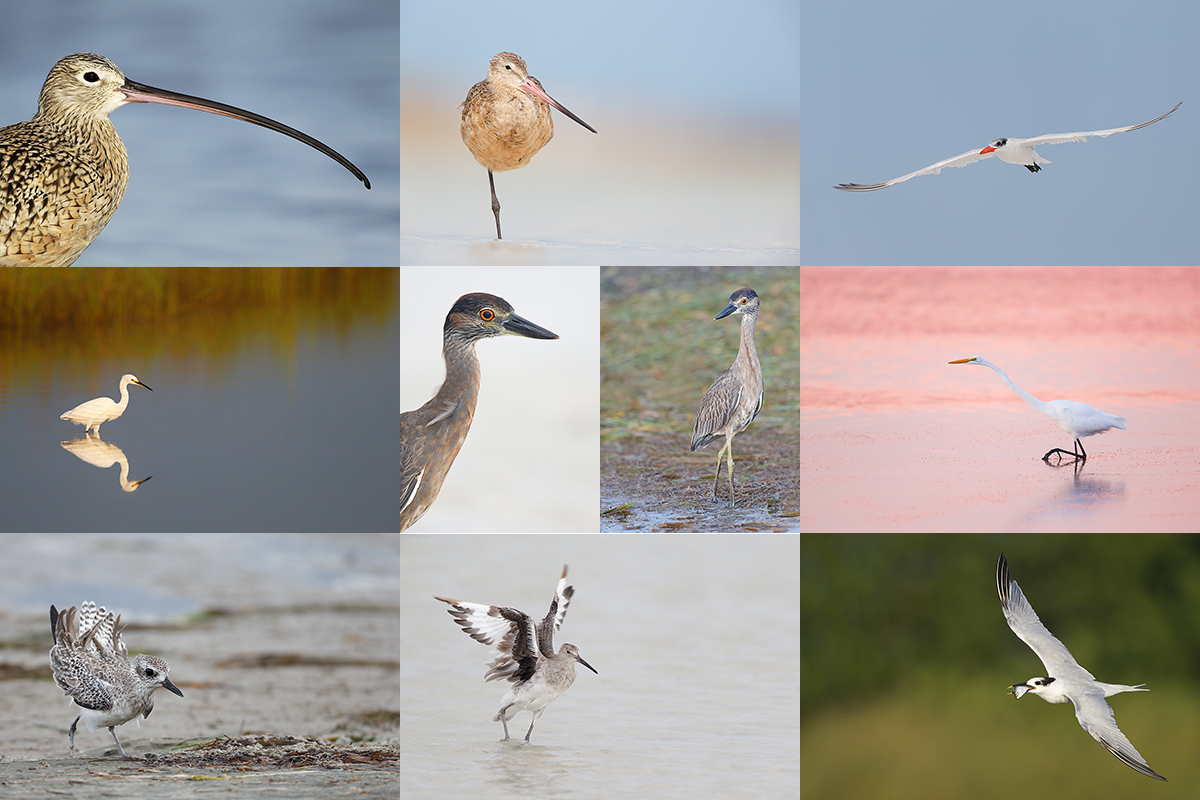 Fort DeSoto in fall is rife with tame birds. All of the images in this card were created at Fort DeSoto in either late September or early October. I hope that you can join me there this fall one way or another. Click on the composite to enjoy a larger version.
On this and all other IPTs you will learn basics and fine points of digital exposure and to get the right exposure every time after making a single test exposure, how to approach free and wild birds without disturbing them, to understand and predict bird behavior, to identify and age many species of shorebirds, to spot the good situations, to choose the best perspective, to see and understand the light, and to design pleasing images by mastering your camera's AF system. And you will learn how and why to work in Manual mode (even if you're scared of it).
At brunch (included) we will review m images–folks learn a ton watching me pick my keepers — why keep this one and delete that one? If you opt to bring your laptop, we can take a look at a few of your images from the morning session. We will process a few of my images in Photoshop after converting them in Capture One. That followed by Instructor Nap Time.
If In Doubt …
If you are in doubt about using the BAA B&H affiliate link correctly, you can always start your search by clicking here. Please note that the tracking is invisible. Web orders only. Please, however, remember to shoot me your receipt via e-mail.
Please Remember to use my Affiliate Links and to Visit the BAA Online Store 🙂
To show your appreciation for my continuing efforts here, we ask, as always, that you get in the habit of using my B&H affiliate links on the right side of the blog or Bedfords, for all of your photo and electronics purchases. Please check the availability of all photographic accessories in the New BIRDS AS ART Online Store, especially the Mongoose M3.6 tripod head, Wimberley lens plates, Delkin flash cards and accessories, and LensCoat stuff.
As always, we sell only what I have used, have tested, and can depend on. We will not sell you junk. We know what you need to make creating great images easy and fun. And please remember that I am always glad to answer your gear questions via e-mail.
I would, of course, appreciate your using our B&H affiliate links or Bedfords for all of your major gear, video, and electronic purchases. For the photographic stuff mentioned in the paragraph above, and for everything else in the new store, we, meaning BAA, would of course greatly appreciate your business. Here is a huge thank you to the many who have been using our links on a regular basis and those who regularly visit the New BIRDS AS ART Online Store as well.
Facebook
Be sure to like and follow BAA on Facebook by clicking on the logo link upper right.
Typos
In all blog posts and Bulletins, feel free to e-mail or to leave a comment regarding any typos or errors. Just be right :).