What's Up?
After a slow (2 keeper) morning on Wednesday past, I went out early today — Thursday 9 JULY 2020 in search of flowers. I purchased a new toy from Patrick Sparkman, the Venus Optics Laowa 100mm f/2.8 2X Ultra Macro APO Lens for Sony E. I had a ton of fun and made some wonderful images. There are lots of great positives along with a few negatives including one major one. Details soon.
BIRDS AS ART
BIRDS AS ART is registered in the U.S. Patent and Trademark Office.
SONY e-Guide Discount Program
Purchase a (new) qualifying SONY camera body (a7r iii, a7r iv, a9, a9 ii) from Bedfords or using a BIRDS AS ART B&H affiliate link, and you will receive a $40 discount on the SONY e-guide. Purchase a (new) SONY 200-600mm G lens from Bedfords or using a BIRDS AS ART B&H affiliate link, and you will receive a $25 discount on the SONY e-guide. Purchase a (new) SONY 600mm f/4 GM lens from Bedfords or using a BIRDS AS ART B&H affiliate link, and you will receive a free SONY e-guide with one or two videos.
Please send your Bedford's or B&H receipts to me via e-mail to receive your discount and your ordering instructions. Folks purchasing from Bedfords and using the BIRDSASART code will save $50. Folks sending their B&H receipts may need to wait a few days to have their purchases confirmed. Folks using Bedfords will have their purchases confirmed immediately.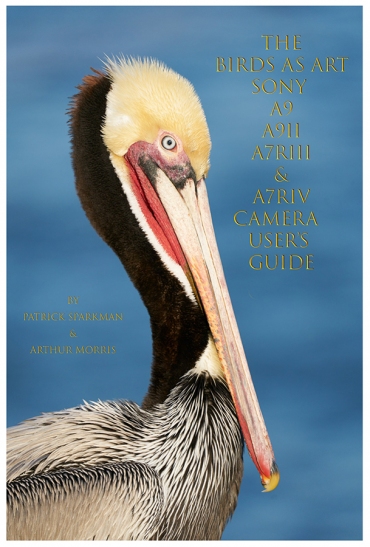 102 sold to rave reviews.
The SONY e-Guide by Patrick Sparkman and Arthur Morris
The Sony Camera User's e-Guide (and Videos)
Click here to purchase the guide with one Camera Set-up Video. Be sure to e-mail us by clicking here to specify your camera body so that we can send you a link for the correct video.
Click here to purchase the guide with two Camera Set-up Videos. Be sure to e-mail us by clicking here to specify your two camera bodies so that we can send you links for the correct videos.
Click here to learn more about the SONY e-Guide.
Price Drop
Canon EOS 5D Mark IV dSLR
Price Reduced $100.00 on 2 JULY 2020
Price Reduced $100.00 on 9 JULY 2020
John Bowden is offering a Canon EOS 5D Mark 4 in near-mint condition for $1499.00 (was $1,699.00) — the shutter count is only 16,172. The sale includes a ProMediaGear universal L-bracket (model PLX3 — an $89.95 value), the original product box, the manuals, the EOS Digital Solution Disk, the EOS Digital Software Instruction Manual, the camera strap, the single battery (with the protective cover), the charger, the front cap, the interface cable, the cable protector, and insured ground shipping via major courier to lower-48 US addresses only. Photos are available upon request.
Your item will not ship until your check clears unless other arrangements are made.
Please contact John Bowden via e-mail or by phone at 1-919-358-5717 (Eastern time zone).
What can I say? The 5D IV was my favorite-ever Canon digital dSLR. I owned and used three of them while my 1DX II sat on the shelf in my garage for the most part. If you have been dreaming of a 5D IV, grab John's camera body right now and save a cool $1,000.00. artie

Money Saving Reminder
If you need a hot photo item that is out of stock at B&H, would enjoy free overnight shipping, and would like a $50 discount on your first purchase over $1000.00, click here to order and enter the coupon code BIRDSASART at checkout. If you are looking to strike a deal on Canon or Nikon gear (including the big telephotos) or on a multiple item order, contact Steve Elkins via e-mail or on his cell at (479) 381-2592 (Eastern time) and be sure to mention your BIRDSASART coupon code and use it for your online order. Steve has been great at getting folks the hot items that are out of stock at B&H. Those include the SONY a7r IV, the SONY 200-600, the SONY 600mm f/4 GM, and the Nikon 500mm PF. Steve is eager to please.
Gear Questions and Advice
Too many folks attending BAA IPTs and dozens of photographers whom I see in the field and on BPN, are–out of ignorance–using the wrong gear especially when it comes to tripods and more especially, tripod heads… Please know that I am always glad to answer your gear questions via e-mail. Those questions might deal with systems, camera bodies, accessories, and/or lens choices and decisions.
At First Glance …
At first glance, after noting the clipped feet, you might think that I screwed up the framing with today's featured image. But I did not. I could not risk moving my vehicle closer as I would have gotten stuck in the mud along the edge of the canal and I knew that I would not include any part of the dock in the final cropped image. Scroll down to see the optimized image.
Note: this bird was resting on the outer portion of the same dock as the Great Egret featured in the Behaviors on the Dock of the Bay blog post here.
The SONY e-guide talks extensively about the choosing between Upper Center ZONE AF-C and Tracking Flexible Spot (M or S) AF-C when photographing birds in vertical format …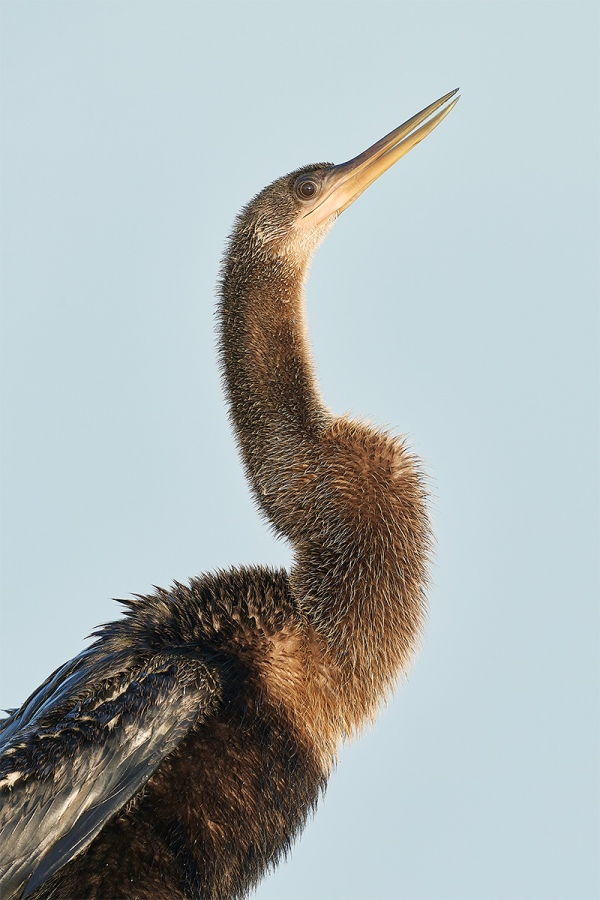 This image was created on Wednesday 8 JULY 2020 at Indian Lake Estates. Working from my SUV, I used the Induro GIT 204/FlexShooter Mini-mounted Sony FE 600mm f/4 GM OSS lens, the Sony FE 2.0x Teleconverter, and the 61-MP Monster, the Sony Alpha a7R IV Mirrorless Digital camera body. ISO: 640. Exposure determined by Zebras with exposure compensation on the rear wheel: 1/250 sec. at f/9 in Manual mode. AWB at 7:23 am on a sunny morning …
Upper Center Zone AF-C performed perfectly and produced a razor-sharp eye.
Image #2: This JPEG represents the cropped, optimized master file for Anhinga young-of-the-year
Your browser does not support iFrame.
Eliminating the Dock!
The flattened. original, 8-bit TIFF file was 172.3 MB. After a proportional crop from all four sides, the flattened, cropped, 8-bit TIFF file wound up at 96.8 MB. So the optimized file is about 56% of the original file with slightly more than 44% of the original pixels cropped away. Even when created at 1200mm, sharp files from the a7r iv allow for relatively large crops that provide oodles of fine feather detail along with still-superb image quality.
Note the perfect head angle of about 1.5 degrees toward us.
If In Doubt …
If you are in doubt about using the BAA B&H affiliate link correctly, you can always start your search by clicking here. Please note that the tracking is invisible. Web orders only. Please, however, remember to shoot me your receipt via e-mail.
Please Remember to use my Affiliate Links and to Visit the BAA Online Store 🙂
To show your appreciation for my continuing efforts here, we ask, as always, that you get in the habit of using my B&H affiliate links on the right side of the blog or Bedfords, for all of your photo and electronics purchases. Please check the availability of all photographic accessories in the New BIRDS AS ART Online Store, especially the Mongoose M3.6 tripod head, Wimberley lens plates, Delkin flash cards and accessories, and LensCoat stuff.
As always, we sell only what I have used, have tested, and can depend on. We will not sell you junk. We know what you need to make creating great images easy and fun. And please remember that I am always glad to answer your gear questions via e-mail.
I would, of course, appreciate your using our B&H affiliate links or Bedfords for all of your major gear, video, and electronic purchases. For the photographic stuff mentioned in the paragraph above, and for everything else in the new store, we, meaning BAA, would of course greatly appreciate your business. Here is a huge thank you to the many who have been using our links on a regular basis and those who regularly visit the New BIRDS AS ART Online Store as well.
Facebook
Be sure to like and follow BAA on Facebook by clicking on the logo link upper right.
Typos
In all blog posts and Bulletins, feel free to e-mail or to leave a comment regarding any typos or errors. Just be right :).
10 comments to Dock Eliminator: the SONY a7r iv!
Good morning Guru (it's 8.23 am here). Hope you're doing fine as ever.

Little concerned as contamination cases in the US is not coming down! Hope you're keeping yourself safe and healthy.

One important thing Guru. After reviewing your valuable posts; it appears that Sony 200-600mm telezoom lens with one of its APS-C bodies produces the best combo for hand-held bird flight photography. The combo is quite affordable as well.

Am I correct?

Best regards.

Thank you Guru.

I need long reach. So, if I switch to the mirrorless system, I'd prefer to get A6600 APS-C body to pair with the Sony 200-600 lens. Needless to state, Sony is the market leader in mirrorless cameras and lenses.

Guru, do you know, day before yesterday Canon announced their super telezoom lens for the mirrorless cameras? It's a 100-500mm lens and goes from f/4.5 to 7.1 at the long end. Furthermore, they priced it 700 dollars higher than Sony 200-600mm. Perhaps their heydays are finally coming to an end!

Regards.

Wow, you got that one! Nice Anhinga!

1/250 sec. at f/9 in Manual mode, FL 1200mm and this sharp? Incredible.

Ahem, the caption under the photo says taken with "blazingly fast Sony Alpha a9 II Mirrorless Digital camera body."

Metadata does show a7Riv.
Arthur Morris/BIRDS AS ART
Powered by WordPress & Atahualpa
Copyright © 2021