Oops
I forgot to mention yesterday that if you register for tonight's webinar knowing that you cannot watch it live, you will receive a viewing link that will be good for one week. That's how will see it as I am an early-to-bed, early-to-rise kind of guy.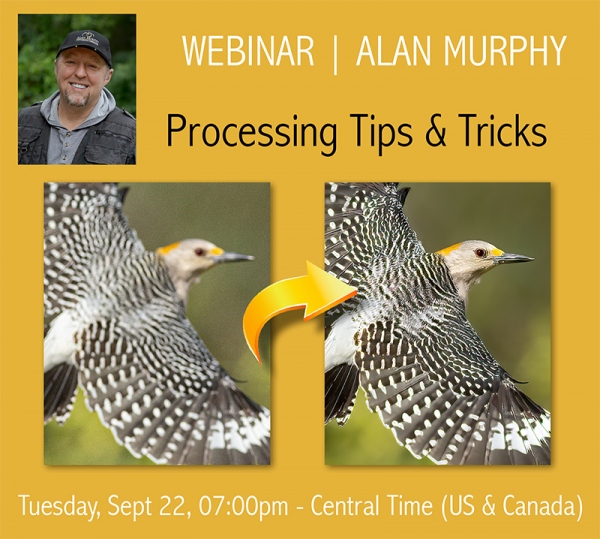 To register, click here.
Alan Murphy's Processing Tips & Tricks Webinar
FOCUSED WILD PHOTO ADVENTURES
Tuesday September 22, 2020. 7:00 PM – 8:30 PM Central Time Zone
FOCUSED WILD PHOTO ADVENTURES welcomes back Alan Murphy to show us how he processes his images. At the conclusion of the talk, he will take questions from the audience. Questions about the webinars can be directed to Amy via e-mail

To register, click here.

Topics to be covered:

Presets and preferences for Adobe Camera Raw.
How to use the adjustment brush in ACR.
When to use Topaz DeNoise in your workflow.
How to create an action for the best mask.
Creating a graduated fill background.
How to using the Liquify tool.
I can't wait for this one! I am always looking to learn something new in Photoshop. In tomorrow's webinar, Alan shares his favorite Photoshop tricks, processing tips, and demonstrates how he uses Topaz software in his workflow. Multiple IPT veteran Larry Master has been raving about the new Topaz AI stuff for many months and more recently, Anita North has been doing the same. I can't wait to hear Alan's take on the Topaz AI stuff. You will be hearing lots on it from me in a week or two.
If you are inspired by Alan's program to purchase a Topaz product or bundle, please use this link.