What's Up?
On Tuesday and Wednesday Anita North and I enjoyed two great early morning sessions with the Mother's Day crane family. Then we drove over to our AirBNB place in Gulfport. We head out with the group early this morning.
Those who missed the Mother's Day Miracle Crane Chick V-log video can scroll all the way down and click on the Play Arrow to view it.
The BAA Used Gear Page
The Used Gear page continues to be red hot! The BAA Used Gear Page is the place to sell your used photographic equipment. We will help you to get your gear sold quickly for 20 to 60% or more than what the big guys are offering … Doubt me? Check out the Recent Sales list for the past year at the bottom of the page.
Canon EOS 5D Mark II Digital SLR Camera Body with Extras!
Stuart Hahn is offering a Canon 5D Mark II in excellent plus condition for $585.00. The LCDs have been protected with screen protectors since day one. The sale includes everything that came with the camera originally, a RRS L bracket, and insured ground shipping via major courier to lower-48 US addresses only. Your item will not ship until your check clears unless other arrangements are made.
Please contact Stu via e-mail or by phone at 1-916-485-1630 (Pacific time zone).
Stu Hahn was the first-ever seller on the Used Gear Page many years ago when he parted with his Canon 500mm f/4L IS lens, the "old five." This 5D II body would be ideal for a budding landscape or Urbex photographer, as well as for some looking for a great body to convert to IR. My 5D II was expertly converted by Kolari Vision. It is also a good body for bird and nature photography; I used mine as a back-up for my old 1D Mark IV bodies. It served me very well in that capacity in the Southern Ocean a while back when I foolishly used my two 1D IVs in a driving rainstorm for two hours with the expected result. That 5D II saved the trip for me. Stu's body is priced to sell. artie
Please Remember
If you enjoy and learn from the blog, please remember to use one of my two affiliate programs when purchasing new gear. Doing so will not cost you a single penny and if you use Bedfords and remember to enter the BIRDSASART code at checkout, you will save at least $50.00 on all orders greater than $1000.00. In these crazy times — I am out at least forty to sixty thousand dollars so far due to COVID 19 (with lots more to come) — remembering to use my B&H link or to shop at Bedfords will help me out a ton and will be greatly appreciated. Overseas folks who cannot order from the US because of import fees, duties, and taxes can always help out by clicking here if they see fit.
BIRDS AS ART is registered in the U.S. Patent and Trademark Office
Great Topaz News!
Folks who use the BAA Topaz link to purchase Sharpen AI, DeNoise AI, or the Utility Bundle (or any other Topaz plugins) will receive a 15% discount by entering the ARTHUR15 code at checkout. To get the discount you must use my link and you must enter the discount code. Be sure to start with this link.
Topaz Stuff
As I said on Sunday and have said often many times before, I should have listened sooner. If you, like me, are new to the Topaz party, please use this link to purchase. Right now I can wholeheartedly recommend both Topaz Sharpen AI and Topaz DeNoise AI. Though I have not yet worked with JPEGtoRAW AI or Gigapixel AI, I have installed both of these plug-ins and look forward to trying them on some I-Phone 11 images fairly soon. If you are thinking like me, consider the Utility Bundle that includes all four plug-ins mentioned above at a money-saving price.
Again, those who purchase Sharpen AI or DeNoise AI using my link, can e-mail to request a short Getting Started with Topaz e-Guide. I had a bit of trouble getting the two plug-ins installed and having them appear in the Photoshop Filter Menu. In addition, I will explain how to best learn about the two plug-ins by applying them on a Layer (in Photoshop). I amazed myself yesterday by completing this guide in the car on the way to and from Sebastian. Huge thanks to Anita for doing the driving. Please include a copy of your Topaz order when requesting the guide.
RawDigger e-Guide and Video Advance Copy Available
Save $10 Now
The RawDigger e-Guide and Video is almost finished. It will sell for $51.00. If you are anxious to get started with RawDigger, learn to mega-Expose to the Right, and wind up with the highest quality image files, you can save $10.00 and have a chance to review a pre-publication copy of the guide by sending a PayPal for $41.00 to birdsasart@verizon.net with the words RawDigger e-Guide and Video Pre-publication Copy cut and pasted into the Subject line.
You will of course receive a link for the completed PDF when the guide is finished.
New and Better Bedfords Discount Policy!
You can now save 3% on all of your Bedfords photo gear purchases by entering the BIRDSASART coupon code at checkout. Your discount will be applied to your pre-tax total. In addition, by using the code you will get 2nd day air shipping via Fed Ex.
Grab a Nikon AF-S Teleconverter TC-14E III and save $14.99. Purchase a Canon EOS R5 and your discount will be $116.97. Purchase a Sony FE 600mm f/4 GM OSS lens and save a remarkable $389.94! Your Bedford's purchase no longer needs to be greater than $1,000.00 for you to receive a discount. The more you spend, the more you save.

Money Saving Reminder
Many have learned that if you need a hot photo item that is out of stock at B&H and would enjoy free overnight shipping, your best bet is to click here, place an order with Bedfords, and enter the coupon code BIRDSASART at checkout. If an item is out of stock, contact Steve Elkins via e-mail or on his cell phone at (479) 381-2592 (Eastern time). Be sure to mention the BIRDSASART coupon code and use it for your online order. Steve has been great at getting folks the hot items that are out of stock at B&H and everywhere else. The wait lists at the big stores can be a year or longer for the hard to get items. Steve will surely get you your gear long before that. For the past year, he has been helping BAA Blog folks get their hands on items like the SONY a9 ii, the SONY 200-600 G OSS lens, the Canon EOS R5, the Canon RF 100-500mm lens, and the Nikon 500mm PF. Steve is personable, helpful, and eager to please.
SONY e-Guide Discount Program
Purchase a (new) qualifying SONY camera body (a7r iii, a7r iv, a9, a9 ii) from Bedfords or using a BIRDS AS ART B&H affiliate link, and you will receive a $40 discount on the SONY e-guide. Purchase a (new) SONY 200-600mm G lens from Bedfords or using a BIRDS AS ART B&H affiliate link, and you will receive a $25 discount on the SONY e-guide. Purchase a (new) SONY 600mm f/4 GM lens from Bedfords or using a BIRDS AS ART B&H affiliate link, and you will receive a free SONY e-guide with one or two videos.
Please send your Bedford's or B&H receipts to me via e-mail to receive your discount and your ordering instructions. Folks purchasing from Bedfords and using the BIRDSASART code will save 3% on all orders. Folks sending their B&H receipts may need to wait a few days to have their purchases confirmed. Folks using Bedfords will have their purchases confirmed immediately.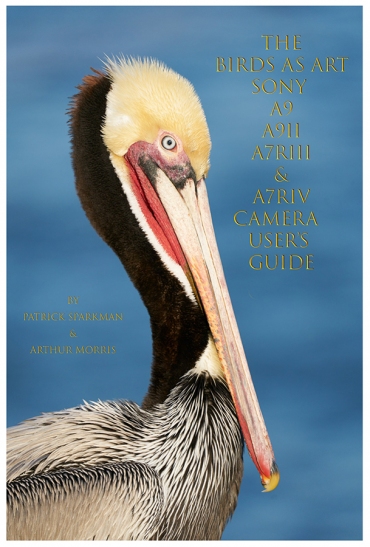 116 sold to rave reviews.
The SONY e-Guide by Patrick Sparkman and Arthur Morris
The Sony Camera User's e-Guide (and Videos)
Click here to purchase the guide with one Camera Set-up Video. Be sure to e-mail us by clicking here to specify your camera body so that we can send you a link for the correct video.
Click here to purchase the guide with two Camera Set-up Videos. Be sure to e-mail us by clicking here to specify your two camera bodies so that we can send you links for the correct videos.
Click here to learn more about the SONY e-Guide.
Gear Questions and Advice
Too many folks attending BAA IPTs and dozens of photographers whom I see in the field and on BPN, are–out of ignorance–using the wrong gear especially when it comes to tripods and more especially, tripod heads… Please know that I am always glad to answer your gear questions via e-mail. Those questions might deal with systems, camera bodies, accessories, and/or lens choices and decisions.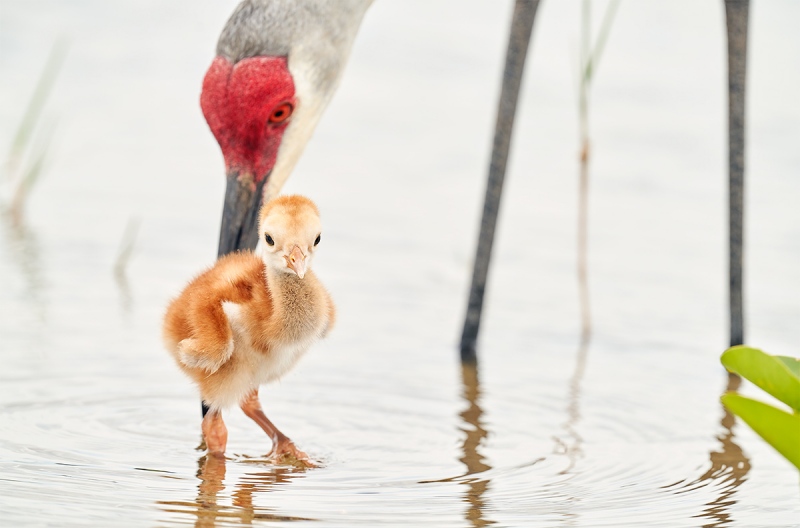 This image was created on 10 MAY 2020 at Indian Lake Estates, FL. I used the Induro GIT 304/FlexShooter Pro-mounted Sony FE 600mm f/4 GM OSS lens, the Sony FE 1.4xteleconverter, and the 61-MP Sony Alpha a7R IV Mirrorless Digital Camera Body. ISO 800. Exposure determined by Zebras with ISO on the rear dial: 1/640 sec. at f/6.3 in Manual mode. This image was created before I began working with RawDigger and the RAW file was 1/3-stop too dark. AWB at 12:43pm on a cloudy day.
Tracking Flexible Spot (M) AF-C (Continuous) was active at the moment of exposure and performed to perfection.
Click the image to see a larger version.
Image #1: Sandhill Crane chick with adult

Your browser does not support iFrame.
The Mother's Day Miracle
This is one of the two Sandhill Crane chicks that hatched this past May, one on the 9th, one on the 10th. One of them has survived to this day, the other perished as a small colt. For the whole story, scroll down to view the Mother's Day Miracle Crane Chick V-log video.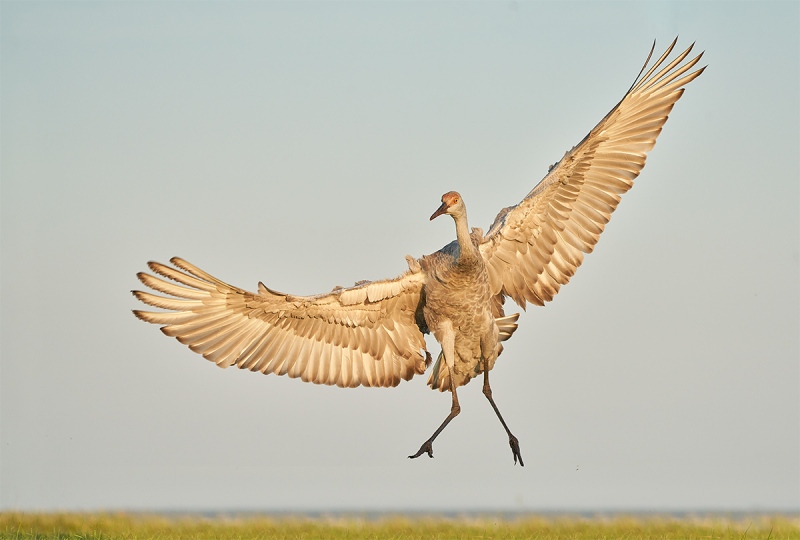 This image was also created on 14 OCT 2020 at Indian Lake Estates, FL. I used the handheld Sony FE 200-600mm f/5.6-6.3 G OSS lens (at 200mm) and the 61-MP monster, the Sony Alpha a7R IV Mirrorless digital camera body.. ISO 1600. Exposure determined by Zebras with ISO on the rear wheel: 1/2000 sec. at f/6.3 in Manual mode. RawDigger showed this as a perfect exposure. AWB at 8:01am on an almost completely sunny morning.
Center Zone AF-C was active at the moment of exposure and performed superbly.
Image #2: Sandhill Crane colt jumping

Your browser does not support iFrame.
The Fledged Colt Jumping
This is the surviving Mother's Day chick as a large colt jumping. Both the adult and young cranes often jump into the air seemingly just to have fun. At times, the adults will display to each other with a series of jumps and bows. This bird, five months and a very few days old, is finally developing a halfway decent pink crown. The transformation from tiny chick to a fledged, flying bird is truly some sort of miracle. It has been a real privilege for me getting to know this family intimately this summer and early fall.
Your Favorite?
Which of today's two images do you think is the strongest? Please let us know why you made your choice. I have a clear favorite …
SONY 200-600 Versatility
Zooming out to 200mm here allowed me to (almost) get the whole bird in the frame. Though it is slower than the 600 GM (f/6.3 to f/4), it focuses a lot closer — Minimum Focusing Distance (MFD) is 7.87′ (2.4 m) which translates to .2X maximum magnification for the 2-6 as compared to an MFD of 14.8′ (4.51 meters) and 0.14X magnification with the 600 GM. Not to mention that you can purchase the 200-600 for $11,000 less than the 600 f/4.
Note that for birds in fight the a7r iv struggles as compared to the a9 ii. That said, it did just fine with the jumping colt image.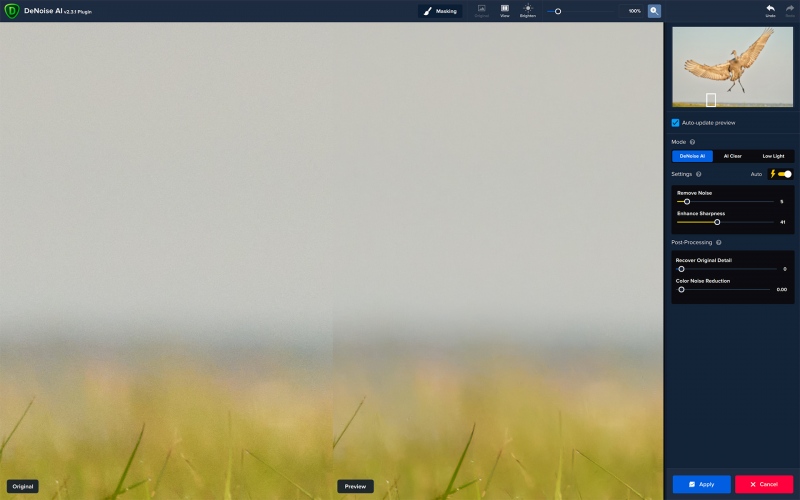 Click on the screen capture to see a larger version.
DeNoise 100% view Screen Capture for today's featured image
DeNoise AI: Now Part of my Workflow
With my RawDigger learning now firmly in place, I am able to create very good to perfect exposures on a consistent basis even with birds. With flowers, I will shoot six to as many as ten exposures and then pick the best one in RawDigger. Since that is obviously not feasible with birds and wildlife, the RawDigger e-Guide is designed to teach you to correlate the blinkies, histograms, or Zebras on your camera body with what you are seeing in RawDigger. Anyhoo, with a perfect exposure on the bird there was pretty much zero noise on the subject. Click on the screen capture above to see how DeNoise AI completely eliminated the noise in the grass on this ISO 1600 image.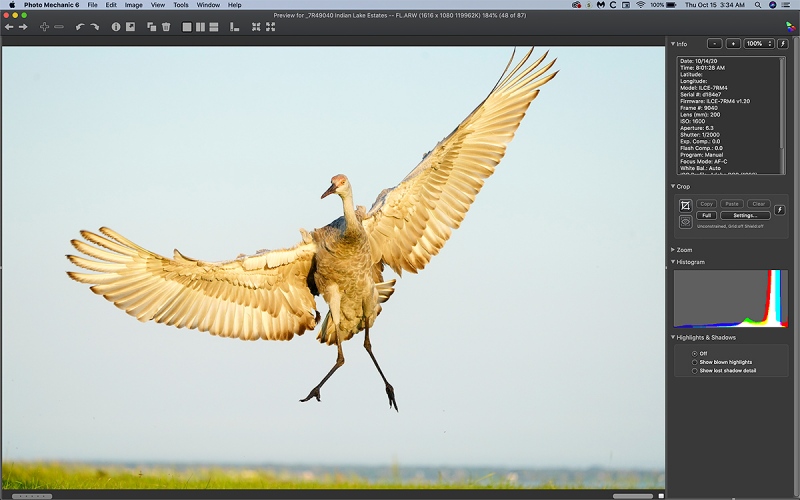 Click on the screen capture to see a larger version.
Photo Mechanic Screen Capture for Image #2
The Image Optimization
By comparing the original image capture above with the optimized image, you can see that I spent a good fifteen minutes with the original in Photoshop. After converting the Raw file in Capture One, I ran DeNoise AI on Auto. Then I expanded canvas left, right, and below. Then I leveled the image and repaired the barely clipped wing tips using techniques from APTATS I & II. Last was to clean up the strip of grass at the bottom and the far shoreline. I used a series of Quick Masks, each refined by a regular Layer Mask. Then, working large, I scrolled from side to side eliminating any obvious repeating patterns with Patch Tool, the Spot Healing Brush, and very rarely, with the Clone Stamp Tool.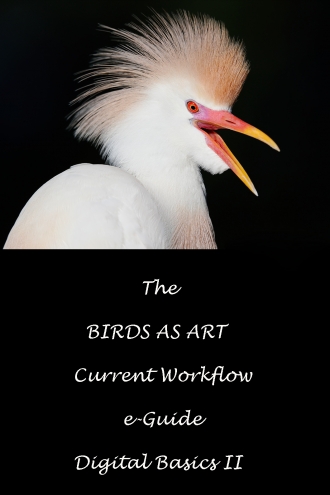 The BIRDS AS ART Current Workflow e-Guide (Digital Basics II).
You can order your copy from the BAA Online Store here, by sending a PayPal for $40 here, or by calling Jim or Jennifer weekdays at 863-692-0906 with your credit card in hand. Be sure to specify Digital Basics II.
The BIRDS AS ART Current Workflow e-Guide (Digital Basics II)
The techniques mentioned above and tons more (with the exception of Capture One RAW Conversions) — along with all of my personalized Keyboard Shortcuts — are covered in detail in the BIRDS AS ART Current Workflow e-Guide (Digital Basics II), an instructional PDF that is sent via e-mail. Learn more and check out the free excerpt in the blog post here. While the new e-Guide reflects my MacBook Pro/Photo Mechanic/DPP 4/Photoshop workflow, folks using a PC and/or BreezeBrowser will also benefit greatly by studying the material on DB II. Note: folks working on a PC and/or those who do not want to miss anything Photoshop may wish to purchase the original Digital Basics along with DB II while saving $15 by clicking here to buy the DB Bundle.
Folks who learn well by following along rather than by reading can check out the complete collection of MP 4 Photoshop Tutorial Videos by clicking here. Note: all of the videos are now priced at an amazingly low $5.00 each.
You can learn how and why I converted all of my Canon digital RAW files in DPP 4 in the DPP 4 RAW Conversion Guide here. More recently, I became proficient at converting my Nikon RAW (NEF) files in Adobe Camera Raw. About two years ago I began converting my Nikon and Sony RAW files in Capture One Pro 12 and continue to do so today.
To purchase Capture One, please use this link. Then you can learn more about Capture One in the Capture One Pro 12 Simplified MP4 Video here. The next step would be to get a copy of Arash Hazeghi's "The Nikon Photographers' Guide to Phase One Capture One Pro e-Guide" in the blog post here.
You can learn advanced Quick Masking and advanced Layer Masking techniques in APTATS I & II. You can save $15 by purchasing the pair. Folks can learn sophisticated sharpening and (NeatImage) Noise Reduction techniques in The Professional Post Processing Guide by Arash Hazeghi and edited by yours truly. Please use this link to purchase NeatImage.
Mother's Day Miracle Crane Chick V-log
For Those Who Missed It
Click on the play triangle above to spend a good part of Sunday, May 10 with me as I photographed a one-day old Sandhill Crane chick and observed its tiny, helpless, just-hatched nest-mate. I need to emphasize that the cloudy weather that day was the biggest blessing of all. Had it been a clear sunny day, photography would have been nearly impossible. Watch the video to learn how I was able to deal with all the clutter thanks to the giant soft-box of a sky. Along the way, you will pick up dozens of great bird and nature photography tips.
Typos
In all blog posts and Bulletins, feel free to e-mail or to leave a comment regarding any typos or errors. Just be right :).