What's Up?
Thursday morning was not nearly as foggy as the two previous mornings. It was quite still. The light was gorgeous as the sun made its way through the fog. I set out the partially eaten armadillo at 8am. I sat in the car with the driver's side window lowered and the R5/RF 100-500 ready to go on the passenger seat. I worked on the the BAA Canon EOS R5 Camera User's e-Guide, confident that the vultures would show up on what was turning into an absolutely gorgeous morning. An hour later, I gave up as not a single vulture had even flown by.
I drove to the vulture tree and was thrilled to see a sunning Black Vulture on the tippy-top perch facing me with its wings fully spread. I put my SUV right on sun-angle, raised the lens, and set the exposure manually. I toggled almost instantly to Face Detection + Tracking (animal-eye) AF (as detailed in the R5/R6 AF e-Guide). The Red-shouldered Hawk that had been perched below the sunning vulture flew up and bumped the vulture off its lofty, perfect perch. I drove home without making a single image.
I got some more work done on the update of the BAA R5/R6 AF e-Guide and enjoyed a quicker-than-usual swim in a very warm pool.
I left at 2:40pm and met good friend Clemens Van der Werf by his boat at Lake Blue Cypress. I have probably been on the lake more than two dozen times in the past decade and have never seen so many Ospreys in my life. It seemed that there was a pair on every third Cypress tree. And there are a lot of Cypress trees along the edge of the lake. As we had never been so early in the season it was strange being in a still grey world that in six weeks will be verdant green world.
With the sun coming in and out and the wind quartering toward the sun when it came out, conditions for flight photography were nowhere near being ideal. I chose to work only with handheld R5/RF 100-500 rig so that I can get the AF guide updated and finish the User's Guide. Clemens marveled at the light weight of my Canon gear. Aside from the difficult conditions, I struggled with the R5 on getting the right exposure with the changing light. SONY's Zebras technology makes life so, so much easier.
We had a halfway decent sunset. Anyhoo, I wound up creating 1315 images. It is 5:26am as I type. We are leaving at 6am and Clemens is driving so I will finish this blog post on the way to Blue Cypress.
Today is Friday 12 February 2021. The forecast for this morning is calling for partly cloudy skies with gentle winds from the south. We are excited.
This post took about 1 1/2 hours to prepare and makes fifty-five days in a row with a new one. Please remember …
Please Remember
With income from IPTs now at zero, please, if you enjoy and learn from the blog, remember to use one of my two affiliate programs when purchasing new gear. Doing so just might make it possible for me to avoid having to try to get a job as a Walmart greeter and will not cost you a single penny more. And if you use Bedfords and remember to enter the BIRDSASART code at checkout, you will save 3% on every order and enjoy free second-day air shipping. In these crazy times — I am out at least forty to sixty thousand dollars so far due to COVID 19 (with lots more to come) — remembering to use my B&H link or to shop at Bedfords will help me out a ton and be greatly appreciated. Overseas folks who cannot order from the US because of import fees, duties, and taxes, are invited to help out by clicking here to leave a blog thank you gift if they see fit.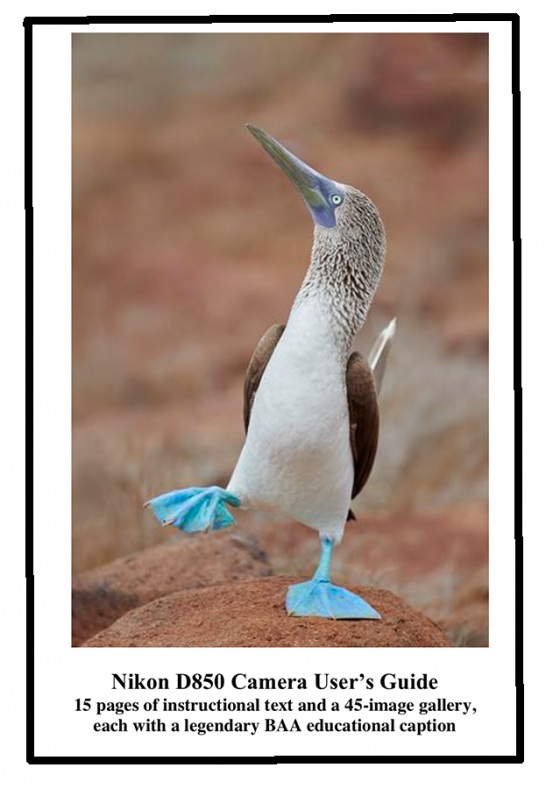 Nikon D850 Users e-Guide & Video<

Purchase here.
Nikon D850 Users e-Guide & Video
$50 via download
This great guide includes 15 pages of text, a 46-image gallery, and a comprehensive camera handling video.
The text covers all of the menu item settings that I used on my two D850 bodies and each gallery image has a legendary BIRDS AS ART educational caption. The emphasis is two-fold:
1- getting your camera set-up so that it is optimized for bird photography.
2- sharing everything that I know about the Nikon AF system so that you can create consistently sharp images of static subjects, and most especially, of birds in flight and in action.
Though this guide is designed for the D850 nearly all of it applies to the D5 and to the D500 as well. You can purchase your copy in the BAA On-line Store here. Both files are large so you will need a good internet connection to download them.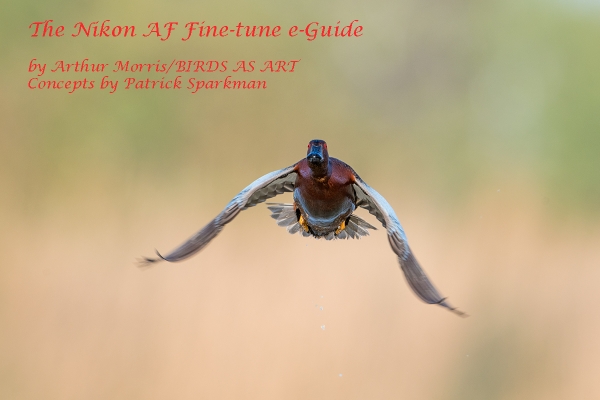 The Nikon AF Fine-tune e-Guide
Please click here to purchase.
The Nikon AF Fine-tune e-Guide: $30.00 (or free to some–see below for details on that).
by Arthur Morris/BIRDS AS ART and Patrick Sparkman
There is lots of misinformation out there on the Nikon Automatic AF Fine-tune feature. Much of that involves vast over-simplifications. Patrick Sparkman and I developed a way of using the Automatic Fine-tune feature effectively with the D5, D500, the D7500, and the D850. Patrick, however, was on a roll and perfected a method for using the Focus Peaking feature available only on the D850 to quickly and accurately micro-adjust all lenses and TC-Es with your D-850. If you own a D850 you should be using D850 Focus Peaking AF Fine-tune rather than Nikon Automatic AF Fine-tune. It is faster and easier and more accurate. While there is some halfway decent info online with regards to Nikon Automatic Fine-tune feature, I have never seen a word about using the amazing D850 Focus Peaking capabilities to determine an accurate AF Fine-tune value. You can thank Patrick Sparkman for rectifying that situation.
With both Nikon Automatic AF Fine-tune and D850 Focus Peaking AF Fine-tune, the use of a LensAlign Mark II unit is recommended as best by far for accurate results and thus, this guide is written reflecting that. Taping a sheet of newsprint on a wall or using the FoCal kit does not assure you of the True Parallel Alignment (TPA) that is guaranteed when you set up your LensAlign properly. Without TPA your results will be off anywhere from a little to a lot. You can purchase the LensAlign Mark II alone here. Or you can purchase the LensAlign/FocusTune combo here. If you do not own either of those we suggest that you decide which to purchase after reading this guide through once. That said, we recommend the LensAlign/FocusTune combo for reasons that will become obvious as you make your way though the guide.
Do understand that much of the set-up information included in the Nikon AF Fine-tune e-Guide is by necessity a duplication of information included in The LensAlign/FocusTune Micro-Adjusting Tutorial e-Guide.
Please click here to purchase.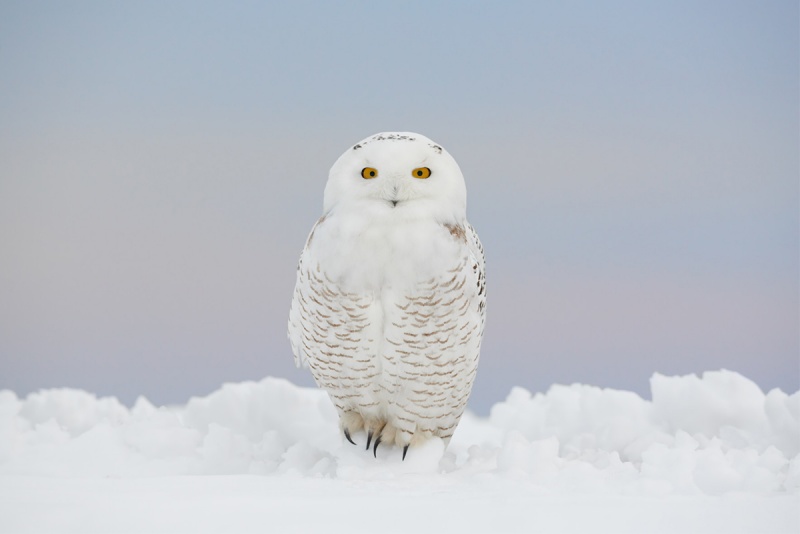 This image was created late on Wednesday 10 February 2021 by good friend and student, Dr. Greg Gulbransen. Lying on his belly in the snow, he used the handheld Nikon AF-S NIKKOR 400mm f/2.8E FL ED VR lens and the Nikon D850 DSLR. ISO 640″ 1/800 sec. at f/5.6 (stopped down two stops).
Click on the image to enjoy a larger version.
Image courtesy of and copyright 2021: Greg Gulbransen
Image #1: Snowy Owl in snow

Your browser does not support iFrame.
Determination Pays Off in the Snow
Greg's work and his story have appeared here previously on the blog. It's worth a search (for his name) in the little white box on the top right of each blog page. Greg had heard that there was a Snowy Owl at Breezy Point in Far Rockaway, Queens, NY (yes, it is in the city), and tried for it during a big snowstorm last weekend. He could not find the bird for all the white. He returned on Wednesday afternoon with a friend, found the bird, and belly crawled through the snow to within range. In today's featured image — I simply couldn't resist publishing this it, the bird was resting on a small ridge of snow right on the edge of the Atlantic Ocean. The berm on which the bird rested had been eroded by the surf so there was a drop-off right behind the bird.
Bullseye!
Placing the subject dead in the center of a horizontal frame is generally to be avoided at all costs. But there are times when it is the perfect image design choice. Such bulls-eyed horizontally-formatted compositions often work very well when the subject is staring right down the lens barrel. How do you know when it works? When it works! Looking at an image and going "Whoa. That's great!" is a general indication that the image design choice was the correct one. Thanks to Greg for allowing me to share this great image here on the blog today and for his help preparing the post.
Typos
In all blog posts and Bulletins, feel free to e-mail or to leave a comment regarding any typos or errors. Just be right :).