What's Up?
I had hoped for some huge flocks of ibis in flight at Circle B Bar Preserve before the sun came up and there were. But they were about two miles distant. I did make some half-way decent blurs. I headed for my favorite morning American White Pelican spot and did quite well. I was so busy driving and answering e-mails that I did not touch the R5 Camera User's e-Guide yesterday. I should have a ton of time to work on it today.
Jim and I went down to the lake at 3:30pm to check on the two crane families. All four chicks were safe and accounted for. Last year, only two Sandhill Crane chicks survived. That out of the six that hatched along the lakefront. The wind was from the northeast, perfect for sunset silhouette photography. I went back down at 5:50pm. There was some nice color brewing, but the wind had switched to the southwest so I turned around and went back home.
Today is Thursday 25 February 2021. The forecast for this morning is for clear skies with a gentle NW breeze. Though that is not good for bird photography, I will head down early to check on the little cranes and see what else is about.
If you would like to explore the possibility of a morning In-the-Field Instructional session here at ILE for crane chicks, or at Lakeland for American White Pelicans, please contact me via e-mail or try me on my cell at 863-221-2372.
As noted below, Bedfords is getting a considerable number of Canon R5 and R6 bodies very soon. The RF 100-500s and 70-200s are, however, currently very difficult to get. My best advice is to stop what you are doing and order yours now to get on the list and get your new lens faster. And be sure of course to use the BIRDSASART code at checkout to save 3% and enjoy free second-day air Fed-Ex shipping.
I was glad to learn that Ted Keltz sold his Canon 7D Mark II and that the sale of Monte Brown's Canon 100-400 II became pending within hours.
This blog post took more than two hours to prepare and makes sixty-seven days in a row with a new one. Please remember …
Please Remember
With income from IPTs now at zero, please, if you enjoy and learn from the blog, remember to use one of my two affiliate programs when purchasing new gear. Doing so just might make it possible for me to avoid having to try to get a job as a Walmart greeter and will not cost you a single penny more. And if you use Bedfords and remember to enter the BIRDSASART code at checkout, you will save 3% on every order and enjoy free second-day air shipping. In these crazy times — I am out at least forty to sixty thousand dollars so far due to COVID 19 (with lots more to come) — remembering to use my B&H link or to shop at Bedfords will help me out a ton and be greatly appreciated. Overseas folks who cannot order from the US because of import fees, duties, and taxes, are invited to help out by clicking here to leave a blog thank you gift if they see fit.
Wanted to Buy
If you have a anon EF 100-400mm f/4.5-5.6L IS II USM lens that you would like to part with, please contact me via e-mail as I have an interested buyer.
The BAA Used Gear Page
The Used Gear page continues to be very active. The BAA Used Gear Page is the place to sell your used photographic equipment. We will help you to get your gear sold quickly for 20 to 60% or more than what the big guys are offering … Doubt me? Check out the Recent Sales list for the past eleven months at the bottom of the page.
Canon EOS 5D Mark III dSLR Converted to Infrared (with Extras)
BIRDS AS ART friend and multiple IPT veteran Morris Herstein is offering a Canon EOS 5D Mark III dSLR converted to infrared (830 nanometers) by Life Pixel in excellent plus condition with extras for $999.00. The sale include two Canon LP-E6N batteries, the charger, the front body cap, two Lexar 128GB 1066X flash cards, and insured ground shipping via major courier to lower-48 US addresses only. Your item will not ship until your check clears unless other arrangements are made.
Please contact Morris via e-mail.
When I shot Canon exclusively, I had a ton of fun making landscapes, tree-scapes, and cloud-scapes with a 5D Mark II that had been converted to infrared. The 5D III is a step up from that. These infrared-converted bodies pair well with the 24-105 and any of the 70-200s. artie
Venus Optics Laowa 15mm f/4 Macro Lens for Canon EF
Sold first day of listing!
BIRDS AS ART friend and multiple IPT veteran Morris Herstein is offering a Venus Optics Laowa 15mm f/4 Macro Lens for Canon EF in new condition for a very low $279.00. The sale include the front and rear caps and insured ground shipping via major courier to lower-48 US addresses only. Your item will not ship until your check clears unless other arrangements are made.
Please contact Morris via e-mail.
This is a fully manual super-wide angle lens that focuses down to life-size. It sells new for $499.00. artie
Before now, wide-angle macro required the use of extension tubes and other workarounds, but now the Laowa 15mm Macro offers true 1:1 magnification without the hassle. The ultra-wide perspective on full-frame cameras allows users to get exceptionally close to their subjects with a minimum focus distance of just 4.7″, and have them fill the frame, while still capturing the background.
Optically, it is designed to minimize distortion that plagues wide-angle lenses with the use of an advanced 12-element-in-9-group construction with one extra-low dispersion and three high-refractive elements. A multi-layer low-reflective coating further improves image quality by reducing the appearance of flare and ghosting. Also, when used on APS-C cameras, or in crop modes, the lens offers +/- 6mm of vertical shift which can help correct for perspective when shooting objects such as buildings.
Full manual operation is required with this lens through the use of a physical aperture ring with a range of f/4 to f/32 and a large focusing ring. A flat front element provides room for a 77mm front filter thread for using a selection of specialized filters to enhance your scene. Additionally, it has a near circular 14-blade diaphragm for smooth out of focus elements and comes with a lens hood. B&H
FlexShooter Pro Tripod Head
BIRDS AS ART friend and multiple IPT veteran Morris Herstein is offering a barely used FlexShooter Pro head in for a BAA record-low $498.00. The sale includes insured ground shipping via major courier to lower-48 US addresses only. Your item will not ship until your check clears unless other arrangements are made.
Please contact Morris via e-mail.
The FlexShooter Pro is a ballhead that thinks and acts like a gimbal head. Thanks to the bi-directional clamp, it is great for lenses short and long. Once your rig is set up properly, long lenses stay right where you point them without your having to lock up the head! Where you point the lens is what you get. That thanks to the patented counter-balanced spring system design. I predicted that these heads would take the world of nature photography by storm. And they have. They sell new for $599.00. artie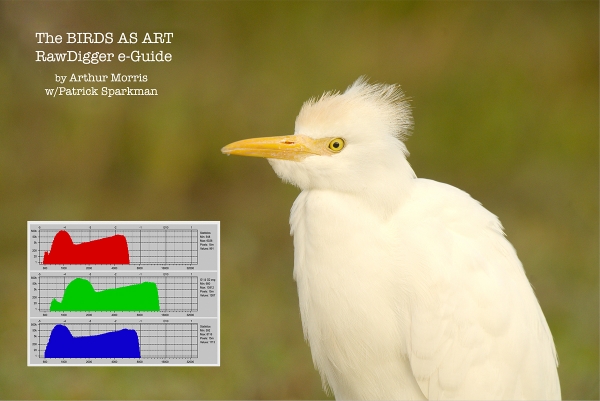 RawDigger e-Guide with Two Videos
The RawDigger e-Guide with Two Videos
by Arthur Morris with Patrick Sparkman
The RawDigger e-Guide was created only for serious photographers who wish to get the absolute most out of their raw files.
Patrick and I began work on the guide in July 2020. At first we struggled. We asked questions. We learned about Max-G values. We puzzled as to why the Max G values for different cameras were different. IPT veteran Bart Deamer asked lots of questions that we could not answer. We got help from RawDigger creator Iliah Borg. We learned. In December, Patrick came up with an Adapted Histogram that allows us to evaluate the exposures and raw file brightness for all images created with all digital camera bodies from the last two decades. What we learned each time prompted three complete beginning to end re-writes.
The point of the guide is to teach you to truly expose to the mega-Expose-to-the-Right so that you will minimize noise, maximize image quality, best utilize your camera's dynamic range, and attain the highest possible level of shadow detail in your RAW files in every situation. In addition, your properly exposed RAW files will contain more tonal information and feature the smoothest possible transitions between tones. And your optimized images will feature rich, accurate color.
We teach you why the GREEN channel is almost always the first to over-expose. We save you money by advising you which version of RawDigger you need. We teach you how to interpret the Max G values for your Canon, Nikon, and SONY camera bodies. It is very likely that the Shock-your-World section will shock you. And lastly — thanks to the technical and practical brilliance of Patrick Sparkman — we teach you a simple way to quickly and easily evaluate your exposures and raw file brightness using an Adapted RawDigger histogram.
The flower video takes you through a session where artie edits a folder of images in Capture One while checking the exposures and Max-G values in RawDigger. The Adapted Histogram video examines a series of recent images with the pink histograms and covers lots of fine points including and especially how to deal with specular highlights. The directions for setting up the Adapted Histogram are in the text.
If we priced this guide based on how much effort we put into it, it would sell it for $999.00. But as this guide will be purchased only by a limited number of serious photographers, we have priced it at $51.00. You can order yours here in the BAA Online Store.
Canon EOS R5 Camera User's e-Guide
As most of you know, I have been working on a complete BAA Canon EOS R5 Camera User's e-Guide. Because the camera and the Menus are so complex, this has required a lot of research, a lot of time, and a lot of effort (and will continue to do so until it is complete). It should be finished any day now. The final update of the R5/R6 AF e-Guide has become part of the complete Camera User's e-Guide; it will be revised there if warranted.
The complete Camera User's guide will sell for $75.00. Folks who purchased their Canon gear using my links will receive a $65.00 discount; the guide will cost them a nominal $10.00. Folks who spent more than $7500.00 on Canon mirrorless gear using either of my affiliate links (B&H or Bedfords), will receive the User's Guide for free. Folks who purchased the R5/R6 AF e-Guide will receive a $10.00 discount on the User's e-Guide. The best news is that the end is in sight.
Great Topaz News!
Folks who use the BAA Topaz link to purchase Sharpen AI, DeNoise AI, or the Utility Bundle (or any other Topaz plug-ins) will receive a 15% discount by entering the ARTHUR15 code at checkout. If the stuff is on sale (as it usually is), you save 15% off of the sale price! To get the discount you must use my link and you must enter the discount code. Be sure to start with this link.
Those who purchase Sharpen AI, DeNoise AI, or any other Topaz plug-ins using my link and then entering the ARTHUR15 code at checkout can e-mail to request a short Getting Started with Topaz e-Guide. Please include a copy of your Topaz receipt that shows the discount. Aside from the basics, the guide explains how to install the plug-ins so that they appear in the Photoshop Filter Menu.
New and Better Bedfords Discount Policy!
You can now save 3% on all of your Bedfords photo gear purchases by entering the BIRDSASART coupon code at checkout. Your discount will be applied to your pre-tax total. In addition, by using the code you will get 2nd day air shipping via Fed Ex.
Grab a Nikon AF-S Teleconverter TC-14E III and save $14.99. Purchase a Canon EOS R5 and your discount will be $116.97. Purchase a Sony FE 600mm f/4 GM OSS lens and save a remarkable $389.94! Your Bedford's purchase no longer needs to be greater than $1,000.00 for you to receive a discount. The more you spend, the more you save.

Money Saving Reminder
Coming Soon to Bedford's: a truckload of Canon R5 and R6 Bodies!
Many have learned that if you need a hot photo item that is out of stock at B&H and would enjoy free second-day air shipping, your best bet is to click here, place an order with Bedfords, and enter the coupon code BIRDSASART at checkout. If an item is out of stock, contact Steve Elkins via e-mail or on his cell phone at (479) 381-2592 (Central time). Be sure to mention the BIRDSASART coupon code and use it for your online order to save 3% and enjoy free 2nd-day air shipping. Steve has been great at getting folks the hot items that are out of stock at B&H and everywhere else. The wait lists at the big stores can be a year or longer for the hard to get items. Steve will surely get you your gear long before that. For the past year, he has been helping BAA Blog folks get their hands on items like the SONY a9 ii, the SONY 200-600 G OSS lens, the Canon EOS R5, the Canon RF 100-500mm lens, and the Nikon 500mm PF. Steve is personable, helpful, and eager to please.
Gear Questions and Advice
Too many folks attending BAA IPTs (remember those?) and dozens of photographers whom I see in the field and on BPN, are–out of ignorance–using the wrong gear especially when it comes to tripods and more especially, tripod heads… Please know that I am always glad to answer your gear questions via e-mail. Those questions might deal with systems, camera bodies, accessories, and/or lens choices and decisions.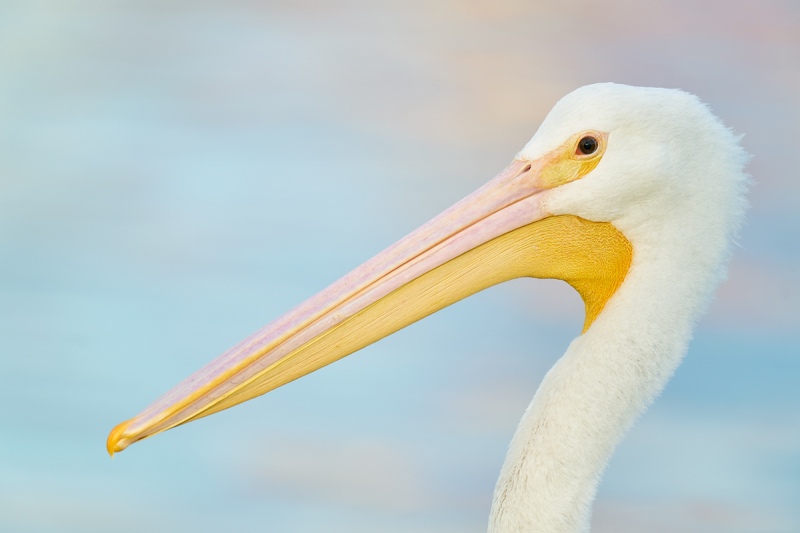 This image was created on Wednesday 24 February 2021 at my favorite Lakeland morning spot. I used the Induro GIT 404L/Levered-clamp FlexShooter Pro-mounted Sony FE 600mm f/4 GM OSS lens, Sony FE 1.4x teleconverter, and the blazingly fast AF King, the Sony Alpha a9 II Mirrorless Digital Camera Body. ISO 800. The exposure was determined by Zebras with ISO on the rear wheel: 1/500 sec. at f/5.6 (wide open) in Manual mode. RawDigger showed the exposure here to be perfect. AWB at 7:45am on a partly cloudy morning.
Upper Right Zone AF-C was active at the moment of exposure and performed perfectly. Click on the image to enjoy a larger version.
Image #1: American White Pelican immature in soft light

Your browser does not support iFrame.
A Pastel Masterpiece in Simplicity …
I loved this image through the viewfinder. And it looked even better on my MacBook Pro. There's no flying bird, and no action. There is no habitat. Simplicity can work well. I find the soft pastels magical. What do you think?
Why Zebras?
Kapil Kapre left this comment (for moderation) at the Too Cute blog post:
I have access to live zebras on my Sony, but I turn them off because they distract me. I do understand the benefit of zebras, and logically they seem like they would help a lot. But practically, how often are you in a situation where you need to quickly set a new exposure and don't have time for a test shot? I'm sure it's different for everyone, for me there's always time for a quick test shot as I deliberate a bit on the composition and/or wait for a specific pose, etc. Or maybe I'm just too slow 🙂
I knew that Kapil's question warranted a thoughtful response. I was pretty sure from his comment that he does not have the Sony Camera User's e-Guide. I e-mailed him and confirmed that. So here goes:
Kapil, I wish that you could have been with me this morning in Lakeland photographing the American White Pelicans. The sun was going in and out every minute. Without exaggeration, I had my thumb on the big rear wheel and was changing the exposures (by changing the ISO) several times a minute. Even a shift of the bird's head position can change the intensity of the Zebras (and require a small adjustment). Do understand that Zebras at the camera's default settings are 100% worthless. In the aforementioned guide, we teach you exactly how to set up the Zebras and how to use them in the field. Then, in nearly all circumstances, you aim for faint Zebras.
So the answer to your question is very often! And it is not different for anyone who wants to learn to make good exposures consistently. Not to mention that when I switched over to a cormorant, a coot, or a Wood Duck, Zebras, again — set up properly, allowed me to routinely attain excellent or perfect exposures. Do understand that subjects of different tonalities require different amounts of light to be properly exposed. White subjects need less light than middle-toned subject to be properly exposed, and dark subjects need more light than middle-toned subjects to be properly exposed. Best advice on learning exposure theory is to consult the section on that topic in the original The Art of Bird Photography.
On a final note, there are times — not very often, that I turn off Zebras to avoid the distractions. And yes, we cover those situations in the guide.
For me, turning off Zebras is like turning off the jet engines because they are too loud. While you are flying …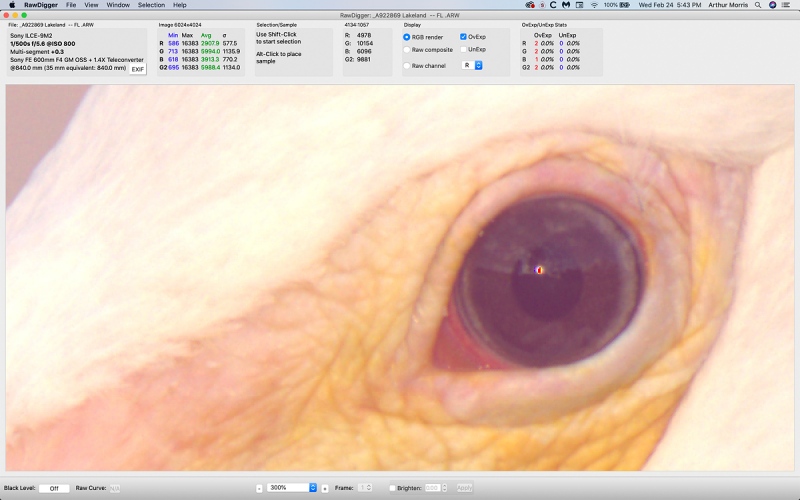 Image #1A: RawDigger screen capture for the American White Pelican immature in soft light image

Your browser does not support iFrame.
RawDigger Screen Capture at 300%
Click on the screen capture to see the rosy-red OvExp warnings (seven pixels worth) in the specular highlight in the pelican's eye. In the RawDigger e-Guide you will learn exactly how to set up the Adapted "pink" RawDigger Histogram and how to use it to quickly and easily evaluate the exposure or raw file brightness of images from all digital cameras currently in use. We speak at great length on specular highlights.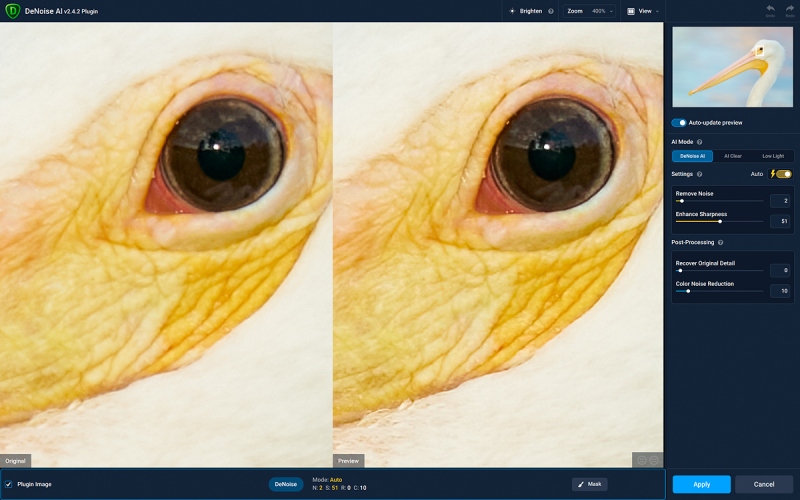 Image #1B: Topaz DeNoise on the American White Pelican immature in soft light image

Your browser does not support iFrame.
What Noise?
With perfect and near-perfect exposures (thanks to RawDigger study), noise may approach zero (as with today's featured ISO 800 image). If you click on the image to enlarge it and take a close look at the pupil and the iris — noise is always worse in the darker tones, there is practically zero noise. So why run DeNoise on images like this? Because DeNoise and Low Light (usually) offer just the right amount of non-destructive sharpening. Why usually? At times results can be improved by reducing the Enhance Sharpness slider by one-third or one-half.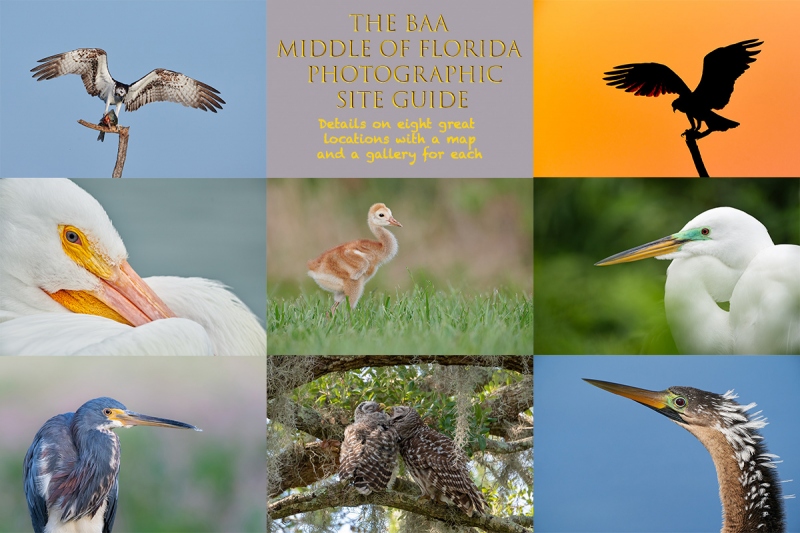 The BAA Middle of Florida Photographic Site Guide
You can purchase your copy here in the BAA Online Store.
The BAA Middle of Florida Photographic Site Guide
126 pages, 87 photographs by Joe Przybyla and Arthur Morris.
The PDF for this e-Guide is an electronic download sent via e-mail.
Purchase your copy here in the BAA Online Store.
I had thought about doing a guide to some of the great but little-known photo hotspots around central Florida for about a decade, but those plans never came to fruition. I met Joe online in the Avian Forum at BirdPhotographer's.Net about two years ago. Joe's photography has improved tremendously over the past few years; he credits the BAA blog, my books and PDFs, and his participation on BPN. The one thing that I learned right from the get-go about Joe is that he is a hard and tenacious worker, always striving to improve his skills and to grow his knowledge base. As he knew of more than a few good spots in central Florida, I broached the idea of us doing a photographic site guide that covered many of the little-known photographic hotspots from Brandon to Lakeland to Joe Overstreet Road to Indian Lake Estates (my Florida home for the past 20 years or so). After more than many, many dozens of hours of effort, The BIRDS AS ART Middle of Florida Photographic Site Guide is now a reality. Thanks to Joe's wife Dottie for her review of our writing. We all learned once again that writing is a process, a back and forth process. All thanks to the white pelicans of Lakeland. Here are the locations that are detailed in this e-Guide:
Indian Lake Estates: Sandhills Cranes with chicks and colts, lots of vultures, and Ospreys up the kazoo!
Gatorland, Kissimmee: Learn to make great images of wading birds in a cluttered rookery.
The Brandon Rookery: Great for nesting Wood Storks, Great Egrets, and more.
Circle Bar B Reserve, Lakeland: Here you will find a great variety of avian subjects in a great variety of habitats.
Lake Morton, Lakeland: There are lots of silly tame birds here including and especially American White Pelican during the colder months.
Lake Mirror, Lakeland: Tame Anhingas, Limpkins, and a zillion White Ibises at times.
West Lake Parker, Lakeland: Here you will have a chance for two difficult birds, Snail Kite, and Purple Gallinule.
Joe Overstreet Road, Kenansville: Crested Caracara, meadowlarks, Loggerhead Shrike, and much more on the fenceposts and barbed wire.
Each location includes a map, a detailed description of the best spots, best season, light and time of day instructions, the expected species, and an educational and inspirational gallery that is designed to open your eyes as to the possibilities.
You can purchase a copy here in the BAA Online Store.
Typos
In all blog posts and Bulletins, feel free to e-mail or to leave a comment regarding any typos or errors.