Canon R6 Bodies in Stock now at Bedfords/R5 Bodies on the Way!
Steve Elkins asked me to let you know that he has a good number of Canon EOS-R6 bodies in stock. Get yours by clicking here. Enter the BIRDSASART discount code at checkout, save 3%, and enjoy free second-day air Fed-Ex shipping. And shoot me your receipt to receive your free copy of the R5/R6 AF e-Guide and save $65.00 off the price of the R5 User's e-Guide.
Six R5 Bodies are on the way as well …
Via e-Mail from Sarah Mayhew
Hi Artie, The Canon R5/R6 AF e-Guide has been very helpful! I had my R6 set up nicely for eye tracking flight shots, but it didn't work at all for the small birds in the bushes. I can now toggle between the focusing methods easily. Thank goodness! And my hit rate is so much higher than with my Canon 7D II. Thank you! Sarah
What's Up?
It was surreal down by the lake on Wednesday morning. It rained hard off and on. Though I stayed in my car the whole time, my Canon RF 100-500 lens got soaked. I followed around a large flock of Cattle Egrets feeding on the previous day's mayfly hatch. Some were doing that in trees! And every once in a while, the whole scene would be enveloped by a huge flock of migrating Tree Swallows. I created about 800 images and kept a very few.
I finished the article for the GNPA Newsletter and sent it off via e-mail to Eric Bowles. It is entitled, A Personal Account: The Photographic Benefits of the COVID 19 Pandemic. If you would like a copy, shoot me an e-mail. I began work on the final update of the SONY e-Guide text. Today, I plan on going through several of the R5 Camera User's e-Guide reviews that were e-mailed by folks who were kind enough to take a serious look at the manuscript.
Sunset was too northwest windy and too clear. I kept just one image. On a lark, I processed it and was dramatically surprised. I will be sharing it with you here soon.
I was glad to learn on Wednesday that good friend and multiple IPT veteran Donna Bourdon is flying to Florida next Wednesday to partake of the Sandhill Crane chicks and colts for three or four days here at ILE. We may also do a morning of American White Pelicans (and more) at Lakeland. Beverly Still will be driving down from Atlanta to join us for the upcoming Merritt Island IPT. Food and lodging are included in Donna's visit. If you would like to do the two crane families on Sunday, Monday, and/or Tuesday, get in touch via e-mail to explore the possibilities of setting up some In-the-Field Instruction. (The weather for Saturday is looking to be horrific.)
I was glad to learn yesterday that Doug Smith sold his Canon 100-400mm L IS II lens in excellent condition for $1399.00 in early March before it was even listed.
The forecast for today — Thursday 4 March 2021 — is for fairly brisk northwest winds and early partly cloudy skies. I will head down for a bit hoping for more clouds than sun. But not expecting much. Buy hey, you never know.
Wherever you are and whatever you are doing, I hope that you have a great day.
This blog post took about one hour to prepare and makes seventy-three days in a row with a new one. Please remember …
Please Remember
With income from IPTs now at zero, please, if you enjoy and learn from the blog, remember to use one of my two affiliate programs when purchasing new gear. Doing so just might make it possible for me to avoid having to try to get a job as a Walmart greeter and will not cost you a single penny more. And if you use Bedfords and remember to enter the BIRDSASART code at checkout, you will save 3% on every order and enjoy free second-day air shipping. In these crazy times — I am out at least forty to sixty thousand dollars so far due to COVID 19 (with lots more to come) — remembering to use my B&H link or to shop at Bedfords will help me out a ton and be greatly appreciated. Overseas folks who cannot order from the US because of import fees, duties, and taxes, are invited to help out by clicking here to leave a blog thank you gift if they see fit.
Wanted to Buy
If you have a Canon EF 100-400mm f/4.5-5.6L IS II USM lens that you would like to part with, please contact me via e-mail. I have another interested buyer.
Great Topaz News!
Folks who use the BAA Topaz link to purchase Sharpen AI, DeNoise AI, or the Utility Bundle (or any other Topaz plug-ins) will receive a 15% discount by entering the ARTHUR15 code at checkout. If the stuff is on sale (as it usually is), you save 15% off of the sale price! To get the discount you must use my link and you must enter the discount code. Be sure to start with this link.
Those who purchase Sharpen AI, DeNoise AI, or any other Topaz plug-ins using my link and then entering the ARTHUR15 code at checkout can e-mail to request a short Getting Started with Topaz e-Guide. Please include a copy of your Topaz receipt that shows the discount. Aside from the basics, the guide explains how to install the plug-ins so that they appear in the Photoshop Filter Menu.
Canon EOS R5 Camera User's e-Guide
Last week, I sent out about a dozen copies of the almost-finished Canon EOS R5 Camera User's e-Guide for review to folks who had previously gotten free copies of the R5/R6 AF e-Guide by using my affiliate links to purchase their Canon mirrorless gear. In the same vein, I will be contacting everyone who purchased the R5/R6 AF e-Guide today.
Because the camera and the Menus are so complex, this guide has required a ton of research, a lot of time, and a lot of effort (and will continue to do so until it is complete). It should be finished by the first week in March. 2021. The final update of the R5/R6 AF e-Guide has become part of the complete Camera User's e-Guide; it will be revised if warranted.
The complete Camera User's guide will sell for $75.00. Folks who purchased their Canon gear using my links will receive a $65.00 discount; the guide will cost them a nominal $10.00. Folks who spent more than $7500.00 on Canon mirrorless gear using either of my affiliate links (B&H or Bedfords), will receive the User's Guide for free. Folks who purchased the R5/R6 AF e-Guide will receive a $10.00 discount on the User's e-Guide. The best news is that the end is in sight.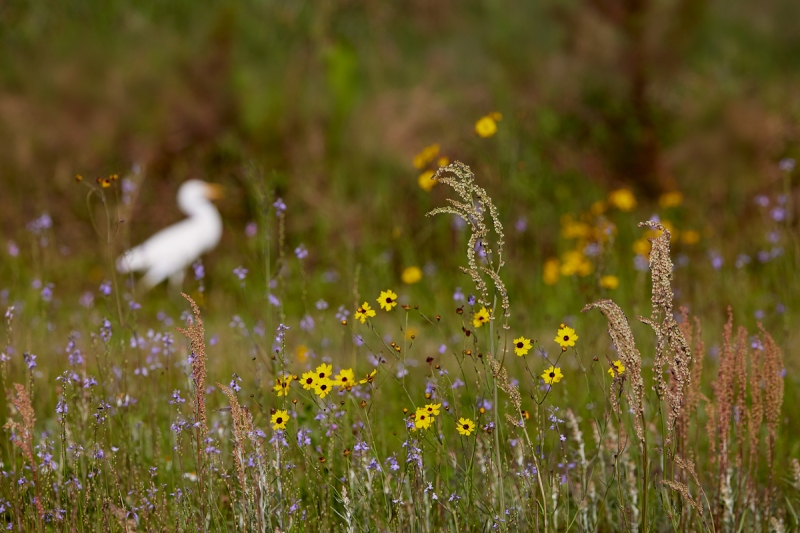 This image was created on 2 March 2021 down by the lake near my home at ILE. Working from the driver's seat of my SUV, I used the handheld Canon RF 100-500mm f/4.5-7.1L IS USM lens (at 254mm) and the highly touted 45MP Canon EOS R5 Mirrorless Digital camera body. ISO 400. Exposure determined by test guesstimate in rapidly changing light: 1/2500 second at f/7.1. RawDigger showed this one to be about 2/3 stop under-exposed. AWB at 8:40am when a light cloud slid in front of the sun.
I was set up for flight with Face Detection plus Tracking and saw no reason to change that when it grabbed the tallest, spent flower stalk.
Wildflowers with out-of-focus Cattle Egret as background accent

Your browser does not support iFrame.
Art or Trash?
Please leave a comment and let us know if you think today's featured image should be on the wall of an art museum or in the trash can. Or somewhere in between. Let us know what you like, and what you don't like.
I will share my inspiration for this image, the story of its creation, and my thoughts on the image with y'all here soon.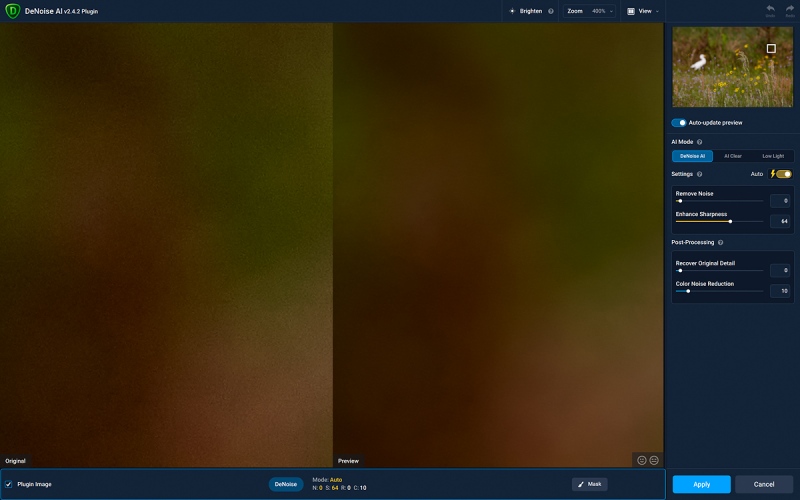 Topaz DeNoise on the Wildflowers with out-of-focus Cattle Egret as background accent image

Your browser does not support iFrame.
Topaz DeNoise AI on DeNoise on Auto
Noise will always be more evident in the dark tones of an image. Thus, note the location of the white, square navigator-box in the upper right of the screen capture. Be sure to click on the screen capture to view the larger version and check on the effectiveness of this amazing plug-in.
Typos
In all blog posts and Bulletins, feel free to e-mail or to leave a comment regarding any typos or errors.