What's Up
My hard work is in the process of being well-rewarded as we sold lots of BAA EOS R5 Camera User's e-Guides on Tuesday. If you missed the announcement of the publication of this amazing guide, see yesterday's blog post here.
If you paid $25.00 for the R5/R6 AF Guide, you are entitled to a $10.00 discount on the Camera User's e-Guide. To pay the $65.00, you can call Jim at 1-863-692-0906 weekday afternoons or send a Paypal to birdsasart@verizon.net for the $65.00. Be sure to include the words R5 Camera User's Guide with your PayPal.
If you earned a free copy of the guide by purchasing your Canon mirrorless gear using a B&H affiliate link or by saving 3% at Bedfords, you are entitled to a $65.00 discount on the complete guide. You can call Jim as above, or shoot us a Paypal to birdsasart@verizon.net for $10.00. Again, be sure to include the words R5 Camera User's Guide with your PayPal.
The weather yesterday nice. Except for my swim, I stayed in and worked hard all day. Joe Usewicz joined Jim and I for an early fresh tuna dinner on the pool deck. Joe joined me for the first time for an In-the-field Instructional session at DeSoto in February. After dinner he shared some of his more recent images with me on his I-pad. His improvement has been nothing short of dramatic!
Joe and I are headed for Stick Marsh early today, Wednesday 24 March 2021. The weather is showing as partly cloudy with almost no wind, then clearing and picking up a bit from the south. Wherever you are and whatever you are doing, I hope that you have a great day.
As I have had several new sign-ups for the Alpha a1 group in recent days, I created a two Sony Alpha a1 Info and Set-up Group e-mail summarizing everything that we have come up with so far and clarifying some of the stuff we had been unsure of. See below for details on joining the group.
This blog post took about and an hour to prepare and makes ninety-two days in a row with a new one. Please remember to use my B&H affiliate links or to save money at Bedfords by using the BIRDSASART discount code at checkout. Doing either often earns you free guides or discounts.
The Stick Marsh Site Guide Subscription Service
The Site Guide Subscription Service is a new concept. I e-mailed the first issue yesterday to five smart folks: Stick Marsh Site Guide e-Mail #1: The Basics. It includes specific directions to the site, and a map of the rookery area with specific instructions and wind, weather, and where-to-be advice. There are lots of photographers at Stick Marsh most days. Many are skilled at hand-holding 500 and 600mm f/4 telephotos lenses. But with all due respect, none of them can come anywhere near me when it comes to analyzing the photo opps at a given location. With the exception of a very nice and very helpful man I met, Fred Vaughn, every single photographer got to their favorite spot and never moved. We moved around a lot and had great and different chances all day long. After most of my visits, you will receive an e-mail noting the best locations and anything new that I learned.
To sign up for the Stick Marsh Site Guide Subscription Service, send a PayPal for $100.00 to us at birdsasart@verizon.net and be sure to include the words Stick Marsh. Or, you can call Jim any day at 1-863-692-0906 to pay by credit card. At some point, we will get this item in the BAA Online Store.
I fully understand that you can go to Google Maps, find the Stick Marsh, visit, and likely make some good or great images. You might think, I can do fine just without artie's advice. But you will do a whole lot better with it.
Please contact me via e-mail to explore the possibilities of a morning In-the-Field Instructional Session or two at Stick Marsh.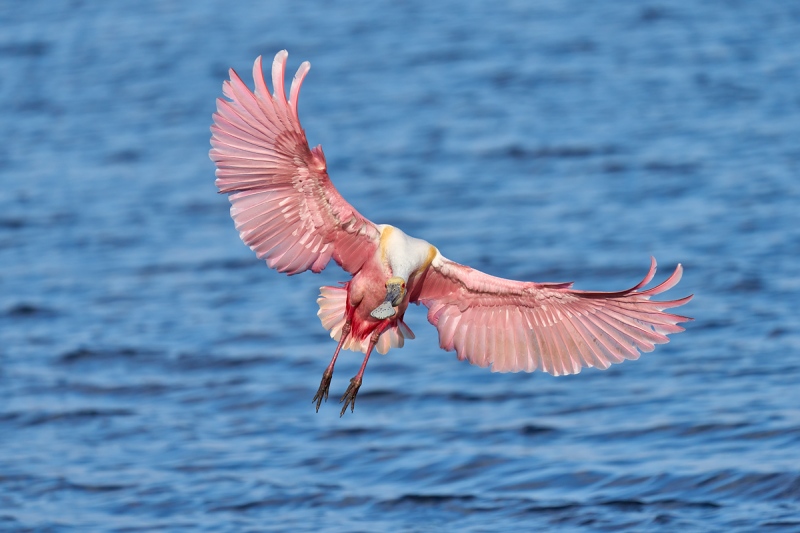 This image was created on 20 March 2021 at Stick Marsh. I used the hand held Sony FE 200-600mm f/5.6-6.3 G OSS lens (at 397mm) and The One, the Sony Alpha 1 Mirrorless digital camera. ISO 640. Exposure determined with ISO on the Thumb Wheel. The exposure was shown to be 1/2 stop under by RawDigger: 1/3200 sec. at f/6.3 (wide open) in Manual mode. AWB at 8:55am on clear morning.
Wide/AF-C was active at the moment of exposure and performed perfectly. Click on the image to enjoy a larger version.
Image #1: Roseate Spoonbill flaring to land

Your browser does not support iFrame.
One of Many Dozens …
As seen in the recent Pink Bonanza blog post here, I enjoyed a phenomenal day at Stick Marsh on 20 March. This was one of many dozens of dramatic, razor sharp keepers from that morning session. With the bird seemingly flying to my right but looking to my left, I had a hard time with the crop. What do you think of the placement of the bird in the frame? I am hoping for a repeat with Joe today but am not sure how long this remarkable incoming flight situation will last.
Still Room for You on Thursday or Friday Morning …
I have room for one or two more folks on Thursday and or Friday morning at Stick Marsh. Please contact me via e-mail to explore the possibilities of a morning In-the-Field Instructional Session or two at the amazingly wonderful site.
Sony Alpha a1 Astounds
To learn exactly how I set up my Alpha a1 for flight photography to achieve results like those seen in Image #1, above, join the SONY Alpha a1 Set-up and Info Group.
SONY Alpha a1 Set-up and Info Group
With 17 members already, the SONY Alpha a1 Set-up and Info Group is going great guns as folks chime in with thoughtful questions and experience-based answers. I learned a ton recently in group e-mail exchanges with Geoff Newhouse, Craig Elson and James Spillman. Like the R5, the a1 is an incredibly complex camera body. But the sad news is that if you are doing bird photography right now, the Alpha a1 pretty much obliterates the competition with 51,000,000 gorgeous pixels and a science-fiction-like AF system …
All who purchased their Alpha a1 bodies via a BAA affiliate link receive a free subscription to the Sony Alpha a1 Set-Up and Info group. This same service may be purchased by anyone with an a1 body via a $150.00 Paypal sent to birdsasart@verizon.net indicating payment for Alpha a1 Info Updates. New members will receive a composite e-mail that will bring them right up to where we are with the great camera body.
Typos
With all blog posts, feel free to e-mail or to leave a comment regarding any typos or errors.