What's Up?
Yesterday, Vaughn Larsen and I had yet another great morning at Stick Marsh. Vaughn, visiting from Colorado, worked with his R5/RF 100-500 rig. To say that he learned a ton about his R5 would be a huge understatement. More on that in tomorrow's blog post.
Monday's post will reveal a major problem that has been plaguing folks using the Sony Alpha 1 Mirrorless digital camera.
Today is Saturday 27 March 2021. The forecast for this morning is dead-solid perfect for bird photography: clear with a gentle southeast wind freshening as the morning progresses. I would love to be headed to Stick Marsh, my new favorite place in the world, but I simply have too much work to do. Today, I will working on the Sony Alpha a1 problem with the Alpha a1 Set-up and Info Group, preparing and sending out the second issue of the Stick Marsh Site Guide Subscription Service, and beginning to work on an all-new program entitled Designing and creating pleasing and dramatic natural history images. The latter is for a Zoom Webinar presentation that I will be doing for the South Shore Camera Club on April 7th.
I will, however, be headed down to the lake for a bit at about 7:30am. Wherever you are and whatever you are doing, I hope that you have a great day.
This blog post took about an hour to prepare and makes ninety-five days in a row with a new one. Please remember to use my B&H affiliate links or to save money at Bedfords by using the BIRDSASART discount code at checkout. Doing either often earns you free guides or discounts. And doing so often earns my great appreciation.
Unsolicited, via e-mail, from Fernando Ramos
The excellent Canon EOS R5 Camera User's e-Guide is unlike anything I've encountered. Your detailed instruction supported by excellent reasoning is exactly what I needed to set-up my Canon EOS R5. Thank you for sharing your expertise with me; as a result, you saved me immeasurable time. Fernando
Unsolicited, via e-mail, from Joel Eade
Thank you so much for the R5 guide and I am honored to have had an image included! It is a wonderfully written, extremely comprehensive document that would benefit any R5 user. It is evident that a tremendous amount of time and effort was required to create it. After reading through, I can say it that flows in a logical fashion and that each item is carefully described in a way that is not difficult to follow. I agree with 99% of your set up suggestions 🙂 Joel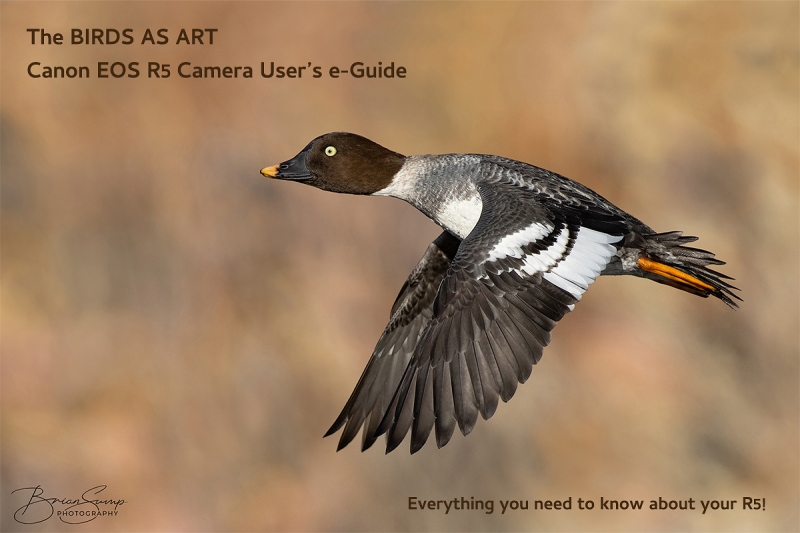 Cover Image courtesy of and Copyright 2021 Brian Sump (Sump scores!)
The BIRDS AS ART Canon EOS R5 Camera User's e-Guide: $75.00
The guide is 82 pages long: 21,458 words. More than 50 DPP 4 Autofocus-depicting screen captures. And a 31 minute 44 second educational video. This guide took three and a half months of hard work and a ton of help from at least seventeen very helpful and generous folks.
The guide covers — in great detail — all Menu Items that are relevant to bird, nature, and wildlife photography. It does not cover video. The section on AF methods and the AF Gallery has been expanded from the R5/R6 AF e-guide. It remains the one of the great strengths of this guide. I share my thoughts on what I am sure is the single best AF Method for photographing birds in flight. As most of you know, the guide includes a simple and easy way to change AF Methods that was introduced to me by Geoff Newhouse. In the AF Gallery you will see exactly how Face Detection plus Tracking AF works. In the Educational R5 Gallery video, I share my favorite R5 images along with dozens of bird photography tips and techniques.
In addition, I teach you how to get the best exposures with your R5. Detailed instructions on using the great In-camera HDR and Multiple Exposure features will be appreciated by creative folks who like to have fun. The three shutter modes are explained in detail as well. Bruce Dudek solved the can't-get-to-Auto ISO problem that had stumped everyone at Canon. This information is of course shared in the guide. You will learn how to set up your EVF (Electronic Viewfinder) and Screen toggle options. Not to mention that the mysterious performance of the Q Button is revealed and simplified. Brian Sump's images reveal how well you can do when using the R5 with EF lenses using one of the three Canon EF-EOS R Mount Adapters (as Donna did with Image #1 below). You will learn how I use Customize Dials to put either ISO or EC on the Thumb Dial and how to set up and save Custom Shooting Modes (C1-C3) that can remember both your Customize Dial and Customize Button settings! That is something that none of the SONY bodies do. 🙁 Near the end of the guide I share my all-important MY MENU items with you.
Like all BAA educational materials, the R5 guide is written in my informal, easy-to-follow style. I am quite proud of this guide and look forward to hearing your thoughts on our hard work.
You can purchase your copy of the BIRDS AS ART Canon EOS R5 Camera User's e-Guide for $75.00 here in the BAA Online Store or by calling Jim in the office weekday afternoons at 863-692-0906 with your credit card in hand.
New and Better Bedfords Discount Policy!
You can now save 3% on all of your Bedfords photo gear purchases by entering the BIRDSASART coupon code at checkout. Your discount will be applied to your pre-tax total. In addition, by using the code you will get 2nd day air shipping via Fed Ex.
Grab a Nikon AF-S Teleconverter TC-14E III and save $14.99. Purchase a Canon EOS R5 and your discount will be $116.97. Purchase a Sony FE 600mm f/4 GM OSS lens and save a remarkable $389.94! Your Bedford's purchase no longer needs to be greater than $1,000.00 for you to receive a discount. The more you spend, the more you save.

Money Saving Reminder
Many have learned that if you need a hot photo item that is out of stock at B&H and would enjoy free second-day air shipping, your best bet is to click here, place an order with Bedfords, and enter the coupon code BIRDSASART at checkout. If an item is out of stock, contact Steve Elkins via e-mail or on his cell phone at (479) 381-2592 (Central time). Be sure to mention the BIRDSASART coupon code and use it for your online order to save 3% and enjoy free 2nd-day air shipping. Steve has been great at getting folks the hot items that are out of stock at B&H and everywhere else. The wait lists at the big stores can be a year or longer for the hard to get items. Steve will surely get you your gear long before that. For the past year, he has been helping BAA Blog folks get their hands on items like the SONY a9 ii, the SONY 200-600 G OSS lens, the Canon EOS R5, the Canon RF 100-500mm lens, and the Nikon 500mm PF. Steve is personable, helpful, and eager to please.
Gear Questions and Advice
Too many folks attending BAA IPTs (remember those?) and dozens of photographers whom I see in the field and on BPN, are–out of ignorance–using the wrong gear especially when it comes to tripods and more especially, tripod heads… Please know that I am always glad to answer your gear questions via e-mail. Those questions might deal with systems, camera bodies, accessories, and/or lens choices and decisions.
Kudos
Donna Bourdon is both a dear friend and a many multiple IPT veteran. Her timing was perfect when creating this image. The light was sweet, she was right on sun angle, the exposure spot-on, and she gave the birds just enough room in the frame. And the processing was perfect. Jeez, I almost forgot the water droplets! You can see more of Donna's work on her FB page here or here on Instagram.
The R5 with EF Lenses
Both Donna Bourdon and Brian Sump report that R5 AF (and all other) performance is stellar when it is used with EF super-telephoto (and other) EF lenses. Donna uses the Canon Control Ring Mount Adapter EF-EOS R and Brian uses the Canon Mount Adapter EF-EOS R. Learn more about the three EF-EOS R adapters in the blog post here.
Mute Swan: Invasive But Beautiful Introduced Species
Mute Swan (Cygnus olor) is a large member of the waterfowl family Anatidae. It is native to much of Eurosiberia, and (as a rare winter visitor), to the far north of Africa. It is an introduced species in North America – home to the largest populations outside of its native range – with additional smaller introductions in Australasia and southern Africa. The name 'mute' derives from it being less vocal than other swan species.
This species was introduced to North America in the late 19th century. Recently, it is widely viewed as an invasive species because of its rapidly increasing numbers and its adverse effects on other waterfowl and native ecosystems. Mute Swans will chase native breeding birds from their nests. A single bird can consume four to eight pounds of plants a day. They uproot and destroy wetlands vegetation, a main food source for native birds and cover for native fish and invertebrates. These large birds show little fear of people. Ironically, the Mute Swans in Lakeland are owned and protected by the city …
This image was created on 20 February 2021 at my favorite morning spot in Lakeland, FL. I used the hand held Canon RF 100-500mm f/4.5-7.1L IS USM lens (at 500mm) and the highly touted 45MP Canon EOS R5 Mirrorless Digital camera body. ISO 800. Exposure determined via test image and blinkies evaluation: 1/ 400 sec. at f/7.1 (wide open) in Manual (M) mode. AWB at 8:51am in the shade on a partly sunny morning. 1-point AI Servo AF was active at the moment of exposure and performed as expected.
Click on the image to enjoy a larger version.
Image #2: Mute Swan resting on nest

Your browser does not support iFrame.
Learning the R5
I normally do not photograph introduced species (or "soup" ducks). But I made an exception as this tame swan, resting peacefully on its fenced-in nest, enabled me to learn about getting the right exposure with the R5 and about the various R5 AF Methods. As this bird blinked when I created my favorite image design, the eye was replaced with one borrowed (via a Quick Mask) from another image in the series. Learn to do that and tons more in Digital Basics II.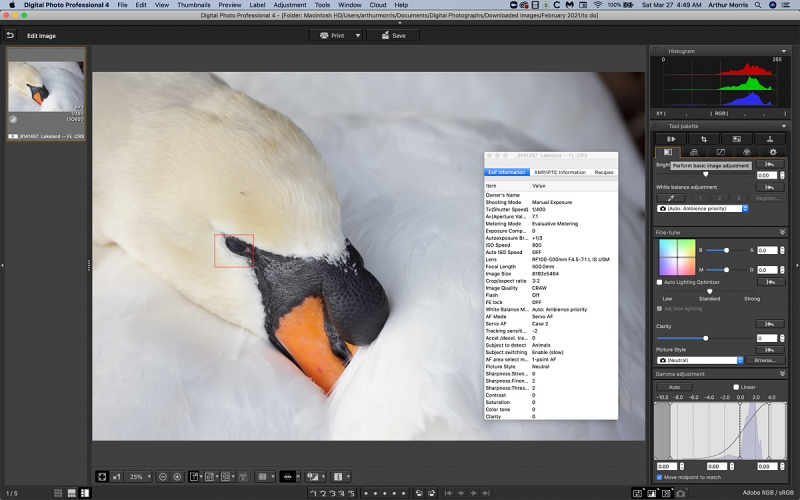 Click on the image to view a larger version.
Image #2A: DPP 4 screen capture for the Mute Swan resting on nest image
AF Strategy for All Systems
When working with static subjects, all modern camera systems allow the user to select a single AF point and move it around the frame to exactly the right spot. That is what I did here (while hand holding). The The BIRDS AS ART Canon EOS R5 Camera User's e-Guide covers all aspects of the fabulous R5 AF system. I let you know which AF Method has worked best for me for birds in flight, which AF Methods to enable, and which to disable. And the extensive DPP 4 screen capture gallery depicts and explains exactly how the AF system performs.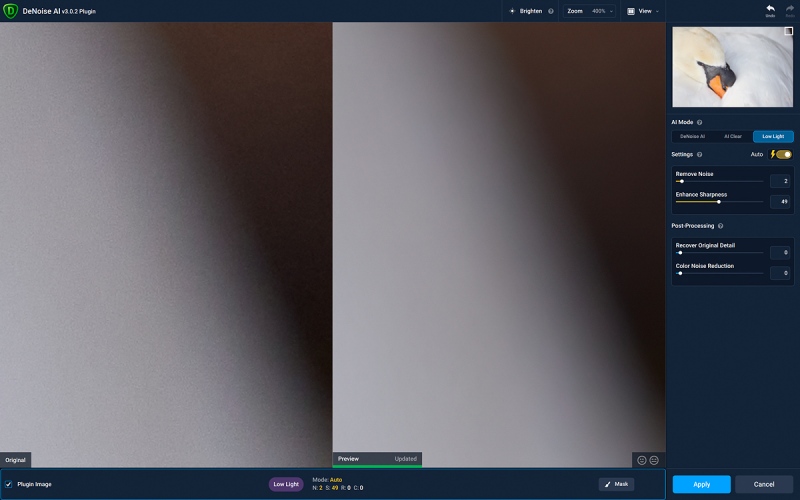 Click on the image to view a larger version.
Image #2B: Topaz DeNoise screen capture for the Mute Swan resting on nest image
Topaz DeNoise Tip
What can I say? Topaz DeNoise is amazing! Note the position of the Navigator box in the upper right corner of the original frame. Working at 400%, I placed the box on the darkest shaded portion of the image where the noise would be most visible. Be sure to click the image to see the complete and non-destructive elimination of the background noise.
Great Topaz News!
Folks who use the BAA Topaz link to purchase Sharpen AI, DeNoise AI, or the Utility Bundle (or any other Topaz plug-ins), will receive a 15% discount by entering the ARTHUR15 code at checkout. If the stuff is on sale (as it usually is), you save 15% off of the sale price! To get the discount you must use my link and you must enter the discount code. Be sure to start with this link.
Those who purchase Sharpen AI, DeNoise AI, or any other Topaz plug-ins using my link and then entering the ARTHUR15 code at checkout can e-mail to request a short Getting Started with Topaz e-Guide. Please include a copy of your Topaz receipt that shows the discount. Aside from the basics, the guide explains how to install the plug-ins so that they appear in the Photoshop Filter Menu.
Typos
With all blog posts, feel free to e-mail or to leave a comment regarding any typos or errors.