What's Up?
I had a great Wednesday morning with the large crane colt and the two getting-bigger-by-the-day crane chicks that are now about three weeks old. And I made some truly great images at sunset last night by walking one hundred yards to line up a perched bird with the beautifully-muted setting sun.
Today is Thursday 15 April 2021. The forecast for this morning is for clear skies with a gentle breeze from the south. I was down at the lake for about 1 1/2 hours. As I have become obsessed with ground- and low-level shooting utilizing the tilted rear screen, I tried a new tilted-rear-screen (TRS) technique by working on the Induro GIT 404L with the Levered-Clamp FlexShooter Pro with the 600 GM/1.4X TC/A1 combo about eight inches off the ground. I learned a ton that I will be sharing with you here at some point. There are many great advantages … Wherever you are, and whatever you are doing, I hope that you have a great day.
This blog post took about two hours to prepare and makes 113 consecutive days with a new one. Please remember to use my B&H affiliate links or to save money at Bedfords by using the BIRDSASART discount code at checkout. Doing either often earns you free guides or discounts. And doing so always earns my great appreciation.
The BAA Used Gear Page
The Used Gear page continues to be very active. The BAA Used Gear Page is the place to sell your used photographic equipment. We will help you to get your gear sold quickly for 20 to 60% or more than what the big guys are offering … Doubt me? Check out the Recent Sales list for the past eleven months at the bottom of the page.
Canon EOS R Mirrorless Digital Camera Body
Ted Keltz is offering a Canon EOS R Mirrorless Digital Camera body in like-new condition for a very low $1199.00. The sale includes the body, the body cap, the battery, the battery charger, the original camera strap, the original printed manual, and insured ground shipping via UPS to lower-48 US addresses only. Your item will not ship until your check clears unless other arrangements are made.
Please contact Ted via e-mail.
A new EOS R5 costs $3899.00. A new EOS R goes for $1799.00. I have had several folks on IPT who used their EOS R bodies with great success using the Standard Canon Mount Adapter EF-EOS R with Canon EF super-telephoto lenses, with both TCs! Grabbing Ted's practically new EOS R would be a great way to get started with Canon mirrorless while saving some handsome dollars. artie

The 159 keepers from 2434 images created during the morning session of the 1st Fort DeSoto IPT on 10 April 2021
How Do You Handle So Many Large Image Files at 30 frames per second?
Should I slow down my frame rate so I have fewer images to edit?
You should not slow down your frame rate for bird photography. Ever. The difference between a family jewel and an insta-delete can be miniscule. Things often change dramatically in a tiny fraction of a second. The more frames you have of an action or flight series, and even a seemingly static pose, the greater your chances of getting one that you like. Or love! The DeSoto Picking Your Keepers Video below can help you to dramatically improve your editing skills.
I have been suggesting for two decades that folks need to edit their folders in a timely fashion. That usually means getting the work done before they head out to the next session. If you get behind you will quickly be buried by thousand of 45 and 50MP files …
On 12 April — a DeSoto IPT morning session — I wound up with 238 keepers out of 3729 images. I still have a 1756 image file from 7 April and an 1149 image folder from 6 April to edit. Both of those from Stick Marsh. I think that I will combine the spoonbill flight shots from those two and do a second picking your keepers video for blurs and flight shots.
With the popularity of the mega-high megapixel/blazingly fast frame rate camera bodies, you need to be able to pick your keepers quickly and efficiently to avoid being buried in tens of thousands of images and to keep from filling so many hard drives that you cannot find a single image. I have lots of friends in that situation … The Canon R5 (20 fps @ 45MP) and the Sony Alpha a1 (30 fps at 51MP) are the main culprits. I think that John Johnson created more than 7000 images during the morning session on 10 April. (Oh, what a morning that was!) But even 15 fps bodies @ 22 or 24 MP can swamp you quickly if your editing (picking your keepers) skills are sub-par. And though storage is cheap, it is easy to fill multiple HDs in todays' world. The only solution to these problems is to learn to edit quickly and ruthlessly.
In the Laughing Gull/Red Knot DeSoto Picking Your Keepers Video, you will sit at my side as I blaze through the two thousand four hundred thirty four images in Capture One, tagging the keepers and then deleting the untagged rejects. Many folks have asked, Why not tag the rejects to be deleted rather than tag the keepers? A look at the stats above provide the answer: on average, I am deleting well more than 90% of the images I create. Tagging the keepers is a lot less work!
As regular readers know, I am forced to pick my keepers in Capture One because SONY does not embed a full sized JPEG into each raw file. Canon and Nikon both embed a full-sized JPEG in each raw file at the moment the image is created. Without a large embedded JPEG in all of my SONY image files, they cannot be enlarged to check the sharpness in either Photo Mechanic or BreezeBrowser. But the stuff you will learn on the video will help you with your editing regardless of the browsing program that you use. My methods will even work in PhotoShop Bridge or Lightroom.
In the video, I let you know why I chose to keep one or two images from a ten or fifteen frame sequence while deleting many similars. Two huge factors involved are head angle and the position of breaking waves or wavelets. Both are discussed at great length. The video is one hour, thirteen and one-third minutes long. Rest assured that had I not been yakking so much to teach y'all what to look for, it would have taken me just a fraction of that time to edit the 2434 images. In fact, when I picked my 12 April morning keepers from the 3729 captures, it took me exactly 21 minutes (on the clock!)
You will see how the bird's nictitating membrane can ruin an image. You will learn that faulty compositions and clipped wingtips or feet result in insta-deletes. You will see that my single biggest problem is placing the bird too low in the frame … You will learn my shooting strategies — when and why I hold the shutter button down on occasion. You will see how a second bird intruding into the frame will usually but not always result in a deletion. There is also lots of natural history and ID info in the video, along with processing strategies and tips.
You can purchase your copy of the Laughing Gull/Red Knot (and more) DeSoto Picking Your Keepers Video here in the BAA Online Store. Or you can order by calling Jim at 863-221-2372 with your credit card in hand.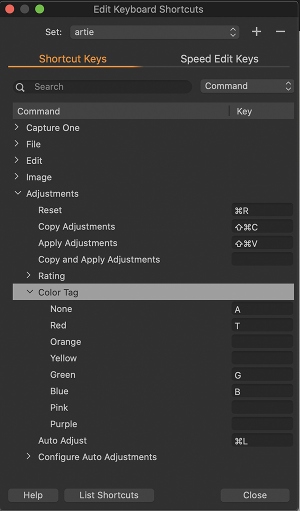 My Capture One Editing Keyboard Shortcuts
Click to enlarge.
My Capture One Editing Keyboard Shortcuts
To set up your Capture One for editing the way that I do as described in the video, go to Edit > Edit Keyboard Shortcuts > Adjustments > Color Tag. I use T to tag my keepers (RED), A to untag, and B (BLUE) for "Best" to designate potential family-jewels type images, and G (GREEN) to tag images to be saved for educational purposes.
Please use this link to purchase Capture One.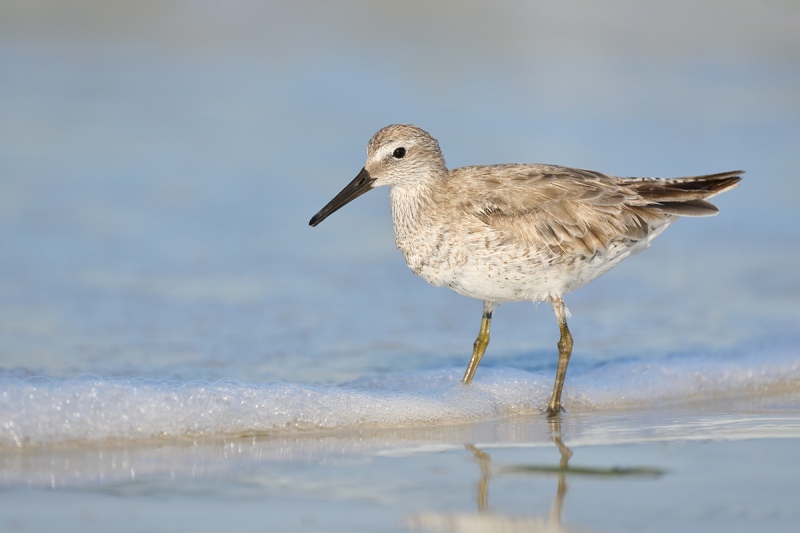 This image was created on 10 April 2021 on the first Fort DeSoto IPT. I used the hand held Sony FE 200-600mm f/5.6-6.3 G OSS lens (at 600mm) and The One, the Sony Alpha 1 Mirrorless digital camera. ISO 800. Exposure determined via Zebras with ISO on the rear dial: 1/2500 sec. at f/7.1 (stopped down 1/3-stop) in Manual mode. AWB at 9:02am on a sunny morning.
Wide/AF-C was active at the moment of exposure and nailed the focus. Click on the image to see a larger version.
Red Knot — worn first winter foraging

Your browser does not support iFrame.
A Good One!
Though this knot is not in breeding plumage, the sharpness and pose are perfect and I loved the small, foamy breaking wave in just the right spot. I will be sharing a few more of my favorites from that great morning with you hear soon.
Note: Getting close enough to the Red Knots at DeSoto to make nice images with the hand held 200-600 requires some good fieldcraft. Learn how to do it by joining me on the second DeSoto IPT.
Typos
With all blog posts, feel free to e-mail or to leave a comment regarding any typos or errors.