What's Up?
On Saturday morning I spent some quality time with the quickly growing crane chicks sitting on the ground behind the tilted rear screen of my SONY a1, and then some quality time with the large surviving colt and lots of tickseed blossoms working from the driver's seat of my SUV, all — because of the heavy overcast — with the 600 f/4 GM.
I began what will be a huge laptop clean-up project by doing the 2nd edit of my March 2021 All folder. I started with 2193 images, deleted 1661 that had made the first cut, and wound up keeping 532 images. Remember my rules for picking your keepers. On the first edit, if you are not sure, keep it. On the second edit, if you are not sure delete it. For the third edit — still to be done for this folder, if you don't love it, delete it. I will be keeping you abreast of my progress.
Today is Sunday 18 April 2021. The forecast for ILE this morning is for partly cloudy skies with a gentle southwest breeze. With the sun rising in the east/southeast, a southwest wind is not all bad — most of the birds will be square to the back of your camera. I will likely be heading down to the lake at least for a bit.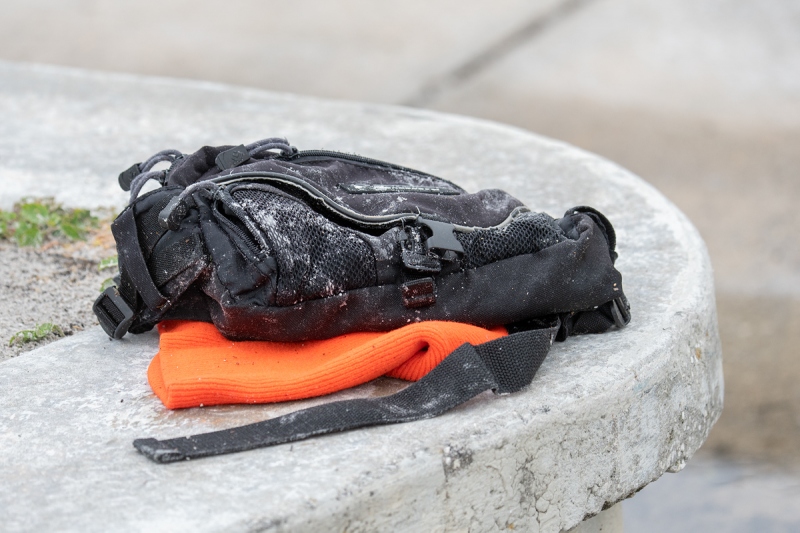 Image #1: My Missing Fanny Pack Returns from the Dead
Fort DeSoto Miracle Resurrection …
On the first two mornings of the Desoto IPT, we absolutely killed at my back-up morning spot. On the third morning, we decided to try my #1 morning spot. While we were getting our gear ready, I could not find my fanny pack. I did a pretty thorough search of my vehicle, but the rear compartment was such a mess I figured that it was hidden in the clutter. After an amazing morning, we decided to re-visit my back-up spot. We killed there too. On the way back to my vehicle, the three of us –John Johnson, Monte Brown, and yours truly, were chatting.
Suddenly, John turned and called out, "What's that?" He was pointing at a small black belt pouch on top of an orange watch cap. Both had been placed on the corner of a low concrete wall. Everything was covered in sand. I was thrilled and amazed. I had left my (open) fanny pack on the beach 24 hours ago. Someone must have found it that morning and placed it on the low wall in hopes that the owner — that would be me, would come looking for it. Though it had rained hard that night, everything — including one of my two SONY 1.4X teleconverters was fine. I literally jumped for joy.
Had it not been for the brightly colored watch cap, John might not have made the connection. He gets 51% of the credit for bringing my fanny pack back to me. The other 49% goes to my late-wife Elaine, who has made it a habit of saving me from myself on a regular basis …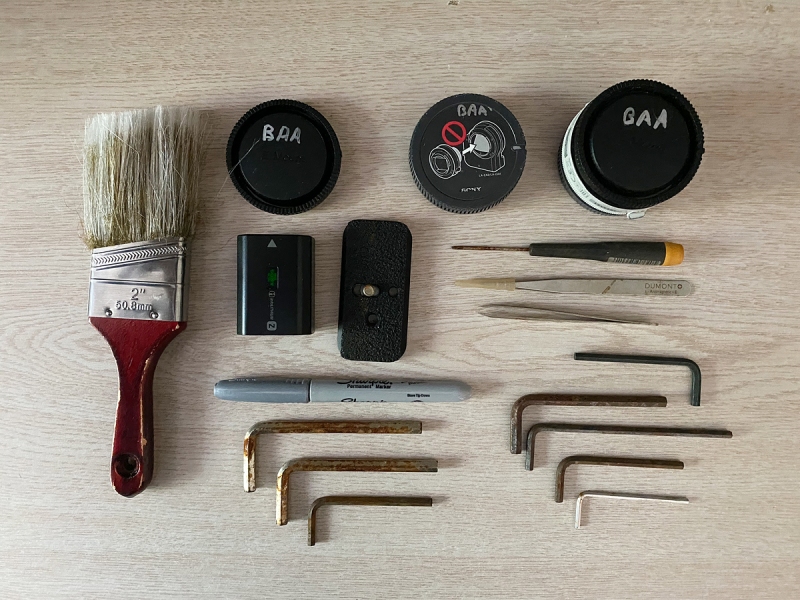 Image #2: Contents of the Fanny Pack
Contents of the Fanny Pack
The fanny pack itself was a gift from my late Mother. It surely did not cost much more than ten bucks when it was new twenty years ago. A Carhartt men's watch cap now costs $16.99.
From left to right starting with the top row:
Paint Brush: $7.99 — used to brush sand off my gear
Set of SONY teleconverter caps: probably about $20.00, but they have been on back order for more than 18 months …
SONY 1.4X teleconverter: $548.00
Spare SONY NP-FZ100 Rechargeable Lithium-Ion Battery: $78.00
P-5 Camera Body plate: $52.00
Teleconverter screw screwdriver — part of a set that costs $59.00
Two pairs of fine tweezers: about $20.00 each
Sharpie indelible silver marking pen: $2.99 — we buy them by the box of twelve
Various Allen Wrenches — a couple of bucks each
The two large ones are needed to tighten the legs on Induro (and other) tripods — one does not do you any good …
Getting the Fanny Pack returned: priceless!
If you've ever lost something was eventually and miraculously recovered, please do share your story by leaving a comment.
On the Other Hand
There days ago Anita North put her SONY 200-600/a7r iv rig in a Think Tank lens holster down on the beach at Fort DeSoto and walked down the beach with her tripod-mounted 600 GM/a1. When she returned, the 2-6 was gone. She is hoping still that it might be returned …
I have often left either the 200-600 or the 600 GM on the beach and walked more than a half mile away without giving it a second thought. I will not be doing that any more. If you are reading this and have been hoping to get in touch with the owner, please contact me via e-mail.
Be careful out there …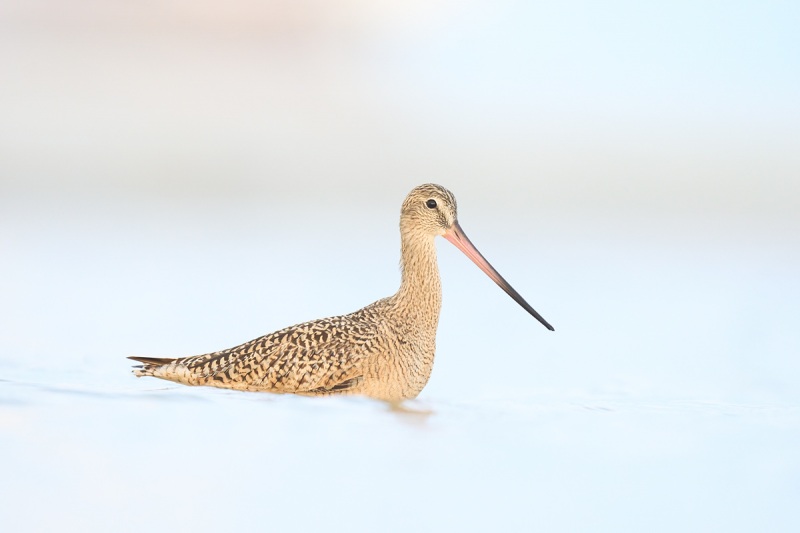 This image was created on 12 April 2021 on the first DeSoto IPT. I used the Sony FE 600mm f/4 GM OSS lens (with the lens foot resting on the ground) and The One, the Sony Alpha 1 Mirrorless digital camera. ISO 2500. Exposure determined via Zebras with ISO on the rear dial: 1/500 sec. at f/4.5 (stopped down 1/3-stop; should have been wide open) in Manual mode. AWB at 7:36:58am on a still, cloudy morning.
Wide/AF-C was active at the moment of exposure and performed perfectly. Click on the image to see a larger version.
Image #2: Marbled Godwit swimming

Your browser does not support iFrame.
In the Marbled Godwit Swimming in Heaven blog post here, I wrote:
If you had to delete one of today's two featured images, each admittedly superb, which one would you put in the trash? Why?
Most of the many folks who commented liked Image #1 better than Image #2. Despite the open bill with the flexible tip and the tiny wavelet behind the swimming birds, if I had to delete one of the two featured images I would have deleted Image #1. Image #2, above here, features a perfect head angle and thus, a connection to the viewer.
You can see what the folks in the Avian Forum on Bird Photographers.Net had to say in my post here.
BPN, where honest critiques are done gently is the best place on the planet to learn to improve as a nature photographer. Membership is only $40/year and it ain't just birds!
The Fort DeSoto Site Guide
Though a bit long in the tooth (like me), the Fort DeSoto Site Guide will get you to my two favorite morning spots. John Johnson and I recently killed at DeSoto for three straight mornings.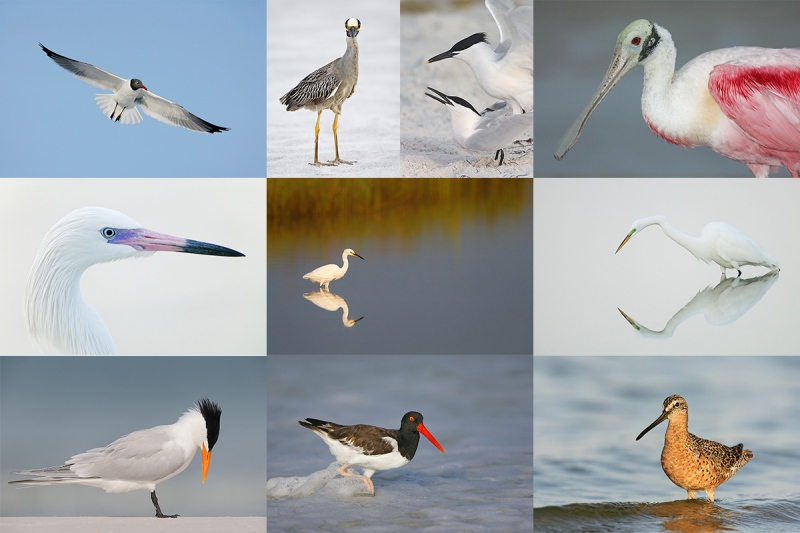 All of the images were created at Fort DeSoto in April or early May. Click on the card to enjoy a larger version.
Fort DeSoto IPT card A
Fort DeSoto Spring IPT #2
Fort DeSoto Spring IPT #2. 3 1/2 DAYS. MON 26 APR thru the morning session on THURS 29 APR 2021. $1499 includes three lunches. Limit: 6. Openings: 4.
Not only am I conversant in all three major camera systems used in the US — Nikon, Canon, and SONY (sorry Andy Rouse …), I have used all three within the past four years. Those include both SONY and Canon mirrorless. On both of these IPTs you will learn how to get the best exposure, how to get the most out of your AF system, and how to get close to free and wild birds. And tons more.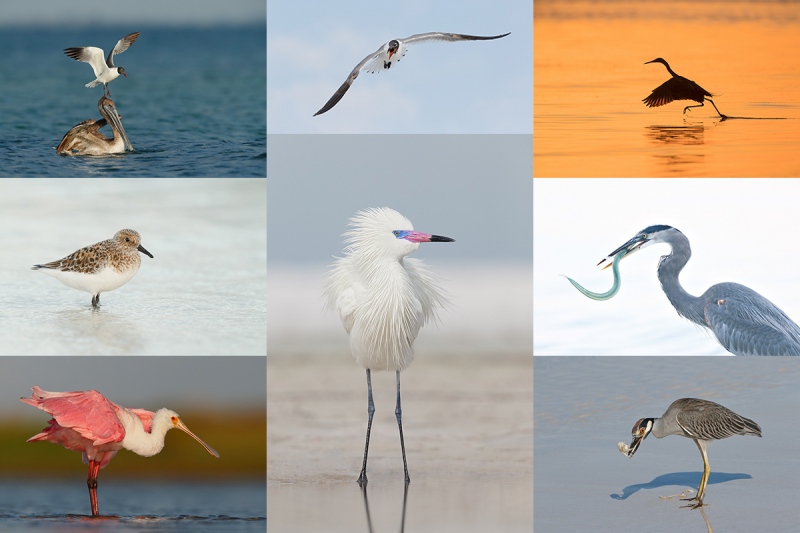 All of the images were created at Fort DeSoto in April or early May. Click on the card to enjoy a larger version.
Fort DeSoto IPT card B
A $499 deposit is required to hold your spot for this IPT. You can send a check (made out to "BIRDS AS ART) to us here: BIRDS AS ART, PO Box 7245, Indian Lake Estates, FL, 33855, or call Jim or Jennifer at the office with a credit card at 863-692-0906. Your balance, payable only by check, is due immediately after you sign up. If you have any questions, please feel free to contact me via e-mail. If you cancel due to COVID 19 concerns, all of your payments will be refunded.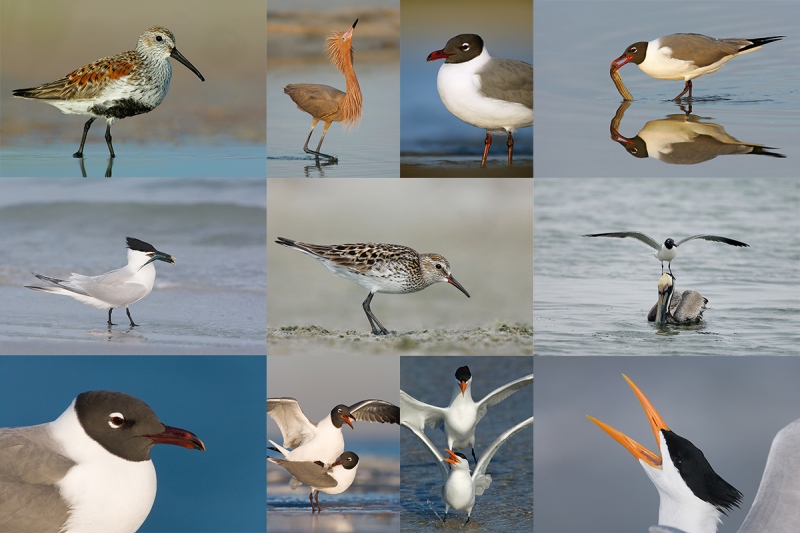 All of the images were created at Fort DeSoto in April or early May. Click on the card to enjoy a larger version.
Fort DeSoto IPT card C
Fort DeSoto Spring IPTs Expected Species
With any luck, we should get to photograph the following species: Laughing, Ring-billed, Herring, and Lesser Black-backed Gull; Royal, Sandwich, and Forster's Tern: Great, Snowy, and white and dark morph Reddish Egret and Great Blue, Little Blue, and Tricolored Heron; Yellow-crowned Night-Heron, Wood Stork, Roseate Spoonbill, and Brown Pelican. We will see and photograph lots of shorebirds including American Oystercatcher, Black-bellied, Wilson's, Semipalmated, Snowy, and Piping Plover, Marbled Godwit, Willet, Dunlin, Red Knot, Sanderling, and Western and possibly White-rumped Sandpiper.
Typos
With all blog posts, feel free to e-mail or to leave a comment regarding any typos or errors.