What's Up?
Anita North and I spent two cloudy hours with the growing crane chicks on Wednesday morning. In the afternoon, we took an airboat ride and learned some important lessons. Airboats have no way of slowing down as there is no reverse. Anchoring an airboat is a lengthy procedure. With their flat bottoms, airboat are not very stable. As you might have figured out by now, bird photography from an airboat is pretty much a losing proposition.
Today is Thursday 22 April. The forecast for Fellsmere is for clear with gentle north winds switching early to northeast. We will be heading to Stick Marsh at about 6am. Clemens Van der Werf is coming up with his flats boat midday, and Jim is picking up Donna Bourdon at MCO at 2pm. I will enjoy three days of busman's holiday photography. Then Donna and I head over to Gulfport for the second DeSoto IPT. We are now pretty much set at four: Donna, IPT veterans Jim Miller, Shelly Lake, and Jake Levin. But there are still two openings; I would love to have you along. Wherever you are, and whatever you are doing, I hope that you have a great day.
This blog post took more than an hour to prepare and makes 120 consecutive days with a new one. Please remember that if an item — a Delkin flash card, for example, is available from B&H and/or Bedfords and is also available in the BAA Online Store, that it would be great if you purchase from us. We will match any price. Please remember also to use my B&H affiliate links or to save money at Bedfords by using the BIRDSASART discount code at checkout. Doing either often earns you free guides and/or discounts. And doing so always earns my great appreciation.
Please Remember
With income from IPTs now at zero, please, if you enjoy and learn from the blog, remember to use one of my two affiliate programs when purchasing new gear. Doing so just might make it possible for me to avoid having to try to get a job as a Walmart greeter and will not cost you a single penny more. And if you use Bedfords and remember to enter the BIRDSASART code at checkout, you will save 3% on every order and enjoy free second-day air shipping. In these crazy times — I am out at least forty to sixty thousand dollars so far due to COVID 19 (with lots more to come) — remembering to use my B&H link or to shop at Bedfords will help me out a ton and be greatly appreciated. Overseas folks who cannot order from the US because of import fees, duties, and taxes, are invited to help out by clicking here to leave a blog thank you gift if they see fit.
New and Better Bedfords Discount Policy!
You can now save 3% on all of your Bedfords photo gear purchases by entering the BIRDSASART coupon code at checkout. Your discount will be applied to your pre-tax total. In addition, by using the code you will get 2nd day air shipping via Fed Ex.
Grab a Nikon AF-S Teleconverter TC-14E III and save $14.99. Purchase a Canon EOS R5 and your discount will be $116.97. Purchase a Sony FE 600mm f/4 GM OSS lens and save a remarkable $389.94! Your Bedford's purchase no longer needs to be greater than $1,000.00 for you to receive a discount. The more you spend, the more you save.

Money Saving Reminder
Many have learned that if you need a hot photo item that is out of stock at B&H and would enjoy free second-day air shipping, your best bet is to click here, place an order with Bedfords, and enter the coupon code BIRDSASART at checkout. If an item is out of stock, contact Steve Elkins via e-mail or on his cell phone at (479) 381-2592 (Central time). Be sure to mention the BIRDSASART coupon code and use it for your online order to save 3% and enjoy free 2nd-day air shipping. Steve has been great at getting folks the hot items that are out of stock at B&H and everywhere else. The wait lists at the big stores can be a year or longer for the hard to get items. Steve will surely get you your gear long before that. For the past year, he has been helping BAA Blog folks get their hands on items like the SONY a9 ii, the SONY 200-600 G OSS lens, the Canon EOS R5, the Canon RF 100-500mm lens, and the Nikon 500mm PF. Steve is personable, helpful, and eager to please.
Gear Questions and Advice
Too many folks attending BAA IPTs (remember those?) and dozens of photographers whom I see in the field and on BPN, are–out of ignorance–using the wrong gear especially when it comes to tripods and more especially, tripod heads… Please know that I am always glad to answer your gear questions via e-mail. Those questions might deal with systems, camera bodies, accessories, and/or lens choices and decisions.
The Situation
We were all sitting on the wet sand at the end of a long tidal pool where several dozen shorebirds were actively feeding on invertebrates. We stayed for about an hour. The Westerns were the most numerous. We also had some Semipalmated Plovers and Dunlin, a few Sanderling, and a Least Sandpiper or two. The birds move so fast that when we were done, I didn't think that I had gotten anything good. When I reviewed my images, however, I was quite thrilled. Of my 92 keepers after the first edit, I had three Dunlin images. All the rest were Western Sandpipers.
What's Going On Here?
When you see groups of sandpipers feeding on a mudflat, you will often see one or more of them tipping forward with their tails up and their heads down. If you know what this behavior is, or would like to make a guess, please leave a comment.
Sony Alpha a1 Crop-ability
Here, I cropped the original image file to a vertical, getting rid of 66.6% of the original pixels. (Photoshop tip: select the 2X3 preset from the Crop Tool dropdown menu.) The image quality of the resulting 63MB master file is superb. As we discussed here and seen fairly recently, if you begin with a sharp, properly exposed image, the large files of the high mega-pixel camera bodies, they will stand up to healthy crops.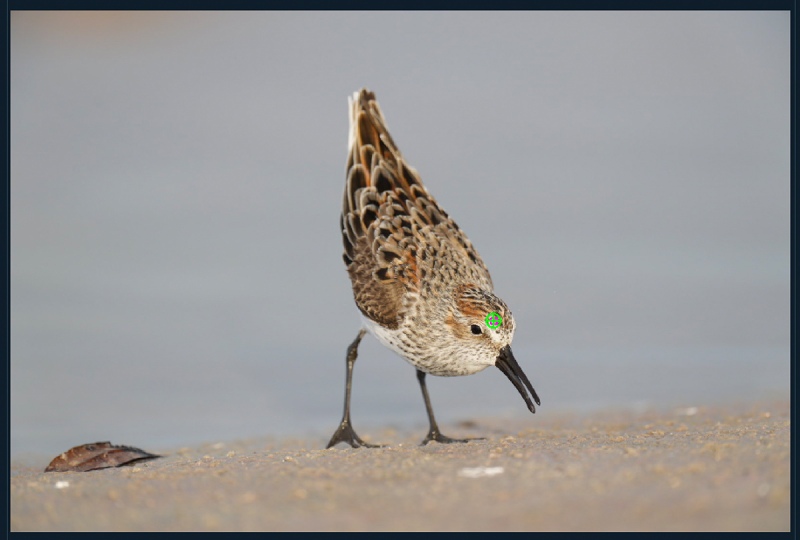 Image #1A: AF Points for the Western Sandpiper molting into breeding plumage image
SONY Alpha a1 AF
Set up correctly, the subject detection, face tracking, and animal eye tracking AF system of the a1 is currently second to none. And it kills for flight as well. The results above are typical and can usually be obtained effortlessly. Even though the system was a fraction off the bird's eye, the eye was laser/razor sharp, and the eye-skin crispy just the way it should be.
Close Enough to Perfect!
With your Sony Alpha a1 set up correctly, the AF system is science-fiction-like (even, as we have seen, at 1200mm). As always, no matter how amazing the AF performance, it is up to the operator to correctly frame the image …
Sony Alpha a1 AF Magic …
The AF system of the a1 — set up as detailed in e-mails to the Sony Alpha a1 Info & Updates group, continues to amaze me. Early on, there was lots of discussion within the group with many preferring multiple back button approaches. For me a simple shutter button approach with the right AF settings that yield 99% sharp-on-the-eye images is best. By far. It is super-simple and mega-effective. Note: info on the program that I use to ascertain SONY AF point information is detailed in one of the SONY Alpha a1 Set-up and Info Group e-mails. I plan on making that information available here soon for all SONY camera users. You guessed it, I am working on a guide. 🙂
SONY Alpha a1 Set-up and Info Group
The SONY Alpha a1 Set-up and Info Group is going great guns as folks chime in with thoughtful questions and experience-based advice. We are now up to an astounding 35 folks. Early on, we discussed the myriad AF options. I gave my opinion as to the best one for flight and general bird photography. More recently, we have been in contact with folks at SONY sharing our thoughts, experiences, and frustrations with the EVF blackout problem.
All who purchased their Alpha a1 bodies via a BAA affiliate link will receive a free subscription to the Sony Alpha a1 Set-Up and Info Updates after shooting me their receipts via e-mail. (Note: it may take me several days to confirm B&H orders.) This same service may be purchased by anyone with an a1 body via a $150.00 PayPal sent to birdsasart@verizon.net indicating payment for Alpha a1 Info Updates. Alternatively, they can call Jim weekday afternoons at 1-863-692-0906 to pay via credit card. New members will receive composite e-mails that summarize all previous discussions.
Typos
With all blog posts, feel free to e-mail or to leave a comment regarding any typos or errors.