Whats Up?
Anita North and I visited Stick Marsh on Thursday morning and with a brisk north wind, we did not do very well. Jim picked up Donna Bourdon from the airport and Clemens Van der Werf showed up just in time for yet another grilled fresh tuna dinner on the pool deck. After said dinner, both Anita and Clemens shared images and everyone was in awe of what they saw.
After a bit too much wine we headed down to the lake for sunset and arrived about two minutes too late …
Today is Friday 23 April and we are headed somewhere to photograph from Clemens' flats boat. Wherever you are, and whatever you are doing, I hope that you have a great day.
This blog post took more than an hour to prepare and makes 121 consecutive days with a new one. Please remember that if an item — a Delkin flash card, for example, is available from B&H and/or Bedfords and is also available in the BAA Online Store, that it would be great if you purchase from us. We will match any price. Please remember also to use my B&H affiliate links or to save money at Bedfords by using the BIRDSASART discount code at checkout. Doing either often earns you free guides and/or discounts. And doing so always earns my great appreciation.
Please Remember
With income from IPTs now at zero, please, if you enjoy and learn from the blog, remember to use one of my two affiliate programs when purchasing new gear. Doing so just might make it possible for me to avoid having to try to get a job as a Walmart greeter and will not cost you a single penny more. And if you use Bedfords and remember to enter the BIRDSASART code at checkout, you will save 3% on every order and enjoy free second-day air shipping. In these crazy times — I am out at least forty to sixty thousand dollars so far due to COVID 19 (with lots more to come) — remembering to use my B&H link or to shop at Bedfords will help me out a ton and be greatly appreciated. Overseas folks who cannot order from the US because of import fees, duties, and taxes, are invited to help out by clicking here to leave a blog thank you gift if they see fit.
New and Better Bedfords Discount Policy!
You can now save 3% on all of your Bedfords photo gear purchases by entering the BIRDSASART coupon code at checkout. Your discount will be applied to your pre-tax total. In addition, by using the code you will get 2nd day air shipping via Fed Ex.
Grab a Nikon AF-S Teleconverter TC-14E III and save $14.99. Purchase a Canon EOS R5 and your discount will be $116.97. Purchase a Sony FE 600mm f/4 GM OSS lens and save a remarkable $389.94! Your Bedford's purchase no longer needs to be greater than $1,000.00 for you to receive a discount. The more you spend, the more you save.

Money Saving Reminder
Many have learned that if you need a hot photo item that is out of stock at B&H and would enjoy free second-day air shipping, your best bet is to click here, place an order with Bedfords, and enter the coupon code BIRDSASART at checkout. If an item is out of stock, contact Steve Elkins via e-mail or on his cell phone at (479) 381-2592 (Central time). Be sure to mention the BIRDSASART coupon code and use it for your online order to save 3% and enjoy free 2nd-day air shipping. Steve has been great at getting folks the hot items that are out of stock at B&H and everywhere else. The wait lists at the big stores can be a year or longer for the hard to get items. Steve will surely get you your gear long before that. For the past year, he has been helping BAA Blog folks get their hands on items like the SONY a9 ii, the SONY 200-600 G OSS lens, the Canon EOS R5, the Canon RF 100-500mm lens, and the Nikon 500mm PF. Steve is personable, helpful, and eager to please.
Gear Questions and Advice
Too many folks attending BAA IPTs (remember those?) and dozens of photographers whom I see in the field and on BPN, are–out of ignorance–using the wrong gear especially when it comes to tripods and more especially, tripod heads… Please know that I am always glad to answer your gear questions via e-mail. Those questions might deal with systems, camera bodies, accessories, and/or lens choices and decisions.
Price Drop
Canon EOS-1DX Mark II Professional Digital Camera Body (with great extras!)
Price reduced $200.00 22 APR 2021
IPT veteran William Wingfield is offering a Canon EOS-1DX Mark II camera in near-mint condition with lots of extras for $2198.00 (was $2398.00). The sale includes the front lens cap, one extra battery, the battery charger, the original box, the manual, three CFast cards (two @ 128GB and 1@ 64GB), the CFast reader, One @ 64 GB CF card, and insured ground shipping via major courier to lower-48 US addresses only. Your item will not ship until your check clears unless other arrangements are made.
Please contact Bill via e-mail or by phone at 1-843-729-6670 (Eastern time zone).
The 1DX Mark II is a rugged, blazingly fast Canon professional digital camera body. It features an amazing AF system and high quality image files with great dynamic range. When he used Canon, it was the first choice of Arash Hazeghi, one of the world's premier birds-in-flight photographers. This body is still in production and currently sells new for $4,499.00. Save a very sweet $2301.00 by grabbing Bill's dSLR ASAP. artie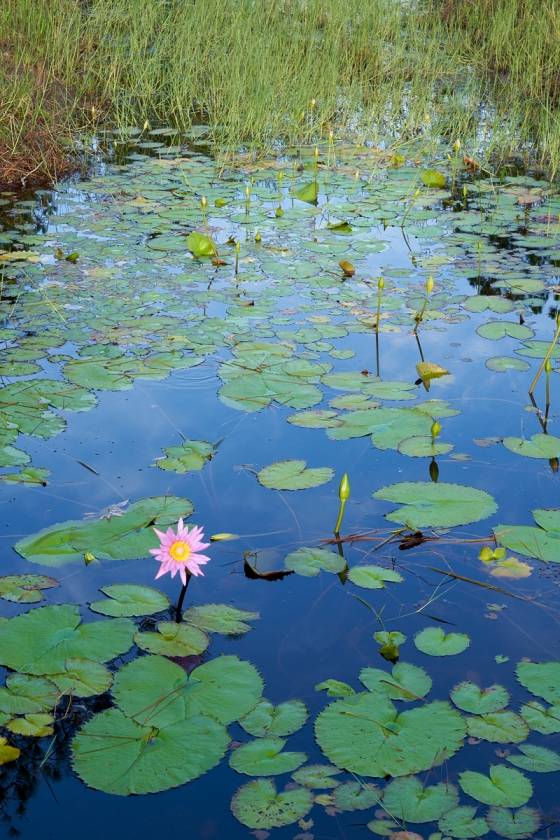 This image created on the morning of 18 AUGUST 2020 at Indian Lake Estates. I used the Induro GIT 404L/FlexShooter Pro-mounted 61MP monster, the Sony Alpha a7R IV Mirrorless Digital camera body and the Sony FE 24-105mm f/4 lens (at 68mm). ISO 800: 1/100 sec. at f/16 in Aperture Priority mode. Manual focus (on the blossom) using the combination of Manual Focus Toggle and Focus Magnifier tips from the SONY e-guide.
Click on the image to enjoy a larger version.
Image #1: Tropical Royalblue Waterlily (Nymphaea elegans) (?)

Your browser does not support iFrame.
Wildflower Identification
Identifying wildflowers is a tricky business. There are often dozens of different species with similar looking flowers that can only be identified by keying out — identifying a large array of characteristics of both the blossom and the plant itself. Tickseeds are a perfect example. While I love photographing wildflowers, I have neither the time nor the inclination to do the hard work necessary to positively identify a given flower. Some plant IDs seem fairly simple (and a very few actually are). That is to say that once you match the flower to the photo or drawing in one of the many ID guides, you actually know what the flower is. Or not.
The identification of the waterlily seen in both of today's featured images seem straightforward to this beginner. Both the leaves and the flowers match their descriptions in Roger L. Hammer's very excellent Complete Guide to Florida Wildflowers. (FYI: like pretty much all of the wildflower guides for a given state or region this one is far, far from being complete — there are just too many different species to cover in a single volume.)
Now, here is the strangest thing to me (as explained by my friend John Bradford). Once you think you have identified a given plant or flower, say Tropical Royalblue Waterlily (Nymphaea elegans), you need to check the ISB Atlas of Florida Plants and see if a specimen of that species has been collected (and certified?) for your county (in this case, Polk County). My understanding is that even if the species has been documented in surrounding counties, you cannot be sure of your ID or sure that the plant you are trying to identify positively is truly wild, in other words, that it did not spread to your county from a garden or a collection.
So I guess that I will have to go on photographing beautiful flowers without ever being sure of exactly what I am photographing.
A Matter of Perspective
I love that both of today's feature images are of the same subject (whatever it is). Image #1 is the small-in-the-frame shot, Image #2 is the clean, tight, and graphic view. I know which one I think is stronger. If you can think of a better title for this blog post, one that emphasizes the huge difference in perspective of the two images, please leave it in a comment.
The Laowa Tripod Collar
As detailed here previously, the tripod collar for the Venus Optics Laowa 100mm f/2.8 2X Ultra Macro APO Lens for Sony E is a complete joke as there is no place on the lens to firmly seat the collar. In order to make an image, you need to do quite a bit of jury-rigging. I use some tape to firm things up. After that, you have to be meticulously careful when setting up the shot lest you move the lens and throw off the focus. The big attraction of this lens is getting to two times life size. For all the difficulty of using it, the results can be spectacular.
You can learn more by doing a search for "Laowa" in the little white search box on the top right of each blog post page.
Typos
With all blog posts, feel free to e-mail or to leave a comment regarding any typos or errors.