What's Up?
Donna, Clemens, and I spent Friday morning on Clemens' flats boat at a local lake trying for Snail Kites. Clemens' strength, height, and skill stole the day. We headed back to my house for brunch. I took too long a nap and when I woke, they said, We are head to Lake Blue Cypress now. So we went. Conditions were looking dismal with bright sun and a strong east wind. There was not much going on so we went on a sight-seeing tour traversing the many canals at the eastern end of the lake. There were lots of Ospreys with big fish, really big fish, all flying directly away from us into the wind with the sun behind use — it was classic wind against sun — disastrous for bird photography. On the way back to the lake, I lay down on the floor of the boat with my head on my rolled up sweatshirt and my feet on the big Yeti cooler.
We were tooling along when both Donna and Clemens called out, What is that? I sat up, saw the bird they were pointing at, and said, It's a Red-shouldered Hawk. It was sitting on a water control device. Amazingly, it had its back to the wind and was beautifully lit. Perfect. I said, These guys can be very tame; there is a good chance that we can get right up to this bird.. Long story short — we wound up getting tight head portraits without even trying!
Once we got back to the main lake, we had another hour to kill until sunset color. Again we lucked out with some nice golden tones in the western sky and an Osprey landing right at us. So what looked like a total photo disaster turned out to be a great afternoon. Early on Saturday morning I did the first edit of the 14 APR 2021 folder: 94 keepers out of 2642 images. The process took exactly 26 minutes. Learn how in the The Laughing Gull/Red Knot (and more) DeSoto Picking Your Keepers Video here. For a1 users, I recently — with help from Anita North and the great folks from Camera Bits, came up with a new even faster method of selecting my keepers. I will be sharing that with the group in the next e-mail issue of the SONY Alpha a1 Set-up and Info Group. Scroll down for details. IAC, photos soon.
Today is Saturday 24 April and the three of us are heading back to Lake Blue Cypress for Ospreys. The forecast is calling for southwest winds (great!) and early cloudy (not terrible). Wherever you are, and whatever you are doing, I hope that you have a great day.
This blog post took more than an hour to prepare and makes 122 consecutive days with a new one. Please remember that if an item — a Delkin flash card, for example, is available from B&H and/or Bedfords and is also available in the BAA Online Store, that it would be great if you purchase from us. We will match any price. Please remember also to use my B&H affiliate links or to save money at Bedfords by using the BIRDSASART discount code at checkout. Doing either often earns you free guides and/or discounts. And doing so always earns my great appreciation.
Please Remember
With income from IPTs now at zero, please, if you enjoy and learn from the blog, remember to use one of my two affiliate programs when purchasing new gear. Doing so just might make it possible for me to avoid having to try to get a job as a Walmart greeter and will not cost you a single penny more. And if you use Bedfords and remember to enter the BIRDSASART code at checkout, you will save 3% on every order and enjoy free second-day air shipping. In these crazy times — I am out at least forty to sixty thousand dollars so far due to COVID 19 (with lots more to come) — remembering to use my B&H link or to shop at Bedfords will help me out a ton and be greatly appreciated. Overseas folks who cannot order from the US because of import fees, duties, and taxes, are invited to help out by clicking here to leave a blog thank you gift if they see fit.
New and Better Bedfords Discount Policy!
You can now save 3% on all of your Bedfords photo gear purchases by entering the BIRDSASART coupon code at checkout. Your discount will be applied to your pre-tax total. In addition, by using the code you will get 2nd day air shipping via Fed Ex.
Grab a Nikon AF-S Teleconverter TC-14E III and save $14.99. Purchase a Canon EOS R5 and your discount will be $116.97. Purchase a Sony FE 600mm f/4 GM OSS lens and save a remarkable $389.94! Your Bedford's purchase no longer needs to be greater than $1,000.00 for you to receive a discount. The more you spend, the more you save.

Money Saving Reminder
Many have learned that if you need a hot photo item that is out of stock at B&H and would enjoy free second-day air shipping, your best bet is to click here, place an order with Bedfords, and enter the coupon code BIRDSASART at checkout. If an item is out of stock, contact Steve Elkins via e-mail or on his cell phone at (479) 381-2592 (Central time). Be sure to mention the BIRDSASART coupon code and use it for your online order to save 3% and enjoy free 2nd-day air shipping. Steve has been great at getting folks the hot items that are out of stock at B&H and everywhere else. The wait lists at the big stores can be a year or longer for the hard to get items. Steve will surely get you your gear long before that. For the past year, he has been helping BAA Blog folks get their hands on items like the SONY a9 ii, the SONY 200-600 G OSS lens, the Canon EOS R5, the Canon RF 100-500mm lens, and the Nikon 500mm PF. Steve is personable, helpful, and eager to please.
Gear Questions and Advice
Too many folks attending BAA IPTs (remember those?) and dozens of photographers whom I see in the field and on BPN, are–out of ignorance–using the wrong gear especially when it comes to tripods and more especially, tripod heads… Please know that I am always glad to answer your gear questions via e-mail. Those questions might deal with systems, camera bodies, accessories, and/or lens choices and decisions.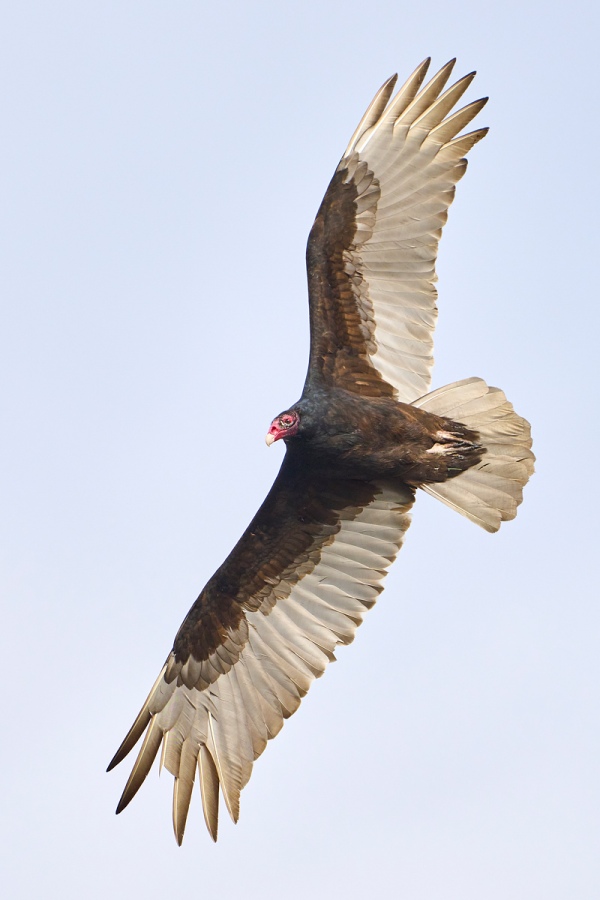 This image was created by blog regular Bob Eastman on 8 April 2021 near the Wisconsin River right below the Wisconsin Dells Dam. He used the hand held Sony FE 200-600mm f/5.6-6.3 G OSS lens (at 582mm) and The One, the Sony Alpha 1 Mirrorless digital camera. ISO 1000. Exposure determined via Zebras with ISO on the rear dial: 1/2000 sec. at f/6.3 (wide open) in Manual mode. AWB at 4:46pm on a sunny afternoon.
Wide/AF-C was active at the moment of exposure and nailed the focus. Click on the image to see a larger version.
Turkey Vulture in flight
Image courtesy of and copyright 2021 Bob Eastman

Your browser does not support iFrame.
Saved by the Alpha a1
Bob started e-mailing me about five months ago — I can't make a single sharp flight shot with my 200-600. I have your SONY Guide and I think that I have everything set up just right but I am worried that I don't … I asked, With what body Bob? He answered, 'The a7r iv." "You are not doing anything wrong, Bob; as I have been saying on the blog for a year, the a7r iv simply does not play well with the 200-600. The a9 ii does just fine."
Anyhoo, Bob ordered a Sony Alpha a1 from Bedfords and saved a very handsome $194.94 by using the BIRDSASART discount code at checkout. That qualified him for a free subscription to the SONY Alpha a1 Set-up and Info Group. He set up his a1 according to the gospel, headed out, and made this fabulous flight image during his first photo session with the new body!
Note: this image was cropped from a horizontal original.
Sony Alpha a1 AF Magic …
The AF system of the a1 — set up as detailed in e-mails to the Sony Alpha a1 Info & Updates group, continues to amaze me. Early on, there was lots of discussion within the group with many preferring multiple back button approaches. For me a simple shutter button approach with the right AF settings that yield 99% sharp-on-the-eye images is best. By far. It is super-simple and mega-effective. Note: info on the program that I use to ascertain SONY AF point information is detailed in one of the SONY Alpha a1 Set-up and Info Group e-mails. I plan on making that information available here soon for all SONY camera users. You guessed it, I am working on a guide. 🙂
SONY Alpha a1 Set-up and Info Group
The SONY Alpha a1 Set-up and Info Group is going great guns as folks chime in with thoughtful questions and experience-based advice. We are now up to an astounding 35 folks. Early on, we discussed the myriad AF options. I gave my opinion as to the best one for flight and general bird photography. More recently, we have been in contact with folks at SONY sharing our thoughts, experiences, and frustrations with the EVF blackout problem.
All who purchased their Alpha a1 bodies via a BAA affiliate link will receive a free subscription to the Sony Alpha a1 Set-Up and Info Updates after shooting me their receipts via e-mail. (Note: it may take me several days to confirm B&H orders.) This same service may be purchased by anyone with an a1 body via a $150.00 PayPal sent to birdsasart@verizon.net indicating payment for Alpha a1 Info Updates. Alternatively, they can call Jim weekday afternoons at 1-863-692-0906 to pay via credit card. New members will receive composite e-mails that summarize all previous discussions.
Typos
With all blog posts, feel free to e-mail or to leave a comment regarding any typos or errors.