What's Up?
It has probably well more than a decade since I had been to Wakodahatchee Wetlands in Delray. Heck, probably two decades. I began with digital in 2001, and do not think that I have a single digital image from Wako … During my absence, the Wood Storks have taken over the joint. In force. There are dozens and dozens of nests with chicks ranging from just-hatched tiny ones to almost-fledged. The species is doing quite well. Some of the nests are within 20 feet of the boardwalk. Shooting at rookeries is, however, always a big challenge and that was the case during our morning visit. Rookeries are always super-cluttered, many nests are quite close together, and light angle is often a problem. None-the-less, I think that I got a few good ones.
Today is Sunday 9 May 2021. The forecast for ILE for this morning is for sunny with an east southeast wind. I will surely be heading down to the lake early. Wherever you are, and whatever you are doing, I hope that you have a great day.
This blog post took about an hour to prepare, and makes 136 straight days with a new one. Please remember that if an item — a Delkin flash card, or a tripod head, for example, that is available from B&H and/or Bedfords and is also available in the BAA Online Store, it would be great if you opt to purchase from us. We will match any price. Please remember also to use my B&H affiliate links or to save 3% at Bedfords by using the BIRDSASART discount code at checkout. Doing either often earns you free guides and/or discounts. And always earns my great appreciation.
If the two images in today's post tickle your fancy, note that there is an educational 14-frame section on creating pleasing blurs in the video webinar, Designing and Creating Pleasing and Dramatic Natural History Images.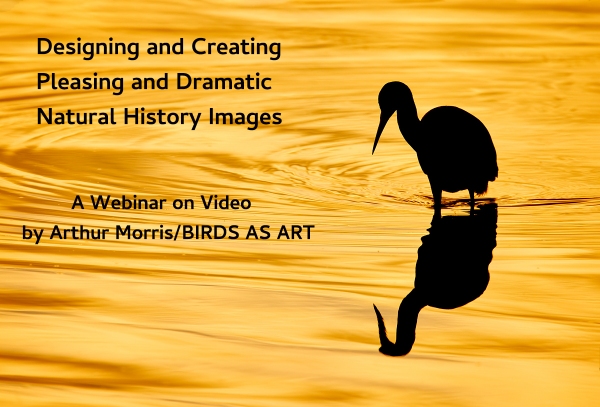 Designing and Creating Pleasing and Dramatic Natural History Images
A Video Webinar: $30 by electronic download

Order your copy by clicking here.
Designing and Creating Pleasing and Dramatic Natural History Images
A Video Webinar
In this 1 hour 28 minute plus video you will learn and be inspired. We cover everything from the very basics to the fine points. After a brief bio, the topics include Behavior, Action, Diagonal Lines, and the Cuteness Factor; Birds in Flight — The Holy Grail of Bird Photography; Mis-Framing!; Basic Image Design/HORIZONTALS: Get the subject out of the center of the frame. Basic Image Design/VERTICALS: The center of the frame is generally fine; The Importance of BACKGROUND; Isolating the Subject; Other Elements of Composition; On Getting Low; Going Wide for Bird-scapes; Super-tight!; Working in Sunny Conditions; Working in Cloudy Conditions; Working in Foggy Conditions; Working in the Shade; Working in Bad Weather; Creating Back-lit Images; Creating Silhouettes; and Creating Pleasing Blurs.
Each segment of the program consists of an average of about 15 images that will drive home the points being made, educate you, and inspire. The instructions and advice, given clearly and concisely, are based on my near-38 years of experience photographing birds with telephoto and super-telephoto lenses. And on several decades of creating educational blog posts.
This presentation is based on the webinar that I did for the South Shore Camera Club in April. You can find some of the comments below along with comments from two of the folks who viewed the webinar the night before the DeSoto IPT began.
You can order your copy of Designing and Creating Pleasing and Dramatic Natural History Images/A Video Webinar by clicking here or by calling Jim with your credit card in hand at 863-692-0906.
Please Remember
With income from IPTs greatly reduced, please, if you enjoy and learn from the blog, remember to use one of my two affiliate programs when purchasing new gear. Doing so just might make it possible for me to avoid having to try to get a job as a Walmart greeter and will not cost you a single penny more. And if you use Bedfords and remember to enter the BIRDSASART code at checkout, you will save 3% on every order and enjoy free second-day air shipping. In these crazy times — I am out at least forty to sixty thousand dollars so far due to COVID 19 (with lots more to come) — remembering to use my B&H link or to shop at Bedfords will help me out a ton and be greatly appreciated. Overseas folks who cannot order from the US because of import fees, duties, and taxes, are invited to help out by clicking here to leave a blog thank you gift if they see fit.
New and Better Bedfords Discount Policy!
You can now save 3% on all of your Bedfords photo gear purchases by entering the BIRDSASART coupon code at checkout. Your discount will be applied to your pre-tax total. In addition, by using the code you will get 2nd day air shipping via Fed Ex.
Grab a Nikon AF-S Teleconverter TC-14E III and save $14.99. Purchase a Canon EOS R5 and your discount will be $116.97. Purchase a Sony FE 600mm f/4 GM OSS lens and save a remarkable $389.94! Your Bedford's purchase no longer needs to be greater than $1,000.00 for you to receive a discount. The more you spend, the more you save.

Money Saving Reminder
Many have learned that if you need a hot photo item that is out of stock at B&H and would enjoy free second-day air shipping, your best bet is to click here, place an order with Bedfords, and enter the coupon code BIRDSASART at checkout. If an item is out of stock, contact Steve Elkins via e-mail or on his cell phone at (479) 381-2592 (Central time). Be sure to mention the BIRDSASART coupon code and use it for your online order to save 3% and enjoy free 2nd-day air shipping. Steve has been great at getting folks the hot items that are out of stock at B&H and everywhere else. The wait lists at the big stores can be a year or longer for the hard to get items. Steve will surely get you your gear long before that. For the past year, he has been helping BAA Blog folks get their hands on items like the SONY a9 ii, the SONY 200-600 G OSS lens, the Canon EOS R5, the Canon RF 100-500mm lens, and the Nikon 500mm PF. Steve is personable, helpful, and eager to please.
Gear Questions and Advice
Too many folks attending BAA IPTs (remember those?) and dozens of photographers whom I see in the field and on BPN, are–out of ignorance–using the wrong gear especially when it comes to tripods and more especially, tripod heads… Please know that I am always glad to answer your gear questions via e-mail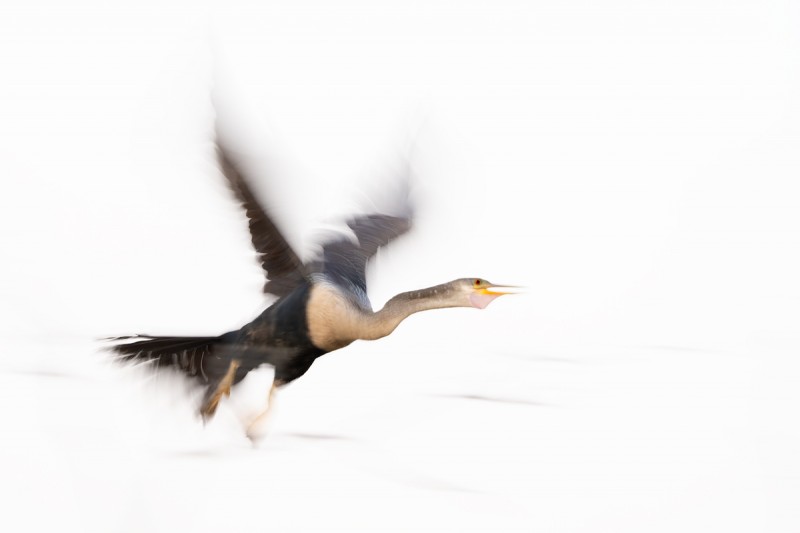 This image was created on 23 April 2021 on Lake Kissimmee aboard Clemens Van der Werf's flats boat. I used the hand held Sony FE 200-600mm f/5.6-6.3 G OSS lens (at 376mm) and The One, the Sony Alpha 1 Mirrorless digital camera. AUTO set ISO 800. Exposure determined by Zebras with EC on the Thumb Dial. Multi metering +2.7 stops: 1/30 sec. at f/6.3 (wide open) in Shutter Priority mode. AWB at 6:49am on a very overcast morning.
Wide/AF-C was active at the moment of exposure and performed perfectly. Click on the image to see a larger version.
Image #1: Anhinga taking flight

Your browser does not support iFrame.
Why (Pleasing) Blurs?
You are out early. It is overcast. There is little light to work with. Even with Topaz DeNoise and cameras that have fabulous sensors that handle high ISOs better than ever, nobody wants to be working at ISOs in the range of 6400 to 12800 or even higher in order to get a shutter speed high enough to create sharp image. IMHO, the best way to go in such situations is to get creative and work with low shutter speeds (and correspondingly lower ISO). Creating a good pleasing blur is like winning the lottery — you've got to buy lots of tickets (i.e., makes lots of images), and throw in a bit of luck …
Note: the bird's eye is the original eye after some Eye Doctor work; I brightened the pupil and increased the Vibrance. All as detailed along with dozens of great workflow and Photoshop tips and techniques in Digital Basics II.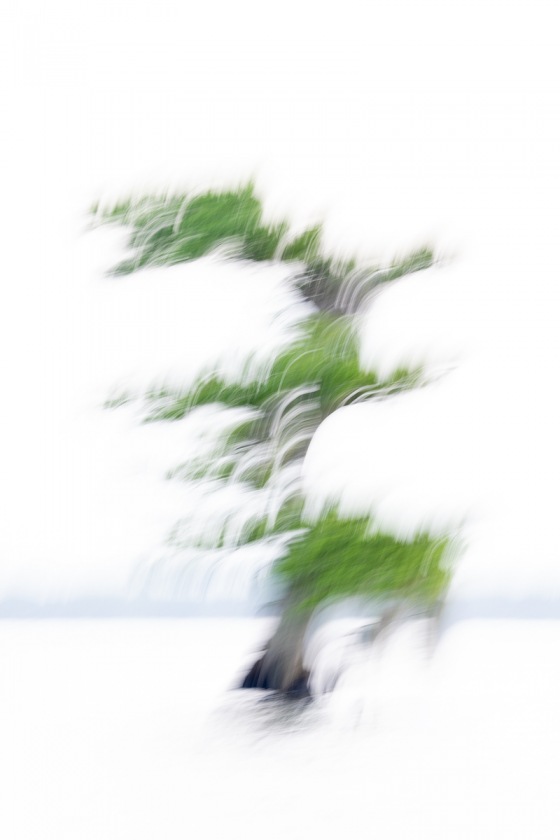 This image was created on 4 May 2021 on Lake Blue Cypress aboard Clemens Van der Werf's flats boat. I used the hand held Sony FE 200-600mm f/5.6-6.3 G OSS lens (at 200mm) and The One, the Sony Alpha 1 Mirrorless digital camera. ISO 250. Exposure determined by Zebras and experience with ISO on the Thumb Dial: 1/5 sec. at f/5.6 (wide open) in Manual mode. AWB at 6:49am on a very overcast morning.
Wide/AF-C was active at the moment of exposure and performed perfectly. Click on the image to see a larger version.
Image #2: Cypress Tree jiggle blur

Your browser does not support iFrame.
Jiggle Blurs
The trees on Lake Blue Cypress are gorgeous and I have photographed them often in lots of different lighting conditions. Aside from perhaps a silhouette or two, I have never created anything memorable. At least until the morning of 4 May. Or not, depending on your taste. I went down to 1/5 second, adjusted the ISO to show 3 stops off the white (actually dreary grey) sky, and began creating vertical pan/jiggle blurs. Working rapidly, I created about 50 images checking ever few to see how I was doing. Some of the images showed hope, but most were mis-framed too high or too low. So I kept trying. I did not see this one in the field but when I saw it on the computer I was impressed. After setting the black point and adding some Vibrance it literally jumped off the screen. At least for me.
Note: Denise Ippolito came up with the term "jiggle blur" and taught me the technique. Here I combined that with a vertical pan blur.
Why Manual?
For well more than a decade –heck, probably for more than two decades, I have been teaching folks to create pleasing blurs in low light in Shutter Priority mode using Auto ISO with Exposure Compensation (EC) on this or that dial or wheel. That approach works very well during the pre-dawn at the beach where pretty much everything — the sand, the sky, and even the water, is relatively light-toned. The single negative to this approach is that if the birds fly in front of a dark background — mangroves, for example, the subject will be grossly over-exposed as you will generally be between +2 or +3 EC. So I have recently begun going back to basics when shooting blurs: work in Manual mode, set the shutter speed and aperture, and then adjust the ISO (again on this or that dial or wheel) as needed to get the right exposure on the subject. Just as I did for Image #2.
Multiple Choice Quiz
A- I hate blurs. I would delete both of today's featured images.
B- I like both equally.
C- I like both but Image #1 is stronger.
D- I like both but Image #2 is stronger.
E- Fill in the blank if you wish.
A Guide to Pleasing Blurs
Learn everything there is to know about creating pleasingly blurred images in A Guide to Pleasing Blurs by Denise Ippolito and yours truly. This 20,585 word, 271 page PDF is illustrated with 144 different, exciting, and artistic images. The guide covers the basics of creating pleasingly blurred images, the factors that influence the degree of blurring, the use of filters in creating pleasing blurs, and a great variety of both in-the-field and Photoshop techniques that can be used to create pleasingly blurred images.
Artie and Denise teach you many different ways to move your lens during the exposure to create a variety of pleasingly blurred images of flowers and trees and water and landscapes. They will teach you to recognize situations where subject movement can be used to your advantage to create pan blurs, wind blurs, and moving water blurs. They will teach you to create zoom-blurs both in the field and during post-processing. Artie shares the techniques that he has used and developed for making blurred images of flocks of geese in flight at his beloved Bosque del Apache and Denise shares her flower blur magic as well as a variety of creative Photoshop techniques that she has developed.
With the advent of digital capture creating blurred images has become a great and inexpensive way to go out with your camera and have fun. And while many folks think that making successful blurred images is the result of being a sloppy photographer, nothing could be further from the truth. In "A Guide to Pleasing Blurs" Artie and Denise will help you to unleash your creative self.
Typos
With all blog posts, feel free to e-mail or to leave a comment regarding any typos or errors.