What's Up?
I did drive down to the lake for a short visit, but there was not much going on so I headed back home and did some flowers from our butterfly garden. I pretty much finished the Nikonians webinar program and spent an hour critiquing images in the Avian Forum at Bird Photographer's.Net. BPN, where honest critiques are done gently. It ain't just birds. If you want to learn about dealing with over-saturated REDs, check out the learning that occurred in the Eric Patdu Macaw post here.
Today is Saturday 12 June 2021. The forecast for today is for partly sunny turning cloudy early with scattered thunderstorms this afternoon and a high of only 89 degrees. I'll be heading out without any great expectations as soon as I hit the Publish button. Wherever you are, and whatever you are doing, I hope that you too have a great day.
If you are interested in four (two 1/2 and three full) days of In-the-Field Instruction at a great new spot in the Jacksonville, FL area — the afternoon of Sunday 27 June through the morning session on Thursday 1 July 2021, please get in touch ASAP via e-mail for details, or call me on my cell at 863-221-2372. If you have a four-wheel drive truck or an SUV that would do well on the beach, that would be an amazing plus. Inexpensive lodging at a gorgeous AirBnB just 25 minutes from our shooting location is available. We only have room for one more in the 4 bedroom home.
This blog post took more than an hour to prepare, and makes 168 consecutive days with a new one. Please remember that if an item — a Delkin flash card, or a tripod head — for example, that is available from B&H and/or Bedfords and is also available in the BAA Online Store, it would be great if you opt to purchase from us. We will match any price. Please remember also to use my B&H affiliate links or to save 3% at Bedfords by using the BIRDSASART discount code at checkout. Doing either often earns you free guides and/or discounts. And doing so always earns my great appreciation.
Please Remember
With income from IPTs now close to zero, please, if you enjoy and learn from the blog, remember to use one of my two affiliate programs when purchasing new gear. Doing so just might make it possible for me to avoid having to try to get a job as a Walmart greeter and will not cost you a single penny more. And if you use Bedfords and remember to enter the BIRDSASART code at checkout, you will save 3% on every order and enjoy free second-day air shipping. In these crazy times — I am out at least forty to sixty thousand dollars so far due to COVID 19 (with lots more to come) — remembering to use my B&H link or to shop at Bedfords will help me out a ton and be greatly appreciated. Overseas folks who cannot order from the US because of import fees, duties, and taxes, are invited to help out by clicking here to leave a blog thank you gift if they see fit.
New and Better Bedfords Discount Policy!
You can now save 3% on all of your Bedfords photo gear purchases by entering the BIRDSASART coupon code at checkout. Your discount will be applied to your pre-tax total. In addition, by using the code you will get 2nd day air shipping via Fed Ex.
Grab a Nikon AF-S Teleconverter TC-14E III and save $14.99. Purchase a Canon EOS R5 and your discount will be $116.97. Purchase a Sony FE 600mm f/4 GM OSS lens and save a remarkable $389.94! Your Bedford's purchase no longer needs to be greater than $1,000.00 for you to receive a discount. The more you spend, the more you save.

Money Saving Reminder
Many have learned that if you need a hot photo item that is out of stock at B&H and would enjoy free second-day air shipping, your best bet is to click here, place an order with Bedfords, and enter the coupon code BIRDSASART at checkout. If an item is out of stock, contact Steve Elkins via e-mail or on his cell phone at (479) 381-2592 (Central time). Be sure to mention the BIRDSASART coupon code and use it for your online order to save 3% and enjoy free 2nd-day air shipping. Steve has been great at getting folks the hot items that are out of stock at B&H and everywhere else. The wait lists at the big stores can be a year or longer for the hard to get items. Steve will surely get you your gear long before that. For the past year, he has been helping BAA Blog folks get their hands on items like the SONY a9 ii, the SONY 200-600 G OSS lens, the Canon EOS R5, the Canon RF 100-500mm lens, and the Nikon 500mm PF. Steve is personable, helpful, and eager to please.
Gear Questions and Advice
Too many folks attending BAA IPTs (remember those?) and dozens of photographers whom I see in the field and on BPN, are–out of ignorance–using the wrong gear especially when it comes to tripods and more especially, tripod heads… Please know that I am always glad to answer your gear questions via e-mail.
Lucky Strike Means Fine Tobacco
LSMFT
Lucky Strikes were the popular cigarette brand of my childhood. They, along with Schaefer Beer, were the main sponsors of the Brooklyn Dodgers, my favorite team. My late-Dad, Private First Class Robert Edward Morris, picked up the smoking habit in WW II while serving in the Aleutians. It was cold and the troops did not have proper gloves or boots, so they took up smoking in part to keep warm. Ironically, the Red Cross supplied smokes by the boatload. My Dad became a four-pack a day man for several decades after he returned home less his right arm. He survived the smoker's daily double: throat cancer and lung cancer. Even more ironically, my late-Mom, Hazel Louise Morris, died at 94 of COPD. From second-hand smoke.
To learn more about baseball and beer, read the very interesting and nostalgic Ballpark Digest article by Kevin Reichard here.
When I was about ten years old, my Dad said to me, "You wanna try a puff?" I said sure. I put the cigarette to my lips and sucked in. Then I almost choked to death. I never even thought about taking a second puff. It was one of the best things my Dad ever did for me. To learn a lot more about the amazing life of Bob Morris, check out the Honoring My Dad, Private First-Class Robert Edward Morris. And the rest, in the blog post here.
In any case, when I thought about how lucky I was with the shrike (as detailed below), the phrase from my childhood came to mind and I couldn't shake it. LSMFT indeed! And thus, the very confusing title of today's blog post…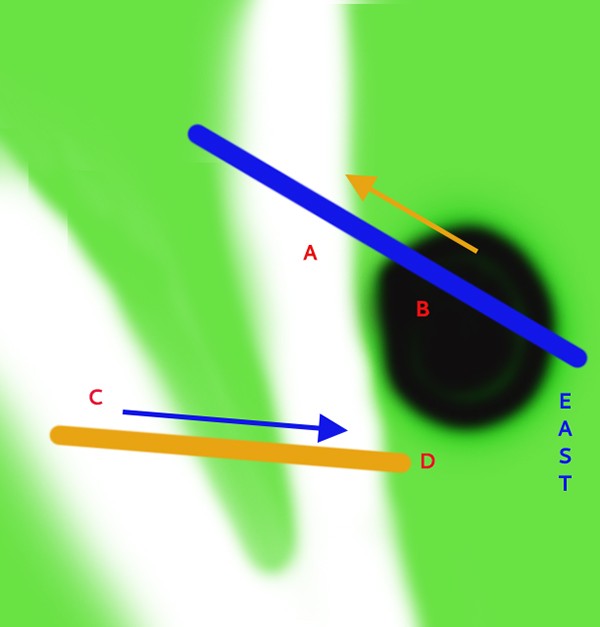 North Beach story board map
It's Much Better to Try and Fail Than Not to Try at All…
It had been a pretty good morning at DeSoto. Though I had taken things fairly easily, I had walked about two miles and was tired and hot as I made my way back to the parking lot at North Beach. I was walking roughly east with the sun in my face. The broad sand paths are shown in white. When I got to C, I spotted a Loggerhead Shrike in the middle of the hard sand road at A. I've seen a zillion shrikes in Florida, but have never come close to making a good photograph of even one of them. They are usually quite shy. So when I saw this bird, I thought, "I'll try, but my chances of getting close and on sun angle are less than one in a hundred."
I needed to get to B, but rather than heading directly there, I continued straight ahead to D and stopped to set the exposure. Then I put tripod down and moved slowly towards B. On the way in, I noticed that the shrike was trying to dig up a prey item. I raised my chances success to one in ten. The best news was that the black circle was a depression from a small seasonal pond that fills after heavy rains; it was totally dry but more than a foot deep. When I got to B, I was getting excited but still managed to sit down slowly without scaring the bird away. Using the knee-pod technique, I bent my left knee, placed my left forearm atop the distal portion of my thigh, and went to work. I never saw the beetle until I looked at the images.
So yes, it's far better to try even when the odds are against you. And who knows? You just might succeed.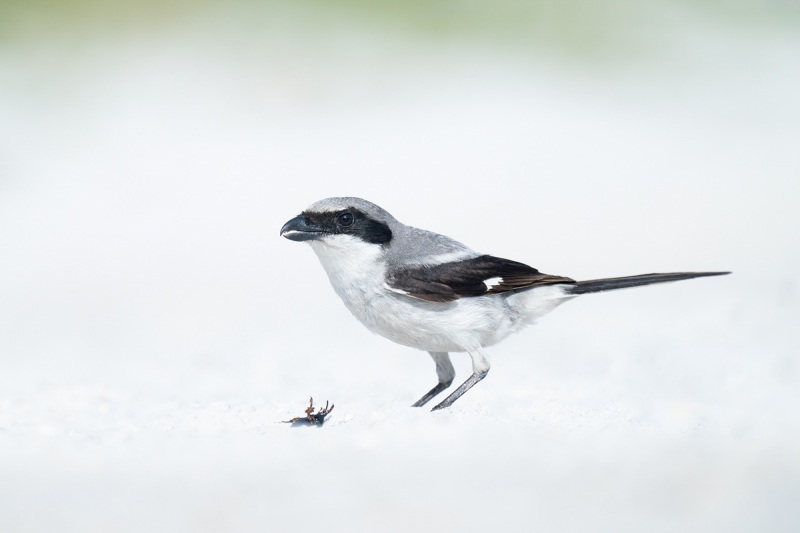 This image was created on 4 June 2021 at Fort DeSoto Park. While seated in a depression (as detailed above), I used the hand held Sony FE 600mm f/4 GM OSS lens with the Sony FE 1.4x Teleconverter and The One, the Sony Alpha 1 Mirrorless digital camera. ISO 800. Exposure determined via Zebras with ISO on the rear dial: 1/2500 sec. at f/5.6 (wide open) in Manual mode. AWB at 9:22am on a clear sunny morning.
Wide/AF-C was active at the moment of exposure and performed perfectly by nailing and tracking the shrike's eye. Click on the image to see a larger version.
Loggerhead Shrike with beetle

Your browser does not support iFrame.
The Optimized Image
Like all of my current a1 images, this raw file was converted in Adobe Camera Raw. The optimized image is a relatively small crop from the left and from above, and a bit of canvas was added behind the bird. I did some beach clean-up using my usual cadre of Photoshop tools: the Patch Tool, the Spot Healing Brush, and Content Aware Fill. I created about 70 images of this bird before it flew off. I kept nine of those after the first edit, and just deleted six more, leaving me with three.
Could the beetle be a cockroach?
The short story is that I am very glad that I tried.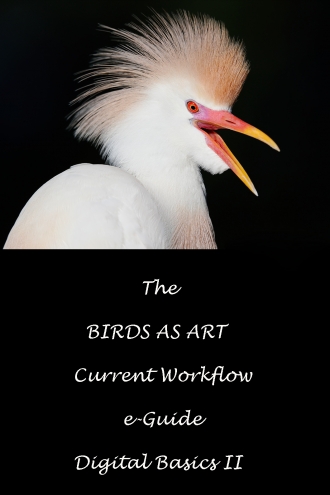 The BIRDS AS ART Current Workflow e-Guide (Digital Basics II).
You can order your copy from the BAA Online Store here, by sending a PayPal for $40 here, or by calling Jim or Jennifer weekdays at 863-692-0906 with your credit card in hand. Be sure to specify Digital Basics II.
The BIRDS AS ART Current Workflow e-Guide (Digital Basics II)
The clean-up techniques mentioned above and tons more great Photoshop tips and techniques — along with all of my personalized Keyboard Shortcuts — are covered in detail in the BIRDS AS ART Current Workflow e-Guide (Digital Basics II), an instructional PDF that is sent via e-mail. Learn more and check out the free excerpt in the blog post here. While the new e-Guide reflects my MacBook Pro/Photo Mechanic/DPP 4/Photoshop workflow, folks using a PC and/or BreezeBrowser will also benefit greatly by studying the material on DB II. Note: folks working on a PC and/or those who do not want to miss anything Photoshop may wish to purchase the original Digital Basics along with DB II while saving $15 by clicking here to buy the DB Bundle.
Folks who learn well by following along rather than by reading can check out the complete collection of MP 4 Photoshop Tutorial Videos by clicking here. Note: all of the videos are now priced at an amazingly low $5.00 each.
You can learn how and why I converted all of my Canon digital RAW files in DPP 4 in the DPP 4 RAW Conversion Guide here. More recently, I became proficient at converting my Nikon RAW (NEF) files in Adobe Camera Raw. About two years ago I began converting my Nikon and Sony RAW files in Capture One Pro 12 and continue to do so today.
To purchase Capture One, please use this link. Then you can learn more about Capture One in the Capture One Pro 12 Simplified MP4 Video here. The next step would be to get a copy of Arash Hazeghi's "The Nikon Photographers' Guide to Phase One Capture One Pro e-Guide" in the blog post here.
You can learn advanced Quick Masking and advanced Layer Masking techniques in APTATS I & II. You can save $15 by purchasing the pair.
Typos
With all blog posts, feel free to e-mail or to leave a comment regarding any typos or errors.