What's Up?
Several folks commented or e-mailed on the difficulty of photographing the Swallow-tailed Kites near Deland. They were 100% correct. It was my first time ever at this location. We have one more morning on Lake woodruff and I will use what I learned to do much better today than I did on Friday morning.
I forgot to mention yesterday that on Thursday evening I climbed into bed at 6:30pm anticipating a great night's sleep and waking at 4:00am for the trip up to Deland. I have never ever have a problem falling asleep. I play one game of chess against a BOT on my i-phone, read for a bit, and then I am gone. Anyhoo, on Thursday night I simply could not fall asleep. Wide awake, I read for six hours before finally falling asleep at 12:30am. And I have no clue as to why …
If you are seriously interested in joining me for the world's best Homer/Katchemak Bay Bald Eagle trip(s) in FEB/early MARCH 2022, please contact me immediately via e-mail for dates and details.
Today is Saturday 24 July 2021. The weather for Deland is looking less than ideal … Partly cloudy with a gentle northwest breeze. Clemens and I will be heading south after our morning session. Wherever you are, and whatever you are doing, we hope that you too have a great day.
Remember that you can find some great photo accessories (and necessities!) on Amazon by clicking on the Stuff tab on the orange/yellow menu bar above. On a related note, it would be extremely helpful if blog-folks like me, who spend too much money on Amazon, would get in the habit of clicking on the Amazon logo link on the right side of each blog post. As you might expect, doing so will not cost you a single penny, but would be appreciated tremendously by yours truly. And it works seamlessly with your Amazon Prime account.
This blog post took about two hours to prepare and makes 209 consecutive days with a new one. Please remember that if an item — a Delkin flash card, or a tripod head — for example, that is available from B&H and/or Bedfords, and is also available in the BAA Online Store, it would be great, and greatly appreciated if you would opt to purchase from us. We will match any price. Please remember also to use my B&H affiliate links or to save 3% at Bedfords by using the BIRDSASART discount code at checkout. Doing either often earns you free guides and/or discounts. And doing so always earns my great appreciation.
Please Remember
With income from IPTs now close to zero, please, if you enjoy and learn from the blog, remember to use one of my two affiliate programs when purchasing new gear. Doing so just might make it possible for me to avoid having to try to get a job as a Walmart greeter and will not cost you a single penny more. And if you use Bedfords and remember to enter the BIRDSASART code at checkout, you will save 3% on every order and enjoy free second-day air shipping. In these crazy times — I am out at least forty to sixty thousand dollars so far due to COVID 19 (with lots more to come) — remembering to use my B&H link or to shop at Bedfords will help me out a ton and be greatly appreciated. Overseas folks who cannot order from the US because of import fees, duties, and taxes, are invited to help out by clicking here to leave a blog thank you gift if they see fit.
New and Better Bedfords Discount Policy!
You can now save 3% on all of your Bedfords photo gear purchases by entering the BIRDSASART coupon code at checkout. Your discount will be applied to your pre-tax total. In addition, by using the code you will get 2nd day air shipping via Fed Ex.
Grab a Nikon AF-S Teleconverter TC-14E III and save $14.99. Purchase a Canon EOS R5 and your discount will be $116.97. Purchase a Sony FE 600mm f/4 GM OSS lens and save a remarkable $389.94! Your Bedford's purchase no longer needs to be greater than $1,000.00 for you to receive a discount. The more you spend, the more you save.

Money Saving Reminder
Many have learned that if you need a hot photo item that is out of stock at B&H and would enjoy free second-day air shipping, your best bet is to click here, place an order with Bedfords, and enter the coupon code BIRDSASART at checkout. If an item is out of stock, contact Steve Elkins via e-mail or on his cell phone at (479) 381-2592 (Central time). Be sure to mention the BIRDSASART coupon code and use it for your online order to save 3% and enjoy free 2nd-day air shipping. Steve has been great at getting folks the hot items that are out of stock at B&H and everywhere else. The wait lists at the big stores can be a year or longer for the hard to get items. Steve will surely get you your gear long before that. For the past year, he has been helping BAA Blog folks get their hands on items like the SONY a9 ii, the SONY 200-600 G OSS lens, the Canon EOS R5, the Canon RF 100-500mm lens, and the Nikon 500mm PF. Steve is personable, helpful, and eager to please.
Gear Questions and Advice
Too many folks attending BAA IPTs (remember those?) and dozens of photographers whom I see in the field and on BPN, are–out of ignorance–using the wrong gear, especially when it comes to tripods and more especially, tripod heads… Please know that I am always glad to answer your gear questions via e-mail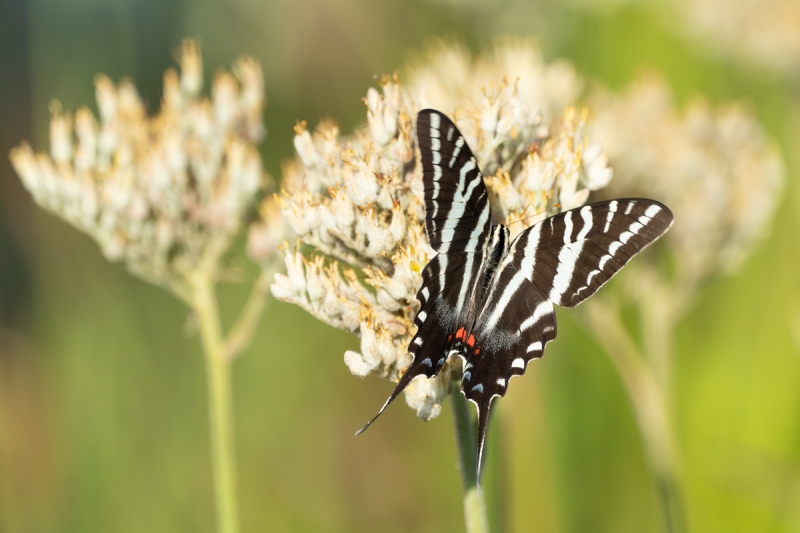 This image was created on 15 July 2020 a few blocks from my home at ILE. I used the hand held Sony FE 100-400mm f/4.5-5.6 GM OSS lens with the Sony FE 1.4x Teleconverter (at 560mm) and the 61-MP Sony Alpha a7R IV Mirrorless Digital Camera Body. ISO 800. The exposure was determined by Zebras with ISO on the rear wheel: 1/1000 sec. at f/9 (wide open) in Manual mode. RawDigger showed this exposure to be dead-solid perfect (as seen in the screen capture below). AWB at 8:44am on a clear, sunny morning.
I screwed up the focus (by choosing the wrong AF Method) … Click on the image to view a larger version.
Image #1: Zebra Swallowtail on Carolina Red Root blossom

Your browser does not support iFrame.
Accurate and Honest Comments
Of the 39,479 approved comments on the blog, those left at the A Zebra at ILE ??? Your Thoughts? Be Honest. Be Brutal blog post here, were among the most insightful ever. The boys and girls did some fine work. So fine, that I am posting my replies here rather than on that post so that lots of folks can learn.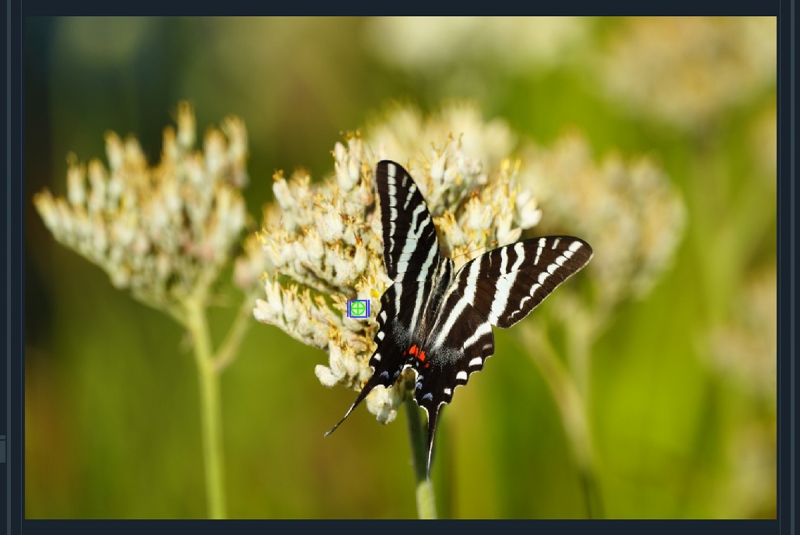 Image #1A: AF point screen capture for the Zebra Swallowtail on Carolina Red Root blossom image
Byron Prinzmetal
July 21, 2021 at 7:42 pm
·
My guess is the af mode was not a spot mode but some wide Sony af mode that got the wing tips as they were the closest points. Hard to have everything right all the time especially when you might have also anticipated getting the butterfly in flight and then had the af mode set for capturing a wider af area for a moving object????? But fantastic image anyway you cut it … BP
Thanks, Byron. I wish that I liked it as much as you. I believe that I was using one of the tracking spot AF methods but they are not nearly as good on the 7r iv as they are on the a1. Even though I started on the butterfly's head, the AF system drifted off the butterfly and grabbed a spot on the flower just to the left of the butterfly's left hind wing — the bottom wing on our right. So the head and the antennae were well past the plane of focus … In a perfect world, however, I could have gotten the shot by going to a single point moved to the right center of the frame and placed on the butterfly's head or at least on its thorax.
James Saxon
July 21, 2021 at 5:32 pm
Nice image. I want to comment on what you titled Raw Digger is not for the faint of heart. I have owned Raw Digger for a couple of months and still trying to wrap my arms around all the information in the guide. It takes looking at your histogram and exposure in a totally new light. I still don't understand everything but the guide is a huge help when using the software. I am still learning to view my exposures in a different context. When I get it right it takes a lot less processing. I recommend the software but not without purchasing the guide to reduce the learning curve.
Hi Jim, It was great meeting you at Anahuac. And yes, exposing to the right does make post-processing a lot easier. You may be making things a bit too complicated. Once you have the Adapted (Pink) histogram set up, the only thing that matters is the G channel. In a perfect world, that will run right up to the 16000 line. If it makes its was up to the 2/3 mark between the 8000 line and the 16000 line, you have an excellent exposure. Oft times, we wind up only one third of the way from the 8000 line to the 16000 line. That is still a very good and very workable exposure. Many folks are making their lives difficult by not even reaching the 8000 line; their images are under-exposed by a stop or more, often by two stops. artie
Chris Davidson
July 21, 2021 at 2:17 pm
A nice Zebra Swallowtail image, Art! Looks to me like your focus point was around the middle of it's right wing.
Catching this butterfly with it's wings fully opened would most likely have given you the details you were looking for … That can be hard at times with some species, they seem to constantly flap their wings. Firing off a burst of images will often times give at least one frame with fully open wings. The out of focus plants in the background also detract a bit, a cleaner background would improve this as well. Of course it's all easier said than done!!
Thanks, Chris. The AF point was actually on the flower to our left of the butterfly's left hind wing. But you were at the right latitude. And yes, had the butterfly fully spread it wings and posed flat, the image would have been much sharper and much more striking. I don't particularly mind the flower background but there are lots of nicer flowers. And yes, the difficultly here was that this delicate creature would land only for a brief moment … artie
Larry Master
July 21, 2021 at 2:10 pm
I like the image. It appears that your AF setting caused the camera to grab what it thought was an "eye" (the red spot). It would have been nice if the wings were more open and/or you had more depth of field with a lower f-stop and higher ISO. I had some success with a similar setup (A1 w/ 200-600 and 1.4) a week ago while leading a butterfly walk (here).
Thanks, Larry. I like it but do not love it; it is not critically sharp where it needs to be. I never set up Eye AF with the a7r iv. I am pretty sure that if I began AF with tracking: Flexible Spot with the a1 it would have locked on the insect's head … artie
Mike Cristina
July 21, 2021 at 10:49 am
It's a great shot. I wish the stem on the left wasn't there but it was, so you had to keep it. The focus appears to be on the red spot and up the center of the right wing. Had he moved his left wing away from you, AND exposed his left antennae into view it might have been a better photo. But, alas, he didn't know you were there.
Thanks, Mike. I am afraid that it does not work for me even though the butterfly is gorgeous and was a perfect specimen. See above for the actual location of the AF point … Good eye noticing that one antenna was partially hidden 🙁 artie
Adam
July 21, 2021 at 9:54 am
There are several things I like about the image including the composition with the butterfly canted to the right and the slight bend of the flowers to the left. As you observed, it's an interesting specimen and one we don't see around here. Obviously, you have little control over the background and flower so I won't venture to comment on these issues. What would I have preferred to have seen? Both wings (L>R) are a bit oof (DOF v. motion?) and the head position is not optimal. Only one antenna is visible and the head is ever slightly shrouded by the wing. Also, the focus appears to be on the spots on the lower part of the wings so the head is not the focal point. The right tail flare (?) is lost in the shadow of the stem on the plant (from the butterfly?) Perhaps had you moved to the right a bit, all of these issues would have been obviated though with butterflies, they rarely pause but for a brief second.
Thanks for your insightful comment, Adam. Your analysis is spot on. Yes, I was pretty much dead on sun angle so that it the shadow of the butterfly on the stem. The image is badly front focused and the head is irrecoverably soft. I believe that you were referring to the tail when you mentioned the flare. I appreciate everyone's honest and accurate comments. I thought that this image might make for some excellent educational fodder and it did.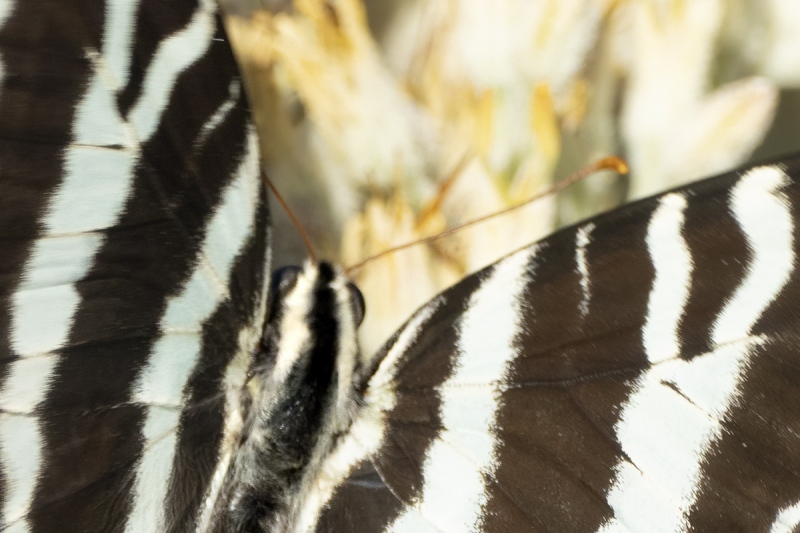 Image #1B: A tight crop of the head of the Zebra Swallowtail on Carolina Red Root blossom image
Simply Not Sharp
Click on the image to enlarge it and you can easily see that the butterfly's head is nowhere near sharp. It is well beyond the plane of sharp focus and in addition, only one of the antennae are visible. Paraphrasing the late Harry Chapin from Mr. Tanner:
The butterfly was beautiful, but unfortunately the presentation was not up to contemporary professional standards; full-time consideration of another endeavor might be in order.
If you are not familiar with the story songs of the late, great Harry Chapin, you might want to invest five minutes listening to this wonderful song here. The complete (and very touching) lyrics are available at the link.
Typos
With all blog posts, feel free to e-mail or to leave a comment regarding any typos or errors.