The East Pond
The East Pond at Jamaica Bay Wildlife Refuge, Queens, NY was the place to observe and photograph North America's southbound migrant shorebirds from 1975 through about 2010. Then, for reasons noted below, the place pretty much went down the tubes due to high water levels. At present, it seems that the folks at Gateway have gotten their act together; conditions at the pond are reported to be excellent this season. As detailed below, I have a strong connection to the East Pond. I photographed my first shorebird — a Semipalmated Sandpiper, there in August of 1983. I've been visiting for 45 years and have spent thousands of hours on the pond.
If you would like to learn to identify and photograph more than a dozen species of shorebirds on an In-the-Field Workshop in August, please shoot me an e-mail to learn the dates and details. The East Pond is best for photography for just three specific days in a calendar year … I will be there then. Here's hoping that the East Pond will return to its former crown-jewel glory.
Homer Bald Eagles Winter 2021
Yes, this is an expensive (but competitively priced) trip. The price of the boat and the price of the fish have risen astronomically since my last visit in 2020. But the photography is beyond amazing. Flight photography with any lens till you cannot raise your arms, creative set-ups, lots of snow, we hope (earlier in the season is best for that), and lots of opportunities for point-blank head portraits and talon shots. If you are seriously interested in joining me for the world's best Homer/Kachemak Bay Bald Eagle trip(s) — mid-FEB thru early MARCH 2022, please contact me immediately via e-mail for dates and details.
What's Up?
Thanks to the many who left kind comments on yesterday's East Pond/JBWR history lesson. By Tuesday evening, I had all of my photo gear packed.
Today is Wednesday 28 July 2021. I still have lots of packing to do. I will be leaving ILE no later than 11:15 for the drive up to Sanford. You need to be checked in by 2:30. The train pulls out at 4pm and is scheduled to arrive in Lorton, Virginia at 9:00am on Thursday morning. Wherever you are, and whatever you are doing, I hope that you too have a great day.
Remember that you can find some great photo accessories (and necessities!) on Amazon by clicking on the Stuff tab on the orange/yellow menu bar above. On a related note, it would be extremely helpful if blog-folks like me, who spend too much money on Amazon, would get in the habit of clicking on the Amazon logo link on the right side of each blog post. As you might expect, doing so will not cost you a single penny, but would be appreciated tremendously by yours truly. And it works seamlessly with your Amazon Prime account.
This blog post took about 90 minutes to prepare and makes 212 consecutive days with a new one. Please remember that if an item — a Delkin flash card, or a tripod head — for example, that is available from B&H and/or Bedfords, and is also available in the BAA Online Store, it would be great, and greatly appreciated if you would opt to purchase from us. We will match any price. Please remember also to use my B&H affiliate links or to save 3% at Bedfords by using the BIRDSASART discount code at checkout. Doing either often earns you free guides and/or discounts. And doing so always earns my great appreciation.
Please Remember
With income from IPTs now close to zero, please, if you enjoy and learn from the blog, remember to use one of my two affiliate programs when purchasing new gear. Doing so just might make it possible for me to avoid having to try to get a job as a Walmart greeter and will not cost you a single penny more. And if you use Bedfords and remember to enter the BIRDSASART code at checkout, you will save 3% on every order and enjoy free second-day air shipping. In these crazy times — I am out at least forty to sixty thousand dollars so far due to COVID 19 (with lots more to come) — remembering to use my B&H link or to shop at Bedfords will help me out a ton and be greatly appreciated. Overseas folks who cannot order from the US because of import fees, duties, and taxes, are invited to help out by clicking here to leave a blog thank you gift if they see fit.
New and Better Bedfords Discount Policy!
You can now save 3% on all of your Bedfords photo gear purchases by entering the BIRDSASART coupon code at checkout. Your discount will be applied to your pre-tax total. In addition, by using the code you will get 2nd day air shipping via Fed Ex.
Grab a Nikon AF-S Teleconverter TC-14E III and save $14.99. Purchase a Canon EOS R5 and your discount will be $116.97. Purchase a Sony FE 600mm f/4 GM OSS lens and save a remarkable $389.94! Your Bedford's purchase no longer needs to be greater than $1,000.00 for you to receive a discount. The more you spend, the more you save.

Money Saving Reminder
Many have learned that if you need a hot photo item that is out of stock at B&H and would enjoy free second-day air shipping, your best bet is to click here, place an order with Bedfords, and enter the coupon code BIRDSASART at checkout. If an item is out of stock, contact Steve Elkins via e-mail or on his cell phone at (479) 381-2592 (Central time). Be sure to mention the BIRDSASART coupon code and use it for your online order to save 3% and enjoy free 2nd-day air shipping. Steve has been great at getting folks the hot items that are out of stock at B&H and everywhere else. The wait lists at the big stores can be a year or longer for the hard to get items. Steve will surely get you your gear long before that. For the past year, he has been helping BAA Blog folks get their hands on items like the SONY a9 ii, the SONY 200-600 G OSS lens, the Canon EOS R5, the Canon RF 100-500mm lens, and the Nikon 500mm PF. Steve is personable, helpful, and eager to please.
Gear Questions and Advice
Too many folks attending BAA IPTs (remember those?) and dozens of photographers whom I see in the field and on BPN, are–out of ignorance–using the wrong gear, especially when it comes to tripods and more especially, tripod heads… Please know that I am always glad to answer your gear questions via e-mail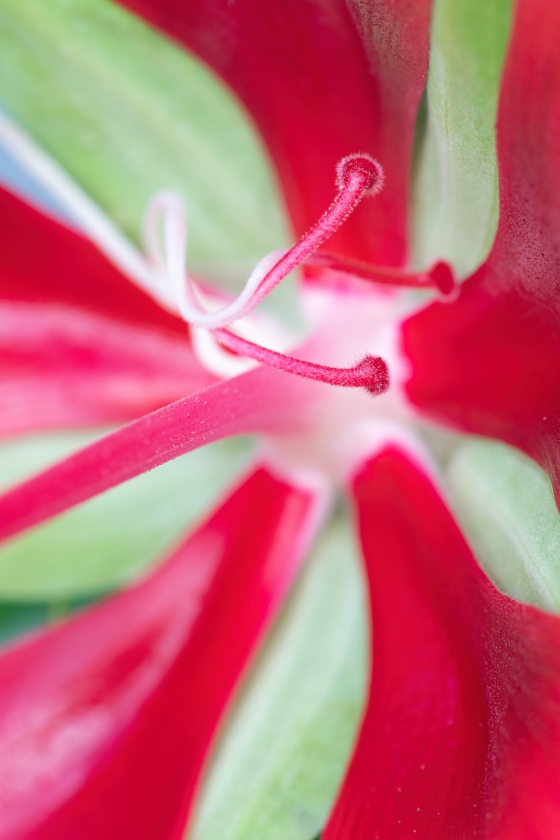 This image was created on 10 July 2021 in our butterfly garden in the back front yard. Standing at full height, I used the Induro GIT304L Grand Series 3 Stealth Carbon Fiber Tripod/Levered-Clamp FlexShooter Mini-mounted Canon EF 180mm f/3.5L Macro USM lens with the Metabones Canon EF/EF-S Lens to Sony E Mount T Smart Adapter (Fifth Generation) and The One, the Sony Alpha 1 Mirrorless Digital camera body. ISO 800. The exposure was in part determined by Zebras with Exposure Compensation on the rear wheel, and then selected as best from a bracketed series of exposures after evaluation in RawDigger. Multi-metering +1.3 stops: 1/13 sec. at f/8 (stopped down 2 1/3 stops) in Manual mode. Manual Focus, Focus Magnifier, Focus Peaking, and the 2-second self-timer, all as detailed in the SONY Alpha a1 Info and Updates group e-mails. AWB at 7:33am on a still, cloudy morning. I pinned the tall stem of the plant with the leg of a spare tripod to keep the blossom still.
Be sure to click on the image to view a larger version.
Image #1: Scarlet Rosemallow (Hibiscus coccineus) native

Your browser does not support iFrame.
Abstract Flower Center: Any Better?
My last attempt at an abstract flower center image was universally scorned 🙂 You can see that image in the blog post here and below.
Even I like this one a lot better. These plants grow to more than three feet tall. The biggest one in our garden is more than four feet tall. On our recent trip to Lake Woodruff for the Swallow-tailed Kites we saw lots of these blooming in very wet woods along the canals. As the pool cage was in the background I got in really tight — these are large flowers, and angled in from one side to keep the tip of the stamen (the tall thing in the middle) out of the image …
What Do You Think of Image #1 (above) ?
What do you like about it?
What don't you like?
Trashed!
Nearly all who commented on this image trashed it, perhaps rightly so. I was not thrilled with the overall look of the image, but … See below for But …
Cliff Beittel left this insightful comment:
I've never had much success myself with shallow DOF on flowers, but I've seen many such images that were beautiful, even at f/2.8. The problem here, for me, is that the sharp stigma are surrounded by the very soft stamen of similar color. The out-of-focus pink petal I like. So perhaps one frame of the stigma and stamen at f22 or f32 blended with another of the petal at f14 or even wider?
Love this species. Had one in our backyard at our old house.
When Cliff mentioned that the sharp stigma was surrounded by the soft stamens of similar color, I realized that he hit the nail on the head. Some rosemallows have darker stigma … Had I found one of those species, a similar image might work a lot better …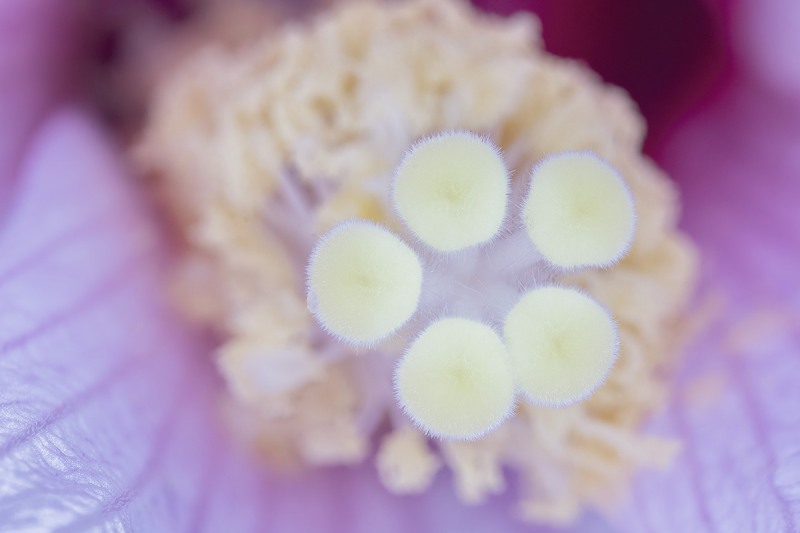 Click on the image to view a larger, seemingly even sharper version.
Image #2A: a tight crop of the Swamp Rosemallow Hibiscus grandiflorus blossom
But …
Several folks commented that the image was not sharp. A quick look at the Image 2A, a tight crop of the stigma (I think), reveals that it is sharp where I wanted to be sharp. To me, it looks exceptionally sharp, especially considering the shutter speed: 1/3 second! One commenter stated that the highlights were blown out. The brightest part of the image was the lower left corner. There was nothing even close to being over-exposed. That said, I did not like the glare on the petal in that corner of the image.
Typos
With all blog posts, feel free to e-mail or to leave a comment regarding any typos or errors.