Your Fave?
Which of today's three featured images is your favorite. Please leave a comment and let us know why you made your choice.
What's Up?
I finished packing on Wednesday morning and left early, headed for the Auto Train station in Sanford, FL, figuring I could nap on the way down if need be. I spent an hour on the phone with Cliff Beittel and that really helped pass the time. I arrived way early, boarded the train at 2:30, and we pulled out right on time at 4pm.
I was glad to learn that two spots for the Homer trip have been filled, that several folks are interested in joining me at JBWR, and that several others are setting up dates for Nickerson Beach In-the-Field Instruction. Good friend Bill Schneider will be joining me for two private days on the beach there 10 & 11 August. He has recovered well from his fairly recent shoulder surgery.
Kudos to American swimmer Katie Ledecky for her Gold Medal in the first-ever Olympic swim of the woman's 1500 meter freestyle. And love and support for world's greatest-of-all-time woman gymnast, American Simone Biles for withdrawing from the the team and the individual all-around competitions citing stress and mental issues. She said that she felt lost in the air … No-one, probably including Simone, knows if she will compete in the Event finals that are scheduled to begin on Sunday night. Learn more about this situation and this amazing young woman here in the great Sports Illustrated article by Stephanie Apstein.
I met some fun folks last night and we spent two hours telling stories and laughing. Loudly! David, the barman, hung out with us as well. He is a delightful man who is often confused with Morgan Freeman. When I saw his long thin fingers I asked if he played piano. He does. Then I asked if he had ever dunked (a basketball). He said that the had but that his favorite sport was baseball. He was looking forward to playing at the University of Maryland but injured a knee working a construction job. He has a great smile.
I slept seven fitful hours — understandable as the Auto Train gets up to seventy mph. It is now 6:40 am and we passed by Richmond, VA at about 6:15. I had a nice chat with David the barman about Motown, the Temptations, the Four Tops, Marvin Gaye, and Hitsville, USA. We are — barring anything unforeseen — looking at an-ahead-of-schedule arrival in Lorton, VA no later than 8:30am. I will head toward Nickerson Beach despite the dire weather forecast. I have a hotel room in Rockville Center for tonight, will try to do some photography this afternoon and Friday morning, and then head to Alissa's house in Ronkonkoma (on Long Island). Wherever you are, and whatever you are doing, I hope that you too have a great day.
Remember that you can find some great photo accessories (and necessities!) on Amazon by clicking on the Stuff tab on the orange/yellow menu bar above. On a related note, it would be extremely helpful if blog-folks like me, who spend too much money on Amazon, would get in the habit of clicking on the Amazon logo link on the right side of each blog post. As you might expect, doing so will not cost you a single penny, but would be appreciated tremendously by yours truly. And it works seamlessly with your Amazon Prime account.
This blog post took about 90 minutes to prepare and makes 213 consecutive days with a new one. Please remember that if an item — a Delkin flash card, or a tripod head — for example, that is available from B&H and/or Bedfords, and is also available in the BAA Online Store, it would be great, and greatly appreciated if you would opt to purchase from us. We will match any price. Please remember also to use my B&H affiliate links or to save 3% at Bedfords by using the BIRDSASART discount code at checkout. Doing either often earns you free guides and/or discounts. And doing so always earns my great appreciation.
Homer Bald Eagles Winter 2022
Yes, this is an expensive (but competitively priced) trip. The price of the boat and the price of the fish have risen astronomically since my last visit in 2020. But the photography is beyond amazing. You can do the whole trip with either the Canon 100-500 or the SONY 200-600 along with any 70-200mm lens. Flight photography until you cannot raise your arms, creative set-ups, lots of snow, we hope (earlier in the season is best for that), and lots of opportunities for point-blank head portraits and talon shots. All is a spectacular setting. If you are seriously interested in joining me for the world's best Homer/Kachemak Bay Bald Eagle trip(s) — mid-FEB thru early MARCH 2022, please contact me immediately via e-mail for dates and details. I am looking for a roommate who will be doing all eleven days.
The East Pond
The East Pond at Jamaica Bay Wildlife Refuge, Queens, NY was the place to observe and photograph North America's southbound migrant shorebirds. It shined from 1975 through about 2010. Then, for reasons noted in the blog post here, the place pretty much went down the tubes due to high water levels. At present, it seems that the folks at Gateway have gotten their act together; conditions at the pond are reported to be excellent this season. I have a strong connection to the East Pond. I photographed my first shorebird — a Semipalmated Sandpiper, there in August of 1983. I've been visiting for 45 years and have spent thousands of hours on the pond.
If you would like to learn to identify and photograph more than a dozen species of shorebirds on an In-the-Field Workshop in August, please shoot me an e-mail to learn the dates and details. The East Pond is best for photography for just three specific days in a calendar year … I will be there then. Here's hoping that the East Pond will return to its former crown-jewel glory.
SONY a9 II Mirrorless Digital Camera Body
Super-Low Price!/Canadian Sale Only
BAA-friend and many multiple IPT veteran Anita North is offering a a Sony a9 II in excellent condition for a BAA record-low price in USD. The sale includes one battery and the charger, and insured ground shipping to Canadian addresses only. For price, and to get in touch with Anita, please contact artie via e-mail. The sooner the better, as she is leaving for Africa in mid-August.
As things worked out, the a9, and then the a9 ii, turned out to be life-changers for me. From the moment I tracked that first incoming Brandt's Cormorant at LaJolla, I knew that at that time, the SONY a9 series bodies featured the world' best AF. I upgraded to the a9 ii as soon as it was released for the slightly larger body size. At one point I owned two a9 ii bodies. A new a9 ii sells for $4,498.00 so you can save a very nice $2004.00 by grabbing Anita's a9 ii ASAP. Not to mention that the new Sony A1 sells for $6498.00 … artie
Please Remember
With income from IPTs now close to zero, please, if you enjoy and learn from the blog, remember to use one of my two affiliate programs when purchasing new gear. Doing so just might make it possible for me to avoid having to try to get a job as a Walmart greeter and will not cost you a single penny more. And if you use Bedfords and remember to enter the BIRDSASART code at checkout, you will save 3% on every order and enjoy free second-day air shipping. In these crazy times — I am out at least forty to sixty thousand dollars so far due to COVID 19 (with lots more to come) — remembering to use my B&H link or to shop at Bedfords will help me out a ton and be greatly appreciated. Overseas folks who cannot order from the US because of import fees, duties, and taxes, are invited to help out by clicking here to leave a blog thank you gift if they see fit.
New and Better Bedfords Discount Policy!
You can now save 3% on all of your Bedfords photo gear purchases by entering the BIRDSASART coupon code at checkout. Your discount will be applied to your pre-tax total. In addition, by using the code you will get 2nd day air shipping via Fed Ex.
Grab a Nikon AF-S Teleconverter TC-14E III and save $14.99. Purchase a Canon EOS R5 and your discount will be $116.97. Purchase a Sony FE 600mm f/4 GM OSS lens and save a remarkable $389.94! Your Bedford's purchase no longer needs to be greater than $1,000.00 for you to receive a discount. The more you spend, the more you save.

Money Saving Reminder
Many have learned that if you need a hot photo item that is out of stock at B&H and would enjoy free second-day air shipping, your best bet is to click here, place an order with Bedfords, and enter the coupon code BIRDSASART at checkout. If an item is out of stock, contact Steve Elkins via e-mail or on his cell phone at (479) 381-2592 (Central time). Be sure to mention the BIRDSASART coupon code and use it for your online order to save 3% and enjoy free 2nd-day air shipping. Steve has been great at getting folks the hot items that are out of stock at B&H and everywhere else. The wait lists at the big stores can be a year or longer for the hard to get items. Steve will surely get you your gear long before that. For the past year, he has been helping BAA Blog folks get their hands on items like the SONY a9 ii, the SONY 200-600 G OSS lens, the Canon EOS R5, the Canon RF 100-500mm lens, and the Nikon 500mm PF. Steve is personable, helpful, and eager to please.
Gear Questions and Advice
Too many folks attending BAA IPTs (remember those?) and dozens of photographers whom I see in the field and on BPN, are–out of ignorance–using the wrong gear, especially when it comes to tripods and more especially, tripod heads… Please know that I am always glad to answer your gear questions via e-mail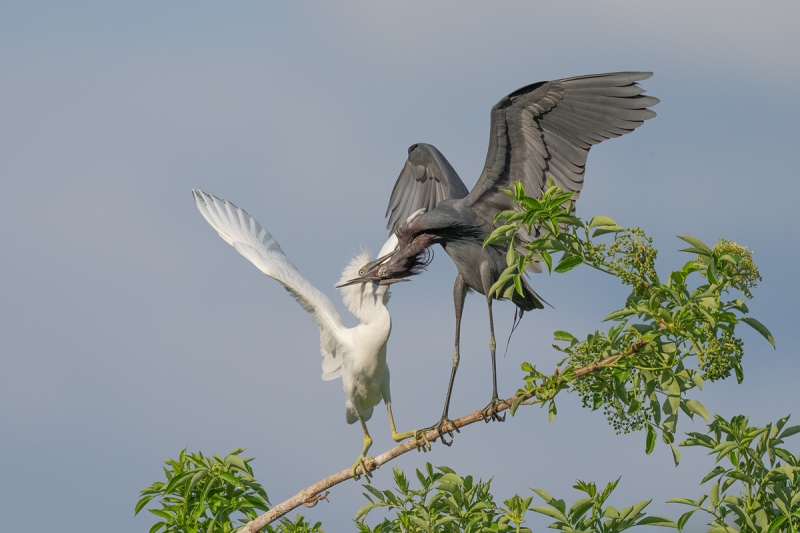 This image was created on 28 May 2021 at a rookery in North Tampa. Standing, I used the hand held Sony FE 600mm f/4 GM OSS lens and The One, the Sony Alpha 1 Mirrorless digital camera. ISO 1000. Exposure determined via Zebras with ISO on the rear dial: 1/6400 sec. at f/5.6 (stopped down one-stop). AWB at 6:11pm on a cloudy bright afternoon.
Wide AF-C performed perfectly. Click on the image to enjoy a larger version.
Image #1: Little Blue Heron feeding fledged young

Your browser does not support iFrame.
600mm Alone
I'd had only one chance to photograph young Little Blue Herons near their nests in 38 years, that at St. Augustine Alligator Farm on film with flash about 25 years ago. So not often. But there were several nesting pairs at rookery in North Tampa. This image was made on my second visit. The visible eye of the young bird is a huge plus.
And the Question Is …
The question is, why was I at such a high shutter speed with a correspondingly high ISO?
Note: RawDigger showed a dead-solid perfect exposure for Image #1, a near-perfect exposure for Image #2, and a perfect exposure for Image #3.
600mm and the 1.4X TC
I mentioned this rocky limestone point in the 800+ Images of the Same Bird … Right Down the Barrel. Practice Fishing. And the Rocky Point blog post here. I was thrilled when this bird, just a few days out of the nest, landed and posed. Working at a good distance, I made lots of verticals. This one, nicely framed and with a perfect head angle, was the best of the lot. One thing that I need to do on rainy days on Long Island is to do final edits on many, many files and lose many thousands of images …
Images #2 and #3 of the same bird were created on my third and last visit to this great rookery.
600mm and the 2X TC
With birds that I have lots of images of, I will usually go for head shots right off the bat. But I refrained from doing that until I was sure that I had a nice vertical portrait of this handsome youngster. That done, I added the 2X, approached very slowly, and made the kill. Here again, the dead solid perfect head angle made this image the pick of the litter.
Controlling the BKGR via Perspective Choice
Image #2 and Image #3 are of the very same bird on the very same rock. For Image #2 I went for a green background by moving a bit to my right and getting a bit lower by pulling out the front leg of the tripod. I saw the chance for a grey, matte background for image #3 so I moved left and got as tall as possible. The background for that image is simply still water reflecting the lead-grey sky.
Typos
With all blog posts, feel free to e-mail or to leave a comment regarding any typos or errors.